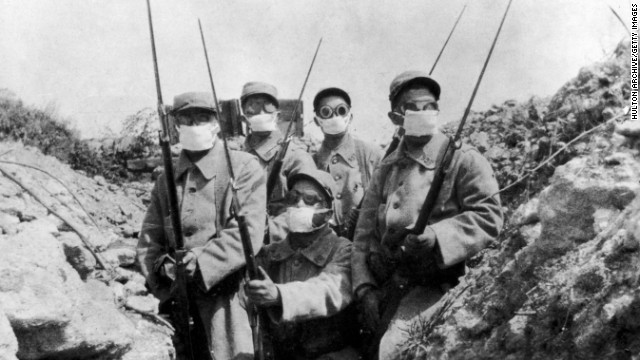 World War I ushered in an era of chemical weapons use that lingers, lethally, into the present day. About 1 million casualties were inflicted, and 90,000 were killed. Here, French troops wear an early form of gas mask in the trenches during the first widespread use of gas, by the Germans at the Second Battle of Ypres in 1916.
French soldiers making a gas and flame attack on German trenches in Flanders, Belgium, in 1918. German forces were the first to open valves on gas cylinders, releasing the toxic cloud on unprepared French troops in Ypres in 1915.
The bodies of hundreds of Italian soldiers are strewn across the battlefield, victims of a gas and flame attack during World War I, as others haul the wounded on stretchers. They were members of the Ninth Italian Regiment of the Queen's Brigade.
Early gas masks were often ineffectual. The Germans and Americans would ultimately be the most successful in creating barriers to lethal gases. A German soldier shows how to wear one version.
wrote
historian Gerald Fitzgerald.
A soldier demonstrates an ungainly French gas mask. "French masks were notoriously unreliable,"
A German cavalry unit with both horses and soldiers wearing gas masks advances during the Second Battle of the Aisne at Soissons, France, in June 1918.
A German soldier wears a more rudimentary gas mask in 1915. Although the Germans were first to deploy chemical weapons in the war, both sides were soon routinely using chlorine and other gases in battle.
Men of the British Army's 55th Division, blinded by a poison gas attack, in April 1918. British soldier Wilfred Owen captured the panic of an attack in verse "Gas! Gas! Quick, boys! -- An ecstasy of fumbling, Fitting the clumsy helmets just in time; But someone still was yelling out and stumbling, And flound'ring like a man on fire or lime."
Chemical weapons in World War I
Chemical weapons in World War I
Chemical weapons in World War I
Chemical weapons in World War I
Chemical weapons in World War I
Chemical weapons in World War I
Chemical weapons in World War I
Chemical weapons in World War I
(CNN) -- Here's some background information about World War I, which lasted from 1914 to 1918.
Causes of World War I: The assassination of Archduke Franz Ferdinand of Austria-Hungary by a Serbian national leads to Austria-Hungary declaring war on Serbia.
Ties and treaties bound countries to assist each other in time of war. When the time came, they started choosing sides. The U.S. declares neutrality until German submarine warfare threatens American commercial shipping.
The Central Powers consisted of Austria-Hungary, Bulgaria, Germany, and Ottoman Empire (now Turkey).
The Allied Powers consisted of Belgium, France, Great Britain, Greece, Italy, Montenegro, Portugal, Romania, Russia, Serbia and the United States.
US Troop Statistics: 4,734,991 - Total number U.S. troops served 8,528,831 - Total Military Deaths for all countries involved
U.S. Deaths: Battle: 53,402 Non-battle: 63,114 Total In-Theatre: 116,516 Total U.S. soldiers wounded: 204,002
Other Military Casualties by Country: Austria-Hungary: 1,200,000 dead; 3,620,000 wounded Belgium: 13,716 dead; 44,686 wounded Bulgaria: 87,500 dead; 152,390 wounded France: 1,357,800 dead; 4,266,000 wounded Germany: 1,773,000 dead; 4,216,058 wounded Great Britain: 908,371 dead; 2,090,212 wounded Greece: 5,000 dead; 21,000 wounded Italy: 650,000 dead; 947,000 wounded Ottoman Empire (Turkey): 325,000 dead; 400,000 wounded Portugal: 7,222 dead; 13,800 wounded Romania: 335,706 dead; 120,000 wounded Serbia & Montenegro: 48,000 dead; 143,148 wounded Russia: 1,700,000 dead; 4,950,000 wounded
Timeline: June 28, 1914 - Gavrilo Princip, who has ties to the Serbian terrorist-type group the Black Hand, assassinates Archduke Franz Ferdinand of Austria-Hungary.
July 28, 1914 - Austria-Hungary declares war on Serbia.
August 2, 1914 - Ottoman Empire (Turkey) and Germany sign a secret treaty of alliance.
August 4, 1914 - Germany invades Belgium. President Woodrow Wilson declares that the United States is neutral. Britain declares war on Germany.
August 10, 1914 - Austria-Hungary invades Russia, opening the fighting on the Eastern Front.
August 1914 - Battle of Tannenberg, Prussia.
September 12, 1914 - First battle of Aisne, France.
November 3, 1914 - Russia declares war on Ottoman Empire (now Turkey).
November 5, 1914 - Great Britain and France declare war on Ottoman Empire.
May 7, 1915 - A German U-20 submarine sinks the British passenger ship, the Lusitania; 1,198 are killed, including 128 Americans.
April 22, 1915 - Second Battle of Ypres begins, marking the first use of poison gas by Germany.
June 1915-November 1917 - Battles of the Isonzo, Italy.
1915 - Battle of Krithia, Gallipoli peninsula, Ottoman Empire.
February 21-July 1916 - Battle of Verdun, France, the war's longest battle, with almost a million casualties.
May 31-June 1, 1916 - Battle of Jutland, North Sea near Denmark - a sea battle between British and German navies.
July 1, 1916-November 1916 - First Battle of the Somme River, France. The British introduce the tank.
April 6, 1917 - U.S. declares war against Germany after the interception and publication of the Zimmermann Telegram and the sinking of three U.S. merchant ships by German U-boats.
June 26, 1917 - American troops begin landing in France.
November 20, 1917 - Battle of Cambrai, France.
December 3, 1917 - Russia signs an armistice with Germany.
March 3, 1918 - Russia signs the Treaty of Brest-Litovsk, ending hostilities with the Central Powers and withdrawing Russia from this war.
March 21-April 5, 1918 - Second Battle of the Somme River.
September 29, 1918 - Bulgaria signs an armistice.
October 30, 1918 - Ottoman Empire (Turkey) signs an armistice.
November 3, 1918 - Austria-Hungary signs an armistice.
November 11, 1918 - Germany accepts the armistice terms demanded by the Allies, ending the war.
June 28, 1919 - The Treaty of Versailles is signed at the Palace of Versailles, France.