'Thank you:' Cleveland kidnapping victims speak out for the first time
updated 10:06 AM EDT, Tue July 9, 2013
STORY HIGHLIGHTS
Former captives release YouTube video to convey appreciation to supporters
Courage Fund has raised more than $1 million dollars for the victims
Women don't plan to make any additional public statements
(CNN) -- For the first time since their rescue two months ago, the world is hearing directly from the three women who were held captive in Cleveland for a decade.
Amanda Berry, Gina DeJesus and Michelle Knight released a video on YouTube, offering their thanks to all those who have supported them since they were freed from captivity.
"I want to thank everyone who has helped me and my family through this entire ordeal, everyone who has been there to support us. It has been a blessing to have such an outpouring of love and kindness," Amanda Berry says in the video. Berry was abducted at age 16 in April 2003 and has a 6-year-old daughter, who was born during her captivity.
Before and after the kidnappings
Gina DeJesus was 14 when she was kidnapped in 2004. She says to the public, "thank you for the support."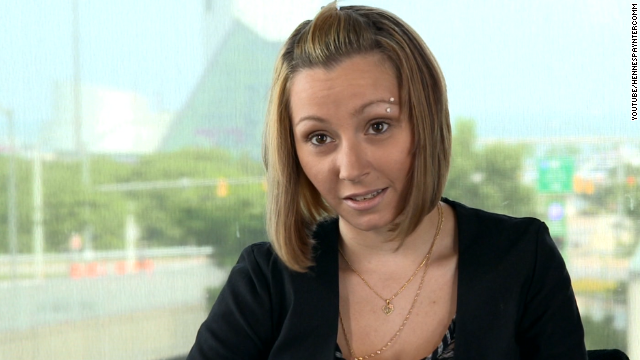 Amanda Berry speaks in a video released on YouTube on Monday, July 8, thanking people for support and privacy. Berry, Gina DeJesus and Michelle Knight escaped from a Cleveland home on May 6, 2013, after being held captive for nearly a decade.
Amanda Berry vanished a few blocks from her Cleveland home on April 21, 2003. She was 16.
Gina DeJesus speaks in the YouTube video.
Georgina "Gina" DeJesus was last seen in Cleveland on April 2, 2004, on her way home from school. She was 14 when she went missing.
Michelle Knight speaks in the YouTube video.
Knight was last seen on August 22, 2002, when she was 21.
In a handwritten note, Knight thanked Cleveland police for their efforts, saying she was overwhelmed with the support she had received from "complete strangers." The note was posted Wednesday, July 31, on the police's Second District Community Relations Committee Facebook page.
Residents gather outside a community meeting at Immanuel Lutheran Church on Thursday, May 9, to talk about the kidnapping case in Cleveland. Balloons were released as part of the ceremony.
FBI agents and other law enforcement officers stand outside suspect Ariel Castro's home in Cleveland on May 9. Castro, a former school bus driver, has been accused of holding three women captive for a decade in his house. He has also been charged with rape.
Castro hangs his head low while talking with his public defender, Kathleen DeMetz, during his arraignment on May 9.
Ada Colon prays during a vigil held in honor of the kidnapping victims in Cleveland on Wednesday, May 8.
Relatives of kidnapping victim Georgina "Gina" DeJesus hug after she returned to her parents' home in Cleveland on May 8.
Friends and neighbors cheer as a car carrying Amanda Berry arrives at her sister's house in Cleveland on May 8.
Gina DeJesus gives a thumbs up as she arrives at her family's house in Cleveland on May 8.
Ariel Castro was charged on May 8 with kidnapping the three women.
The family house of Gina DeJesus has been decorated by well-wishers on Tuesday, May 7.
Friends and relatives gather in front of the family house of DeJesus on May 7.
Well-wishers visit the home of the sister of Amanda Berry on Monday, May 6.
Investigators remove evidence from the house on Seymour Avenue in Cleveland where the three women were held.
An FBI forensics team meets outside the house where three women were held as they investigate the property.
An FBI forensics team member removes evidence from the house.
A relative of DeJesus brings balloons to the home of Amanda Berry's sister in Cleveland on May 7.
Children hold a sign and balloons in the yard of Gina DeJesus' family home in Cleveland on May 7.
Bystanders and media gather on May 7 along Seymour Avenue in Cleveland near the house where the three women were held captive.
A bystander shows the front page of The Plain Dealer newspaper to a friend outside of the house on Seymour Avenue on May 7.
Cleveland Deputy Chief of Police Ed Tomba, center, speaks at a news conference to address details of the developments.
The house where the three women were held captive in Cleveland was the home of Ariel Castro, who was arrested and is being held pending charges in the case.
FBI agents remove evidence from the house May 7.
A police officer stands in front of the broken front door of the house on May 7, where the kidnapped women escaped.
Neighbor Charles Ramsey talks to media as people congratulate him on helping the kidnapped women escape on Monday, May 6. He helped knock down the door after he heard screaming inside.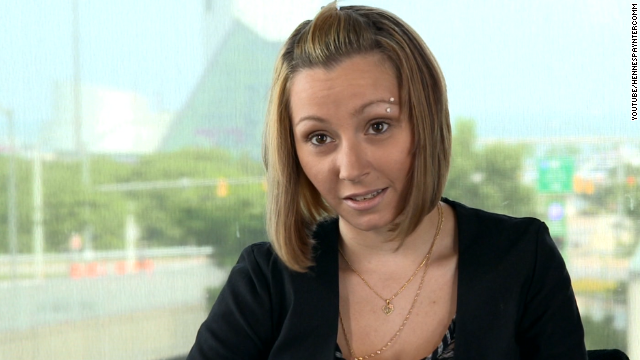 Photos: Kidnapped teens rescued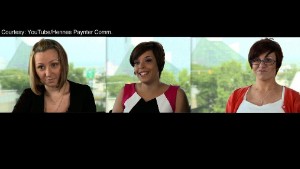 Gardere: They're on the road to recovery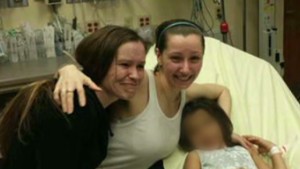 Psychological ramifications of abduction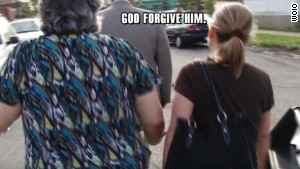 Excl. video from day women were freed
Michelle Knight, who was abducted at age 21 in August 2002 says, "thank you everyone for your love, support, and donations which helped me build a brand new life. I want everyone to know I'm doing just fine. I may have been to hell and back, but I am strong enough to walk through hell with a smile on my face and with my head held high and my feet firmly on the ground."
Feds: 3 in Ohio held woman, child in 'subhuman' conditions
The Courage Fund, which was established to help the three victims, has raised more than $1 million dollars.
The three women were held captive by Ariel Castro and were beaten, raped and starved for a decade, according to prosecutors.
They were freed in May after one shouted for help while Castro was gone from the house.
'Please don't let me go,' victim told officers
The women don't plan to make any additional public statements.
"I'm getting stronger each day and having my privacy has helped immensely. I ask that everyone continue to respect our privacy and give us time to have a normal life," Berry says.
Castro is accused of holding the women in his Cleveland home. He faces 329 counts, including one count of aggravated murder for allegedly causing the unlawful termination of a pregnancy. His next pretrial hearing is scheduled for July 24th.