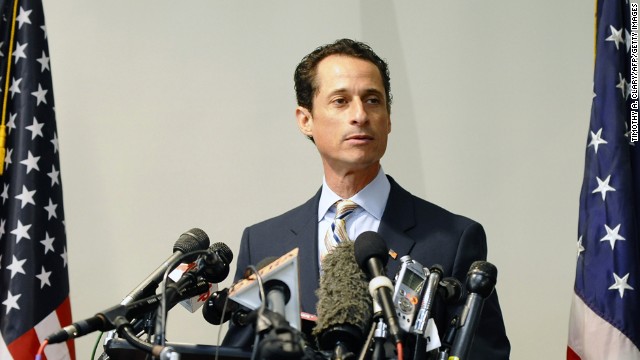 Former Rep. Anthony Weiner, D-New York, resigned from Congress in 2011 after being embroiled for weeks in a sex scandal linked to his lewd online exchanges with women. Weiner announced in May that he was running for mayor of New York City, saying in a video announcing his campaign, "I hope I get a second chance to work for you." Weiner's comeback bid suffered a potential setback Tuesday, July 23, when he acknowledged more sexually tinged exchanges with an unnamed woman. "What I did was wrong," Weiner said in a statement about the newly emerged communications.
Former New York Gov. Eliot Spitzer, who resigned in 2008 after it was revealed that he had spent thousands of dollars on prostitutes, says he plans to run for New York City's comptroller. "I accepted responsibly for what I did," Spitzer said. "I spent five years of working, doing useful things, and I hope the public will offer me an opportunity." Despite taking knocks from the press, the voters and, in some cases, the law, other politicians have pursued redemption in their public image or, in some cases, a return to office.
Former Gov. Mark Sanford endured heavy criticism and being the butt of jokes until his term ended after he admitted in 2009 that his six-day hiking trip on the Appalachian Trail was actually a cover for a trip to Argentina to visit his mistress. In May, Sanford won election against Democrat Elizabeth Colbert Busch for an open seat in the U.S. House, despite being heavily outspent by Democrats and without the backing of national Republicans.
Bill Clinton had a scandalous presidency, most famously having an affair with an intern that prompted his impeachment. Since, he has become an important figure in worldwide humanitarian efforts and informal adviser to President Obama.
Former Speaker of the House Newt Gingrich left his position in disgrace after the Clinton impeachment proceedings in 1998. It was also later revealed that he was having an affair with a Congressional staffer, now his current wife Callista. Gingrich had an unsuccessful bid for the Republican presidential nomination in 2012 and is now seen as an elder party statesman, regularly appearing in the media on conservative issues.
Before becoming an adviser for Homeland Security, retired Sen. Gary Hart was the front-runner of the 1988 Democratic primaries for president until images of him with a model surfaced, ending his campaign.
Former Rep. Dennis Kucinich, D-Ohio, has had many ups and downs in his political career, first becoming mayor of Cleveland, at the age of 31, and then losing a bid for reelection. Kucinich was later elected to the Senate and then the U.S. House but lost when he ran for president in 2004 and again in 2008.
Sen. David Vitter admitted his guilt in the D.C. Madam scandal in 2007. His phone number had been published in 2009 in a list of phone records from a prostitution ring Deborah Jeane Palfrey, also known as the "D.C. Madam." Three years later he was reelected to the Senate.
Marion Barry is sworn in as the mayor of Washington with his wife, Cora Masters Barry, at his side, in 1995. Four years earlier, he was forced from the mayor's office, and later imprisoned, for being caught on videotape smoking crack.
Richard Nixon resigned in disgrace in 1974 after the Washington Post broke the story on his role in the Watergate burglary. But before being elected president, Nixon was Dwight Eisenhower's vice president. He lost his first presidential election to John F. Kennedy in 1960, and then lost the governor's race in California in 1962. However, in 1968, he got the GOP nomination and defeated Hubert Humphrey in the general election to become president.
Anthony Weiner
Eliot Spitzer
Mark Sanford
Bill Clinton
Newt Gingrich
Gary Hart
Dennis Kucinich
David Vitter
Marion Barry
Richard Nixon
STORY HIGHLIGHTS
Errol Louis: Spitzer making new bid for NYC comptroller; he joins Weiner in arena
Both had sex scandals, but similarities end there. Spitzer fessed up in his scandal
But Weiner lied, he says. Spitzer has record of accomplishment. Weiner not so much
Louis: Weiner in 6-candidate race. Spitzer faces 1 oppenent. Can NYers forgive?
Editor's note: Errol Louis is the host of "Inside City Hall," a nightly political show on NY1, a New York City all-news channel.
(CNN) -- The rest of the world is probably asking what's in the drinking water here in New York, where ex-Gov. Eliot Spitzer, who resigned in 2008 when his hiring of hookers came to light, surprised everybody by announcing a bid for city comptroller.
Spitzer, dubbed the Love Guv by the city's tabloids, leaps back into the political arena less than two months after former Rep. Anthony Weiner (who'd resigned after texting obscene photos to strangers) announced a run for mayor.
Which raises the admittedly uncomfortable possibility that the city's top two elected officials will be two nationally-known, high-profile married politicians with less than honorable sex-related behavior on their resumes.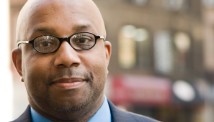 Errol Louis
But that's as far as the similarities go. Spitzer and Weiner have very different histories, committed fundamentally different offenses and will face dramatically different odds in the few weeks left before voters head to the polls in the all-important Sept. 10 Democratic primary.
Has the road to political redemption gotten shorter?
Start with the crimes. Weiner, whose scandalously bawdy texts and photos never involved actually physically meeting up with a woman, spent a week lying about the incidents on any number of local and national television outlets, claiming that his House of Representatives account had been hacked. That, in turn, led to calls for an FBI inquiry, after which Weiner's tower of lies collapsed.
Spitzer, by contrast, simply admitted that he'd hired hookers, apologized for his misbehavior and quit. He now campaigns without the baggage, which Weiner still carries, of having lied to the public and press repeatedly.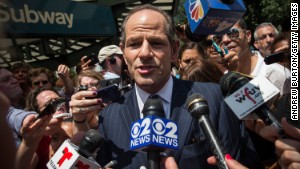 Spitzer collects his first signature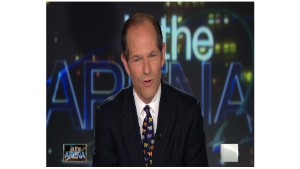 2011: Eliot Spitzer signs off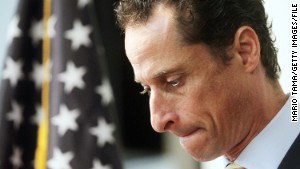 Weiner's confessional interview
When it comes to the record each man brings to the campaign trail, it's not even a close call. In more than eight years as state attorney general and 14 months as governor, Spitzer compiled a string of high-profile wins in battles with Wall Street and prosecutions on behalf of low-paid workers. He also implemented a historic increase of state funding to local school districts and appointed the state's first Latina secretary of state.
Spitzer seeks return to politics -- as NYC comptroller
Weiner's tenure in Congress was notably skimpy on tangible wins. A recent New York Times story noted that, over a 12-year career, Weiner wrote exactly one bill that got enacted. He was a visible, effective voice on key issues, but not the kind of politician who immersed himself in the machinery of government or coalition-building.
But the biggest distinction between the two men, and the most politically relevant, involves their respective paths to victory. Weiner, running in a crowded 6-candidate race, is leading in the polls and, under New York rules, could get into a Democratic runoff pitting him against one of his rivals. He is currently grinding his way through a seemingly endless series of public forums and debates.
By Spitzer leaps into an all-but-empty race for comptroller that had been largely conceded to Scott Stringer, a longtime political insider who'd spent two decades in the legislature and eight in the relatively powerless position of borough president of Manhattan.
Spitzer, who is funding his campaign using his family's personal fortune, hopes to use his money, celebrity and impressive record to blow past his opponent to victory.
Polls suggest that about 40% of New Yorkers think Weiner's offenses disqualify him from office altogether; a comparable number may think the same of Spitzer. That leaves plenty of room for our city's famously tolerant population to decide if they can, or should, elect a pair of soiled, but talented, politicians to run the nation's largest city.
Follow @CNNOpinion on Twitter.
Join us at Facebook/CNNOpinion.
The opinions expressed in this commentary are solely those of Errol Louis.