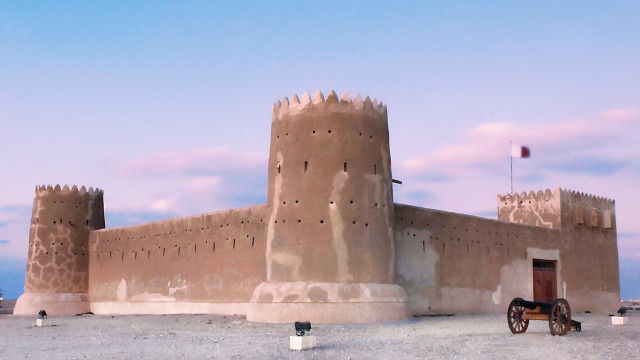 The archaeological remains of Al Zubarah have become Qatar's first World Heritage listed site.
The imposing Al Zubarah Fort was actually built in 1938 on the orders of Sheikh Abdulah bin Jassim Al Thani to protect Qatar's north-western coast.
Al Zubarah was once a thriving pearl fishing and trading port, and is one of the largest and best preserved examples of an 18th century merchant town anywhere in the Gulf.
The world heritage listing will be a valuable prize for the newly installed Qatari Crown Prince Sheikh Tamim bin Hamad bin Khalifa al-Thani, adding to the site's historical clout.
The 18th century town at Al Zubarah is well-planned with many of the streets running at right angles to one another and some neighborhoods built according to a strict grid pattern.
It location was perfect for 18th and 19th century merchant traders.
At its peak, Al Zubarah was host to between 6,000 and 9,000 citizens. Today Qatar's capital of Doha is home to over 1.3 million people.
Al Zubarah's economy was sustained by the pearl diving season which took place during the long summer months and drew in Bedouin from the interior of Qatar.
In the 18th century, a vast wall encircled the town and its bay in a 1.6 mile arc. The wall was defended by 22 semi-circular towers placed along the walls at regular intervals.
For the last hundred years a layer of sand has covered the site providing protection from the elements for the site's impeccably preserved courtyards, boulevards, palaces, and mosques.
UNESCO also added a number of other cultural sites to its list including six grand forts of India's Rajasthan state. Enclosed within defensive walls are major urban centers, palaces, trading centers and temples.
The historic sites of Kaesong city, in southern North Korea, include 12 separate components that highlight the history and culture of the Koryo Dynasty from the 10th to 14th centuries.
Built between the 15th and 17th centuries, the 12 villas and two gardens that make up Tuscany's Medici Villas and Gardens highlight an innovative system of rural construction in harmony with nature and dedicated to leisure, the arts and knowledge, says UNESCO.
The World Heritage Committee has decided to place the six World Heritage Sites of the Syrian Arab Republic on its "List of World Heritage in Danger" so as to draw attention to the risks they are facing because of the current situation in the country, says the committee.
Qatar's heritage jewel
Qatar's heritage jewel
Qatar's heritage jewel
Qatar's heritage jewel
Qatar's heritage jewel
Pearl trading
Modern Qatar
Qatar's heritage jewel
Qatar's heritage jewel
Qatar's heritage jewel
Other sites
Other sites
Heritage listed
Heritage listed