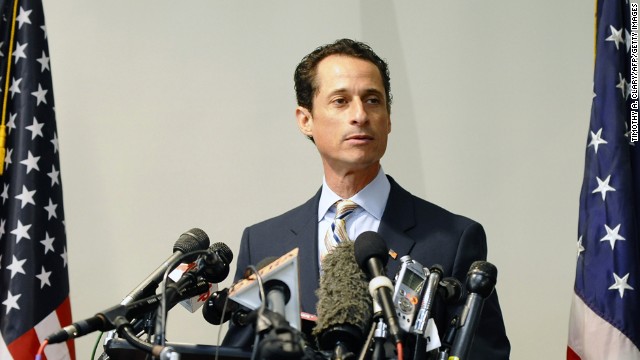 Former Rep. Anthony Weiner, D-New York, resigned from Congress in 2011 after being embroiled for weeks in a sex scandal linked to his lewd online exchanges with women. Weiner announced in May that he was running for mayor of New York City, saying in a video announcing his campaign, "I hope I get a second chance to work for you." Weiner's comeback bid suffered a potential setback Tuesday, July 23, when he acknowledged more sexually tinged exchanges with an unnamed woman. "What I did was wrong," Weiner said in a statement about the newly emerged communications.
Former New York Gov. Eliot Spitzer, who resigned in 2008 after it was revealed that he had spent thousands of dollars on prostitutes, says he plans to run for New York City's comptroller. "I accepted responsibly for what I did," Spitzer said. "I spent five years of working, doing useful things, and I hope the public will offer me an opportunity." Despite taking knocks from the press, the voters and, in some cases, the law, other politicians have pursued redemption in their public image or, in some cases, a return to office.
Former Gov. Mark Sanford endured heavy criticism and being the butt of jokes until his term ended after he admitted in 2009 that his six-day hiking trip on the Appalachian Trail was actually a cover for a trip to Argentina to visit his mistress. In May, Sanford won election against Democrat Elizabeth Colbert Busch for an open seat in the U.S. House, despite being heavily outspent by Democrats and without the backing of national Republicans.
Bill Clinton had a scandalous presidency, most famously having an affair with an intern that prompted his impeachment. Since, he has become an important figure in worldwide humanitarian efforts and informal adviser to President Obama.
Former Speaker of the House Newt Gingrich left his position in disgrace after the Clinton impeachment proceedings in 1998. It was also later revealed that he was having an affair with a Congressional staffer, now his current wife Callista. Gingrich had an unsuccessful bid for the Republican presidential nomination in 2012 and is now seen as an elder party statesman, regularly appearing in the media on conservative issues.
Before becoming an adviser for Homeland Security, retired Sen. Gary Hart was the front-runner of the 1988 Democratic primaries for president until images of him with a model surfaced, ending his campaign.
Former Rep. Dennis Kucinich, D-Ohio, has had many ups and downs in his political career, first becoming mayor of Cleveland, at the age of 31, and then losing a bid for reelection. Kucinich was later elected to the Senate and then the U.S. House but lost when he ran for president in 2004 and again in 2008.
Sen. David Vitter admitted his guilt in the D.C. Madam scandal in 2007. His phone number had been published in 2009 in a list of phone records from a prostitution ring Deborah Jeane Palfrey, also known as the "D.C. Madam." Three years later he was reelected to the Senate.
Marion Barry is sworn in as the mayor of Washington with his wife, Cora Masters Barry, at his side, in 1995. Four years earlier, he was forced from the mayor's office, and later imprisoned, for being caught on videotape smoking crack.
Richard Nixon resigned in disgrace in 1974 after the Washington Post broke the story on his role in the Watergate burglary. But before being elected president, Nixon was Dwight Eisenhower's vice president. He lost his first presidential election to John F. Kennedy in 1960, and then lost the governor's race in California in 1962. However, in 1968, he got the GOP nomination and defeated Hubert Humphrey in the general election to become president.
Anthony Weiner
Eliot Spitzer
Mark Sanford
Bill Clinton
Newt Gingrich
Gary Hart
Dennis Kucinich
David Vitter
Marion Barry
Richard Nixon
STORY HIGHLIGHTS
Trio of disgraced politicians show that voters have gotten more forgiving
Disgraced former New York Gov. Eliot Spitzer is latest to announce comeback bid
Political strategist says shorter turnaround reflects voters lower opinions of politicians
Others say Americans have always been forgiving and avoid appearing judgmental
Washington (CNN) -- Politics is full of second chances.
Former South Carolina Gov. Mark Sanford -- now U.S. Rep. Mark Sanford -- is living proof. Former Rep. Anthony Weiner is trying to travel the same road to political redemption. And now add former New York Gov. Eliot Spitzer to the list, as he embarks on a similar journey.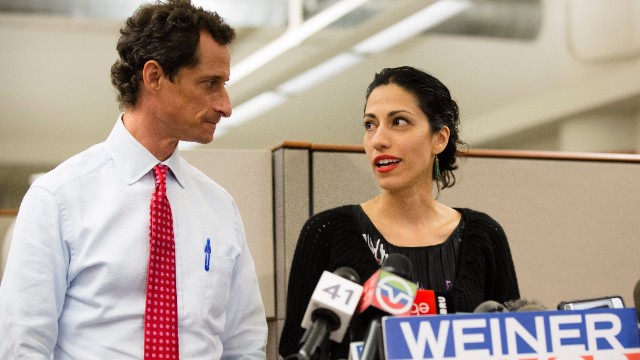 With his wife, Huma Abedin, by his side, New York mayoral candidate and former congressman Anthony Weiner confirms on July 23 that some of the sexually explicit online exchanges that were published by a gossip website happened after previous revelations forced him to resign from the U.S. House in 2011.
Former New York Gov. Eliot Spitzer, shown here with wife Silda Wall Spitzer, resigned in March 2008 after it was revealed that he had spent thousands of dollars on prostitutes.
Louisiana Sen. David Vitter, here with wife Wendy Baldwin Vitter, admitted in July 2007 his involvement in the "D.C. Madam" scandal after his phone number had been published in a list of phone records from a prostitution ring. Three years later he was re-elected to the U.S. Senate.
Former Idaho Sen. Larry Craig was arrested in June 2007 in a men's restroom at the Minneapolis-St. Paul International Airport on charges of lewd conduct, but later pled guilty to a misdemeanor charge of disorderly conduct. His wife, Suzanne Thompson, was at his side during the news conference in September 2007 when he announced his intention to resign. He later changed his mind and served out his term.
Former New Jersey Gov. Jim McGreevey, with his then-wife Dina Matos standing by, told a packed news conference in August 2004: "My truth is that I am a gay American" and that he had engaged in a consensual affair with his homeland security adviser, who had threatened to sue him for sexual harassment.
Hillary Clinton was with her husband, former President Bill Clinton, in January 1998 when he denied having "sexual relations with that woman, Miss Lewinsky." However, when he later admitted in August 1998 that the relationship with the intern was "not appropriate," she was not with him and later was chilly toward him during a walk to Marine One.
Elizabeth Edwards, the wife of former presidential candidate and ex-North Carolina Sen. John Edwards, was not with him when, in August 2008, he finally admitted to an affair with a campaign worker. Elizabeth Edwards, who was suffering from breast cancer, died in 2010.
After her husband, former South Carolina Gov. Mark Sanford, admitted to sneaking away to Argentina to be with his mistress in June 2009, Jenny Sanford moved out of the governor's mansion and later divorced him in 2010.
Former Nevada Sen. John Ensign was embroiled in allegations of an extramarital affair in 2007 and 2008, and his wife, Darlene, who initially stood with him when he announced he would not seek re-election, was not by his side as the drama unfolded. Hit with multiple investigations, Ensign resigned in 2011.
After initially standing by her husband, former California Gov. Arnold Schwarzenegger, through multiple allegations of sexual misconduct before and during his two terms as governor, Maria Shriver filed for divorce in 2011 after the governor admitted fathering a child with their longtime housekeeper.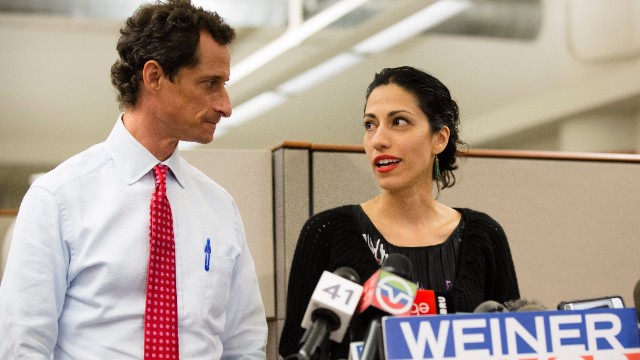 Wives who stood by their men
In this age of lighting fast news cycles and fleeting memories, are disgraced politicians sitting in the penalty box for a shorter time before launching a comeback?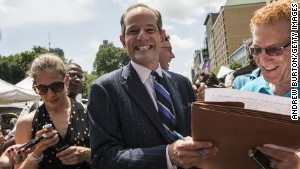 Spitzer's comeback after sex scandal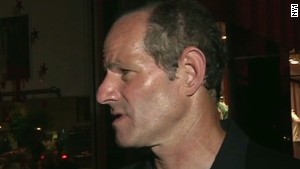 Eliot Spitzer: I want to serve
A Republican political strategist thinks it reflects a lower opinion of politicians.
"The required waiting time has been greatly condensed in recent years, indicating present voters are holding elected officials to a much lower standard then previous generations," said John Brabender, a longtime top political adviser to 2012 Republican presidential candidate and former Sen. Rick Santorum.
Spitzer, who resigned in 2008 after revelations he spent thousands of dollars on prostitutes, launched a petition campaign Monday to become New York City comptroller.
"I made significant errors. I stood up, accepted responsibility, resigned. It's now been five years, I hope the public will extend its forgiveness to me," the Democrat said Monday morning on radio's "The Bill Press Show."
"I think it is a land of forgiveness, of people in their natural goodness (who) understand the fact that...we sin, we pay a price and hopefully continue," added Spitzer, who served two terms as New York State attorney general before winning election as governor in 2006.
Spitzer, who needs to gather the 3,750 signatures by Thursday to get into the September primary ballot, would be on the same Democratic ballot as Weiner, who is running for mayor and would have the quickest redemption.
Opinion: Zombie politicians find new life after disgrace
Weiner would have the shortest time in time-out should he be elected. He was in his seventh term in Congress, representing parts of the New York City boroughs of Queens and Brooklyn, when he resigned from the House in 2011 amid scandal over lewd photos sent via Twitter.
He talked about getting another chance in the video announcing his candidacy, saying, "I made some big mistakes, and I know I let a lot of people down. But I've also learned some tough lessons. I'm running for mayor because I've been fighting for the middle class and those struggling my entire life. And I hope I get a second chance to work for you."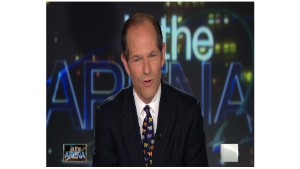 2011: Eliot Spitzer signs off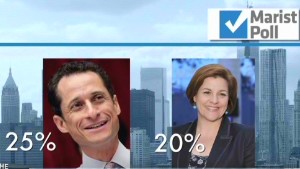 Anthony Weiner winning back New Yorkers
Spitzer, who since stepping down has been a commentator for various news outlets including CNN, disagrees with the Weiner comparison, and said he's not on a quest for redemption, but instead stressed that he's motivated by what he said are personal pleas from New Yorkers urging him to get back into public service.
"If that's what I want, then I don't think this is the path to it. What I am seeking is service," he said on CBS "This Morning."
Republican Sanford's political career appeared dead after he finished out his term amid repercussions of admitting to an extramarital affair in 2009. But he won redemption in a special election in May to fill a vacant congressional seat in the state's 1st Congressional District, which he represented before serving as governor.
Opinion: New York's sex scandal candidates
The media loves a comeback story, if only because it allows them it an opportunity to revisit what brought down that politician in the first place. And redemption stories resonate with the public.
"Voters love a good comeback story -- we identify with the underdog and cheer for him as we would for ourselves," said Republican strategist and CNN contributor Alex Castellanos. "But voters also love justice. We want people to pay for their mistakes."
Share your views on Spitzer and Weiner
Brabender said votes have increasingly shown they are willing to forgive indiscretions.
"It all comes down to how well the scandal is handled, voters assessment of relevance to doing the job, and choosing the right time for re-entry into the political arena," he said.
Democratic strategist and CNN contributor Paul Begala says faster news cycles and fleeting memories may be behind this year's trio of comeback bids, "but it may also be a result of a very healthy American aversion to being too judgmental."
"It used to be an iron law of politics that no divorced person could be president. Then Ronald Reagan proved that wrong," said Begala, who was a top political adviser to President Bill Clinton and a senior adviser last year to a super PAC that worked for President Barack Obama's re-election.
"Ultimately politics is about voters' lives, not politicians -- if voters think someone can make a difference in their life, they will overlook personal shortcomings," he added. "But the key is not to make the campaign about the politician's need for redemption, but about voters' need for jobs."
CNN's Ashley Killough, Ed Payne and Adam Reiss contributed to this story