STORY HIGHLIGHTS
Man Utd manager David Moyes says Wayne Rooney is not for sale
Rooney has been linked with a move away from Old Trafford in recent months
Moyes holds first press conference since replacing Alex Ferguson
Moyes appoints Ryan Giggs and Phil Neville to the United coaching staff
(CNN) -- Will he stay or will he go?
Wayne Rooney will be staying at Manchester United, declared David Moyes during his first press conference as manager of the 20-time English champions.
Speculation has surrounded the England striker's future since the final part of last season, with former United manager Alex Ferguson suggesting Rooney had handed in a transfer request.
Read: Football's loyal lieutenants
"Wayne is not for sale," Moyes, who signed a six-year contract to replace Ferguson in May, told reporters. "He is a Manchester United player and will remain a Manchester United player.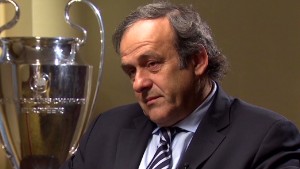 Platini on Ferguson and Beckham retirements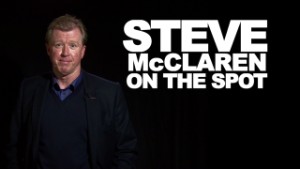 Alex Ferguson's recipe for success
"I see a glint in his eye. He looks happy, he looks like he will knuckle down and get himself right."
Read: Five things we learned from the Confederations Cup
Moyes, who is United's first new manager in 27 years, has the unenviable task of following in the footsteps of Ferguson, who led United through the most successful era in the club's history.
The recently-retired Scot guided United to 13 Premier League titles, four FA Cups and two European Champions League wins -- in 1999 and 2008.
Former Celtic defender Moyes explained how the first he knew of his imminent career move was when Ferguson informed him he would be replacing him.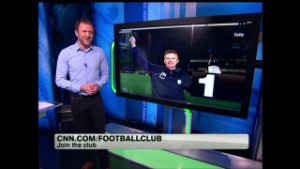 CNN FC: Moyes replaces Ferguson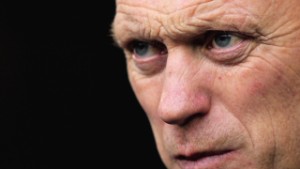 McClaren: Moyes was the right choice
Read: Do Brazil still play the beautiful game?
"I'm retiring, next week, you are the next Manchester United manager," Moyes explained he had been told by Ferguson.
"The blood drained from my face. I was really shocked but incredibly thrilled.
"It was incredible when I met him. Within half an hour, he was talking about the squad, players and the staff. I was sworn to secrecy."
Ferguson will remain at the club as a director and ambassador and Moyes dismissed suggestion his compatriot's presence could undermine the new regime.
"I hope Sir Alex Ferguson is sitting in the directors' box," said Moyes. "He's been so good. I've already called him for advice a couple of times on a couple of matters."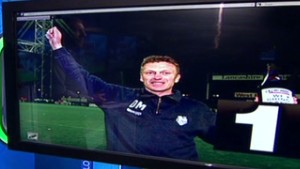 Moyes named manager of Manchester United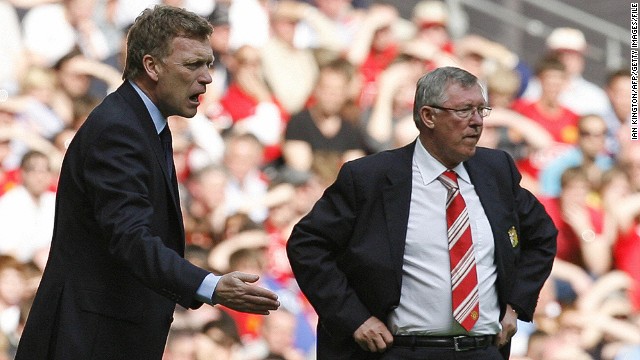 Everton manager David Moyes (left) and Manchester United's soon-to-retire boss Alex Ferguson (right) are pictured during the FA Cup semifinal match between their two teams at Wembley Stadium in April 2009. United announced Wednesday that Ferguson, 71, will be retiring at the end of the season after more than a quarter of a century at the helm.
Jose Mourinho, who is now Real Madrid coach, and Moyes look on during the FA Cup fourth round match between Everton and Chelsea at Goodison Park in January 2006 in Liverpool. Both men were potential candidates to replace Ferguson, before Moyes agreed a six-year deal with United.
Moyes is pictured prior to kick off during the English Premier League match between Everton and Fulham at Goodison Park last month. Moyes is leaving Everton at the end of the season after he told the Merseyside club's chairman Bill Kenwright of his desire to join United and succeed Ferguson.
Moyes urges on his team during the English Premier League match between Arsenal and Everton at the Emirates Stadium in north London last month. The Scot is considered to have done a superb job at Goodison Park given the relatively small financial resources he had at his disposal.
Moyes attends the 24th Hillsborough Anniversary Memorial Service at Anfield last month in Liverpool. Thousands of fans, friends and relatives took part in the service to mark the death of 96 football fans in an FA Cup semifinal match in April 1989.
Other notable attendants of the Hillsborough memorial service were: (from back row, left to right) Everton chairman Bill Kenwright, Moyes, Liverpool manager Brendan Rogers, Liverpool players Steven Gerrard, Jamie Carragher, Jordan Henderson, Liverpool managing director Ian Ayre, Linda Pizzuti and her husband -- Liverpool's principal owner John W Henry -- and club chairman Tom Werner.
Moyes was made an Honorary Fellow for Outstanding Contributions to football and sportsmanship, by Liverpool John Moores' University during its annual graduation ceremony at the city's Anglican Cathedral in July 2011.
Harry Redknapp -- then Tottenham manager, but now Queens Park Rangers boss -- and Moyes are pictured together after the Sir Bobby Robson Memorial Service at Durham Cathedral in September 2009. Former England manager Robson died aged 76 following a long battle with cancer.
The family of murdered 11-year old boy Rhys Jones stand next to Moyes during a minute's appreciation before the start of the Premier League match between Everton and Blackburn Rovers at Goodison Park in August 2007. Rhys died after being shot in the neck as he played football with friends outside the Fir Tree pub in Croxteth, Liverpool in August.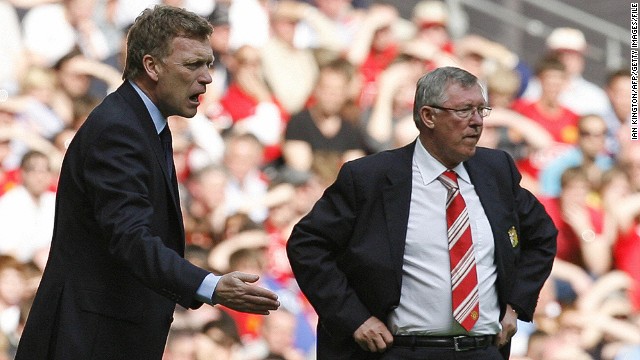 David Moyes: Alex Ferguson's successor
Moyes has brought a raft of new coaches from Everton to United, but he has attempted to remain true to his new club's identity with two new appointments.
Veteran midfielder Ryan Giggs, who has spent his entire professional career with United, has been given the position of player-coach after 23-year trophy-laden years with the club.
Moyes has also appointed United academy graduate Phil Neville to his coaching staff, having worked with the former England international for eight years at Everton.
Retired midfielder Paul Scholes was also approached, but the former playmaker declined the position.
"I spoke with Paul Scholes as well. He felt he wanted to have some time off with his family," explained Moyes.
"I felt the right person was Ryan Giggs and he has been great. He has been on his UEFA pro licence course -- a European coaching qualification -- and after two days you can see how incredible a footballer he is. Ryan is taking steps forward and to get him and Phil Neville together is great."