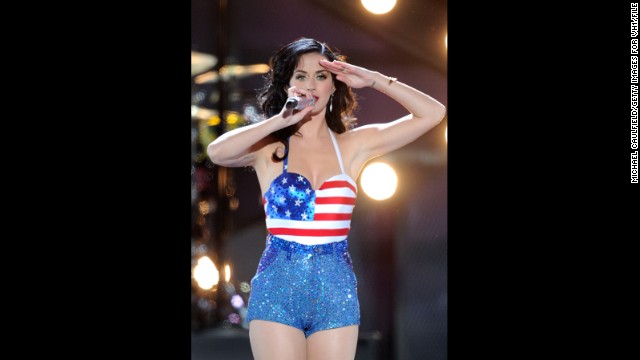 Katy Perry is quick to rock the red, white and blue in performance and on the red carpet. Here, the singer dons an American flag-inspired outfit for the "VH1 Divas Salute the Troops" concert in 2010. In honor of July Fourth, here's a look at stars wearing their patriotism on their sleeves ... and other surprising places:
Carrie Underwood adds a dash of Old Glory to her act at the 2012 CMA Music Festival in Nashville.
Axl Rose rocks out in flag biker shorts at a '90s Guns 'N Roses show.
Singer Christina Aguilera wraps her son, Max, in the flag to help "Rock the Vote" in April 2008.
Willow Smith keeps her balance atop a serious pair of Americana-inspired platforms while in France in May 2012.
Rihanna steps out in American flag short shorts in London in November 2011.
Who else but Jon Bon Jovi could pull off this American-flag inspired jacket?
Justin Bieber may be Canadian, but this technicality didn't stop the teen idol from appearing from head to toe in an American flag-style outfit in Nottingham, England, in March 2011.
Ke$ha shows off her fashion sense at the Wireless Festival in London in July 2011.
The Wanted star Siva Kaneswaran may not be American, but he evidently has plenty of affection for this country, as he showed when his group performed on "Good Morning America" in August 2012.
Shawn Wayans tucks his stars and stripes around his neck for the premiere of brother Marlon Wayans' movie, "A Haunted House," in January in Los Angeles.
Ireland Baldwin, daughter of Alec Baldwin and Kim Basinger, gives the flag a saucy-style upgrade for the Coachella Valley Music & Arts Festival in April in Indio, California.
The stars and stripes are in abundance for Stephen Colbert and Jon Stewart's "Rally to Restore Sanity and/or Fear" at the National Mall in Washington in October 2010.
Justin Timberlake's flag-inspired denim is for a good cause as part of the October 2001 United We Stand concert, a tribute to the victims of 9/11.
Chris Brown opts for a monochromatic flag when he takes the stage at Hot 97's 2011 Summer Jam concert in East Rutherford, New Jersey.
Flag-inspired gear keeps Vanilla Ice in patriotic style.
Meryl Streep leaves no "Doubt" about her U.S. pride at that movie's Paris premiere in January 2009.
Streep's not the only celebrity to show the French her American style. It looks like a pattern with Halle Berry in a similar dress at the Deauville Film Festival in 2001.
and heroic on July Fourth 2009 at the River to River Festival in New York.
Singer-songwriter Jenny Lewis looks like she feeling patriotic
Though hailing from the UK, Geri "Ginger Spice" Halliwell, second from left, wears the stars and stripes when she and the rest of the Spice Girls attend the 1997 MTV Video Music Awards in New York.
Aerosmith's Joe Perry rocks out on a stars and stripes Gibson Les Paul guitar with Steven Tyler at Madison Square Garden in November 2001.
Mr. T of "The A-Team" fame accessorizes his star-spangled jumpsuit in honor of NBC's 75th anniversary celebration in May 2002.
Juelz Santana makes his allegiance clear while attending an album release party for rapper Jim Jones in 2004 in New York.
Rupert Grint walks the red carpet in red, white and blue sneakers at the Madrid, Spain, premiere of "Harry Potter and the Deathly Hallows: Part 2" in June 2011.
No, Lady Gaga and Beyoncè aren't doing a duet on "The Star-Spangled Banner" but teaming up in the music video for Gaga's "Telephone."
Beyoncé wears her pride on her pants when Destiny's Child performs at the 2001 United We Stand concert.
Nicole Richie wears a flag-inspired top to a Britney Spears concert in 2001.
Kid Rock doesn't break a sweat in a star-spangled fur coat at Ramstein Air Base in Germany in 2001.
Madonna raises the bar for flag apparel in a 1990 "Rock the Vote" ad.
scream "USA! USA!"
Will Ferrell's short shorts and crop top during "Saturday Night Live's'" 2001 "Show Your Patriotism" skit just
Stars in stripes: Celebs with patriotic style
Stars in Stripes: Celebs with patriotic style
Stars in Stripes: Celebs with patriotic style
Stars in Stripes: Celebs with patriotic style
Stars in Stripes: Celebs with patriotic style
Stars in Stripes: Celebs with patriotic style
Stars in Stripes: Celebs with patriotic style
Stars in Stripes: Celebs with patriotic style
Stars in Stripes: Celebs with patriotic style
Stars in Stripes: Celebs with patriotic style
Stars in Stripes: Celebs with patriotic style
Stars in Stripes: Celebs with patriotic style
Stars in Stripes: Celebs with patriotic style
Stars in Stripes: Celebs with patriotic style
Stars in Stripes: Celebs with patriotic style
Stars in Stripes: Celebs with patriotic style
Stars in Stripes: Celebs with patriotic style
Stars in Stripes: Celebs with patriotic style
Stars in Stripes: Celebs with patriotic style
Stars in Stripes: Celebs with patriotic style
Stars in Stripes: Celebs with patriotic style
Stars in Stripes: Celebs with patriotic style
Stars in Stripes: Celebs with patriotic style
Stars in Stripes: Celebs with patriotic style
Stars in Stripes: Celebs with patriotic style
Stars in Stripes: Celebs with patriotic style
Stars in Stripes: Celebs with patriotic style
Stars in Stripes: Celebs with patriotic style
Stars in Stripes: Celebs with patriotic style
Stars in Stripes: Celebs with patriotic style