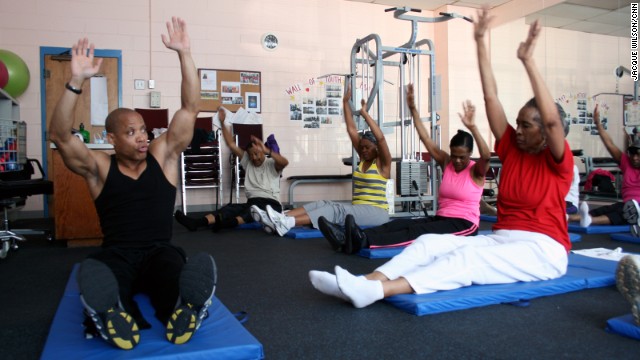 Personal trainer Leslie Magnum, left, teaches functional fitness classes at Quality Living Services' senior center in Atlanta. Magnum, who is the owner of Young at Heart Wellness, says regular physical activity helps seniors tackle everyday tasks. "People need to know that seniors are living. They want to live. They don't want to sit around and not do anything."
Magnum starts his classes with deep breathing and stretching exercises. Toe touches stretch out the lower back, buttocks and hamstrings, preventing muscles from cramping during walking or bending.
Toe raises strengthen the calf muscles and help with balance. Good balance can prevent falls, Magnum says.
The seniors in Magnum's class use 3- to 5-pound weights for arm exercises. Pressing the weights overhead helps strengthen their shoulders and forearms, which can aid in putting away groceries or getting objects down from high shelves.
Squatting dumbbell rows strengthen the lower back, quads and biceps. This helps seniors get up and down out of chairs without assistance, Magnum says.
Strong abdominal muscles protect the back from injury, Magnum says. This move involves scissoring the legs so each foot touches the mat in rapid succession.
The lean-back fly also helps strengthen the abs and back so bending over and picking up objects is easier, Magnum says.
"This helps us to get out of bed," Magnum says of the butt bridge, which works the hips and lower back.
Magnum incorporates moves from Pilates and yoga into his classes to help with flexibility and range of motion.
Magnum also teaches what he says is the largest seniors aerobics class in the United States. More than 100 of the center's residents -- some of them nearing 100 years old -- gather to groove to music on Wednesdays. Aerobics helps coordination, balance, energy and mental health, Magnum says.
Seniors stay strong
Seniors stay strong
Seniors stay strong
Seniors stay strong
Seniors stay strong
Seniors stay strong
Seniors stay strong
Seniors stay strong
Seniors stay strong
Seniors stay strong
STORY HIGHLIGHTS
Functional fitness programs mimic activities done in daily life
Many seniors take functional fitness classes to stay independent
Moves focus on endurance, balance, core strength, joint flexibility
It can work for younger folks, too, especially those with jobs requiring specific motions
(CNN) -- John Moses plays tennis every week. He does push-ups and planks, shoulder presses and squats. He attends group fitness classes at an activity center three times a week, often taking two classes on Wednesdays and Fridays.
His strength, flexibility and six-pack abs have earned him a spot on the center's Wall of Youth and Fame. But the 75-year-old Atlanta man is just glad his joints don't hurt anymore.
"(Exercise) helps you capture the vim, vigor and vitality of your youth," he says. "You can do the things you did when you were younger."
Moses credits his energy to functional fitness, a type of exercise program that mimics the activities of daily life. For instance, lifting grocery bags out of the car requires forearm strength and balance. Putting those groceries away on high kitchen shelves could require shoulder flexibility and calf muscle stability.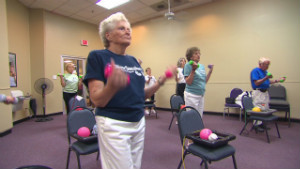 Silver Sneakers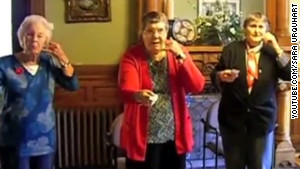 Seniors perform 'Call Me Maybe'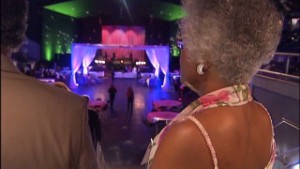 Seniors attend prom 50 years later
"In real life you don't do an activity that singularly involves the bicep," explains Karyn Loughridge-Petty, program supervisor at the Center for Functional Fitness in Cuyahoga Falls, Ohio. "Functional fitness is focused on multi-joint activity. ... You rotate your body, put the strap over your shoulder, twist to put (the bag) in the car."
Functional fitness ranked eighth on the American College of Sports Medicine's list of the top 2013 fitness trends. Exercise programs for older adults ranked sixth.
Navratilova on seniors staying fit in their golden years
The two are often one and the same, says Walt Thompson, professor of kinesiology at Georgia State University and lead author of the ACSM survey -- although functional fitness can apply to the younger generation as well.
Take, for example, a young man working on an assembly line in the automotive industry. He might not have the upper-body strength to manipulate large objects above his head. Or a restaurant server might need to increase her endurance so her feet don't hurt at the end of a long night.
"A personal trainer can imitate that kind of activity in the gym," Thompson says.
Smart commercial gyms are starting to offer senior functional fitness programs in the midmorning and early afternoon, Thompson says, when other exercisers are scarce.
"If they're not doing it, they're losing out on the potential revenue source that is huge. About the only demographic that has any discretionary money left is the elderly."
And it's a large demographic -- more than 41 million Americans were over the age of 65 in 2011. But as with any other age group in the United States, getting seniors to work out can be a challenge; in 2009, approximately 32% of older adults reported having no physical activity time in the last month, according to the Centers for Disease Control and Prevention.
A gymnastics coach and group fitness instructor for more than 35 years, Loughridge-Petty designed the Forever Young program for baby boomers in her area to provide a place for them to exercise at their own pace.
"I'm a physical person. I've always been a physical person," she says. "Do I want to be working out with 20- and 30-year-olds? Probably not."
As people age, there's wear and tear on the body. They lose muscle mass, bone strength and their sense of balance. Functional fitness focuses on keeping seniors independent as long as possible. Frequent exercise can help relieve arthritis pain, reduce the risk of falling and lower the risk of type 2 diabetes, according to the CDC.
Seniors benefit most from 'exergames,' experts say
The Forever Young program still has boot camp and Zumba classes, but they're different than the ones offered at the main building. The intensity and tempo aren't as high because seniors are more focused on building strength and flexibility. Another class has stations that mimic moves you would need to attend a theater performance: stair climbing; walking sideways down the aisle; sitting and standing up.
Basically, the end goal for functional fitness is different than your typical gym program, Loughridge-Petty says.
"What I want isn't a size 2," she says. "What I want is to be able to go to Hawaii and have a good time and not be worried about not being able to get my luggage in the overhead compartment. My leg muscles are strong not because I want to look great in a 4-inch heel, but because I want to be able to get in and out of a cab without help."
Follow Jacque Wilson on Twitter and Google+