Secrets to shopping flea markets and yard sales
updated 8:42 AM EDT, Tue July 2, 2013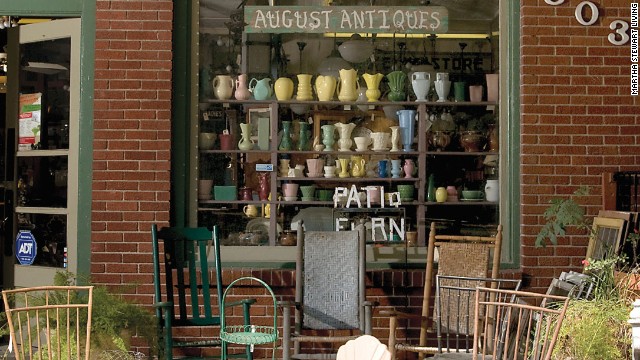 The later in the day you shop at a flea market, the better bargains you will get.
Five to ten percent off is a good bet -- don't push your luck when bargaining.
Bargain for groups of items -- the dealer may want to unload!
If you really want an item, hold on to it, tight! Dealers recognize that whoever is touching an item has first claim to it.
Iron garden tables from the mid-twentieth century are easy to find at flea markets, but they often look plain. Give one instant style with a fresh coat of paint in a sunny shade and easy-to-install caning (no weaving required).
Just because an antique platter or plate is scratched, cracked, or broken, doesn't mean its useful life has to end. Its patterned border can be used as the decorative frame for a mirror.
You've found a charming chair at a flea market, but it lacks a seat. Not to worry: Fix it in no time by weaving a new one.
Found a lamp with a base you love but a shade that's just not right? Update it with a custom-pleated paper shade that fits right over the old one.
Flea-market finds and dollar-a-glass specials can be transformed with monograms, stripes, and whimsical polka dots.
Modern windows no longer accommodate outdoor shutters, but that's no reason to pass shutters by at flea markets or secondhand shops -- when cleaned up and painted, they make charming indoor accessories.
Old belt buckles can take on a new role as miniature picture frames. Gather these curios on a bureau, or display them as refrigerator magnets.
Don't disregard an old table because it's missing a leg or appears to be a bit banged up -- half of it can have a second life ahead as a graceful console. The best candidate for this project will be a table that's already split in the middle to accommodate a leaf.
Vintage soap dishes are the perfect size and shape to hold all sorts of odds and ends.
A solid old door, refinished and hung sideways, becomes a perfect -- and perfectly inexpensive -- headboard for a bed.
Add mid-century polka dots or bright 1970s swirls to your home by turning vintage silk scarves and handkerchiefs into cushion covers.
This chic seat has been reupholstered with a terry cloth towel, rendering this flea-market treasure perfect for the bathroom.
Transform everyday vessels into elegant vases by coating their interiors with glass enamel.
To keep your kitchen sink uncluttered, shop flea markets or housewares stores for pretty little trays to hold sponges, brushes, and dish and hand soap; the trays minimize spillover to the countertop and enable you to remove multiple small items quickly when you need to clear the sink. Find a glass bottle with a spout in which to decant your dishwashing liquid; the main supply can hide under the sink.
Leftovers are the bane of the sewing room as well as the kitchen. But the same creativity that inspired cassoulet can save odd lengths of fabric from ragbag ignominy. One idea: Use strips of cloth or lace to trim the opening of a cotton pillowcase. A monogrammed handkerchief from a flea market can be folded diagonally and machine-stitched to a pillowcase, creating a wonderful gift for someone with the right initial.
What began as an unremarkable piece of furniture becomes a bold, modern design statement when adorned with leaves and vines. Click on the double arrow below to find more tips for shopping at flea markets and yard sales.
Their sleek glass and porcelain rods long gone, enameled, ceramic, and metal towel-bar supports often turn up at flea markets. Attractive -- but what can you do with them? Show off the hardware in another room.
Wrap goods in vintage napkins, handkerchiefs, or other linens graced with lively patterns, and the packaging itself will serve as an added gift. Look for linens at flea markets or online. Fabrics are particularly helpful when wrapping articles whose shapes don't lend themselves to paper. The rest is a cinch: Gather fabric around item; tie with ribbon.
Floral frogs typically inhabit vases, where their job is to keep flowers standing upright, but they work just as well as place-card holders
Old-fashioned enamel milk pails, available at flea markets and farm-supply stores, have a rustic charm. Place sword ferns or similar plants in 10-inch pots inside large buckets; consider ferns in 4- to 8-inch pots for smaller pails. If the bucket is too deep, put an upturned plastic pot inside, and stand the plant on top. Remove plant to water.
A vintage medicine cabinet is just the right size to stash jewelry, perfume, and other accoutrements.
Vintage letters are a clever way to designate hooks on a coat rack. Try to match the style of the letter to the personality of the owner. These flea-market finds are easy to install -- secure an initial above each hook with adhesive mounting squares, which can hold up to two pounds, or use a heavy-duty two-part epoxy intended for most surfaces.
These two flea-market cupboards looked nothing alike, yet it wasn't hard to turn them into a single piece that functions like an armoire. All we did was paint them the same shade of white and blue-green and then add polished-nickel latches and crown molding. We stacked them and placed display items in the glass-front and linens underneath.
In this clever transformation, a foldable cot is topped with trays -- a great feature for a party; the trays can be removed to the kitchen for easy loading and unloading of hors d'oeuvres.
When to go
How to bargain
Smart bargaining tip
When you really want it
Cane-top table
Antique platter mirror
Webbed seat
Lampshade slipcovers
Etched glass
Indoor shutters
Belt-buckle frames
Half-table console
Soap-dish shelf
Door headboard
Silk scarf pillows
Chrome chair
Painted glass bottles
Kitchen sink organizer
Hankerchief pillowcase
Decoupaged dresser
Kitchen rack
Vintage linen gift-wrap
Floral frog place cards
Milk-pail planters
Jewelry cabinet
Assigned spaces
Stacked cabinets
Military cot coffee table
STORY HIGHLIGHTS
U.S. flea markets are chock full of deals, but bargaining is a skill
Merchants have a code of ethics: If you're touching an item, you have the first shot at it
Don't be rude or insulting when haggling for an item
Know when to walk away from a bad deal or dealer
(Martha Stewart Living) -- In general, the earlier you arrive to a flea market or yard sale, the greater the selection. The later you go, the better the bargain.
For many markets, the day could start as early as 5 a.m. Merchants expect dedicated collectors early in the morning and are less inclined to negotiate.
Furniture sells early, so go early if that's what you're seeking.
Martha Stewart Living: 15 kitchen shortcuts that will change the way you cook
The bargaining begins at about 9 a.m., and toward the end of the day, usually noon to 3 p.m., things slow down and vendors begin to pack up. This is the best time to get a good deal, since dealers won't want to bring everything home with them.
Don't be too cautious though, it's best to buy what you like when you see it; it may not be there at the end of the day.
Don't miss out on the conversation we're having at CNN Living.
Follow us on Twitter
and
Facebook
for the latest stories and tell us what's influencing your life.
Martha Stewart Living: 19 tips for perfect laundry every time
Good manners make for good negotiating. When you walk up to a table, say hello and be friendly. Never ask, "What's your best price?" Instead, ask, "Would you consider less?" In general, expect 5 to 10 percent to be taken off, but don't push it.
Martha Stewart Living: Martha Stewart's ultimate organizing solutions
Dealers are there to make a profit and may get insulted if you try to haggle too much. A good tactic is to play hard to get, even if you are smitten with something. It might even work in your favor to walk away; the dealer might call you back to make a deal.
Martha Stewart Living: 30 things everyone should know how to do
Another method is to ask the price for a group of items: How much for the three mirrors in the corner, for example, or for those necklaces in that box? That way, you're not focusing too much on one object, and the dealer can unload several items in one deal.
Martha Stewart Living: 10 clever ways to save space in your kitchen
If you see an item you absolutely must have at any price, don't act coy. Place your hand on the item and keep it there while you're negotiating. According to an unwritten rule, whoever is touching an object has first claim on it. Even if another buyer comes up and offers more money, the dealer can't sell it to him without first allowing you to meet the higher price.
Martha Stewart Living: 12 secrets for a cleaner bathroom without spending more time cleaning it
Any dealer who doesn't respect this code of ethics risks tarnishing their reputation.