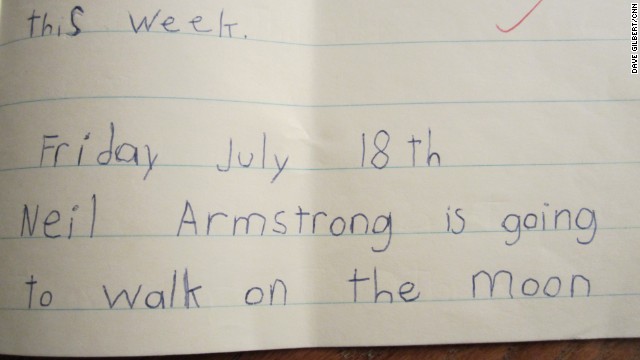 In 1969 schoolboys were excitedly looking forward to the Apollo moon landing.
Neil Armstrong, pictured inside the lunar module, made the "giant leap for mankind."
Astronaut Edwin "Buzz" Aldrin walks on the lunar surface during the Apollo 11 mission.
Apollo's computers were feeble even compared to your smartphone. This is the Apollo 10 command module pictured in London in 2009.
In the 1970s and 80s magazines were showing artists' impressions of moon bases. We still haven't built them.
We haven't been back to the moon in person but we have made huge advances in space: International space agencies have worked together to build an impressive space station.
NASA has sent a series of sophisticated rovers to explore the surface of Mars. This is a selfie of Curiosity on the Red Planet.
There are thought to be billions of planets in our galaxy. Hundreds have been discovered since the moon landings. An artist's illustration shows an exoplanet called HD 189733b -- a huge, hot gas giant that is about 63 light years from us and where it possibly rains glass.
The European Space Agency (ESA) recently launched the Gaia space telescope on a mission to make a 3D map of the Milky Way -- and perhaps discover even more alien worlds.
ESA is also leading a mission to chase a comet around the sun and even land on its surface. If successful it should add to our understanding of the origins of the solar system and may shed light on whether Earth was seeded with water.
Since Neil Armstrong's first step on the moon, huge scientific strides have been made, including decoding the whole human genome. Scientists can now identify individual genes that cause disease.
Scientists are now able to create "bionic" artificial limbs for the injured and disabled -- a prospect that was science fiction four decades ago.
NASA says it is focused on sending people to Mars in the 2030s and research is already under way.
What else might be possible over the next 45 years of exploration? Researchers based in the UK have been working to develop a "Star Trek" style deflector shield to protect astronauts from deadly radiation and allow longer space trips away from the Earth.
To the moon and beyond
To the moon and beyond
To the moon and beyond
To the moon and beyond
To the moon and beyond
To the moon and beyond
To the moon and beyond
To the moon and beyond
To the moon and beyond
To the moon and beyond
To the moon and beyond
To the moon and beyond
To the moon and beyond
To the moon and beyond
(CNN) -- Here's a look a look at what you need to know about human spaceflight programs in the U.S. and around the world.
Facts: The United States ended its human spaceflight program with the launch of Atlantis on July 8, 2011, and landing on July 21, 2011.
China and Russia are the only other countries to have independent spaceflight capabilities.
India and Iran have both announced their plans to send a manned spacecraft into space.
Timeline: October 4, 1957 - The Soviet Union launches Sputnik I, the first artificial satellite, which starts the "space race" between the Soviets and the U.S.
October 1, 1958 - The official start of the National Aeronautics and Space Administration (NASA).
May 25, 1961 - President John F. Kennedy addresses Congress, "First, I believe that this nation should commit itself to achieving the goal, before this decade is out, of landing a man on the moon and returning him safely to the earth. No single space project in this period will be more impressive to mankind or more important for the long-range exploration of space; and none will be so difficult or expensive to accomplish."
1958-1963 - NASA's Project Mercury. Its objectives are: - to orbit a manned spacecraft around Earth. - to investigate man's ability to function in space. - to recover both man and spacecraft safely.
April 12, 1961 - Soviet cosmonaut Yuri Gagarin is the first human in space aboard Vostok 1. He spends 108 minutes in space and makes one orbit around the earth.
May 5, 1961 - Project Mercury astronaut Alan B. Shepard is the first American in space aboard Freedom 7. He spends 15 minutes in sub-orbital flight.
February 20, 1962 - Project Mercury astronaut John Glenn is the first American to orbit the Earth, aboard Friendship 7. He spends four hours and 55 minutes in space and orbits the earth three times.
1962-1966 - NASA's Gemini program. Its objectives are: - to subject man and equipment to space flight up to two weeks in duration. - to rendezvous and dock with orbiting vehicles and to maneuver the docked combination by using the target vehicle's propulsion system. - to perfect methods of entering the atmosphere and landing at a preselected point on land. - to gain additional information concerning the effects of weightlessness on crew members and to record the physiological reactions of crew members during long duration flights.
June 16, 1963 - Soviet cosmonaut Valentina Vladimirovna Tereshkova is the first woman in space aboard Vostok 6. She spends 70 hours in space and orbits the earth 48 times.
1963 -1972 - NASA's Apollo program. Its objectives are: - to establish the technology to meet other national interests in space - to achieve preeminence in space for the United States - to carry out a program of scientific exploration of the Moon - to develops man's capability to work in the lunar environment
March 18, 1965 - Soviet Alexei Leonov is the first man to walk in space.
June 3, 1965 - Ed White becomes the first American to walk in space, during Gemini 4.
July 20, 1969 - Apollo 11 astronauts Neil Armstrong, Buzz Aldrin, Jr., and Michael Collins are the first humans to land on the moon. Armstrong and Aldrin are the first to walk on the moon.
1972 - NASA's Space Shuttle program formally begins in 1972, under President Richard Nixon.
April 1971 - Salyut, a manned orbiting space lab, is launched by the Soviet Union.
1973-1974 - NASA's Skylab program. Three missions are completed, with astronauts spending a total of 171 days in space. Its objectives are: - to prove that humans could live and work in space for extended periods - to extend our knowledge of solar astronomy well beyond Earth-based observations
April 12, 1981 - The Space Shuttle Columbia is the first to go to space and the first space shuttle to orbit the earth (STS-1).
June 18-24, 1983 - Sally Ride is first American woman in space aboard mission STS-7.
January 28, 1986 - The Space Shuttle Challenger explodes, killing the seven astronauts onboard, including Christa McAuliffe, chosen as the first teacher in space.
October 29, 1998 - A 77-year old John Glenn becomes the oldest human ever to go into space, aboard the Space Shuttle Discovery.
April 28, 2001 - Dennis Tito becomes the first "space tourist" - paying $20 million to ride on a Russian rocket to the International Space Station.
February 1, 2003 - The Columbia breaks up upon re-entry during mission STS-107, killing all seven crew members. It is the second loss of a shuttle in 113 shuttle flights.
October 15, 2003 - Yang Liwei is first Chinese man in space aboard Shenzhou 5.
July 21, 2011 - With the landing of the 135th and final space shuttle mission, the U.S. space shuttle program ends.
June 2012 - China plans to launch the Shenzhou 9, carrying three taikonauts/astronauts, on course to rendezvous with Tiangong-1, a mini-space station, in their first manned space docking venture. Two crews prepare for the mission, each with a female crewman; Major Liu Wang and Captain Wang Yaping, both Air Force fighter pilots.
June 16, 2012 - Chinas launches Shenzhou 9 with a crew of three, Liu Wang, Jing Haipeng and Liu Yang, from the launch pad at Jiuquan Satellite Launch Center in western Gansu province. Liu Wang is the first female taikonaut to go into space.