Guantanamo lawsuit: End forced feedings before Ramadan
updated 11:11 AM EDT, Tue July 2, 2013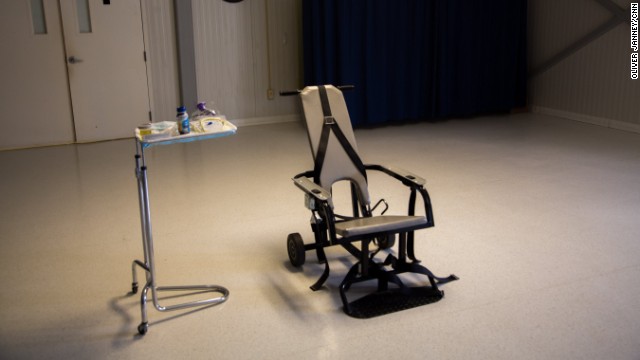 Guantanamo Bay's detention facility opened in 2002 with 700 detainees. More than a decade later, 166 remain and more than half are in political limbo, waiting for the Obama administration and Congress to decide whether to close the prison. The frozen status of the detainees has led to hunger strikes, which grew from about a half-dozen inmates at first to more than 100 now.
Of the 100 detainees on hunger strike, 30 are force-fed liquid supplements using a feeding bag, mask, tubes and Ensure, a practice condemned by human rights groups and the American Medical Association.
A Detainee Hospital Medical Officer holds a feeding tube as he explains how the procedure is carried out.
A cardiac monitoring area is set up inside the Detainee Medical Facility at Camp Delta.
The box protruding from a cell door is known as a "splash box." It is used to keep detainees from being able to splash guards with bodily fluids, a practice that has become a daily occurrence since the start of the hunger strike.
Medical equipment inside the Detainee Medical Center.
Restraints are used in an operating room at the medical facility.
A look inside Guantanamo
A look inside Guantanamo
A look inside Guantanamo
A look inside Guantanamo
A look inside Guantanamo
A look inside Guantanamo
A look inside Guantanamo
STORY HIGHLIGHTS
Lawyers for four detainees at Guantanamo Bay file a federal lawsuit
They ask for a speedy hearing as Islam's fasting month of Ramadan approaches
They seek an end to the forced feedings of captives who are on hunger strikes
(CNN) -- With the holy month of Ramadan approaching, lawyers for four Guantanamo Bay captives are trying to end forced-feeding at the U.S. detention facility in Cuba.
Shaker Aamer, Ahmed Belbacha, Nabil Hadjarab and Abu Wa'el Dhiab seek a speedy hearing to have their complaint heard because Ramadan begins on the evening of July 8. The timing is urgent because Muslims who observe Ramadan fast daily from dawn to sunset.
The lawyers for the four filed the federal lawsuit in Washington on Sunday. U.S. District Judge Gladys Kessler set a deadline of noon ET Wednesday for the government to respond.
Navy Capt. Robert Durand of the Joint Task Force Guantanamo said it would be "inappropriate to comment on that current litigation at this time."
Gitmo hunger strikers: 'What more can they do to me?'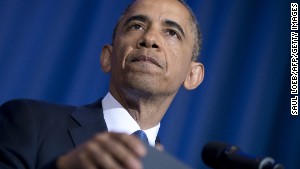 Obama renews call to close Gitmo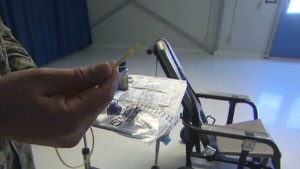 Gitmo prisoners being force-fed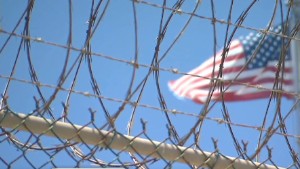 Gitmo detainees cost $900,000 apiece
Addressing the religious requirements of Muslims during Ramadan, he said, "we essentially invert our schedule to accommodate these religious practices, including involuntary feeding."
The lawsuit says Aamer is a Saudi national and British citizen cleared by the Obama administration for release in 2009. Belbacha and Hadjarab, who are Algerian citizens, were first cleared for release in 2007 during the Bush administration and reauthorized for release by the Obama administration in 2009, the suit says. Dhiab is a Syrian national cleared for release in 2009, the lawsuit says.
The Council on American-Islamic Relations, the nation's largest Muslim civil rights and advocacy organization, repeated its call Monday for the force-feeding of hunger-striking prisoners at Guantanamo Bay to stop.
Daily life at Gitmo: Hunger strikes, sprays of filth
Ibrahim Hooper, the national director of communications at the council, said the practice of forced-feeding is always wrong and is particularly offensive during Ramadan.
"We've asked for the forced-feeding to be stopped in any case. ... It sends a very negative message to the Muslim world."
Because of security measures in place, it's difficult to determine how many detainees are on hunger strikes.
As of Tuesday, 166 detainees were at Guantanamo. Durand said 106 of them are being tracked as hunger strikers. Of those, 45 are being fed through tubes directly to the stomach or intestinal tract, he said.
The number could be higher: The Joint Task Force does not comment on the 15 "high-value detainees" being held in a separate camp at Guantanamo. Some of them could be on hunger strikes, as well.
More on the captives at Guantanamo Bay
CNN's Devon Sayers contributed to this report.