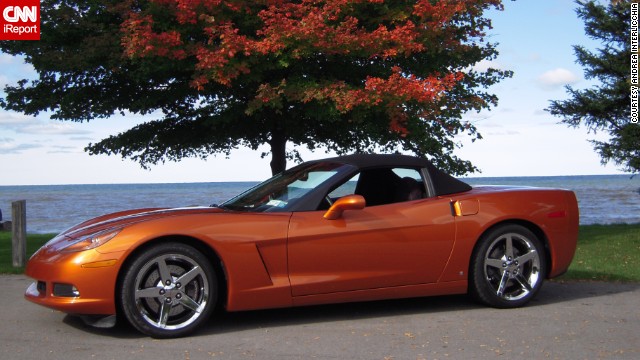 Andrea Interlicchia
drives her 2008 Corvette Convertible in atomic orange with the top down from spring to fall. For the Corvette's 60th anniversary she says, "Thanks for getting me from point A to point B in style."
Matthew Colver
and his wife purchased a 2002 Corvette Convertible after their kids moved out of the house. It's shown here sitting next to Colver's 1973 Datsun 240Z. If he could say anything to his Corvette for its 60th anniversary it would be, "Thanks for the joy you've given us."
Jim Zingg
named his C6 Corvette convertible Lailani. "I'm not giving her up. I searched for almost two years to find the perfect Corvette," he said.
Allen Lineberry
with is C6 Corvette Coupe. He can still remember falling in love with the Corvette while watching the television show "Route 66" as a 10-year-old boy.
Sheer luck and a raffle drawing united
Calvin Burgart
says people ask him if he is selling his 1966 Corvette Roadster in Nassau blue. "This spring, I turned 70 years old and I still have the car. It looks and runs the same, I look and run a lot different," he said.
At almost every gas station he stops at,
Agnes Grubbs
and her son Mack own three Corvettes, a '68 Stingray, a '91 Coupe and a 2010 Grand Sport. They have been participating in car shows for the last 3 years and she says the reactions they get from people are amazing. "Especially the kids. In some of the shows, we let kids and adults sit inside. The looks are priceless," she said.
Wayne Ray
and his wife stand in front of their 2010 Corvette Grand Sport. "When we ordered the car, we also requested a 'Buyers Tour' from the museum. That when the museum escorts you through the Corvette plant on the day your car is built so you can walk it down the line and actually see the building process," he explained.
Nadine Jopson
photographed Misty, her 1991 Corvette Coupe, getting ready for a parade in Greece, New York, back in 2012. "She loves hanging out with other 'vettes," she said.
Eddie Hicks
sits outside his drive in Bradenton, Florida, with his 2013 Sport Coupe. "All sports cars look good, but a Corvette is truly 'America's Sports Car,'" he said.
Dave DiVito
likes to take his two little daughters out for a ride in his 2004 Corvette Z06 Commemorative Edition. He says the Corvette is a family affair.
Michael Venth
owns a 2001 Corvette in candy apple red. "Dollar-for-dollar, the Chevy Corvette is the best sports car on the planet and it's made in the United States," he said.
Manny Gonzalez
photographed his wife standing next to his 1970 Corvette LT-1 Convertible. He's proud to say he is the original owner, purchasing the car in August 1970. "This Corvette has a lot of history and many great memories, but it was the beast that it is, that gave me goose bumps. Fast with great handling."
David Thurston
details his 2000 Coupe. He says he loves having a piece of American history and tradition, and "being a part of a unique community," he said.
Mark Baker
with his 2013 Grand Sport Convertible. "I grew up with an interest in cars in general and loved the look of the '67 Corvette with the Stinger hood in particular. That eye-catching design and the brute power to go with it hooked me in," he said.
Lon Solomita
cruising down Waterbury, Connecticut, in his 1961 Corvette. "The first time I purchased a Corvette, I was 24. The guy who sold it to me said, 'You will always have to have one.' He was right. I am going onto purchasing my 10th Corvette," he said.
Revving up for the Corvette's 60th
Revving up for the Corvette's 60th
Revving up for the Corvette's 60th
Revving up for the Corvette's 60th
Revving up for the Corvette's 60th
Revving up for the Corvette's 60th
Revving up for the Corvette's 60th
Revving up for the Corvette's 60th
Revving up for the Corvette's 60th
Revving up for the Corvette's 60th
Revving up for the Corvette's 60th
Revving up for the Corvette's 60th
Revving up for the Corvette's 60th
Revving up for the Corvette's 60th
Revving up for the Corvette's 60th
STORY HIGHLIGHTS
2013 marks the 60th year of the Chevrolet Corvette
The two-seater sports car has become an iconic American automobile
Auto enthusiasts list the top 9 reasons behind the Corvette's popularity
(CNN) -- The pounding of her heart, the adrenaline racing through her system, the vibrations buzzing through her bones: At 16, Andrea Interlicchia got hooked on the idea of owning a Chevrolet Corvette.
She became hung up on the classic American sports car after her father nonchalantly tossed the keys to his 1975 "vette" at her and asked if she could go to the local store to grab a loaf of bread. The car's acceleration, the smell of its exhaust and the feel of its engine made that grocery trip like none other. 
The Chevy Corvette has left years of memorable experiences for many drivers, and now the American sports car is in its seventh generation and celebrating its 60th anniversary since it first went into production.
Throughout those years, the famous two-seater sports car has found its way onto American driveways, racing tracks and pop culture. The Corvette was selected as the pace car 11 times for the Indianapolis 500, has been featured in songs like Prince's "Little Red Corvette" and even made some big screen appearances like the 1978 "Corvette Summer." Corvettes are even anticipated to show up as Autobots in Michael Bay's "Transformers 4."
To celebrate six decades of this American car, auto enthusiasts like Interlicchia give a must-read list of the top 9 reasons why Corvettes rev up people's systems.
1. It's the accessible sports car
50 years ago, Gene Beenenga found himself on a Chevrolet showroom floor in LaSalle-Peru, Illinois, and the 1963 Split-Window Sting Ray Corvette caught his eye. A memory rushed back to him as he recalled the exhilaration he felt driving around with his high school friend in a Corvette years earlier. When he saw the Sting Ray's sleek body and design, pure desire made him take the plunge to pay the listed showroom price of $4,875. Throughout the years he has gotten offers from sellers to buy up the classic model, but the 72-year-old says the car gives him too much pride to let go of. "Doesn't every youngster want the mystique of owning a high-performance car?" he asked. "This model of car, being the Corvette, was accessible for the average-income buyer, and still could deliver on that thrill of a high-powered sports car."
2. It's a car for men and women
Interlicchia was a stay-at-home mom for 15 years before she got her first job, her first paycheck and then her first Corvette, a 2001 Pewter Convertible. After falling in love with her father's Corvette in her teens, she knew she had to have one. During the months of April through October, when she is driving around Webster, New York, with the top down, she says she and her car know how to turn heads. "Most people are surprise when they see a woman driving it. It has long been known for older men driving this model car. That is why my license plate reads 'IPAY 4IT,'" she said. 
3. It melts the stress away
Agnes Grubbs' son, Mack, introduced her to his first Corvette back in 2000 and took her out for a spin. "The next thing I know, he had me take the wheel.  It was silver with a black convertible top and the top was down at the time. I guess that is when I got hooked," she said. The 58-year-old has been driving Corvettes for the past four years. Between them, she and her son own three Corvettes now, and she says there is just something about cruising in one that melts her stress away. "Sometimes I drive them to work and if I have a stressful day, I can get in these cars, take off, and my stress level goes way down." 
4. It's an attention grabber
Calvin Burgart, 70, took his driving test in his teens with his grandmother's 1942 Studebaker. It had no power steering, none of the works, and he still passed. While attending graduate school at the University of Tennessee, Calvin Burgart came to the revelation that he could take out a loan and buy a Corvette, so he ended up purchasing a 1966 Corvette Roadster in Nassau blue. At the time it had no power steering, brakes, windows, seats, "A man's car," he described it. The car has had some upgrades, and he still drives it around San Diego. "'Nice car' is what I get at most stop lights every time I drive it. And in gas stations it's 'Is that car for sale?'" he said. "It is the oldest car marque made in America that has remained true to its origins."
5. It represents the American Dream
Matthew Colver and his wife decided to get a sports car after their kids moved out of their California home back in 2001. After seeing the top down on a Corvette, he says there was no other car as beautiful around. He and his wife decided to order a customized 2002 Corvette Convertible. "I remember driving it across the desert on I-40 and getting it up to 120 mph before my wife noticed how fast I was going and she yelled at me to slow down. That was fun," he said. He says owning and driving the Corvette is like fulfilling a dream. "I remember when the '66 Stingray came out when I was a kid and I thought that was the coolest car I ever saw," he said.
6. It's a perfect fit for two
Allen Lineberry, 57, and his family were doing their last family vacation with his wife before his two daughters were to move out and start college. They were heading to Chicago, but stopped at the National Corvette Museum in Bowling Green, Kentucky. Lineberry decided to make a little gamble while touring the museum and bought a raffle ticket for the just released C6 Corvette. "My wife and girls could not believe I would spend a $100 on a small piece of paper ... but I figured it was as close to a 'vette as I would ever be," he said. After their road trip, Lineberry got a phone call that he had won the car in the raffle drawing. "This was perfect timing, it just has two seats and its just enough," he said. 
7. 'It's a piece of American history'
After graduating Grantham University with an MBA, Jim Zingg decided to reward himself with a C7 Corvette, which he named Lailani. When he was stationed in Germany for work, he decided to bring his Corvette with him to Europe so he could travel around with a piece of American history. "I've always liked Corvettes. My high school buddies own a couple and I was at a place in my life where I wanted one. I searched for almost two years to find the perfect one," the 41-year-old said. "They have the best of both worlds -- style and beauty."
8. It's a social experience
At 12, Eddie Hicks would see his friend's uncle, Harry, drive around town in a Corvette, a new model every two years. "Everyone in town would wait with anticipation to see what the next one was like," he said. It was his lifelong dream to own a car like Uncle Harry's. Upon retirement, Hicks, 71, finally got a red 2013 coupe. "I drive it around town, a much bigger town. I can see people pointing and talking about my Corvette and I wonder if they are pointing at me, like Uncle Harry, and saying 'One of these days I am going to get me one of those,'" he said. "All sports cars look good, but a Corvette is truly 'America's sports car.' The history, the clubs, the events and most importantly just the fun of driving it," Hicks said.
9. It's a car you can pass down for generations 
Dave DiVito, 40, was introduced to his first Corvette when he was 5 years old. His father took him to see a yellow one. From then on, he and his father worked on restoring, detailing and participating in Corvette shows with the Corvette club, forging a relationship and hobby between the two. He owns a 2004 Corvette Z06 Commemorative Edition now, and when he had his own two daughters he shared with them a passion for Corvettes. "They enjoy helping me wash the car. They pick out Corvettes when we are driving, and they have numerous Hot Wheels Corvettes and a Barbie Corvette," he said. "The Chevrolet Corvette has been a part of the family for over 35 years. Keep on vettin!"
From a timeless classic, to an affordable buy, Corvettes have been a part of some people's lives for decades, and they continue to leave an impression on car enthusiasts.
Are you a Corvette owner? Send a photo of you with your car and help us build our photo gallery, which celebrates 60 years of the Corvette. 
Rachel Rodriguez contributed to the reporting of this story.