J. Lo sings happy birthday wishes to repressive Asian leader
updated 6:34 AM EDT, Mon July 1, 2013
STORY HIGHLIGHTS
Jennifer Lopez performed at Turkmenistan president's birthday celebration
Human Rights Watch says Turkmenistan has "extraordinary levels of repression"
Spokesman: Lopez didn't realize the human rights issues around Gurbanguly Berdymukhamedov
(CNN) -- Jennifer Lopez sang "Happy Birthday, Mr. President" on Saturday to a leader who has been characterized as one of the most repressive in the world.
"We wish you the very, very, happiest birthday," Lopez said to Turkmenistan President Gurbanguly Berdymukhamedov, and then she sang to him at a huge celebration at a resort in the central Asian country.
The singer's spokesman told CNN Sunday that "had there been knowledge of human right issues of any kind, Jennifer would not have attended."
Human Rights Watch, in a report to the U.N. Human Rights Committee, recently called Turkmenistan "a country marked by extraordinary levels of repression."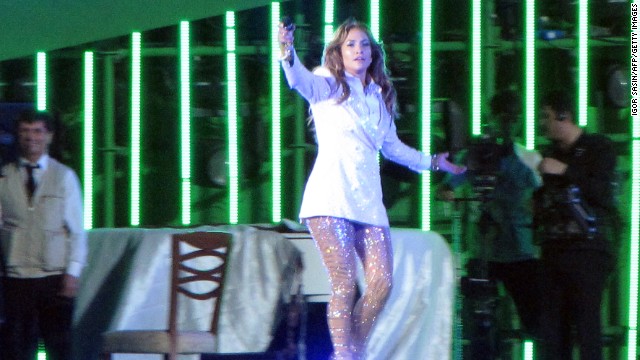 In June, Jennifer Lopez sang "Happy Birthday" to Turkmanistan President Gurbanguly Berdimuhamedow, whose regime was described as "one of the world's most repressive" in a January 2013 report by Human Rights Watch. Lopez is believed to be the first major Western star to visit the isolated former Soviet republic, and her performance caused a backlash.
Beyonce, seen here at New York's Madison Square Garden in 2007, donated the money that she received for performing at a private New Year's Eve party on the Caribbean island of St. Barts in 2009. The party was hosted by family members of then-Libyan leader Moammar Gadhafi.
According to The Daily Mail, Sting performed for Gulnara Karimova, daughter of Uzbekistan President Islam Karimov, in 2010. The paper quoted a statement from him in which he said he was aware of Karimov's poor human rights record but "made the decision to play there in spite of that. I have come to believe that cultural boycotts are not only pointless gestures, they are counterproductive, where proscribed states are further robbed of the open commerce of ideas and art and as a result become even more closed, paranoid and insular."
Many in the music industry called on Usher to return his fee when it was revealed that, like Beyonce, he had performed for the Gadhafi family at a 2009 New Year's Eve party. He later said he was donating the money to charity.
Mariah Carey had also performed for the Gadhafi family at a New Year's Eve party, but in 2008. She later said she was "naive and unaware of who I was booked to perform for. I feel horrible and embarrassed to have participated in this mess." She also said she planned to donate the money to charity.
Nelly Furtado tweeted that she would donate the $1 million she received for performing for the Gadhafi family in 2007.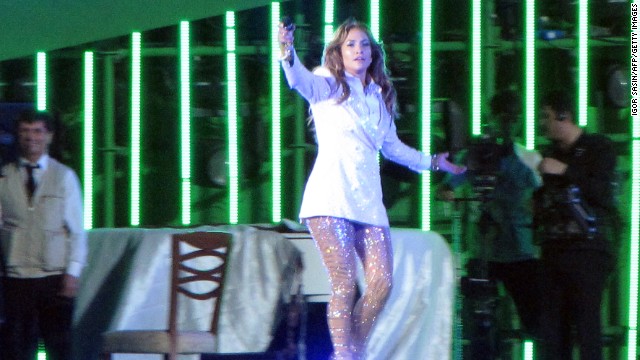 Photos: Stars performing for dictators
"Widely recognized as one of the most repressive in the world, the Turkmen government exercises total control of public life," the report said.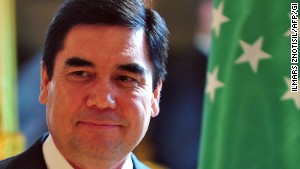 Turkmen President Gurbanguly Berdymukhamedov at a news conference in 2012.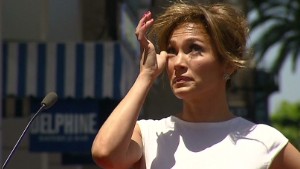 Lopez tears up during star ceremony
Lopez spokesman Mark Young said she "and several other artists were invited and performed at a private corporate event for the China National Petroleum Corporation that was presented to their local executives in Turkmenistan."
The event was not sponsored by the government and not political, he said.
"The China National Petroleum Corporation made a last-minute 'birthday greeting' request prior to Jennifer taking the stage," he said.
"This was not stipulated in her contract, but she graciously obliged the China National Petroleum Corporation request."
Once part of the Soviet Union until late 1991, Turkmenistan has abundant gas and oil resources. The CIA Factbook says the leadership uses its "gas and cotton export revenues to sustain its inefficient and highly corrupt economy." The country borders Afghanistan and Iran.
Berdymukhamedov has been chief of state and head of government since February 2007, the CIA Factbook says.
Tearful Lopez receives Walk of Fame star
CNN's Denise Quan contributed to this report.