STORY HIGHLIGHTS
Lawyers: Court shouldn't have lifted a stay on same-sex marriages in California
They ask for "an immediate order" vacating that decision, after which weddings resumed
A gay rights spokesman says the appeals court's actions were "entirely proper"
U.S. Supreme Court paved the way for the appeals court's move with a ruling Wednesday
(CNN) -- Lawyers for groups opposed to same-sex marriage in California petitioned to reverse a federal appeals court order that OK'd the resumption of such unions -- doing so a day after that ruling.
Attorneys applied Saturday to the U.S. Supreme Court for "an immediate order vacating" a decision Friday by the Ninth U.S. Circuit Court of Appeals, according to copies of the document from ProtectMarriage.com and the Alliance Defending Freedom. That appeals court Friday lifted a previous injunction on same-sex marriages in California, "effective immediately."
"Without the immediate relief requested by this Application, the Ninth Circuit will circumvent the proper rules and procedures established by this Court," the application says.
Those on the other side of the debate, meanwhile, think the appeals court acted appropriately.
"The Ninth Circuit had broad discretion as to whether to stay the injunction pending appeal," said Manny Rivera, a spokesman for the American Foundation for Equal Rights. "Now that the Supreme Court has decided that the injunction against Proposition 8 must stand, it was entirely appropriate for the Ninth Circuit to dissolve its stay of that injunction."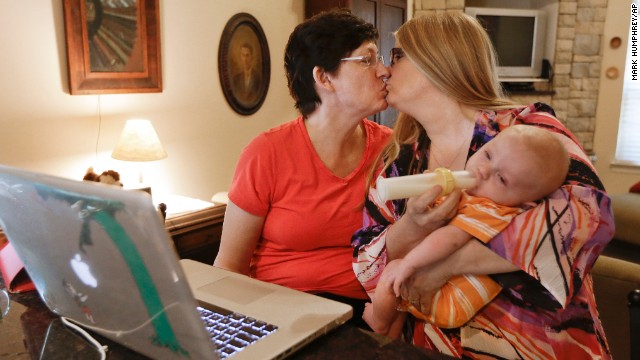 Julia Tate, left, kisses her wife, Lisa McMillin, in Nashville, Tennessee, after the reading the results of the Supreme Court rulings on same-sex marriage on Wednesday, June 26. The high court struck down key parts of the Defense of Marriage Act and cleared the way for same-sex marriages to resume in California by rejecting an appeal on the state's Proposition 8.
Jeff Zarrillo, center, and Paul Katami, right, plaintiffs in the California case against Proposition 8, wipe away tears after departing the Supreme Court in Washington. Katami proposed to Zarrillo on national news after the ruling.
The New Yorker's next issue features artwork by Jack Hunter in reaction to the Supreme Court's rulings.
Erin Raskauskas Jr. shows off the autograph he got from attorney David Boies on a copy of the Proposition 8 ruling outside of the Supreme Court in Washington.
Same-sex marriage proponent Ryan Clarke reads news updates on the rulings outside of the Supreme Court.
With the Capitol in the background, the Gay Men's Choir of Washington performs outside of the Supreme Court in Washington.
Richelle Spanover, right, celebrates at the Stonewall Inn in New York after the Supreme Court rulings. The Stonewall riots in 1969 sparked the modern gay rights movement.
Chris Roe, left, and Roby Chavez celebrate while holding their soon-to-be-adopted children as the ruling is announced in San Francisco.
Defense of Marriage Act plaintiff Edith Windsor speaks at a press conference at the LGBT Center in New York after hearing the Supreme Court rulings.
Donna Red Wing, executive director of One Iowa, reacts to the Supreme Court rulings from Des Moines, Iowa.
San Francisco Mayor Ed Lee, second from left, and Phyllis Lyon, center, celebrate at the mayor's office in San Francisco.
John Lewis, left, gets a kiss from his partner Stuart Gaffney at City Hall in San Francisco.
A crowd of people outside the Supreme Court in Washington react to the rulings.
Supporters of same-sex marriage cheer at City Hall in San Francisco.
People in the crowd embrace outside the Supreme Court in Washington.
Sue Rochman, center, and Robin Romdalvik celebrate with their son, Maddox Rochman-Romdalvik, at City Hall in San Francisco.
California Lt. Gov. Gavin Newsom speaks during a rally in San Francisco after the Supreme Court decisions were announced.
Patrons of the Stonewall Inn in New York gather to hear the Supreme Court rulings.
Therese Stewart, the lead attorney on the Proposition 8 case in California, speaks at City Hall in San Francisco after the Supreme Court paved the way for same-sex marriage in the state.
A couple celebrates at City Hall in San Francisco.
Michael Knaapen, left, and his husband, John Becker, react to the rulings in Washington.
American University students Sharon Burk, left, and Molly Wagner embrace outside the Supreme Court.
A couple celebrates at City Hall in San Francisco after hearing the Supreme Court struck down parts of the Defense of Marriage Act.
A gay rights supporter waves a flag outside City Hall in San Francisco ahead of the Supreme Court decisions on June 26.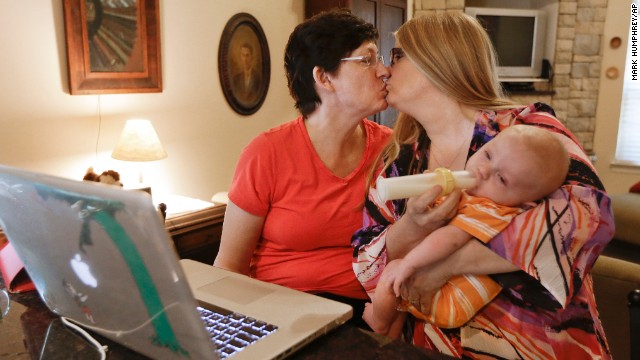 Photos: Reaction to same-sex marriage rulings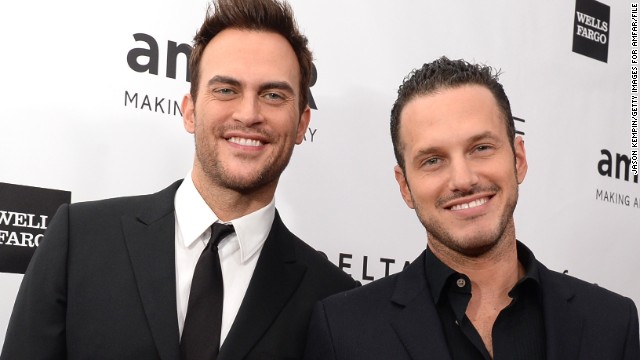 "Glee" star Cheyenne Jackson reportedly married actor Jason Landau on September 13, 2014. According to People the pair, who got engaged in January, had an outdoor interfaith ceremony at a friend's estate in Encino, California.
Sir Elton John and his partner David Furnish, who have two children together, are planning to marry in a quiet wedding sometime in 2015.
Melissa Etheridge and Linda Wallem married on May 31 at San Ysidro Ranch in Montecito, California. The singer tweeted "True love...so blessed. 'By the power invested in me by the state of California...' Thanks" along with a wedding picture of her and Wallem who is one of the creators of the Showtime original series "Nurse Jackie."
Interior design guru Nate Berkus, left, and Jeremiah Brent tied the knot in New York City on May 3. According to People magazine they held the ceremony at the New York Public Library, and are the first same-sex couple to host a wedding at the historic landmark. The pair announced their engagement in April 2013.
Jodie Foster is adept at keeping her private life low-key. The actress quietly wed her girlfriend, photographer Alexandra Hedison, in mid-April. According to E! Online, the couple had been dating for almost a year.
Fashion designer Tom Ford, right, and his partner of 27 years, Richard Buckley, are now married, the former Gucci craftsman confirmed to Vogue UK. He didn't give details on the nuptials, except to acknowledge that they were held in the United States. The couple are already parents to a 1-year-old, Alexander John Buckley Ford.
Musician Linda Perry, left, and actress Sara Gilbert married on March 30, Gilbert announced on her TV show "The Talk."
Columnist Liz Smith broke the news that actress Lily Tomlin, right, rang in 2014 by marrying Jane Wagner, her partner of 42 years, on New Year's Eve.
"Glee" star Dot-Marie Jones, right, wed longtime girlfriend Bridgett Casteen on December 21 at their home in Los Angeles.
Former "Family Ties" star Meredith Baxter, left, has reportedly tied the knot with girlfriend Nancy Locke. According to People magazine, the couple wed in an intimate ceremony in Los Angeles in December. Baxter, 66, confirmed rumors about her sexuality in 2009, plaintively telling the "Today" show, "Yes, I'm a lesbian."
According to People, former "Grey's Anatomy" star T.R. Knight married Patrick Leahy, his boyfriend of three years, in October.
Lance Bass, right, popped the question to boyfriend Michael Turchin, and the couple announced their engagement on Instagram in September with a shot of Turchin flashing the ring.
Talk show host Ellen DeGeneres, left, and actress Portia de Rossi married in 2008. De Rossi was granted the right to change her last name to "DeGeneres" by a Los Angeles court in 2010.
Raven-Symone tweeted in August that she was pleased with the recent rulings on same-sex marriage. "I can finally get married! Yay government! So proud of you," the former "Cosby Show" star wrote. In September, E! reported that the actress attended an event in Atlanta with rumored girlfriend AzMarie Livingston.
Attorney Justin Mikita, left, and "Modern Family" star Jesse Tyler Ferguson announced their engagement in 2012 via their website tietheknot.org, and then married in July 2013. Their foundation sells ties with the proceeds going to organizations that support same-sex marriage. The pair have been outspoken about their advocacy.
Michelle Rounds, left, and Rosie O'Donnell quietly wed in 2012, and in January 2013 they announced the arrival of a daughter.
"How I Met Your Mother" star Neil Patrick Harris, left, and David Burtka announced their engagement in 2011. The couple are parents of twins, Gideon Scott and Harper Grace.
Country star Chely Wright, left, and Lauren Blitzer married in August 2011 and are the parents of identical twin sons, George Samuel and Everett Joseph.
"Sex and the City" star Cynthia Nixon, left, started dating activist Christine Marinoni in 2004. The couple got engaged in 2009 and married in 2012.
Several of George Takei's "Star Trek" co-stars attended the ceremony when he married longtime partner Brad Altman, right, in 2008.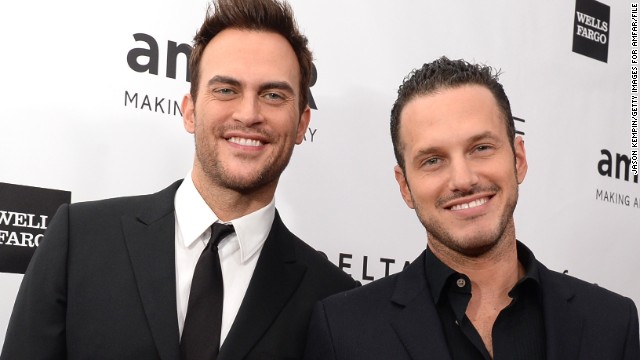 Photos: Gay celebs and marriage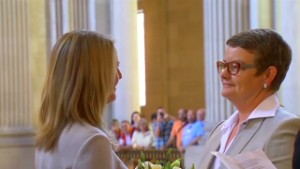 Plaintiffs in same-sex marriage case wed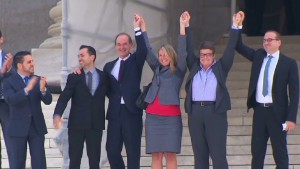 California lifts same-sex marriage ban
California's Supreme Court struck down the state's ban on same-sex marriage in May 2008, ruling that the state's constitution gives "this basic civil right to (marry to) all Californians, whether gay or heterosexual, and to same-sex couples as well as to opposite-sex couples."
But months later, 52% of voters backed Proposition 8 to once again restrict marriages so that they can only be between a man and a woman.
The measure put gay and lesbian marriages on hold, though lawsuits followed.
State officials declined to stand behind Proposition 8 -- and, thus, its prohibition on gay marriage -- though private parties did step in and offer to do so.
A federal appeals court later ruled that Proposition 8 was unconstitutional, though it still issued a stay on same-sex marriages until the U.S. Supreme Court could weigh in.
That happened in a 5-4 decision Wednesday, when the high court dismissed an appeal of that federal court ruling on jurisdictional grounds. That meant Friday's news -- the resumption of same-sex marriages in California -- was expected, even though it wasn't known when it would happen.
Supreme Court cases rest of citizens who sued, made history
ProtectMarriage.com and Alliance Defending Freedom say it shouldn't have happened then, at the least.
In their emergency application, affiliated lawyers claimed the Ninth U.S. Circuit Court of Appeals "lacked jurisdiction to issue its order purporting to dissolve the stay." They reasoned that this appeals court wasn't authorized to weigh in until the Supreme Court "sends a certified copy of the judgment to the Ninth Circuit."
Among other arguments, the application also stated that "permitting the Ninth Circuit to prematurely dissolve its stay order would effectively deprive petitioners of a meaningful opportunity to exercise their right to petition for rehearing."
Such petitions for the Supreme Court to reconsider a case must be filed within 25 days after a ruling has been made.
It's unclear if and/or when the high court might consider this request. Justices recently began a recess after issuing a number of pivotal rulings last week.
And there's no immediate indication it will have any impact on same-sex weddings taking place around California. Gov. Jerry Brown issued a directive on Friday telling authorities in "58 California counties that same-sex marriage is now legal in California and that marriage licenses must be issued to same-sex couples immediately."
Attorney General Kamala Harris, in fact, performed one of the first such unions -- between Kristin Perry and Sandra Stier, who were one of the couples who sued to stop a voter-approved ban on same-sex marriage from taking effect -- at San Francisco's City Hall.
Process begins to allow federal benefits for same-sex spouses
CNN's Erica Henry contributed to this report.