STORY HIGHLIGHTS
Seemingly endless lists of missing persons continue to grow
Dozens of survivors walk through streets holding pictures of people they've lost
There are not enough people to search all of the piles of rubble lying in rivers and ravines
Many of those unaccounted for are feared buried in the silt
Rishikesk, India (CNN) -- A crowd of people gathered around the bruised and battered man eager to listen to his tragic story. They were hoping he'd have news from the mountains he was plucked in northern India, where thousands of their loved ones are still missing.
A monsoon dumped over a foot of rain at once in Uttarakhand state last week, causing widespread landslides in the Himalayas. Barrages of water, mud and rocks wiped out whole villages. The man telling his story was on a pilgrimage to a Hindu temple at the time.
"So many rocks, so much silt. We were pushed up and up inside the roof," he said, sitting in a clinic in the city of Rishikesk in the state's east. "No space to breath, then the walls collapsed. My wife and daughter were ripped away."
A mountain tsunami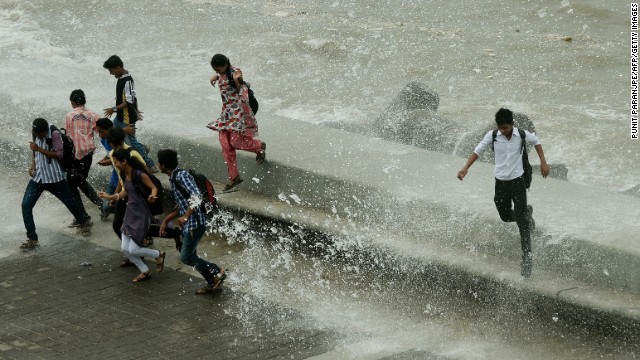 Pedestrians run from water splashing over a sea wall in Mumbai on Monday, June 24. Authorities are scrambling to rescue thousands of people trapped after floods and landslides ravaged north India, leaving up to 1,000 feared dead.
A man struggles with his umbrella during heavy rain in Mumbai on June 24.
A rickshaw driver bikes through heavy rain in Allahabad, Uttar Pradesh state, on June 24.
Boatmen navigate a fast-moving river in Allahabad, Uttar Pradesh state, on June 24.
Workers pack candles at a factory in Ahmedabad, Gujarat state, on June 24. Candles are in great demand during India's monsoon season as heavy rains cause electricity blackouts.
A stranded pilgrim carrying a child is ziplined across a river with the help of Indo-Tibetan Border Police personnel in Govindghat, India, on June 23.
Police carry a child during efforts to help stranded Indian pilgrims on June 23 after a section of road was washed away in Govindghat.
Stranded Indian pilgrims make their way up a mountain in Govindghat on June 23.
Police personnel use a rope rescue system to transport stranded pilgrims across a river in Govindghat on June 23.
Severe flooding has left more than 50,000 people stranded in northern India. A boy rescued from flood-hit areas waits with others before being sent to relief camps in Dehradun, state capital of Uttarakhand, on Friday, June 21.
A man bathes from a hand pump as a local resident carries her belongings to safer place on the banks of the Yamuna River in New Delhi on June 19.
An Indian man, who was evacuated due to rising waters, searches along the banks of the Yamuna River in New Delhi on June 21.
Buses and trucks are submerged in the rising waters of the Yamuna River near the Tibetan market in New Delhi on June 19.
Shopkeepers are using boats to traverse the rising waters of the Yamuna River at the Tibetan market in New Delhi on June 19.
Men watch the rising waters of the Yamuna River from a bridge in New Delhi on June 19.
Civil Defence volunteers warn people against attempting to catch floating pumpkins, watermelons and other objects from the rising waters of the Yamuna River in New Delhi on June 19.
Evacuees hug their family members after arriving by helicopter in Dehradun, the capital of the state of Uttarakhand on June 19.
Hindu priests move their shelters from the banks of the Ganga river as the water level rises in Allahabad, Uttar Pradesh state, on June 19.
The Kedarnath Temple (C, foreground) is pictured amid flood destruction in the holy Hindu town of Kedarnath in Uttarakhand state on June 18.
Water flows over a Hindu statue during heavy monsoon rains in Rishikesh town in the state of Uttrakhand on June 17.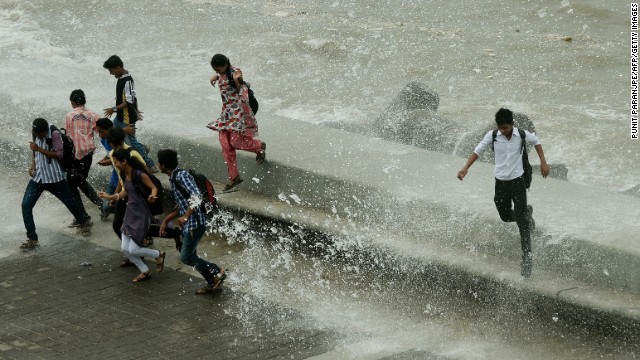 Images: India lashed by monsoon rains
Uttarakhand's chief minister, Vijay Bahuguna, has described the disaster as a "Himalayan tsunami."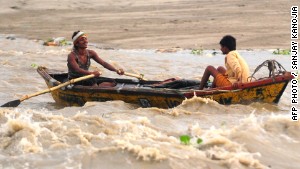 Is climate change causing disasters?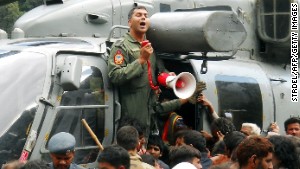 Massive rescue effort continues in India
Dotted with temples and often referred to as "the Land of Gods," the state attracts large numbers of pilgrims from around India to its mountainous reaches. Those travelers, many of them far from home and short on belongings, were caught up in the destruction.
Helicopter blades have cut through the air for a week over ravines still filled with flood water. They have brought back thousands of survivors, who, like this man, have told stories of tragic loss.
Many of them came with family members to worship together at shrines.
Now dozens of them wander the streets of Rishikesk, displaying pictures of their missing loved ones.
One man holds up a piece of paper with five pictures on it. Another near him is missing eight family members, another 10.
"Last communication was on 16th," a woman who has lost her parents said. "They were in Verdana. Since then we haven't had any communication and we have not got any clue about them."
They stand in front of walls papered with lists containing endless rows of the names. Many of them have been accounted for, but that doesn't help this crowd.
The survivors ask police and locals: "Have you seen them?" "No" is the answer they consistently hear. Their hope is fading.
The rest feared dead
50,000 survivors were originally cut off by the debris, according to authorities.
The choppers have just 6,000 people left to ferry into town, and the number of shaken pilgrims coming into a receiving station is slowing to a trickle.
It should have been a many more arriving there with them. The rest are feared dead, buried in endless piles of debris lying at the bottoms of steep slopes.
"The numbers of missing people are increasing," said police officer Pankaj Pokhriyal. Relief centers take down their details, and relay them to army bases in the mountains. But there aren't enough rescuers to comb all of the river banks and fields of rubble.
Frustration and blame
Angry and desperate, the crowd lashes out at authorities and local journalists over what they feel are misplaced priorities. Instead of inspecting damage to buildings, they should have done more to account for people inside them, a man complains.
Ecologists have blamed the catastrophe in part on rapid development in the tourist region.
Hotels have shot up with roads hastily cut to reach them, they say. Dozens of dams and other hydro projects have been built. Tunnels have been quickly dug and hillsides blasted away, according to environmentalist Devinder Sharma.
Uttarakhand's government website posts the names of survivors alongside their home towns to relieve the agony of those searching for them.
But authorities also ask for help in identifying the dead, whose pictures they have published.
It's hard to imagine recognizing a brother, sister or mother in the photos of recovered bodies bloated beyond recognition and covered in silt.
It's harder to imagine wanting to.