STORY HIGHLIGHTS
NEW: South Africans sing, dance, and pray outside the hospital
"He is much better today than he was when I saw him last night," Zuma says
Mandela's daughter: "He's ... still reactive to touch. We will live with that hope"
Mandela's grandson criticizes "hurtful" and "mischievous rumors"
Pretoria, South Africa (CNN) -- South Africans sang and prayed late Thursday outside the hospital where Nelson Mandela is being treated, singing "Viva Mandela!" after news the anti-apartheid icon's condition had stabilized.
Colorfully dressed women danced in front of the Pretoria hospital where candles burned, the South African Press Association reported.
Hundreds of people from the African National Congress Youth League and Women's League sang struggle songs, danced, and marched up and down the street in front of the hospital, according to the state-run South African Broadcasting Corp.
"There is no other like him," they sang.
Zuma: Mandela's condition improves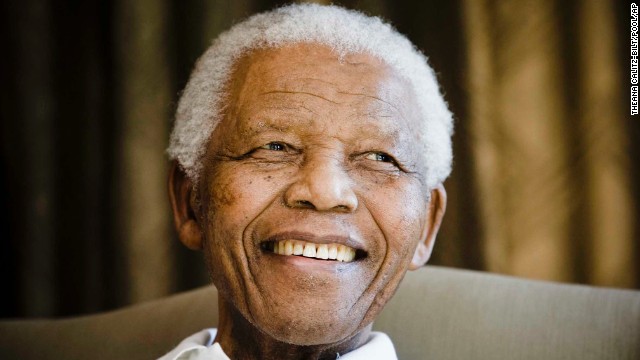 Nelson Mandela, the prisoner-turned-president who reconciled South Africa after the end of apartheid, died on December 5, 2013. He was 95.
Mandela became president of the African National Congress Youth League in 1951.
Mandela poses for a photo, circa 1950.
Mandela poses in boxing gloves in 1952.
Mandela in the office of Mandela & Tambo, a law practice set up in Johannesburg by Mandela and Oliver Tambo to provide free or affordable legal representation to black South Africans.
From left: Patrick Molaoa, Robert Resha and Mandela walk to the courtroom for their treason trial in Johannesburg.
Mandela married his second wife, social worker Winnie Madikizela, in 1958. At the time, he was an active member of the African National Congress and had begun his lifelong commitment to ending segregation in South Africa.
Nelson and Winnie Mandela raise their fists to salute a cheering crowd upon his 1990 release from Victor Verster Prison. He was still as upright and proud, he would say, as the day he walked into prison 27 years before.
A jubilant South African holds up a newspaper announcing Mandela's release from prison at an ANC rally in Soweto on February 11, 1990. Two days later, more than 100,000 people attended a rally celebrating his release from jail.
Mandela and Zambian President Kenneth Kaunda arrive at an ANC rally on March 3, 1990, in Lusaka, Zambia. Mandela was elected president of the ANC the next year.
After his release in 1990, Mandela embarked on a world tour, meeting U.S. President George H.W. Bush at the White House in June.
At his Soweto home on July 18, 1990, Mandela blows out the candles on his 72nd birthday cake. It was the first birthday he celebrated as a free man since the 1960s.
Mandela and his wife react to supporters during a visit to Brazil at the governor's palace in Rio De Janeiro, on August 1, 1991.
South African President Frederik de Klerk, right, and Mandela shared a Nobel Peace Prize in 1993 for their work to secure a peaceful transition from apartheid rule.
Mandela votes for the first time in his life on March 26, 1994.
On April 27, 1994, a long line of people snake toward a polling station in the black township of Soweto outside of Johannesburg in the nation's first all-race elections.
Mandela in Mmabatho for an election rally on March 15, 1994.
Mandela was elected president in the first open election in South African history on April 29, 1994. He's pictured here taking the oath at his inauguration in May, becoming the nation's first black president.
Mandela, left, cheers as Springbok Rugby captain Francois Pienaar holds the Webb Ellis trophy high after winning the World Cup Rugby Championship in Johannesburg on June 24, 1995.
After one term as president, Mandela stepped down. Thabo Mvuyelwa Mbeki, at right, was sworn in as his replacement in June 1999.
Mandela sits outside his former prison cell on Robben Island on November 28, 2003, ahead of his AIDS benefit concert at Green Point Stadium in Cape Town. He was sent to the infamous prison five miles off the coast of South Africa, where he spent 18 of his 27 years behind bars.
Mandela shows something to a group of international journalists visiting the Nelson Mandela Foundation in Johannesburg in May 2004.
Mandela sits with his wife, Graca Machel, and his grandchildren at his son's funeral on January 15, 2005. He disclosed that his son, Makgatho Lewanika Mandela, had died of AIDS and said the disease should be given publicity so people would stop viewing it as extraordinary.
The "46664 Arctic" benefit concert was held in Tromso, Norway, on June 11, 2005. 46664 was Mandela's identification number in prison. Here, artists who performed at the event surround him.
Mandela attends an HIV/AIDs concert in Johannesburg on February 17, 2005.
Former U.S. President Bill Clinton leans down to whisper to former South African President Nelson Mandela during a visit to the Nelson Mandela Foundation on July 19, 2007, in Johannesburg.
A bronze statue of Mandela was unveiled in Parliament Square in London on August 29, 2007. The 9-foot statue faces the Houses of Parliament.
Mandela leaves the InterContinental Hotel after a photoshoot with celebrity photographer Terry O'Neil on June 26, 2008, in London.
Mandela meets in 2009 with international children as part of his 46664 Foundation.
Nelson Mandela and his third wife, Graca Machel, arrive at the 2010 World Cup before the final match between Netherlands and Spain on July 11, 2010, at Soccer City Stadium in Soweto.
Then-U.S. Secretary of State Hillary Clinton meets with Mandela at his home in Qunu, South Africa, on August 6, 2012.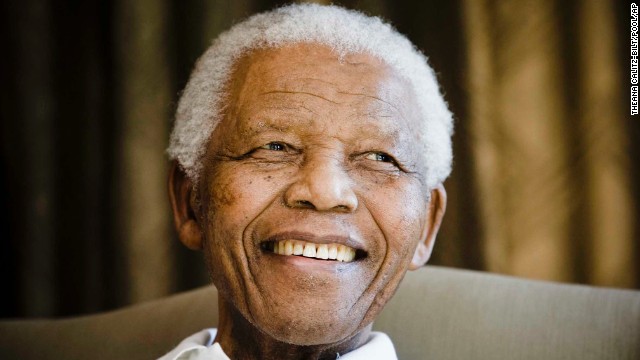 The evolution of Nelson Mandela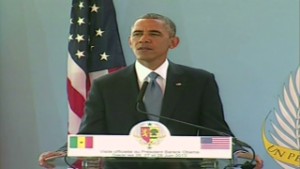 Obama: Mandela is a hero for the world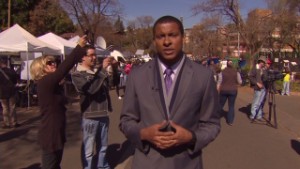 Reporting challenges of Mandela health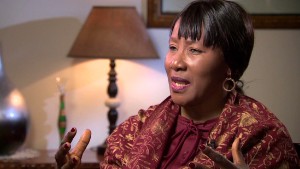 Daughter: He is at peace
Mandela's condition improved, President Jacob Zuma said Thursday, as the eyes of the nation remained fixed on his progress.
Zuma spoke after visiting Mandela in the hospital and said the medical team told him the former president "remains critical but is now stable."
"I canceled my visit to Mozambique today so that I can see him and confer with the doctors. He is much better today than he was when I saw him last night," Zuma said.
Mandela, 94, considered the founding father of South Africa's modern democracy, has been undergoing treatment at the Pretoria hospital since June 8 for a recurring lung infection. His oldest daughter said earlier that although her father is critically ill, he opens his eyes and responds to touch.
"I reiterate that Tata is very critical, that anything is imminent," Makaziwe Mandela told SABC. "But I want to emphasize again that it's only God who knows when the time to go is. And so we will wait."
"Tata" is the word for father in the language of Mandela's Xhosa tribe.
"He's ... still reactive to touch. We will live with that hope until the final end comes," she said.
The stream of family visits continued, with the former president's granddaughter Ndileka Mandela and grandson Mandla Mandela the latest to come to the hospital, the South African Press Association said.
Concerned about rumors
Another grandson, Nkosi Mandela, issued a statement criticizing what he called "hurtful" and "mischievous rumors" about his grandfather's condition.
"Our government has been keeping all of us informed in this regard, and there is no reason to doubt the accuracy of the information they provide to the public," he said.
"At the end of the day, my grandfather's fate, like that of everyone else, lies with God and our ancestors," he added. "However, many of us will continue to pray and hope for his recovery."
An official briefed on Mandela's condition said he was on life support late Wednesday. Government spokesman Mac Maharaj declined to comment on the report, citing doctor-patient confidentiality.
Zuma's statement also warned against a rash of misleading reports about Mandela's condition.
The ANC is organizing prayer sessions around the country "where all South Africans can come together, hold hands and pray for Madiba, his family and medical team," it said in a statement Thursday.
In South Africa, Mandela is most commonly referred to as Madiba, the name of the Thembu clan to which he belongs. It is a term of endearment and respect.
'We need you!'
As the nation remained on edge, South Africans found solace in candlelight vigils. Police barricaded the street leading to the hospital's main entrance as crowds posted messages and left tributes at the hospital wall.
"We need you!" one sign read. "We love you tata, get well soon!" said another.
Police also cordoned off the street outside Mandela's Johannesburg home Thursday, the South African Press Association reported.
About 30 journalists who were gathered outside were asked to move to the end of the street, but well-wishers were allowed to leave flowers and tributes by the house.
'A hero for the world'
Mandela became an international figure while enduring 27 years in prison for fighting apartheid, the country's system of racial segregation. He was elected the nation's first black president in 1994, four years after he was freed.
Even as he has faded from the spotlight, he remains popular and is considered a hero of democracy worldwide.
He turns 95 next month.
U.S. President Barack Obama, who is on a tour of the continent this week that includes South Africa, said his thoughts are with the nation's citizens.
"He is a personal hero, but I'm not unique in that regard," Obama told CNN Chief White House correspondent Jessica Yellin in Dakar, Senegal, the first stop of his African tour.
"I think he's a hero for the world, and if/when he passes, we know his legacy will linger on throughout the ages."
First lady Michelle Obama said Mandela "is very much in our thoughts and prayers right now." Speaking to middle-school students in Dakar, she urged the children to "honor his legacy by leaving a proud legacy of your own."
"If President Mandela could hold tight to his vision for his country's future during the 27 years he spent in prison, then surely you all can hold tight to your hopes for your own future," she said.
"If President Mandela could endure being confined to a tiny cell, being forced to perform back-breaking labor, being separated from the people he loved most in the world, then surely all of us, we can keep showing up and doing our best -- showing up for school each day, studying as hard as you possibly can."
Obama's schedule does not include a visit with the anti-apartheid icon.The president's trip to South Africa this weekend includes a stop on Robben Island, where Mandela spent a majority of his prison term.
After South Africa, Obama plans to head to Tanzania, his last stop before returning to Washington.
CNN's Faith Karimi wrote and contributed from Atlanta, and Robyn Curnow from Pretoria, while Laura Smith-Spark wrote in London. CNN's Brent Swails, Josh Levs, Samira Said, Nana Karikari-apau and Pierre Meilhan contributed to this report.