Friends, family and fans mourn Gandolfini in NYC funeral
updated 6:59 AM EDT, Fri June 28, 2013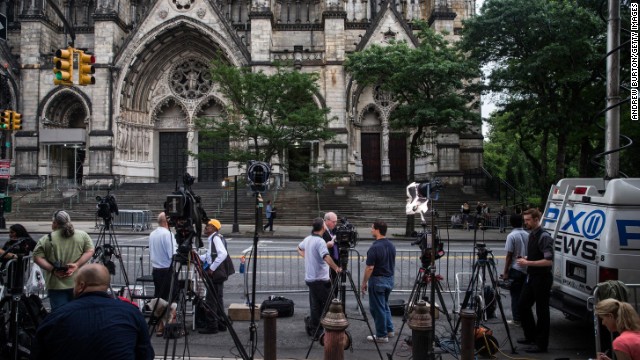 Members of the media congregate outside the Cathedral Church of St. John the Divine in New York City prior to the funeral of James Gandolfini on Thursday, June 27.
Steve Buscemi, who was on the cast of "The Sopranos," arrives at the funeral.
Alec Baldwin attends the funeral.
A hearse pulls up near a side entrance to the church.
Actor Michael Imperioli attends the funeral.
New Jersey Gov. Chris Christie departs the funeral.
Aida Turturro, center, and Edie Falco, right, attend the funeral.
Joe Pantoliano attends the funeral.
James Gandolfini's funeral
James Gandolfini's funeral
James Gandolfini's funeral
James Gandolfini's funeral
James Gandolfini's funeral
James Gandolfini's funeral
James Gandolfini's funeral
James Gandolfini's funeral
STORY HIGHLIGHTS
Funeral for James Gandolfini is held Thursday in New York City
'The Sopranos' creator was scheduled to speak
Family and close friends attended a private wake Wednesday in New Jersey
(CNN) -- Playing an anxiety-filled mobster made him famous, but it was the beloved, talented man stars and politicians turned out to bid farewell to on Thursday.
A funeral service was held for James Gandolfini at The Cathedral Church of St. John the Divine in New York City where his friends, family, fans and co-stars came together to mourn the loss of the 51-year-old actor, who died of a heart attack while in Italy on June 20.
"The Sopranos" creator David Chase was scheduled to speak during the service, along with Gandolfini's widow, Deborah Lin Gandolfini, and two family friends. Gandolfini found fame starring as mob boss Tony Soprano on Chase's hit HBO series.
See James Gandolfini's 1989 screen debut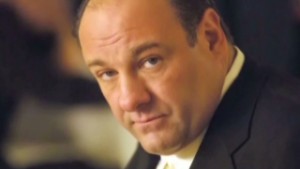 Star-studded goodbye to Gandolfini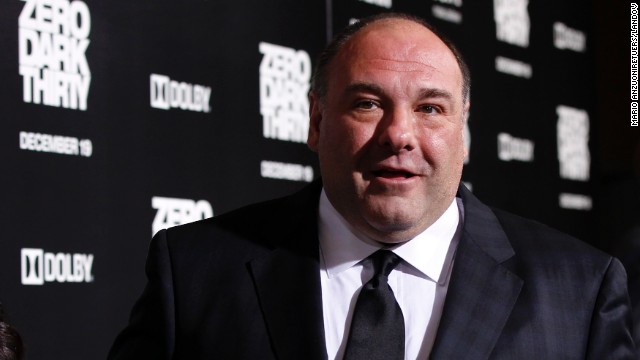 James Gandolfini, who gained fame playing a memorable mafia boss on HBO's "The Sopranos," died after suffering a heart attack in Italy on Wednesday, June 19. Pictured, Gandolfini at the premiere of "Zero Dark Thirty" in 2012.
Gandolfini and Jane Fonda attend an after-party for the HBO series "Newsroom" in Hollywood on June 20, 2012.
Gandolfini attends the Keep Memory Alive Foundation's Power of Love Gala celebrating Muhammad Ali's 70th birthday in 2012 in Las Vegas.
Gandolfini watches the New York Jets play the New York Giants at MetLife Stadium on December 24, 2011, in East Rutherford, New Jersey.
Gandolfini with his wife, Deborah Lin, at the premiere of HBO Films' "Cinema Verite" at Paramount Pictures Studio in Los Angeles in 2011.
Gandolfini arrives for the world premiere of "Violet & Daisy" at the Elgin Theatre during the Toronto International Film Festival on September 15, 2011.
Gandolfini arrives at the 2011 BAFTA Brits To Watch Event at the Belasco Theatre in Los Angeles.
Gandolfini visits with service members and civilians on Kandahar Air Field, Afghanistan, on March 29, 2010, during a USO tour.
Gandolfini, Jeff Daniels, Marcia Gay Harden and Hope Davis during the curtain call of the opening of the Broadway play "God of Carnage" on March 22, 2009, at the Broadway Theatre in New York.
Edie Falco and Gandolfini present the award for outstanding miniseries at the 58th Annual Primetime Emmy Awards in 2006.
Gandolfini attends the sixth season premiere of "The Sopranos" in New York in 2006.
Gandolfini speaks at the 9th Annual Critics' Choice Awards gala at the Beverly Hills Hotel in 2004.
Gandolfini poses backstage during the 55th Annual Primetime Emmy Awards in 2003 in Los Angeles.
The cast of "The Sopranos," from left, Tony Sirico, Steve Van Zandt, James Gandolfini, Michael Imperioli and Vincent Pastore.
Gandolfini with Edie Falco, left, and Lorraine Bracco at the DVD launch party for "The Sopranos: The Complete Fifth Season" in 2005 in New York.
Gandolfini accepts the Television Drama Award at the GQ Men of the Year Awards in 2000.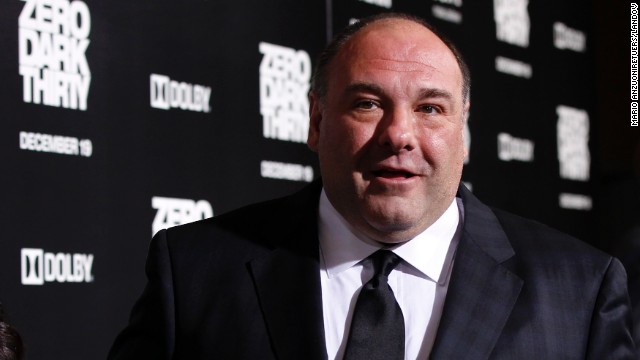 Photos: 'Sopranos' star James Gandolfini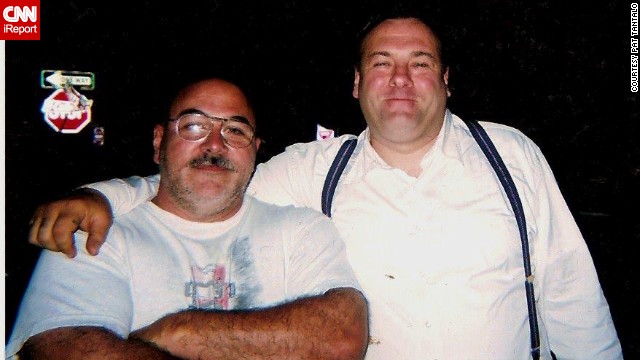 When the news broke on Wednesday that "The Sopranos" star James Gandolfini died at 51, tributes poured in around the world, including CNN iReport. "So long, paisan" was how Orlando, Florida, resident Pat Tantalo chose to say goodbye to the friend he met on the set of the 2006 film "Lonely Hearts." "When Jimmy arrived, he was bigger than life. He shook everyone's hands and made sure he learned everyone's name. We were just finishing a production meeting and we introduced ourselves. We instantly connected. He planted his huge mitts on my shoulders and called me a little bull."
Randy Robinson worked on the set of "Lonely Hearts" as well. "When I first met him it took a little time for him to warm up to you, but after he did, he was like a big funny bear. He was very tired on many occasions on set. There was this old couch where he would lay down for a much-needed nap. He snored louder than a bear could growl. They actually had to wake him because the microphones would pick it up."
Julio Ortiz-Teissonniere met Gandolfini outside of his Broadway show, "God of Carnage," in 2009."I thought how cool it was when he spoke to a former classmate of his that was standing next to me waiting to get his autograph. He remembered her and he even asked about another classmate."
Erin Farley went to several locations in North Caldwell, New Jersey, the morning after Gandolfini died, including the Holsten's Ice Cream Parlor, site of the famous final scene of the series. "Being from New Jersey, Tony Soprano was always a name I heard growing up. And yesterday when he passed away, my state was so affected and I wanted to find out why."
Farley pointed out that, as of Wednesday night, "Ice cream eaters can sit anywhere but the booth that Tony Soprano sat in during the very last episode. A reserved sign sits on the table alongside a newspaper dedicated to Gandolfini."
Neigbors and fans flocked to the home which was used as the home of the Sopranos to pay their respects. "The neighbors remember him as a friendly guy who would just come up and hug you. Though he played a criminal on television, they say he was one of the nicest men and always waved hello."
Farley saw a candle and a bag of pasta left in front of the driveway, in "Tony's" memory. "It was really interesting to listen to people call him Tony and not James. Everyone called him Tony, that's just who he is. He was an icon for New Jersey and it shows."
Art Frewin named his Wellin, Ontario, bar the "Bada Bing Roadhouse," inspired by "The Sopranos," and paid tribute on the sign outside his establishment when he heard the news. "I was sorry to see Tony ... James pass away. We'll always know him as Tony, you know. I thought he was a brilliant actor who played a brilliant part. I was very taken aback. 51 is way too young."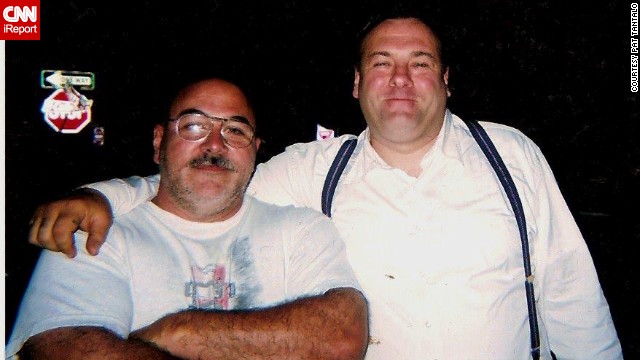 'So long, paisan:' Fans mourn Gandolfini
Cast members from that show, including Lorraine Bracco and Tony Sirico, embraced others as they arrived. Spectators stood nearby as they watched a wide range of well-knowns enter the church, from actor Alec Baldwin to New Jersey Gov. Chris Christie.
In addition to the remembrances by family and friends, the 90-minute service was to include traditional hymns and contemporary selections, according to HBO. The Cathedral Church of St. John the Divine was selected because it is large enough to accommodate the multitude of family, friends and fans expected to attend, an HBO representative said.
Despite reports the network planned to film the funeral, "HBO is not recording it. It is being recorded for personal archival usage," a spokesperson from that company told CNN.
The service followed a private wake held Wednesday at a funeral home in Park Ridge, New Jersey, the New York Daily News reported. The invitation-only event drew tearful family and friends who grappled with their loss.
"It's a nightmare for the whole family," Bob Price, who is married to one of Gandolfini's cousins, told the Daily News. "It's a horrible, horrible thing. Everybody is just devastated."
Wednesday evening, Broadway dimmed its lights in memory of the actor, who was nominated for a Tony Award in 2009 for his work in the play "God of Carnage."