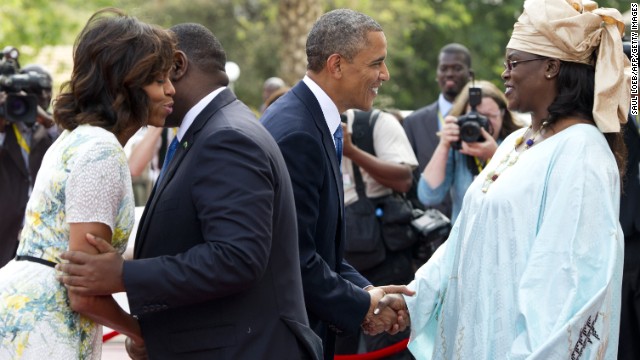 Senegal President Macky Sall and his wife Marieme Faye Sall welcome President Barack Obama and first lady Michelle Obama on Thursday, June 27, at the presidential palace before meetings in Dakar. Obama arrived in Dakar late on June 26 to start his tour of Africa.
President Barack Obama speaks with Ghanaian President John Atta-Mills at Osu Castle, the government headquarters and a former slave trading fort, in Accra, Ghana, on July 11, 2009.
President George W. Bush meets women and children at the reproduction and child health unit of Meru District Hospital in Arusha, Tanzania, on February 18, 2008.
President Bush holds the tusk of an elephant while touring the Mokolodi Nature Reserve in Gaborone, Botswana, on July 10, 2003.
President Bill Clinton reaches out to shake hands while touring Ushafa, Nigeria, on August 27, 2000.
President Clinton greets people during a tour of a village in Senegal on April 1, 1998.
President George H. W. Bush meets people at a displaced persons camp in Mogadishu, Somalia, on December 31, 1992.
Former Egyptian President Hosni Mubarak and President George H.W. Bush stand together at a ceremony in Cairo, Egypt, on November 24, 1990.
Left to right, President Jimmy Carter and wife Rosalynn, Egyptian President Anwar Sadat and wife pose in front of the Giza pyramids in Egypt, in March 1979.
President Richard Nixon and Egyptian President Anwar Sadat greet people in Egypt, in June 1974.
U.S. presidents in Africa
U.S. presidents in Africa
U.S. presidents in Africa
U.S. presidents in Africa
U.S. presidents in Africa
U.S. presidents in Africa
U.S. presidents in Africa
U.S. presidents in Africa
U.S. presidents in Africa
U.S. presidents in Africa