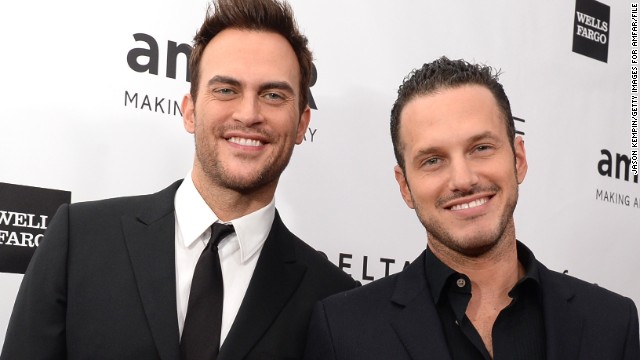 The cast of "Glee" needs to start shopping for more wedding presents. Their co-star Cheyenne Jackson, left, got engaged to actor Jason Landau, right, about a month after "Glee" actress Dot-Marie Jones tied the knot. See which other same-sex celebrity couples are anticipating matrimony or have already wed:
broke the news
that actress Lily Tomlin, right, rang in 2014 by marrying Jane Wagner, her partner of 42 years, on New Year's Eve.
Columnist Liz Smith
"Glee" star Jones, right, wed longtime girlfriend Bridgett Casteen on December 21 at their home in Los Angeles.
According to People magazine
, the couple wed in an intimate ceremony in Los Angeles in December 2013. Baxter, 66,
confirmed
rumors about her sexuality in 2009, plaintively telling the "Today" show, "Yes, I'm a lesbian."
Former "Family Ties" star Meredith Baxter, left, has reportedly tied the knot with girlfriend Nancy Locke.
Talk show host Ellen DeGeneres, left, and actress Portia de Rossi married in 2008. De Rossi was
According to People,
former "Grey's Anatomy" star T.R. Knight married Patrick Leahy, his boyfriend of three years, in October.
Instagram
in September with a shot of Turchin flashing the ring.
Lance Bass, right, popped the question to boyfriend Michael Turchin, and the couple announced their engagement on
star wrote
. In September,
E! reported
that the actress attended an event in Atlanta with rumored girlfriend AzMarie Livingston.
Raven-Symone tweeted in August that she was pleased with the recent rulings on same-sex marriage. "I can finally get married! Yay government! So proud of you," the former "Cosby Show"
tietheknot.org
, and then they married in July. Their foundation sells ties with the proceeds going to organizations that support same-sex marriage. The pair have been outspoken
about their advocacy.
Attorney Justin Mikita, left, and "Modern Family" star Jesse Tyler Ferguson announced their engagement in 2012 via their website
"How I Met Your Mother" star Neil Patrick Harris, left, and David Burtka announced their engagement in 2011. The couple are parents of twins, Gideon Scott and Harper Grace.
Country star Chely Wright, left, and Lauren Blitzer married in August 2011 and are the parents of identical twin sons, George Samuel and Everett Joseph.
engaging in some PDA
after their engagement in April.
Interior design guru Nate Berkus, left, and Jeremiah Brent were photographed
"Sex and the City" star Cynthia Nixon, left, started dating activist Christine Marinoni in 2004. The couple got engaged in 2009 and married in 2012.
Musician Linda Perry, left, and actress Sara Gilbert got engaged in 2013. Gilbert announced the news on "The Talk," where she serves as one of the moderators.
Several of George Takei's "Star Trek" co-stars attended the ceremony when he married longtime partner Brad Altman, right, in 2008.
David Furnish, left, and Sir Elton John married in 2005. The pair are parents to two boys.
Gay celebs and marriage
Gay celebs and marriage
Gay celebs and marriage
Gay celebs and marriage
Gay celebs and marriage
Gay celebs and marriage
Gay celebs and marriage
Gay celebs and marriage
Gay celebs and marriage
Gay celebs and marriage
Gay celebs and marriage
Gay celebs and marriage
Gay celebs and marriage
Gay celebs and marriage
Gay celebs and marriage
Gay celebs and marriage
Gay celebs and marriage