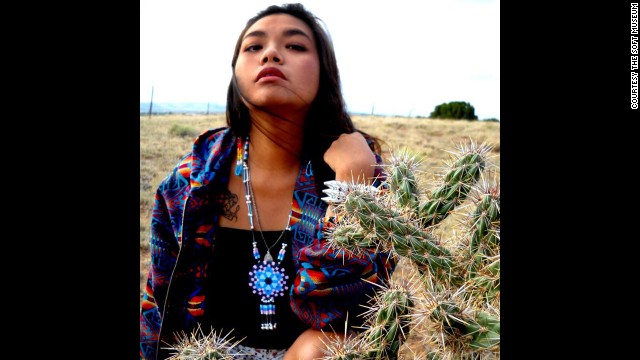 Paul Frank Industries is collaborating with four Native American artists on a limited edition line of clothing and accessories, set to debut in August. Autumn Dawn Gomez is a jewelery designer from the Comanche/TaosPueblo/Navajo tribes. For "Paul Frank Presents" she is designing accessories influenced by various landscapes that have impacted her life. Gomez is seen here wearing a medallion she created using hama fuse beads.
specializes
in street wear. Martin will be designing a Native American inspired T-shirt that will include Paul Frank's famous character, Julius. He will be incorporating a traditional Native American saying, "point lips, not fingers" to his design.
Dustin Martin is a graphic T-shirt designer from the Navajo tribe who
specializes in sunglasses
. Halcro will be applying her beading craft to Paul Frank sunglasses for the collection. She's seen here wearing beaded shoes, a purse and sunglasses that she created.
Candace Halcro is an accessories designer from the Plains Cree/Metis tribe. She is skilled in Native American beading and
Gong's art
is commonly seen on utilitarian objects such as shoes, shirts, iPhone cases and skateboards -- as seen here. He will be designing a silk- screened canvas tote bag for the Paul Frank collection.
Louie Gong is an artist from the Nooksack tribal community. He combines traditional Coast Salish art with popular culture icons to create powerful statements about identity.
Native designers collaborate with Paul Frank
Native designers collaborate with Paul Frank
Native designers collaborate with Paul Frank
Native designers collaborate with Paul Frank
STORY HIGHLIGHTS
Paul Frank hosted a party last year that many deemed offensive to Native Americans
The fashion and accessories label apologized, vowed to rectify mistakes
Native American bloggers connected brand with four artists from the community
Artists will apply their cultural designs to Paul Frank merchandise
(CNN) -- A powwow-themed party that critics called a "perfect storm of bad stereotypes" has led to collaboration between Paul Frank Industries and Native American designers on a new line of clothing and accessories.
Pictures from the September event "Dream Catchin with Paul Frank" traveled fast, showing guests, including singer Christina Milian, in neon headbands, feathers and war paint, sipping drinks with names like Rain Dance Refresher and Neon Teepee.
The Native American community and others criticized the brand for hosting a party that encouraged guests to "play Indian" and misuse symbols of their culture.
Taking Native American fashion 'Beyond Buckskin' and headdresses
"Your event stereotypes and demeans Native cultures, collapsing hundreds of distinct tribal and cultural groups into one 'tribal' mish-mash, thereby erasing our individual identities and contemporary existence," Native American blogger Adrienne Keene said in an open letter to Paul Frank LA and Red Light PR on her blog, Native Appropriations.
Don't miss out on the conversation we're having at CNN Living.
Follow us on Twitter
and
Facebook
for the latest stories and tell us what's influencing your life.
Jessica Metcalfe of the Native fashion blog, Beyond Buckskin, said her initial reaction was shock and disbelief that this level of ignorance occurred at such a highly publicized event. She also demanded an apology from Paul Frank in an open letter on her blog.
Paul Frank's Facebook page was flooded with comments deriding the party, prompting the company to issue an apology. Elie Dekel, President of Saban Brands, which owns Paul Frank Industries, also reached out to Metcalfe and Keene to apologize for the brand's misrepresentation of Native American culture.
Several conversations among Metcalfe, Keene and Dekel led to a solution that would make up for the brand's mistake and shine light on an underrepresented culture, Dekel said.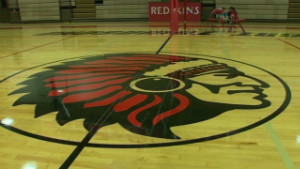 Differing takes on high school mascot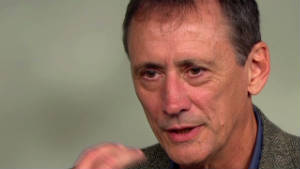 Native American culture, innovation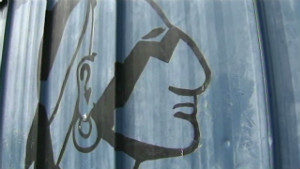 Oregon bans Native American mascots
Native American mascots: Pride or prejudice?
"This is an opportunity to undo a wrong but also celebrate what we always wanted to celebrate," Dekel said.
Metcalfe and Keene connected the brand with four Native American artists to help design the limited edition line of clothing and accessories.
The "Paul Frank Presents" fashion collaboration will debut in August at an event during the Santa Fe Indian Market in New Mexico, the year's biggest celebration of contemporary Native arts and culture. No prices or images of the designs have been released yet.
Louie Gong, a designer from the Nooksack tribe, will create a tote bag for the line. Gong says his work usually consists of designs on utilitarian items like custom shoes, T-shirts and bags.
"It's important to recognize that Native Americans are alive and around," says Gong. "Subconsciously, people think we aren't around so we don't have a voice."
Dustin Martin from the Navajo tribe will design graphic T-shirts incorporating Native imagery with the iconic Paul Frank character, Julius the Monkey.
"Point lips, not fingers" will be the theme of his screen print T-shirts, Martin said. The phrase, which is inspired by a Navajo belief that it's rude to point fingers, reflects how the collaboration came about, he said.
The Native community, led by bloggers Metcalfe and Keene, "pointed their lips toward Paul Frank" and pushed them in the direction toward collaboration, he said.
"The ultimate product is that we aren't just pushing the blame, but giving direction in the right way," he said.
"Despite whatever comes out about the bad blood that started the collaboration, it's helped me grow as a professional and artist," Martin said. "I really do think they are trying to set a good example."