Ancelotti moves to Real Madrid, Blanc appointed his PSG successor
updated 7:27 AM EDT, Tue June 25, 2013
STORY HIGHLIGHTS
Real Madrid appoint Carlo Ancelotti as new coach
The Italian signs a three-year deal with the nine-time European champions
PSG appoint former France coach Laurent Blanc as Ancelotti's replacement
Blanc puts pen to paper on a two-year contract in the French capital
(CNN) -- Football's managerial merry-go-round swung into action Tuesday as both Real Madrid and Paris Saint-Germain ended months of speculation by appointing new coaches.
Carlo Ancelotti has left PSG to take over at Real, while former French national team coach Laurent Blanc has replaced the Italian in Paris.
Nine-time European champion Real has been searching for a new coach since Jose Mourinho moved to Ancelotti's former club Chelsea earlier this month.
Ancelotti has signed a three-year contract at the Bernabeu and will be presented to the media on Wednesday.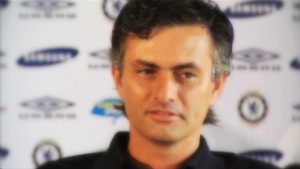 José Mourinho's press conference antics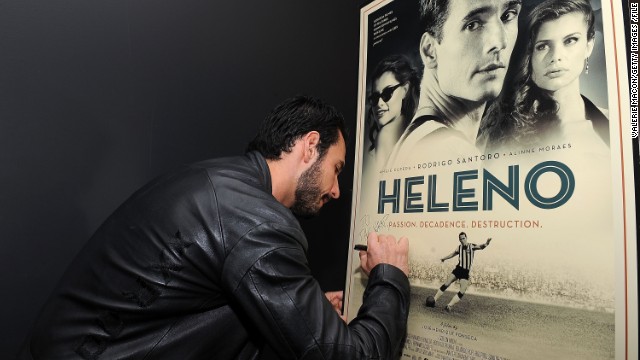 Actor Rodrigo Santoro signs a poster for the film "Heleno", in which he plays the mercurial striker. A destructive personality, together with illness and drug problems prevented Heleno from becoming one of Brazil's greatest ever players. But he helped pave the way for some of the world's greatest soccer icons...
Ask many Brazilians who is the greatest footballer of all time and their answer will be simple: "Pele." The striker won three World Cups with Brazil between 1958 and 1970 and is his country's leading goalscorer with 77 goals from 92 caps.
Most football fans would say Argentina's Diego Maradona is the only player who can rival Pele for the title of greatest ever. In Brazil, however, Garrincha is regarded as the only player who comes close to the great man. The tricky winger was a key part of Brazil's World Cup triumphs in 1958 and 1962. Sadly, Garrincha struggled with alcohol problems and died of liver cirrhosis aged 49.
After a Pele-inspired triumph in 1970, Brazil would wait 24 years before lifting the World Cup again. Although the 1980s was a barren decade in terms of trophies for Brazil, the team which the South Americans sent to the 1982 World Cup is heralded as one of the most entertaining in history. Central to its free-flowing, attacking style was Zico, a midfielder of considerable craft and guile who collected 72 caps between 1976 and 1988.
When Brazil finally won the World Cup for a fourth time in 1994 in the U.S., the team was derided by some for being too functional. In a team short of star quality, striker Romario was the shining light, scoring five goals as Brazil lifted the trophy thanks to a penalty-shootout victory over Italy.
Ronaldo watched on as Romario fired Brazil to victory in 1994, four years later he was the star man at France 1998. Brazil lost the final 3-0 to the hosts, with mystery surrounding their starting 11 as Ronaldo was left out of, then reinstated to, the team for the deciding match at the Stade de France. Ronaldo's redemption arrived in 2002, when he scored both goals as Brazil beat Germany 2-0 to lift the World Cup for a fifth time.
While Ronaldo was the star man in Japan and South Korea, he was ably supported by flamboyant playmaker Ronaldinho. Ronaldinho's performance in the World Cup earned him a move to Barcelona in 2003, where he went on to win the European Champions League in 2006. He was twice named FIFA World Player of the Year.
The latest Brazilian tipped for stardom is Neymar, who recently followed in Ronaldinho's footsteps by joining Barcelona. All eyes will be on the forward when Brazil host the World Cup in 2014. Neymar has made a good start to Brazil's Confederations Cup campaign, scoring two goals in two matches.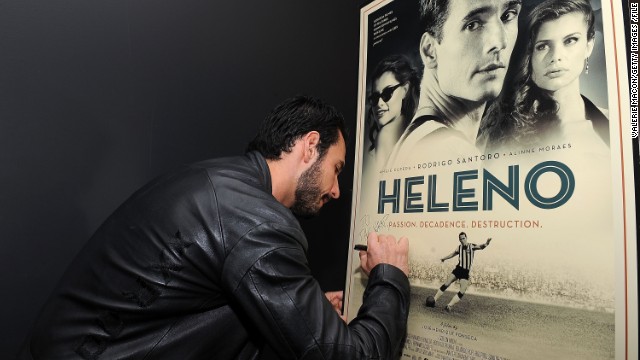 Brazil's greatest footballers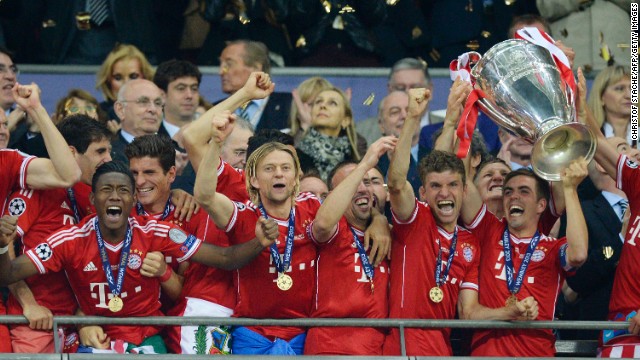 Bayern Munich players lift the trophy as they celebrate winning the UEFA Champions League final after beating Borussia Dortmund 2-1 at Wembley Stadium in London on Saturday, May 25.
Bayern Munich's midfielder Arjen Robben celebrates scoring the winning goal against Borussia Dortmund.
Bayern Head Coach Jupp Heynckes is carried by his players after winning the UEFA Champions League final.
Arjen Robben of Bayern Munich celebrates after scoring the winning goal against Borussia Dortmund during the UEFA Champions League final at Wembley Stadium in London on Saturday, May 25. Bayern defeated Dortmund 2-1.
Head Coach Jurgen Klopp, right, of Borussia Dortmund consoles his players after losing to Bayern Munich in the championship match.
Bayern players celebrate after match play was completed.
Dortmund players lie on the field in defeat after losing to Bayern 2-1.
Arjen Robben, left, of Bayern Munich challenges Mats Hummels of Borussia Dortmund for the ball.
Bayern Munich's striker Mario Mandzukic, left, scores the opening goal of the match.
Ilkay Gundogan of Borussia Dortmund, left, celebrates with teammates after scoring on a penalty kick to tie the game 1-1.
Bayern Munich supporters light flares in the stands during the game.
Dante, right, of Bayern Munich is given a yellow card after being called on a foul against a Borussia Dortmund player.
Bastian Schweinsteiger of Bayern performs a header against Marco Reus of Borussia Dortmund.
Bayern Munich's French midfielder Franck Ribery, center, talks with Borussia Dortmund's striker Robert Lewandowski after a penalty was called.
Mario Mandzukic of Bayern Munich celebrates after scoring a goal against Borussia Dortmund during the UEFA Champions League final at Wembley Stadium in London on May 25.
Borussia Dortmund's midfielder Jakub Blaszczykowski, left, vies with Bayern Munich's defender Jerome Boateng during the UEFA Champions League final at Wembley Stadium in London on Saturday, May 25.
Dortmund's goalkeeper Roman Weidenfeller makes a save against Bayern during the first half.
Borussia Dortmund's Polish midfielder Jakub Blaszczykowski, center, reacts after missing a goal against Dortmund.
Robert Lewandowski, left, of Borussia Dortmund collides with Franck Ribery of Bayern Munich.
Head Coach Jurgen Klopp of Borussia Dortmund shouts from the sidelines during the match.
Fans fill Wembley Stadium during the Champions League final match between Borussia Dortmund and Bayern Munich.
A fan of Bayern Munich wears face paint in support of his team during the match.
Thomas Mueller, left, of Bayern Munich goes after the ball against Neven Subotic of Borussia Dortmund during the UEFA Champions League final match at Wembley Stadium in London on May 25.
Marco Reus of Borussia Dortmund, center, drives to the goal against Dante, right, of Bayern Munich.
Bayern Munich fans wave red flags before the start of the championship game.
Borussia Dortmund supporters fill the stands as they wait for their team to take the field.
Borussia Dortmund fans in the upper deck of Wembley Stadium cheer for their team.
Bayern Munich supporters cheer from the stands.
Borussia Dortmund wear black and yellow attire in support of their team.
From left, UEFA President Michel Platini, German Chancellor Angela Merkel and German Football Association President Wolfgang Niersbach watch the action from the stands.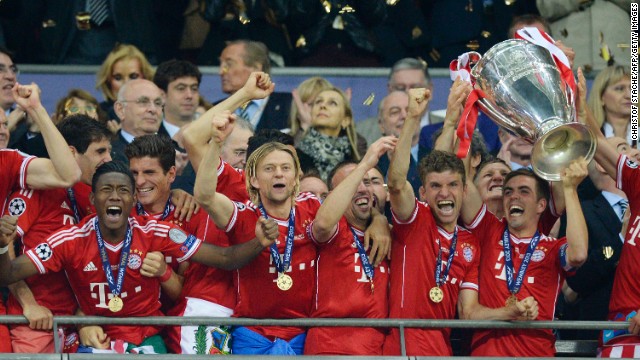 Champions League Final: Dortmund vs. Bayern
Read: Guardiola unveils secret weapon
Former France captain Blanc's arrival at PSG was announced at almost exactly the same time as Ancelotti's appointment.
"Paris Saint-Germain is delighted to announce the appointment of Laurent Blanc as coach for the next two years," read a PSG statement.
"The board of Paris Saint-Germain has given Laurent Blanc the mission to build on last season and to continue the club's ascendency towards the summits of the European game."
Read: A fair World Cup deal for Brazil?
Both Ancelotti and Blanc will be tasked with improving their respective club's performance in the European Champions League.
Ancelotti will look to deliver an historic 10th triumph in Europe's premier club competition for Real, having won the competition twice as coach of AC Milan.
The 54-year-old also won the European Cup twice with Milan as a player.
Qatar-owned PSG will expect Blanc to mould an expensively-assembled squad into a major European force.
Blanc will have players such as Sweden striker Zlatan Ibrahimovic and Brazil captain Thiago Silva at his disposal at the Parc des Princes.
As a player, Blanc led the France team during the greatest period in its history.
He captained the team to victory on home soil at the 1998 World Cup, when France beat Brazil 3-0 in the final, before playing a central role in Les Bleus' win over Italy in the final of Euro 2000.
Blanc has been out of work since stepping down as France coach after Euro 2012.