U.S. stops sale of Picasso painting valued at $11.5 million
updated 8:42 PM EDT, Mon June 24, 2013
STORY HIGHLIGHTS
Picasso's "Compotier et tasse," valued at $11.5 million, was for sale in New York
The U.S. stopped its sale at the request of the Italian government
The would-be seller is accused of bilking the city of Naples of $44 million in tax revenue
Washington (CNN) -- The United States obtained a restraining order Monday to block the sale of a painting by Pablo Picasso valued at an estimated $11.5 million at the request of the Italian government, the Justice Department announced.
The case involves a 1909 work by Picasso known as "Compotier et tasse" which had been offered for private sale in New York.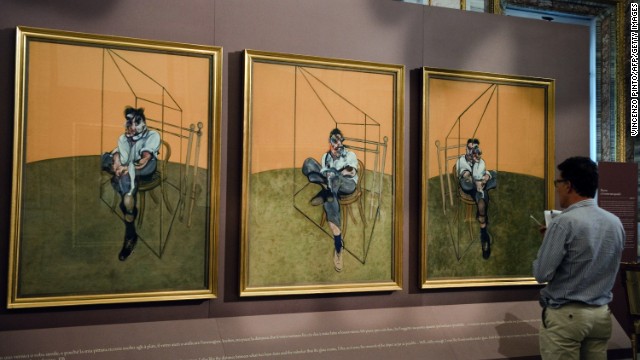 "Three Studies of Lucian Freud," a 1969 painting by Francis Bacon, sold for $142.4 million in November, breaking the record for the most expensive piece of art ever auctioned.
Andy Warhol's "Silver Car Crash (Double Disaster)," a silk-screen from 1963, sold for more than $105 million in November. It was a record price for a Warhol work.
In a private sale in 2011, Qatar's royal family paid more than $250 million for "The Card Players," a post-impressionist painting by French artist Paul Cezanne.
"Portrait du Dr. Gachet" by Vincent van Gogh sold for $82.5 million in 1990.
Edvard Munch's "The Scream" sold for $120 million at Sotheby's in New York in May, setting a world record at the time.
Billionaire Steven A. Cohen privately purchased "Woman III" by Willem de Kooning for an estimated $137.5 million, The New York Times reported in 2006.
Cosmetics heir Ronald Lauder paid $135 million in 2006 for "Adele Bloch-Bauer I," a portrait by Gustav Klimt.
Pablo Picasso's "Nude, Green Leaves, and Bust" sold for $106.5 million in 2010.
In 2004, Picasso's "Garcon a la Pipe" sold for more than $104 million.
Sotheby's sold Picasso's "Dora Maar au chat" in 2006 for $95.2 million.
Klimt's "Portrait of Adele Bloch-Bauer II" sold for $87.9 million in 2006.
Mark Rothko's 1961 piece "Orange, Red, Yellow" was sold in 2012 for $87 million.
In 2008, Sotheby's auctioned Bacon's "Triptych" for $86.3 million.
Warhol's "200 One Dollar Bills," which was bought by a private client in 1986 for $383,000, sold in 2009 for more than 100 times that -- $43.8 million.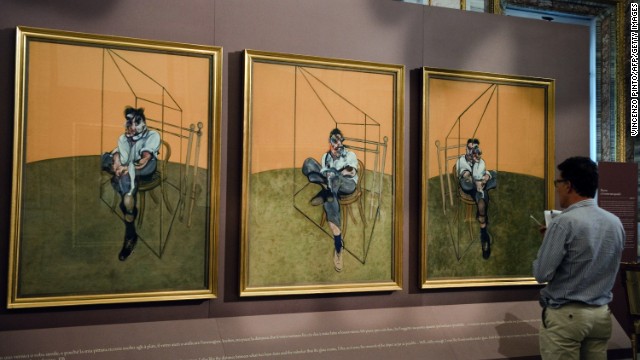 Photos: Paintings worth millions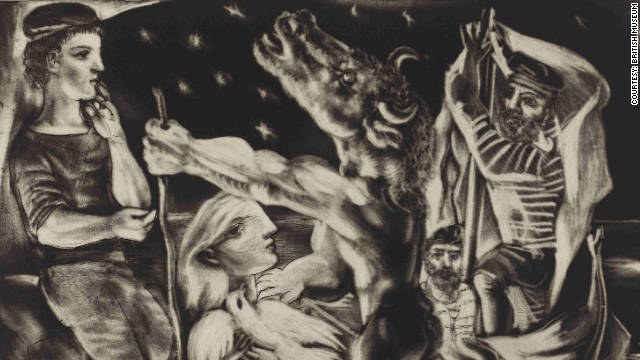 The British Museum is celebrating after it acquired a complete set of Pablo Picasso's Vollard Suite of etchings, including "Blind Minotaur led by a little girl in the night."
The collection is made up of 100 etchings, such as this one, entitled "Rembrandt and Two Women" commissioned by art collector Ambroise Vollard, and created by Picasso between 1930 and 1937.
The museum was able to acquire a complete set of the Vollard Suite etchings thanks to a donation from the Hamish Parker Charitable Trust, in memory of the donor's father, Major Horace Parker.
The pictures will go on display at the British Museum in London from May 3 to September 2, 2012 -- the first time a complete suite of the etchings have been shown in Britain in 50 years.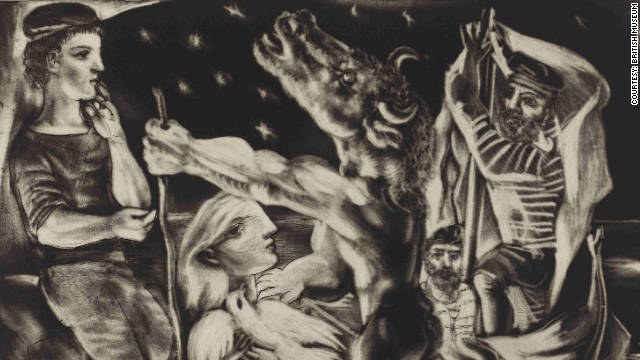 British Museum acquires Picasso etchings
American officials obtained a restraining order blocking any sale and preventing the painting from being moved after Italian authorities asked for help in connection to the prosecution of Gabriella Amati. She and her late husband, Angelo Maj, were charged by Italian prosecutors with embezzlement and fraud.
The couple allegedly worked with an official for the city of Naples and embezzled approximately $44 million of the city's tax revenues, according to Italian court documents.
The Picasso was not stolen but was purchased with money that Amati and her husband allegedly obtained through criminal activity, said a U.S. law enforcement official.
Agents working for U.S. Immigration and Customs Enforcement located and recovered the painting in New York, where it was being offered for sale, on May 21.
"Restraining this valuable artwork is an effort to help recover some of the estimated $44 million that this couple stole from the tax-paying citizens of Naples," ICE Director John Morton said in a written statement.