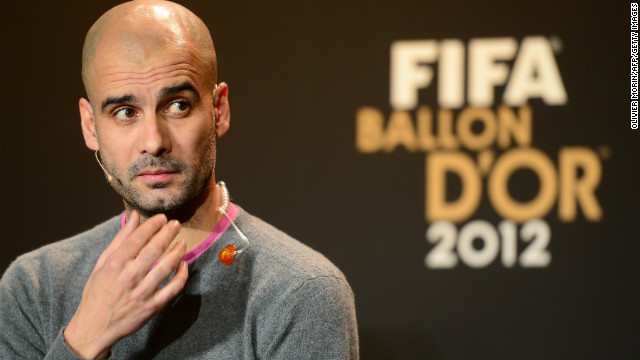 Pep Guardiola has been on a year-long sabbatical in the U.S. after stepping down as Barcelona coach, but he returned to Europe in January for the Ballon d'Or when he was shortlisted for FIFA's world coach of the year award.
When he confirmed he was to end his four-year reign as Barcelona coach, Guardiola gave an emotional press conference.
Guardiola announced his intent to quit at the end of last season just three days after the club's Champions League semifinal exit against Chelsea, drawing 2-2 at home and losing 3-2 on aggregate. He left a remarkable legacy.
He was massively popular at the Camp Nou after four trophy-laden seasons. Here he is thrown in the air by his players after winning the FIFA Club World Cup for the second time in December 2011, having been the first team from Spain to win it two years earlier.
Guardiola congratulates Barca players Cesc Fabregas and Javier Mascherano after winning the Spanish Supercup against Real Madrid at the start of the 2011-12 season.
Guardiola lifts the 2011Champions League trophy after Barca beat Manchester United at Wembley. The 41-year-old has earned a reputation as a coach who prepares meticulously for matches.
Guardiola won the FIFA Men's Football Coach of the Year award in January 2012. "I can't promise you silverware, but I can say that we'll keep on battling to the end and you'll be proud of us," he said after becoming coach four years ago.
In the 2009 calendar year, Guardiola won six trophies in total -- the Copa del Rey, La Liga, the European Champions League, the Spanish Supercup, the UEFA Supercup and the Club World Cup.
Former Barcelona president Joan Laporta shakes hands with Guardiola on June 5, 2008. The Catalan club's 15th coach arrived with the mission to end a two-season trophy drought -- he didn't disappoint.
As a player, Guardiola spent more than a decade in Barcelona's senior team, winning six Spanish titles and one European Cup. He captained Spain to a gold medal at the 1992 Barcelona Olympics and went to the 1994 World Cup.
He joined Barca's famed La Masia youth academy in 1984, and wore the No. 4 shirt until leaving for Italy in 2001.
He had two spells at Serie A side Brescia either side of a brief time at Roma, and is pictured playing against Perugia in 2002.
Guardiola left Europe to join Qatar's Al-Ahly from 2003 to 2005, then joined Mexico's Dorades de Sinaloa for a season before finally hanging up his boots.
Guardiola is pictured here with fellow Spaniard Jose Maria Olzabal at the Ryder Cup after Europe produced a remarkable comeback to win the tournament at Medinah in the U.S.
Time away
End of an era
League of his own
Flying high
A super bond
Cup runneth over
A golden career
Six-time champs
Player turned coach
Barcelona boy
Academy graduate
Italy calling
World class
Golfing fan
STORY HIGHLIGHTS
Josep Guardiola unveiled as coach of Bayern Munich
Former Barcelona coach takes over from Jupp Heynckes
Guardiola won 14 trophies in four years as Barca coach between 2008 and 2012
His first game competitive game will be against Borussia Monchengladbach
(CNN) -- In his bid to replicate Barcelona's unprecedented success at Bayern Munich, Josep Guardiola has a secret weapon -- a gold medal-winning water polo player.
In front of a crowded press room, and in fluent German, Guardiola outlined his pride at taking control of the recently-crowned European champions on Monday.
Earlier this year Bayern surprised the football world by announcing Guardiola would replace Jupp Heynckes as the club's coach for the 2013-14 football season, with the Bavarians subsequently going on to clinch an historic European, German League and German Cup treble.
And as he attempts to match the success the club enjoyed under Heynckes, Guardiola will have Manuel Estiarte at his side, a man who worked with the new Bayern coach at Barca and who won Olympic gold at the Atlanta 1996 Games.
Read: A fair World Cup deal for Brazil?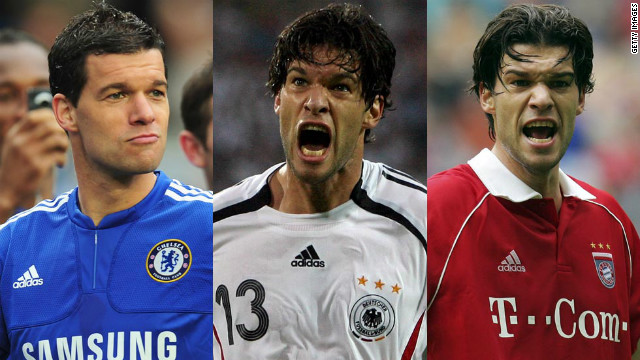 Former Germany international Michael Ballack brought the curtain down on his 17-year playing career with a match in Leipzig on Wednesday night.
A capacity 44,000 crowd attended the game between a World XI and a Germany XI to salute Ballack's career which saw him play for Kaiserslautern, Bayer Leverkusen and Bayern Munich in Germany, and Chelsea in England.
Former Ukraine international Andriy Shevchenko, who played with Ballack at Chelsea, and Bayer Leverkusen's Andre Schurrle, who has been linked with a move to London, celebrate the latter's goal in a match that ended 4-3 to the German XI. Ballack scored a hat-trick.
The World XI was coached by Jose Mourinho, who was Ballack's manager at Chelsea. It was confirmed this week that Mourinho had returned to Stamford Bridge after leaving Real Madrid.
The Germany coach Joachim Low was in attendance, along with tennis legend and Bayern Munich fan Boris Becker.
A host of stars turned out for Ballack's match, who became emotional when he left the field in the 83rd minute as Frank Sinatra's 'My Way' rang round the stadium.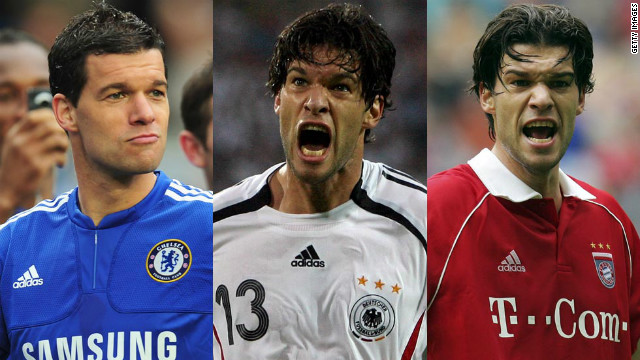 Ballack bids farewell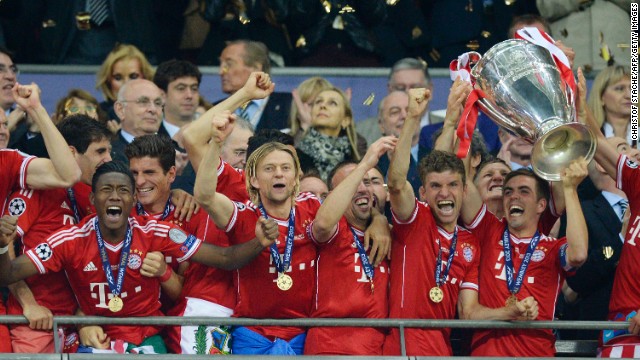 Bayern Munich players lift the trophy as they celebrate winning the UEFA Champions League final after beating Borussia Dortmund 2-1 at Wembley Stadium in London on Saturday, May 25.
Bayern Munich's midfielder Arjen Robben celebrates scoring the winning goal against Borussia Dortmund.
Bayern Head Coach Jupp Heynckes is carried by his players after winning the UEFA Champions League final.
Arjen Robben of Bayern Munich celebrates after scoring the winning goal against Borussia Dortmund during the UEFA Champions League final at Wembley Stadium in London on Saturday, May 25. Bayern defeated Dortmund 2-1.
Head Coach Jurgen Klopp, right, of Borussia Dortmund consoles his players after losing to Bayern Munich in the championship match.
Bayern players celebrate after match play was completed.
Dortmund players lie on the field in defeat after losing to Bayern 2-1.
Arjen Robben, left, of Bayern Munich challenges Mats Hummels of Borussia Dortmund for the ball.
Bayern Munich's striker Mario Mandzukic, left, scores the opening goal of the match.
Ilkay Gundogan of Borussia Dortmund, left, celebrates with teammates after scoring on a penalty kick to tie the game 1-1.
Bayern Munich supporters light flares in the stands during the game.
Dante, right, of Bayern Munich is given a yellow card after being called on a foul against a Borussia Dortmund player.
Bastian Schweinsteiger of Bayern performs a header against Marco Reus of Borussia Dortmund.
Bayern Munich's French midfielder Franck Ribery, center, talks with Borussia Dortmund's striker Robert Lewandowski after a penalty was called.
Mario Mandzukic of Bayern Munich celebrates after scoring a goal against Borussia Dortmund during the UEFA Champions League final at Wembley Stadium in London on May 25.
Borussia Dortmund's midfielder Jakub Blaszczykowski, left, vies with Bayern Munich's defender Jerome Boateng during the UEFA Champions League final at Wembley Stadium in London on Saturday, May 25.
Dortmund's goalkeeper Roman Weidenfeller makes a save against Bayern during the first half.
Borussia Dortmund's Polish midfielder Jakub Blaszczykowski, center, reacts after missing a goal against Dortmund.
Robert Lewandowski, left, of Borussia Dortmund collides with Franck Ribery of Bayern Munich.
Head Coach Jurgen Klopp of Borussia Dortmund shouts from the sidelines during the match.
Fans fill Wembley Stadium during the Champions League final match between Borussia Dortmund and Bayern Munich.
A fan of Bayern Munich wears face paint in support of his team during the match.
Thomas Mueller, left, of Bayern Munich goes after the ball against Neven Subotic of Borussia Dortmund during the UEFA Champions League final match at Wembley Stadium in London on May 25.
Marco Reus of Borussia Dortmund, center, drives to the goal against Dante, right, of Bayern Munich.
Bayern Munich fans wave red flags before the start of the championship game.
Borussia Dortmund supporters fill the stands as they wait for their team to take the field.
Borussia Dortmund fans in the upper deck of Wembley Stadium cheer for their team.
Bayern Munich supporters cheer from the stands.
Borussia Dortmund wear black and yellow attire in support of their team.
From left, UEFA President Michel Platini, German Chancellor Angela Merkel and German Football Association President Wolfgang Niersbach watch the action from the stands.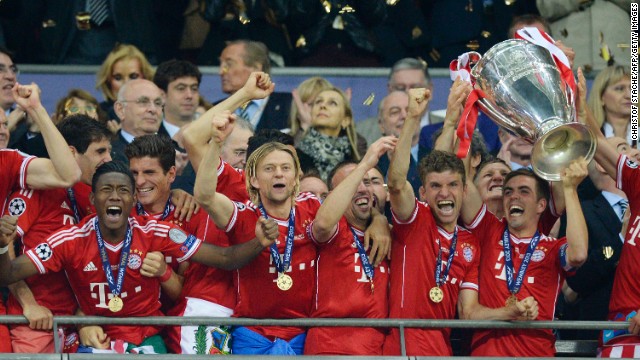 Champions League Final: Dortmund vs. Bayern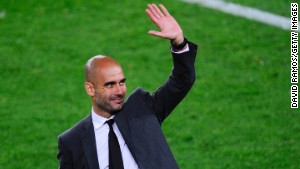 Do Bayern Munich need Pep Guardiola?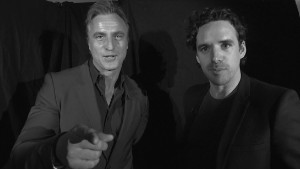 CNN FC stars preview CL final
"He has participated in many Olympic Games," said Guardiola. "I like to take his influences from other sports, he will help us."
As well as Estiarte, Guardiola has brought three other members of his backroom staff from his Barcelona days -- assistant coach Domenec Torrent, scout and video analyst Carles Planchart and fitness coach Lorenzo Buenaventura,
"It's great that these people were willing to follow me," added Guardiola. "This is a challenge also for the families, I hope that we manage it well."
Guardiola forged his reputation at Barca, where he won 14 trophies in four years, including two European Cups, between 2008 and 2012 before deciding to take a sabbatical from the sport.
His achievements in Catalonia, and the style in which Barca achieved success, made the former midfielder one of the most sought after coaches in the world.
Read: Can anyone stop Spain at 2014 WC?
But Bayern's heritage -- the club has been crowned champions of Europe on five occasions -- tempted Guardiola.
"The decision to come to the club was based on its history and its players," continued Guardiola. "It's a fresh challenge for me, my time in Barcelona was wonderful, but I needed a new challenge.
"Bayern Munich gave me the opportunity, I am prepared to give my best. I'm ready."
Having spent the majority of his career with Barca, Guardiola is aware of the pressure that comes with working for one of the world's biggest clubs.
"At the top clubs, you are always under pressure but I believe in myself and I accept this challenge without a problem," said the 42-year-old.
"I will, of course, make changes, but I want to keep the level that Bayern has already achieved."
Read: Redemption for Bayern Munich in Champions League
Guardiola also spoke in glowing terms of Heynckes, who has announced he will not be taking a coaching role for the new season.
"I have had no contact with Jupp Heynckes but I hope to speak with him in the next few days," added Guardiola.
"I have a lot of respect for his achievements and it would be good to have his opinion. It's an honor to be his successor, especially after the way his team played last season."
Earlier on Monday, Tottenham Hotspur coach Andre Villas-Boas suggested the biggest task facing Guardiola will be to impose his brand of football onto the German champions.
"His (Guardiola's) challenge is to transport his (possession football) paradigm to another culture," said former Porto and Chelsea manager Villas-Boas. "It's like what I tried to do at Chelsea: it's counter cultural."