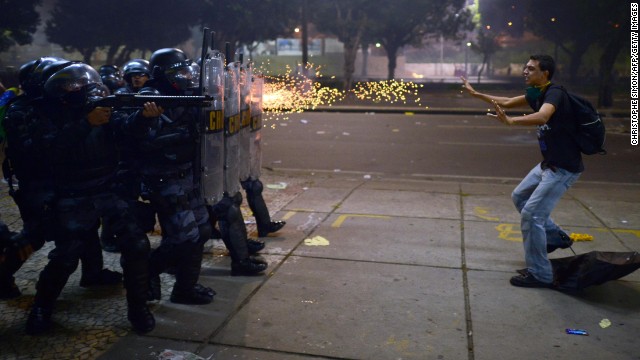 Police fire rubber bullets at a protester during clashes in Rio de Janeiro on Thursday, June 20. Demonstrations in Brazil began in response to
plans to increase fares for the public transportation system
but have broadened into wider protests over economic and social issues. Since then, both Sao Paulo and Rio de Janeiro have agreed to roll back prices on bus and metro tickets.
A riot police officer confronts demonstrators in Rio de Janeiro on June 20.
Photographers wait for a riot police officer to fire rubber bullets on June 20 in Rio de Janeiro.
Brazilians protest against price hikes in Belo Horizonte on June 20.
Horse-mounted riot police confront demonstrators in Rio de Janeiro on June 20.
Demonstrators stand on a statue in Niteroi outside Rio de Janeiro on Wednesday, June 19.
Protesters overturn a bus in Niteroi on June 19.
Riot police take positions during a protest in Sao Paulo on Tuesday, June 18.
Hidden in the peaceful multitudes are bands of rowdies, leaving rubble in their wake, including this store in Sao Paulo on June 18.
Students gather at Praca da Se in Sao Paulo on June 18.
A press car burns in front of Sao Paulo City Hall on June 18.
An unidentified person carries a television out of a store in Sao Paulo on June 18.
People walk in Rio de Janeiro on June 18.
Riot police form a line outside the Government Palace in Sao Paulo, on Monday, June 17.
Protesters set a fire outside the Tiradentes Palace in Rio de Janeiro during a protest on June 17.
A riot officer holds a position in downtown Rio de Janeiro on June 17.
Thousands participate in the protest in Rio de Janeiro on June 17.
Piles of trash burn in the streets of Rio de Janeiro on June 17.
Protesters clash with riot police in front of Rio de Janeiro's Legislative Assembly building on June 17.
Protesters clash with riot police on June 17.
A riot police officer receives help after clashing with protesters on June 17.
A protester receives assistance after being shot in the leg in Rio de Janeiro on June 17.
Two men look at smashed ATMs in Rio de Janeiro on June 17.
People stand atop the National Congress building in Brasilia, Brazil, on June 17.
Thousands stand in the gardens of the National Congress in Brasilia during a protest on June 17.
Protests in Brazil
Protests in Brazil
Protests in Brazil
Protests in Brazil
Protests in Brazil
Protests in Brazil
Protests in Brazil
Protests in Brazil
Protests in Brazil
Protests in Brazil
Protests in Brazil
Protests in Brazil
Protests in Brazil
Protests in Brazil
Protests in Brazil
Protests in Brazil
Protests in Brazil
Protests in Brazil
Protests in Brazil
Protests in Brazil
Protests in Brazil
Protests in Brazil
Protests in Brazil
Protests in Brazil
Protests in Brazil
STORY HIGHLIGHTS
Questions raised over what Brazil really gets out of 2014 World Cup
Should money be spent on football stadiums or health and education?
FIFA receives tax exemptions from Brazil
Romario says: "FIFA comes to our country and sets up a state within a state"
Editor's note:
(CNN) -- After some of the world's biggest corporations such as Apple and Google have come under pressure over aggressive tax avoidance strategies, now its FIFA's turn to defend its lucrative financial arrangements with 2014 World Cup hosts Brazil.
The relationship of football's world governing body with Brazil is under scrutiny following the protests that have gripped the country as the South American country stages June's Confederation Cup -- a test run for the main event next year.
Initially disgruntlement of the protesters centered on a 20 centavos (10 cents) rise in bus and train fares. But a violent response from the police, prompted Brazilians of all ages took to the streets.
Suddenly the issue was about corruption, poor public services, increasing inflation, lack of security and whether the money being spent on the World Cup might be better invested elsewhere.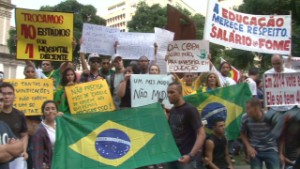 Grievances unleashed in Brazil protests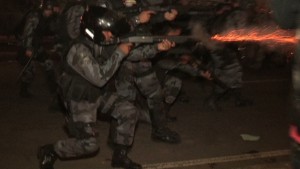 Shocking video shows Brazil clashes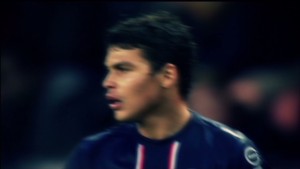 Thiago Silva targets PSG dominance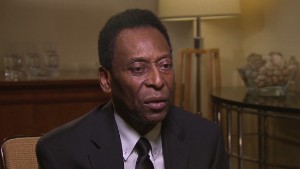 Pele: Mourinho is 'good for Chelsea'
Read: World Cup only benefits outsiders, say Brazil protesters
With a subtext of the rich lining their pockets, while the poor pay more to use crumbling public services, the Brazilian government was left scrambling to deal with what some have dubbed the "Tropical Spring."
FIFA president Sepp Blatter, for one, was askance at the protests.
"I can understand that people are not happy, but they should not use football to make their demands heard," Blatter told Brazil's Globo TV.
Tax exemptions
While FIFA argues that Brazil, as well as Russia and Qatar in 2018 and 2022, will gain benefits from infrastructure development and tourism as well as the kudos of staging a global sporting event, the World Cup is key for the world governing body -- the event is its major source of revenue.
"The exact number I do not know but around $4 billion," said FIFA secretary general Jerome Valcke earlier in June, referring to what the 2014 World Cup will generate financially for the Swiss-based organization.
However, that is a conservative estimate with consultants suggesting the amount could reach $5 billion.
"Of course it's not all profit, it is commercial revenue related to the cycle of not just the World Cup, but the cycle between the 2010 Cup and 2014," added Valcke.
FIFA is the real president of our country. FIFA comes to our country and sets up a state within a state
Romario
Three years ago the World Cup in South Africa raised $3.6 billion, incurring expenditures of $1.298 billion.
For its latest results, FIFA reported a profit of $89 million for 2012, with reserves of $1.378 billion.
The organization had a revenue of $1.166 billion last year and spending of $1.077 billion. As a not-for-profit association in Swiss law, FIFA pays no tax on commercial income from the World Cup.
But some critics question whether the relationship between FIFA and its World Cup hosts is mutually beneficial, notably with regard to the lucrative tax exemptions World Cup organizers are prepared to offer for the right to stage the biggest single-event sporting competition in the world.
According to Brazil's Internal Revenue Service the tax exemptions will cost $248.7 million, though other reports estimate the figure could be as twice as high for the period between 2011 and 2015. The International Olympic Committee will receive similar exemptions when the South American country hosts the Olympics in 2016.
Proponents argue hosting the World Cup brings billions more dollars into the Brazilian economy, but $250 million buys a lot of bus tickets.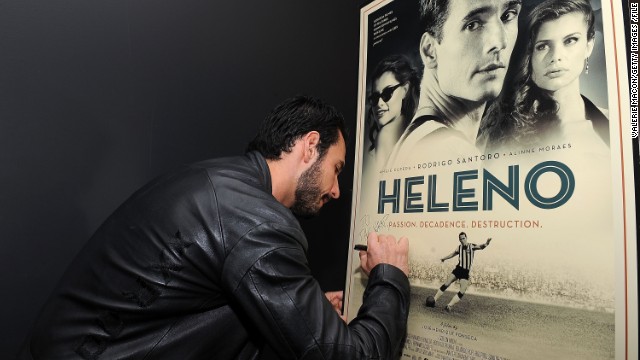 Actor Rodrigo Santoro signs a poster for the film "Heleno", in which he plays the mercurial striker. A destructive personality, together with illness and drug problems prevented Heleno from becoming one of Brazil's greatest ever players. But he helped pave the way for some of the world's greatest soccer icons...
Ask many Brazilians who is the greatest footballer of all time and their answer will be simple: "Pele." The striker won three World Cups with Brazil between 1958 and 1970 and is his country's leading goalscorer with 77 goals from 92 caps.
Most football fans would say Argentina's Diego Maradona is the only player who can rival Pele for the title of greatest ever. In Brazil, however, Garrincha is regarded as the only player who comes close to the great man. The tricky winger was a key part of Brazil's World Cup triumphs in 1958 and 1962. Sadly, Garrincha struggled with alcohol problems and died of liver cirrhosis aged 49.
After a Pele-inspired triumph in 1970, Brazil would wait 24 years before lifting the World Cup again. Although the 1980s was a barren decade in terms of trophies for Brazil, the team which the South Americans sent to the 1982 World Cup is heralded as one of the most entertaining in history. Central to its free-flowing, attacking style was Zico, a midfielder of considerable craft and guile who collected 72 caps between 1976 and 1988.
When Brazil finally won the World Cup for a fourth time in 1994 in the U.S., the team was derided by some for being too functional. In a team short of star quality, striker Romario was the shining light, scoring five goals as Brazil lifted the trophy thanks to a penalty-shootout victory over Italy.
Ronaldo watched on as Romario fired Brazil to victory in 1994, four years later he was the star man at France 1998. Brazil lost the final 3-0 to the hosts, with mystery surrounding their starting 11 as Ronaldo was left out of, then reinstated to, the team for the deciding match at the Stade de France. Ronaldo's redemption arrived in 2002, when he scored both goals as Brazil beat Germany 2-0 to lift the World Cup for a fifth time.
While Ronaldo was the star man in Japan and South Korea, he was ably supported by flamboyant playmaker Ronaldinho. Ronaldinho's performance in the World Cup earned him a move to Barcelona in 2003, where he went on to win the European Champions League in 2006. He was twice named FIFA World Player of the Year.
The latest Brazilian tipped for stardom is Neymar, who recently followed in Ronaldinho's footsteps by joining Barcelona. All eyes will be on the forward when Brazil host the World Cup in 2014. Neymar has made a good start to Brazil's Confederations Cup campaign, scoring two goals in two matches.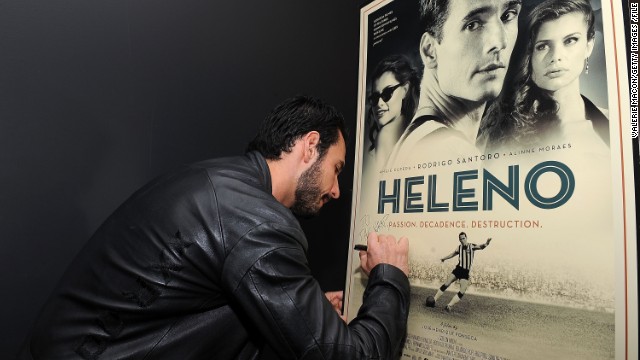 Brazil's greatest footballers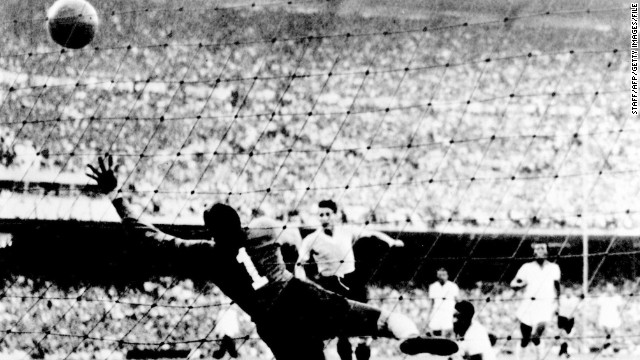 Moacyr Barbosa Nascimento's life was forever changed after the 1950 World Cup. With Brazil needing just a draw against Uruguay in its final game to lift the trophy for the first time, the team lost 2-1 and he was blamed for the second goal. The goalkeeper's perceived mistake haunted him. Twenty years later he overheard a woman in a supermarket say to her son, "There is the man who made Brazil cry."
The Maracana Stadium in Rio de Janeiro was the venue for the 1950 final, with 200,000 spectators packed into the purpose-built arena. The stadium has been redeveloped and a crowd of 78,000 people will watch the final of 2014 World Cup at the iconic ground.
All eyes will be on Neymar during both June's Confederations Cup and next year's World Cup. The attacker, who recently signed for Barcelona in a deal reportedly worth in excess of $80 million, is Brazil's star player and must perform to his best if "La Selecao" are to satisfy an expectant public.
The Brazil team of 1970, which beat Italy 4-1 in the World Cup final in Mexico, is widely regarded as the greatest of all time. Pele, a three-time World Cup winner seen here leaping on his teammates, says Brazil must recover from the failure of 63 years ago.
Carlos Alberto, captain of the 1970 team, lifts the Jules Rimet trophy which Brazil was allowed to keep after becoming the first nation to win the World Cup three times. The former fullback thinks next year's World Cup will come too soon for Brazil's inexperienced team.
Luiz Felipe Scolari was the coach of the last Brazil team to lift the World Cup, in Japan and South Korea in 2002. The veteran has been reappointed in a bid to inject life into an ailing Brazil team. His results have so far left much to be desired: two wins, one defeat and four draws since November 2012.
England was Brazil's first opponent at a refurbished Maracana earlier this month. A half-volley from midfielder Paulinho, pictured, rescued a 2-2 draw for the 2014 World Cup host.
Brazil's most recent match, the last before the Confederations Cup starts, ended in a comfortable 3-0 defeat of France. A penalty from Lucas Moura, right, completed the scoring.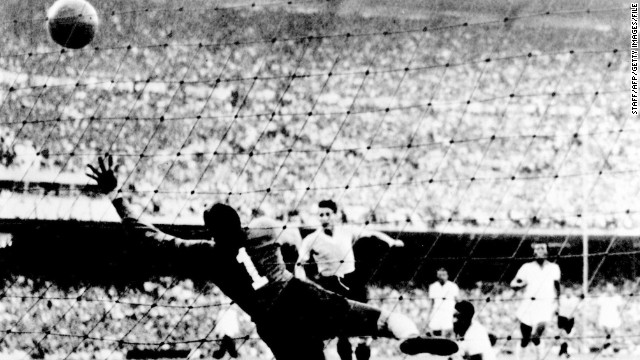 Brazil's most painful moment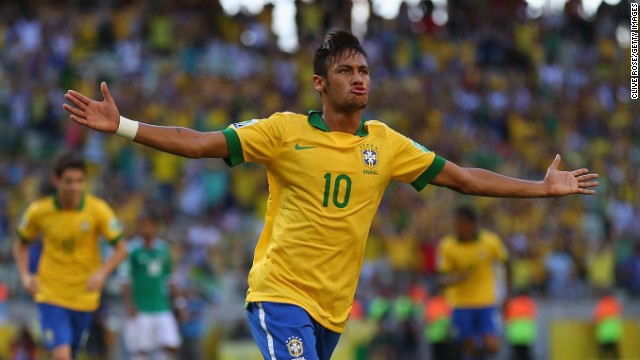 Hours after declaring himself saddened by the need for protests against Brazil's social conditions, Neymar brought joy to his compatriots with the opening goal in a 2-0 win over Mexico.
A family of four negotiate their way to the game as riot police prevent protesters from gaining access to Fortaleza's Castelao Stadium.
Protesters confront riot police officers on the distant outskirts of the Castelao Stadium, which has been newly built for next year's World Cup at a cost of $240 million.
A police officer holds his weapon as protesters continue their demonstration ahead of Brazil's Group A match with Mexico in the ongoing Confederations Cup.
Fans hold up banners - which state that they are protesting against corruption, rather than the national team - ahead of Brazil's 2-0 win over Mexico.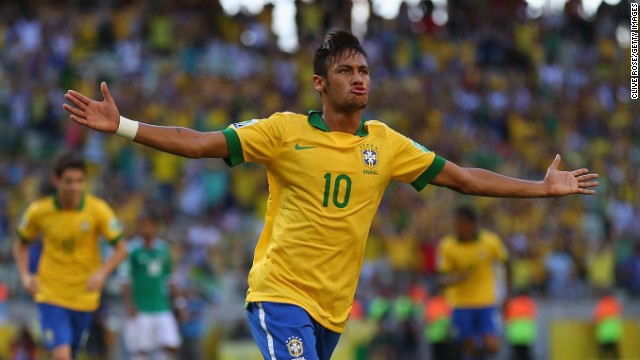 Confederations Cup: Brazil beats Mexico as Fortaleza protests
Brazil in "FIFA's hands"
Ex-Brazilian star Romario -- now a Brazilian politician -- is one that argues that the money spent on building stadiums would be better spent on constructing houses and schools.
"FIFA will make a profit of four billion reais ($1.8 billion) which should provide one billion ($450 million) in tax, but they will not pay anything," Romario said in a video posted on the websites of several Brazilian newspapers.
"They come, set up the circus, they don't spend anything and they take everything with them.
"The real president of our country is FIFA," added Romario. "FIFA comes to our country and sets up a state within a state."
Another critic -- academic and journalist Christopher Gaffney, who lives in Rio -- believes that FIFA's much vaunted "Fair Play" slogan should not just apply to on-field behavior.
"FIFA should be obliged to follow the pre-existing tax laws in the host countries that apply to international sports non-governmental organizations and their corporate partners," said Gaffney.
"We saw a response in the lead up to London 2012 that the British were revolted that the International Olympic Committee's partners were not going to pay taxes.
"A boycott ensued and the companies agreed to pay taxes on their Olympic related profits.
"There are, of course, always government subsidies to attract businesses, but legislative elements like the General Law of the World Cup in Brazil go far beyond this and effectively redirect public money into Swiss bank accounts."
That analysis drew a swift response from football's world governing body.
"FIFA obtains none of its revenue from public funds of the host country," a FIFA spokesman told CNN.
"The host country provide the general infrastructure for the event, which remains as a legacy in the country such as transportation, IT, upgrades on airports.
"Therefore, it is not true that money is generated in the host country for FIFA and that it will go then to accounts in Switzerland."
Read: Brazil top Confederations Cup group
But the exemptions FIFA insist upon, has surprised one leading European taxation expert, Professor of European Tax Law Han Kogels, who is based in Rotterdam.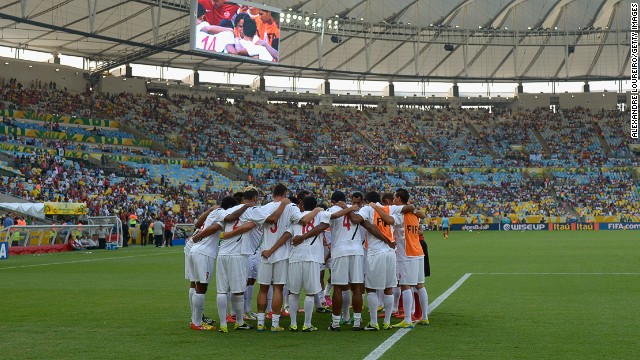 Tahiti form a huddle before their showdown with World and European champions Spain. The minnows are ranked 137 places below their opponents and eventually lost their Confederations Cup match 10-0 in Brazil.
Before the game Tahiti's players presented each man in the Spanish squad with a necklace. Here, Steevy Chong Hue puts one round the neck of Cesar Azpilicueta.
Tahiti had huge support among the 71,000 crowd at the famous Maracana stadium in Rio, from a clutch of their own supporters, as well as the neutral fans who threw their weight firmly behind the underdogs.
Fernando Torres grabbed four goals in Spain's victory, but the biggest cheer of the night came when he missed a second half penalty.
David Villa registered a hat-trick as Spain cut through Tahiti's rearguard time and time again.
Tahiti goalkeeper Mickael Roche had his busiest evening on a football field as Spain peppered his goal.
Tahiti's players lap up the acclaim from the stands at the end of the match.
There was a heavy police presence on the streets in Rio before the match in response to the ongoing protests in Brazil.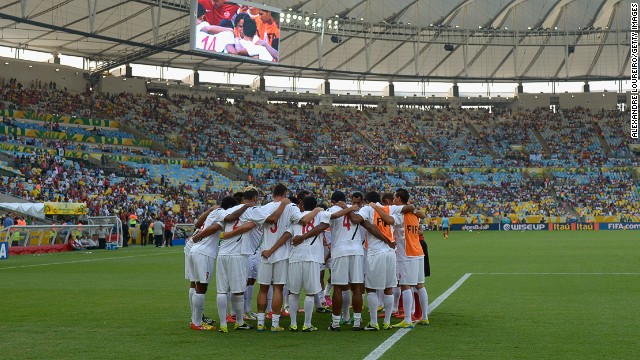 Tahiti's mission impossible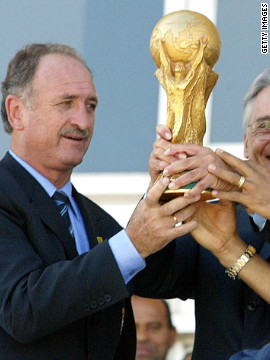 Luiz Felipe Scolari first took over Brazil in 2001, turning around their 2002 World Cup qualification campaign and leading them to a record fifth tournament win in Japan and South Korea.
"Big Phil" also enjoyed a degree of success in charge of Portugal. When the Iberians hosted Euro 2004 all appeared to be going to plan as Portugal reached the final. But Scolari and his team were beaten 1-0 by underdogs Greece in the Lisbon final.
Portugal bounced back and reached the last four of the 2006 World Cup in Germany. But Scolari's team ran into a Zinedine Zidane-inspired France in the semifinals, with "Zizou" scoring the winning penalty.
Chelsea's oligarch owner Roman Abramovich hired Scolari in 2008. Despite Scolari's Chelsea starting the season in fine attacking form, he was fired in February 2009 after a run of poor results.
Scolari joined Sao Paulo-based Palmeiras in 2010. With his team struggling, Scolari departed the club in September. Palmeiras were consequently relegated to Brazil's second tier.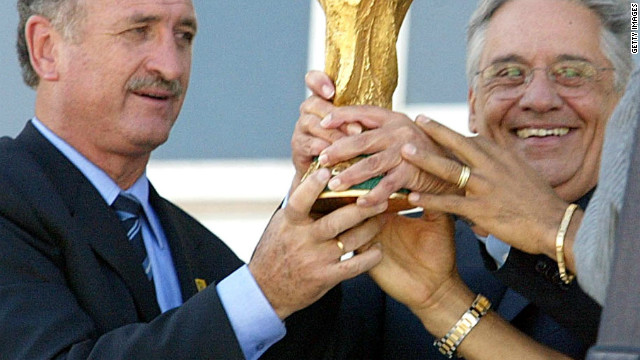 The career of Luiz Felipe Scolari
In bidding for the 2018 World Cup, Russia was up against three other bidders -- England, Netherlands-Belgium and Spain-Portugal.
"In that bid book model of the FIFA as commercial organization, it claimed a privilege of 100% tax freedom (no corporate tax, no income tax, no VAT, no excise duties, no local tax, not any other taxes), irrespective of regular national tax law, European tax law and international tax law," said Kogels after examining the Netherlands part of the bid.
"I was (and still am) not aware of any other international commercial sport event being subsidized through full tax exemption at the cost of (other) taxpayers, and did not see any justification for such unequal treatment of FIFA."
Economic benefits
FIFA insisted that tax exemptions needed to be viewed in relation to the overall economic benefits that next year's World Cup potentially might bring Brazil.
The world governing body quoted a study by Ernst & Young Terco that estimated that the event would inject R$ 112.8 billion ($50 billion) into the Brazilian economy by 2014, with R$ 28 billion (12.4 billion) spent on infrastructure, generating R$ 63.5 billion ($28 billion) in income for the population.
"It is important to note that tax exemptions are only related to certain areas of the organization, in particular for temporary use of goods and services during the event," FIFA told CNN.
"Examples include IT equipment for broadcasters as well as other material mainly broadcasters and participating teams bring with them, the cars used for the official transport, uniforms for volunteers.
"Amongst others the prize money of the FIFA World Cup is taxable in Brazil."
Apex/Brasil is using the Cup as a platform for promoting exportation of Brazilian products, and estimates that the event will leverage at least $1 billion in Brazilian exports
Brazilian Ministry of Finance
"Overall, according to the Ernst & Young Terco study it is estimated that the host country will obtain an additional tax revenue of R$ 18.1 billion ($8 billion).
"It should be noted that FIFA also bears the costs related to hosting and staging of the FIFA World Cup, including and not limited to the costs of the Local Organising Committee. This means over $1.3 billion in costs for FIFA."
Cynicism
However, in much the same way that the Group of Eight economies attempted to bring coherence to the issue of closing global tax loopholes earlier this month, Professor Simon Chadwick called on governments and sporting organizations to adopt a more systematic approach to tax.
"One of the problems in Brazil, Britain and, indeed, in many countries across the world is that there is no coherent strategy or policy in place regarding taxation and sport," said Chadwick.
"For example, players in this year's Champions League final at Wembley were given exemption from paying tax on revenues earned from the game.
"Whereas in 2015, players in the rugby union World Cup final will not be given the same exemption. Such a lack of strategy, clarity, consistency and openness creates a climate in which confusion, contradiction and cynicism begin to develop."
Given the scale of the protests in Brazil, does the South American country want to renegotiate the tax exemptions?
"Holding a FIFA World Cup involves agreements that are signed between the organization and the host country in order to receive the event.," said the Brazil Finance Ministry.
"The FIFA World Cup has always been seen by Brazil as a major opportunity to spur investments in infrastructure and services and to modernize football management in Brazil."