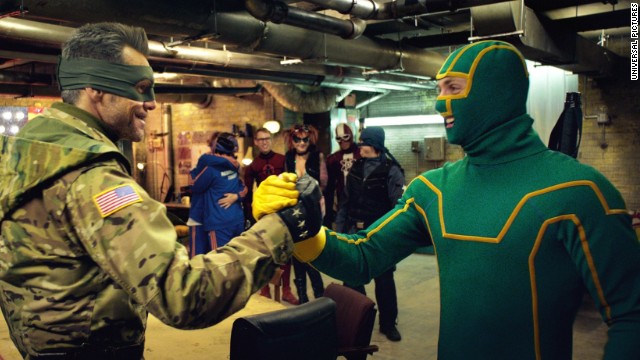 "Kick Ass 2" is one of Jim Carrey's high-profile upcoming projects, but in light of the massacre last year at Sandy Hook Elementary and other events like it,
the actor is now distancing himself from the film and what he calls "that level of violence."
When it comes to graphic content, Hollywood has never been shy about being bloody:
The West was pretty wild in 1969's "The Wild Bunch," directed by Sam Peckinpah and starring William Holden and Ernest Borgnine as aging outlaws out to make a score. Plenty of bullets flew before it was all said and done.
When "Death Wish" was released in 1974, it caused quite a stir with its vigilante justice. Charles Bronson stars as a man who wantonly kills criminals after his wife is murdered by a group of thugs.
Remakes have tried to recapture the bloody mess of "The Texas Chainsaw Massacre" from 1974, but the original remains a classic and launched the character of Leatherface into the bloody hall of fame.
1989's "Bloodfist" followed a kickboxer out to avenge his brother's death. Plenty of folks get messed up along the way.
The violent death of mobster Bill Batts kicked off "Goodfellas" and the body count just rose from there. The 1990 film was critically acclaimed and earned co-star Joe Pesci an Academy Award for best supporting actor.
Arnold Schwarzenegger had a lot of dreams in 1990's "Total Recall," but the violence was very real as he headed to Mars to figure out his memories.
No list would be complete without a Quentin Tarantino film (actually several, but more on that later). "Reservoir Dogs" had moviegoers in 1992 grabbing hold of their ears and wincing.
This time around, Tarantino let the girls have some fun. In 2003's "Kill Bill Volume 1," Uma Thurman wreaks havoc and dices enemies as The Bride.
The 2004 sequel, "Kill Bill Volume 2" had the tag line "The Bride is back for the final cut." Enough said.
Some fans of 2004's "Saw" had trouble not losing the contents of their stomach with this NC-17 movie about a serial killer who forces his victims to play a deadly game.
Adapted from a comic book series, 2005's "Sin City" was dark and bloody as it followed the tale of four characters dealing with crime and corruption.
Musician Rob Zombie directed the 2005 movie "The Devil's Rejects" about a family of serial killers on the run.
Amsterdam serves as the bloody backdrop of 2005's "Hostel," in which a group of travelers get more than they bargained for.
Viggo Mortensen's character loses his nice calm life after he defends his diner and its customers from would-be robbers in 2005's "A History of Violence."
Javier Bardem scared the mess out of audiences as an evil killer in the 2007 film "No Country for Old Men," which was no movie for the faint of heart.
Sure there were earlier "Rambo" movies, but Sylvester Stallone was the quintessential killing machine in the 2008 version as he attempted to rescue aid workers in Myanmar.
This time around Tarantino used France during World War II as the setting for much violence in 2009's "Inglourious Basterds."
"Inglourious Basterds" standout Christoph Waltz teamed up with Tarantino again for 2013's "Django Unchained," which saw Waltz and Jamie Foxx as a bounty hunter and freed slave who showed no mercy during their travels.
Bloody good: Hollywood's most violent films
Bloody good: Hollywood's most violent films
Bloody good: Hollywood's most violent films
Bloody good: Hollywood's most violent films
Bloody good: Hollywood's most violent films
Bloody good: Hollywood's most violent films
Bloody good: Hollywood's most violent films
Bloody good: Hollywood's most violent films
Bloody good: Hollywood's most violent films
Bloody good: Hollywood's most violent films
Bloody good: Hollywood's most violent films
Bloody good: Hollywood's most violent films
Bloody good: Hollywood's most violent films
Bloody good: Hollywood's most violent films
Bloody good: Hollywood's most violent films
Bloody good: Hollywood's most violent films
Bloody good: Hollywood's most violent films
Bloody good: Hollywood's most violent films
Bloody good: Hollywood's most violent films
Bloody good: Hollywood's most violent films