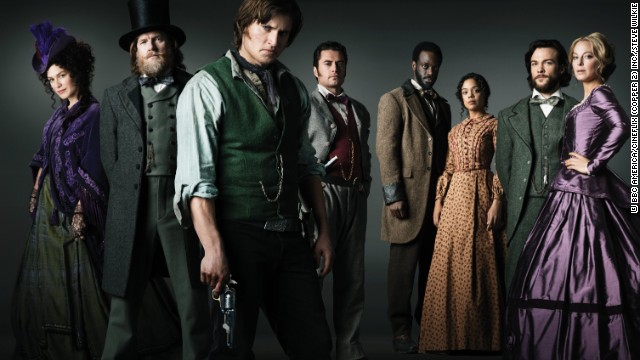 History has never been sexier. Looking for costumed romance and accented deceit? Period dramas are heating up TV all year long, especially with upcoming series like "
Masters of Sex
" and "
Reign
." Treachery and intrigue are rampant in the Five Points slums and Fifth Avenue brownstones of 1865 New York. Detective Kevin Corcoran (Tom Weston-Jones) traverses both worlds. Season two of "
Copper
" hits BBC America on June 23 at 10 p.m. ET.
Boardwalk Empire
." In Atlantic City, prohibited alcohol is flowing and the Twenties are roaring. "Nucky" Thompson (Steve Buscemi) sees all from his throne built on political fixing and illegal dealing. But season four, coming this fall, might just bring another king into the picture.
The rules were made to be broken in HBO's "
Downton Abbey
" on PBS took away a few beloved characters and introduced a new one at the very end: Lady Mary's baby. Season four, bowing in the states January 2014, enters the "Jazz Age" and promises to introduce more intriguing characters to the already giant ensemble.
Season three of the elegant (and now post-WWI ) drama "
Game of Thrones
" storyline borrow from a range of historical inspiration found in Medieval Europe. Look out for season four on HBO in spring 2014.
Although the realms of Westeros are only based on the reality of author George R.R. Martin's "A Song of Ice and Fire" series, some aspects of the "
Ripper Street
" returns for a second season in 2014.
Just after the Jack the Ripper murders in London's East End circa 1889, chaos and crime were rampant partners. Inspector Edmund Reid (Matthew Macfadyen) works to control it, through the brothels and filth-ridden streets of Whitechapel. BBCA's "
Call the Midwife
" delves inside the sometimes funny and moving world of midwifery alongside families in London's East End in the 1950s. The legendary Vanessa Redgrave narrates the series about young midwives played by Jessica Raine and Miranda Hart. The show returns for season three in 2014 on PBS.
BBC's series "
The Americans
" follows KGB spies, played by Keri Russell and Matthew Rhys, posing as an American couple in suburban Washington. Season two adds characters on both sides of the fight to the regular cast. It's coming in January 2014.
Set in Reagan-era America, FX drama "
The corporate advertising world of 1960s New York has never looked so sleek, sexy or ruthless. Season six soon comes to a close, and 2014's seventh season will be the final curtain for Don Draper (Jon Hamm) and the rest of the cast on AMC's "Mad Men."
Mr. Selfridge
" series, set in London in 1909. At the center of the show is the man and his department store, Selfridges. Overlapping ambition, flamboyance and affairs ensue. The opulence and era will appeal to "Downton" fans -- the first season followed "Downton" on PBS in spring 2013. Look for a second season in 2014.
Jeremy Piven brings the title American retail tycoon to life in ITV's "
Doctor Who
's time-traveling police box, the TARDIS. The Doctor regularly visits different periods in history and meets historical figures along the way. Vincent van Gogh, anyone? The latest season has wrapped, but catch the 50th anniversary show in November on BBC and BBCA.
Don't want to be confined by time -- or space, for that matter? Hop on board BBC mainstay
The Borgias
," led by Oscar winner Jeremy Irons, is coming to an end after three seasons. The most powerful and scheming family in Renaissance-era Italy quests for the papacy, wealth and power, using murder and deceit as stepping stones.
Showtime series "
The Hour
" had star power with Ben Whishaw ("Skyfall"), Romola Garai ("Emma") and Dominic West ("The Wire"). If you can't get enough of "Mad Men," catch this one on DVD.
We barely knew them for two seasons, but recently canceled 1950s BBC newsroom drama "
Blast from the past: Period dramas
"Boardwalk Empire"
"Downton Abbey"
"Game of Thrones"
"Ripper Street"
"Call the Midwife"
"The Americans"
"Mad Men"
"Mr. Selfridge"
"Doctor Who"
Just missed it: "The Borgias"
Farewell: "The Hour"