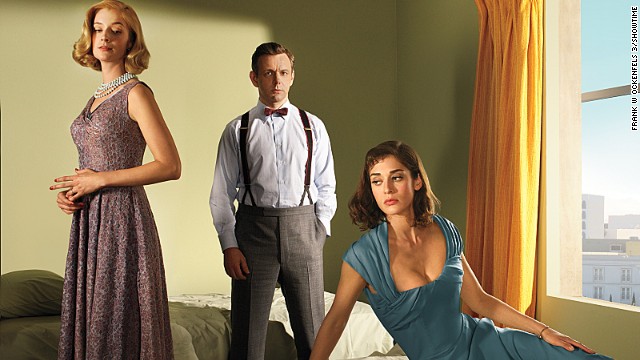 Science is sexy on "Masters of Sex," which is based on real events. Research by Dr. William Masters (Michael Sheen) and Virginia Johnson (Lizzy Caplan) sets off the sexual revolution of the 1960s as they delve into the science behind human sexuality. Season two returned Sunday on Showtime. Also pictured: Caitlin Fitzgerald as Libby Masters, left. Click through our gallery to see other favorite historical shows.
It's the 1980s and IBM is enjoying success a year after releasing its PC. In AMC's "Halt and Catch Fire," a former IBM executive, Joe MacMillan (Lee Pace), right, decides to create a new competitive product with a new company, and help from Gordon Clark (Scoot McNairy) and Cameron Howe (Mackenzie Davis). The show is in its first season, airing now.
If you need to get your swashbuckling fix, tune into "The Musketeers," airing now on BBC America. It's Aramis (Santiago Cabrera), from left, Athos (Tom Burke), D'Artagnan (Luke Pasqualino) and Porthos (Howard Charles) in a new take on Alexander Dumas' classic novel, "The Three Musketeers."
If you've missed watching pirates on TV, look no further than John Malkovich as Blackbeard in NBC's "Crossbones," airing now.
Get ready to see a new side of Dorian Gray, Dr. Frankenstein and other dark literary figures prowling Victorian London in Showtime's "Penny Dreadful." The show just wrapped an intriguing first season.
Although the realms of Westeros are based only on the reality of author George R.R. Martin's "A Song of Ice and Fire" series, some aspects of the "Game of Thrones" storyline borrow from a range of historical inspiration found in medieval Europe. Season four just wrapped on HBO.
"Turn" reveals the untold story of America's first spy ring during the Revolutionary War. Jamie Bell, right, stars as Abe Woodhull, a farmer who helps to form a team of secret agents aiding George Washington. The show has been renewed for a second season on AMC.
"Reign" takes viewers inside the story of teenager Mary Stuart (played by Adelaide Kane), the woman who will become Mary, Queen of Scots. The seductive show enjoyed a successful first season on the CW.
The Americans
" follows KGB spies, played by Keri Russell and Matthew Rhys, posing as an American couple in suburban Washington. The show has been renewed for a third season.
Set in Reagan-era America, FX drama "
Mr. Selfridge
" series, set in London in 1909. At the center of the show is the man and his department store, Selfridges. Overlapping ambition, flamboyance and affairs ensue. The second season just wrapped on PBS.
Jeremy Piven brings the titlular retail tycoon to life in ITV's "
Call the Midwife
" delves inside the sometimes funny and moving world of midwifery alongside families in London's East End in the 1950s. The legendary Vanessa Redgrave narrates the series about young midwives played by Jessica Raine and Miranda Hart. Season three just wrapped on PBS.
The BBC series "
It's Leonardo da Vinci (Tom Riley) as you've never seen him. This fictional look at his early life is uniquely dark and fantastical. Season two just wrapped on Starz.
Boardwalk Empire
." In Atlantic City, New Jersey, prohibited alcohol is flowing and the '20s are roaring. "Nucky" Thompson (Steve Buscemi) sees all from his throne built on political fixing and illegal dealing. It all comes to an end with season five this year.
The rules were made to be broken in HBO's "
It's like "Pirates of the Caribbean" but darker. This new Starz drama takes place 20 years before "Treasure Island," following Captain Flint and his men as they come across thieves, prostitutes and other pirate gangs. It's been renewed for a second season.
Doctor Who
's" time-traveling police box, the TARDIS. The Doctor regularly visits different periods in history and meets historical figures along the way. Vincent van Gogh, anyone? Season eight returns with a new Doctor, played by Peter Capaldi, in August.
Don't want to be confined by time -- or space, for that matter? Hop on board BBC mainstay "
Emile Zola's classic novel comes to life in this Victorian-era drama from BBC. "The Paradise" takes place in a dazzling department store that becomes the setting for romance and intrigue. Season two will air on PBS in the fall.
Viewers are eager to see what happens next on beloved historical drama "Downton Abbey," but the Jazz Age-fueled season five won't bow in the States until January.
Historical dramas are heating up TV all year long, especially with the return of popular series "Mad Men." The corporate advertising world of 1960s New York has never looked so sleek, sexy or ruthless. Season seven will be the last chapter for Don Draper (Jon Hamm), ending in 2015.
Just after the Jack the Ripper murders in London's East End circa 1889, chaos and crime were rampant partners. Inspector Edmund Reid (Matthew Macfadyen) works to control it, through the brothels and filth-ridden streets of Whitechapel. "Ripper Street" was canceled by the BBC after two seasons, but Amazon has rescued the show and commissioned a third.
Treachery and intrigue are rampant in the Five Points slums and Fifth Avenue brownstones of 1865 New York. Detective Kevin Corcoran (Tom Weston-Jones) traverses both worlds. Unfortunately, BBC America's first original scripted series was canceled after two seasons, but producers are considering a movie version.
The Borgias
," led by Oscar winner Jeremy Irons, came to an end after three seasons. The most powerful and scheming family in Renaissance-era Italy quests for the papacy, wealth and power, using murder and deceit as stepping stones.
Showtime series "
The Hour
" had star power with Dominic West ("The Wire"), from left, Romola Garai ("Emma") and Ben Whishaw ("Skyfall"). If you can't get enough of "Mad Men," catch this one on DVD.
We barely knew them for two seasons, but canceled 1950s BBC newsroom drama "
Blast from the past: Historical dramas
'Halt and Catch Fire'
'The Musketeers'
'Crossbones'
'Penny Dreadful'
'Game of Thrones'
'Turn'
'Reign'
'The Americans'
'Mr. Selfridge'
'Call the Midwife'
'Da Vinci's Demons'
'Boardwalk Empire'
'Black Sails'
'Doctor Who'
'The Paradise'
'Downton Abbey'
'Mad Men'
'Ripper Street'
Farewell: 'Copper'
'The Borgias'
'The Hour'