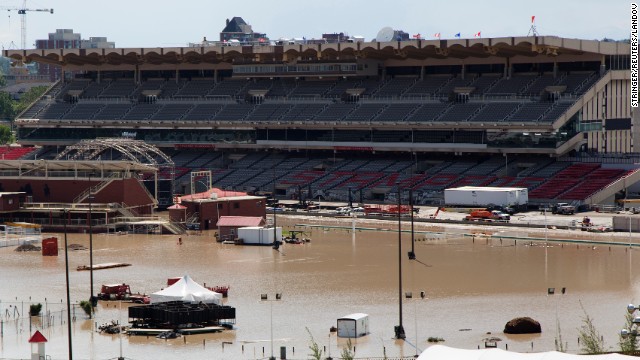 The flooded grounds of the Calgary Stampede are seen in Calgary, Alberta, on June 22. Much of the city is still submerged from Friday's flooding, which was the heaviest flooding the city had seen in decades and took at least three lives. In another city in Alberta, Medicine Hat, thousands of people were evacuated in anticipation of water from the South Saskatchewan River moving into the city Sunday.
Canadian Armed Forces soldiers from the Calgary Highlanders pile sandbags to protect the Inglewood neighborhood in Calgary on June 22.
Residents move to higher ground and watch the waters on June 22.
A house is submerged by floodwater at a park near the Bow River in Calgary on June 22.
Bearspaw Dam opens the gates to release water into the flooded Bow River on June 22.
A man longboards through a flooded downtown street in Calgary on Friday, June 21.
Streets in downtown Calgary are empty except for water after the area was evacuated.
A woman walks toward an abandoned and partially submerged police car in Calgary's Sunnyside neighborhood on June 21.
A man stands on a railing under Calgary's Centre Street Bridge as floodwater flows in the background on June 21.
Floodwater swirls as a street stands empty during the mandatory evacuation on June 21.
A wide view shows the flooded streets in Calgary's Sunnyside neighborhood on June 21.
A car sits on a flooded street in Calgary on June 21.
Residents watch as floodwaters from Cougar Creek destroy a neighborhood in Canmore, Alberta, on Thursday, June 20.
The waters of Cougar Creek expand through a neighborhood in Canmore, west of Calgary, on June 20.
A police car patrols a flooded Calgary neighborhood that was evacuated on June 20.
A man carries his dog to safety in High River, Alberta, on June 20.
Cougar Creek washes out roads in Canmore on June 20.
Flooding in western Canada
Flooding in western Canada
Flooding in western Canada
Flooding in western Canada
Flooding in western Canada
Flooding in western Canada
Flooding in western Canada
Flooding in western Canada
Flooding in western Canada
Flooding in western Canada
Flooding in western Canada
Flooding in western Canada
Flooding in western Canada
Flooding in western Canada
Flooding in western Canada
Flooding in western Canada
Flooding in western Canada
STORY HIGHLIGHTS
The three victims are in the flooded town of High River
Medicine Hat is preparing for the flooding to start Saturday night
Much of Calgary is still submerged
The Saddledome, home to the Calgary Flames, is flooded
Are you there? Share your stories with CNN iReport.
(CNN) -- A third person has died in the extensive flooding that has deluged entire towns and threatens even more communities in southern Alberta, Canada, authorities announced Saturday.
The three victims, two females and a male, were all found in the Highwood River that runs through the town of High River, about 40 miles south of Calgary, the Royal Canadian Mounted Police said. Officials did not identify the victims.
High River is one of the worst-affected areas in the flooding that began after torrential mountain rains. At one point, the entire town of 13,000 was covered in brown floodwater and all residents are under an evacuation order, Cpl. Laurel Kading of the RCMP told CNN.
There was "substantial" and "extensive" damage in the town, where waters rose so rapidly Thursday that about 1,000 people had to be airlifted or rescued by boat, the RCMP said. Kading described one man who dropped his keys when the water began rising, and when he stood up, the water was at his waist.
The local news site High River Online reported river levels down substantially on Saturday in some parts of the town, but high water remaining in others.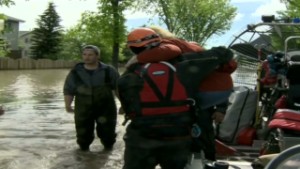 Calgary flooding victims being rescued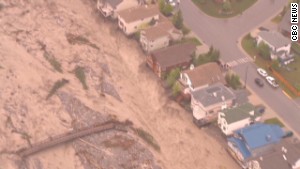 Flooding devastates Canada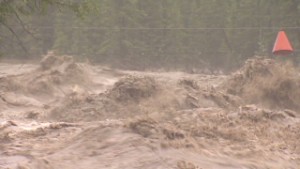 Floodwaters wash out Canadian community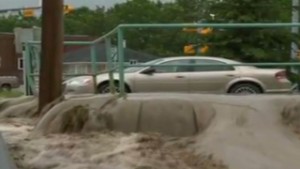 Raging rivers cause flooding in Canada
Photographs from the site Saturday showed a large pickup truck entirely caked in mud, indicating how high the water had reached. Another showed a submerged railway bridge covered in tree trunks and tree limbs. More photos showed buildings and roads still submerged.
The RCMP said it was conducting door-to-door checks of homes throughout High River.
There also was severe flooding to the west of the town, in the foothills of the Rocky Mountains.
"All the little towns all the way along have been affected to some degree or another," Kading said. "There are reports of some farms in rural areas where some people have been stranded as well."
To the east, the city of Medicine Hat was preparing for the South Saskatchewan River to burst its banks. City Hall was lined with sandbags.
The city predicted water to spill over the banks overnight Saturday and keep rising until it crests Monday morning.
About 10,000 people in Medicine Hat, population 62,000, were evacuated ahead of the flooding. City spokesman Brandy Calvert said officials expect the flood to eclipse the one they had in 1995, which was the biggest on record.
"We don't want to anticipate the worst, but we're going to be prepared for the worst," Alberta Premier Alison Redford said before visiting the city Saturday. "We know that from what we've seen everywhere else that this is more exceptional than we've ever seen in Alberta before, so we're presuming that that's probably the circumstance that we're looking at (in Medicine Hat) as well."
Calgary was still covered in water days after the Bow and Elbow rivers overflowed. The city was under a state of emergency Saturday, though Mayor Naheed Nenshi said the flow of the water was slowing and some people could start returning home Saturday night.
The home of the NHL Calgary Flames, the Saddledome, also was flooded. The team posted pictures on its website showing the darkened interior of the dome with brown water sitting at row eight, blocking the entrance to the players' tunnel.
Downtown Calgary will be closed until the middle of next week at the earliest, said Nenshi's spokesman, Daorcey Le Bray.
About 30,000 power customers were without power, the city said.
A pedestrian bridge over the Elbow River was damaged and city assessors were trying to determine the state of the dozens of other bridges, Calgary Police said.