STORY HIGHLIGHTS
Investigators complete second search of NFL player's home
Authorities search an SUV parked in Aaron Hernandez's driveway
Authorities say Odin Lloyd was killed Monday near the football player's house
Police also search a Rhode Island strip club as part of their investigation
North Attleborough, Massachusetts (CNN) -- Authorities searched the home of New England Patriots tight end Aaron Hernandez on Saturday for the second time since a man was found dead a half mile away.
Hernandez has not been named a suspect in the case, and it's unclear what investigators were looking for.
At least 20 state and local police investigators descended on the home around 1:30 p.m. They ended their search by early Saturday evening, and removed about a dozen brown paper evidence bags from the home.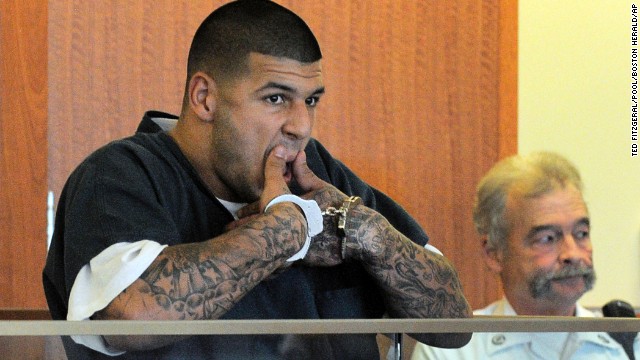 Former New England Patriots tight end Aaron Hernandez appears at a bail hearing on Thursday, June 27, in Fall River Superior Court in Fall River, Massachusetts. He was denied bail and is charged with murder in the death of semipro football player Odin Lloyd.
Hernandez is brought into the Attleboro, Massachusetts, District Court for his arraignment Wednesday, June 26.
Hernandez answers questions during Media Day on January 31, 2012, before Super Bowl XLVI against the New York Giants in Indianapolis.
Hernandez carries the ball as the Patriots play the Cincinnati Bengals in Foxborough, Massachusetts, on September 10, 2010.
Hernandez carries the ball as the Patriots play the New York Jets in Foxborough, Massachusetts, on December 6, 2010.
Hernandez looks up after being tackled during a game against the Philadelphia Eagles on November 27, 2011, in Philadelphia.
Tattoos on Hernandez's arm are visible during the pregame warmup on December 4, 2011.
Hernandez scores a touchdown against the defense of George Wilson of the Buffalo Bills on January 1, 2012, in Foxborough, Massachusetts.
Hernandez catches a pass against Chase Blackburn and Aaron Ross of the New York Giants during Super Bowl XLVI on February 5, 2012, in Indianapolis.
Hernandez runs for a 12-yard touchdown past Deon Grant of the New York Giants in the third quarter of Super Bowl XLVI on February 5, 2012, in Indianapolis.
Hernandez celebrates his touchdown in the third quarter of Super Bowl XLVI.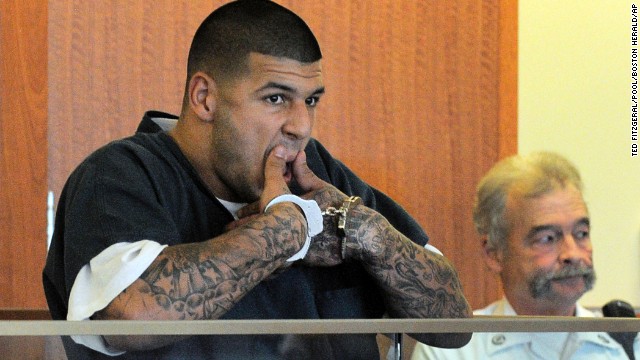 Photos: Aaron Hernandez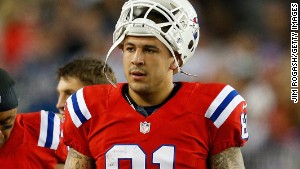 Patriots player under investigation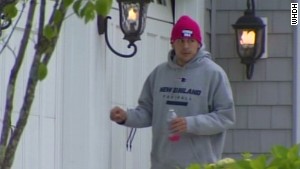 NFL player probed in suspicious death
Some investigators wore blue latex gloves as they entered. At least two police dogs went into the house and also searched the backyard.
Investigators also searched a white SUV parked in Hernandez's driveway.
It was the second time police searched the football player's home in connection with an investigation into the death Monday of Odin Lloyd. Lloyd's family says he was a friend of Hernandez and had partied with him.
The Boston Globe reported that surveillance images recorded early Monday morning -- hours before Odin's death -- appeared to show Hernandez and Lloyd together on a Boston street. CNN has not independently confirmed the newspaper's report, which cited two law enforcement officials.
Hernandez was last seen Friday afternoon when he arrived home, accompanied by his attorney. The athlete has yet to say anything publicly about the homicide case.
Neither the district attorney nor Hernandez's lawyer have returned calls for comment.
Player, authorities mum as probe continues into man's death
A statement from his lawyer acknowledged that there was an investigation, but didn't confirm media reports that authorities had questioned his client.
"It has been widely reported in the media that the state police have searched the home of our client, Aaron Hernandez, as part of an ongoing investigation," attorney Michael Fee said earlier this week. "Out of respect for that process, neither we nor Aaron will have any comment about the substance of that investigation until it has come to a conclusion."
The 27-year-old Lloyd, a semi-pro football player, was found dead less than a mile from Hernandez's expansive home in North Attleborough. Police have searched the home and sifted through the nearby woods for clues.
A law enforcement source with knowledge of the investigation said Lloyd was shot to death.
As part of the investigation, authorities have also searched a strip club in Providence, Rhode Island, and copied video from a surveillance camera there, Providence Police Capt. Mike Correia said.
A search warrant was executed Thursday at Club Desire, where authorities copied surveillance video from more than one day, he said.
Police haven't revealed what they were looking for at the club. Authorities say the owner cooperated and consented to the search.
CNN was unable to reach the club's owner or other club officers after leaving several messages.
CNN's Yon Pomrenze, Lawrence Crook and Bob Crowley contributed to this report from North Attleborough, Massachusetts.