STORY HIGHLIGHTS
This week, Angelina Jolie spoke with Syrian refugees in Jordan
She documented their stories in a video
The Hollywood star has spent years working on behalf of refugees
Last year, she became a special envoy for the United Nations' refugee agency
(CNN) -- The world pays attention to Angelina Jolie when she's stepping out with partner Brad Pitt, writing opinion pieces and spurring debate about breast cancer or promoting her latest movie.
Now, she's is hoping to turn that spotlight onto Syria's refugee crisis.
This week, Jolie -- a special envoy for the U.N.'s refugee agency -- traveled to the world's second-largest refugee camp, where she spoke to Syrian refugees and documented their stories in a video for CNN.
Nearly 1.7 million Syrians have fled the country's brutal civil war, many living in densely crowded refugee camps in Syria's neighboring countries. Jordan's Za'atri refugee camp, which Jolie visited to mark Thursday's World Refugee Day, was built to house 20,000 refugees but now has more than 120,000.
Their stories of survival and loss are harrowing. Some refugees say they are marrying off their young daughters to protect them from rapists in the camps.
CNN inside Syria: Smoldering ruins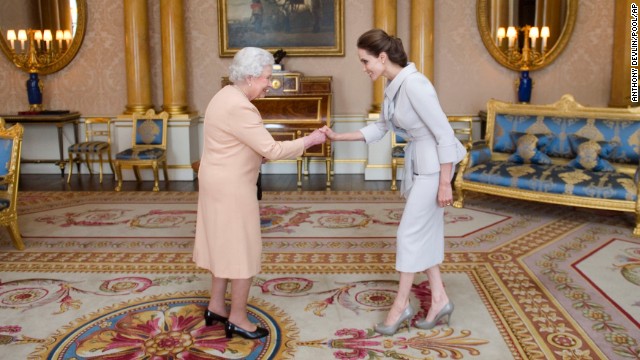 On Friday, October 10, Britain's Queen Elizabeth II made Angelina Jolie an honorary dame for her work to root out sexual violence in war zones. While Jolie is now known for her humanitarian works and action movies, she has been in the spotlight since she was a child. Here's a look at her life.
Jolie hugs her father, actor Jon Voight, in Los Angeles in 1980. Her brother, James, is at left.
Jolie, then 15, poses for a photo in January 1991.
Jolie and Voight are seen in an undated photo.
Jolie attends an event in New York City, circa 1998.
Jolie appears at the Golden Globe Awards in January 2000. She won best supporting actress for her role in the film "Girl, Interrupted."
Jolie and her husband at the time, Billy Bob Thornton, appear at the premiere of her film "Gone in 60 Seconds" in June 2000. They divorced in 2003.
Jolie and her mother, actress Marcheline Bertrand, are photographed at the premiere of Jolie's film "Original Sin" in July 2001. Bertrand died of ovarian cancer in January 2007.
Jolie distributes balls to children at the Tham Hin refugee camp, on the Thailand-Myanmar border, in May 2002. She was a goodwill ambassador for the United Nations High Commissioner for Refugees before she became a special envoy for the agency in 2012.
Jolie carries her son Maddox at the world premiere of "Shark Tale" in September 2004.
Jolie appears on "The Tonight Show with Jay Leno" in March 2004.
Jolie attends the German premiere of "Alexander" in December 2004.
As part of her role as goodwill ambassador, Jolie speaks with Pakistani Prime Minister Shaukat Aziz in Islamabad, Pakistan, in May 2005.
Producer Arnon Milchan centers Jolie and Pitt at the premiere of "Mr. & Mrs. Smith" in June 2005.
Jolie and Pitt appear at the Cannes Film Festival in May 2008.
Jolie greets fans at the Russian premiere of her film "Salt" in July 2010.
Jolie walks with four of her children -- from left, Maddox, Zahara, Pax and Shiloh -- at Japan's Narita International Airport in July 2010.
Jolie appears at the Golden Globe Awards in January 2011.
Jolie and Pitt appear at the Screen Actors Guild Awards in January 2012.
Jolie meets Syrian refugees in Lebanon's Bekaa Valley in September 2012.
Jolie appears at an April 2013 news conference in London about sexual violence against women in conflict.
In May 2013, Jolie announced in a New York Times op-ed that she underwent a preventive double mastectomy after learning that she carries a mutation of the BRCA1 gene, which sharply increases her risk of developing breast and ovarian cancer. Here, in June 2013, she makes her first red carpet appearance since the surgery, attending the London premiere of Pitt's movie "World War Z."
Jolie accepts the Jean Hersholt Humanitarian Award in November, during the Academy of Motion Picture Arts and Sciences' Governors Awards ceremony.
In the 2014 film "Maleficent," Jolie plays an evil sorceress who tells her side of the story. The movie opened at No. 1 and earned $69.4 million in its first weekend in U.S. theaters.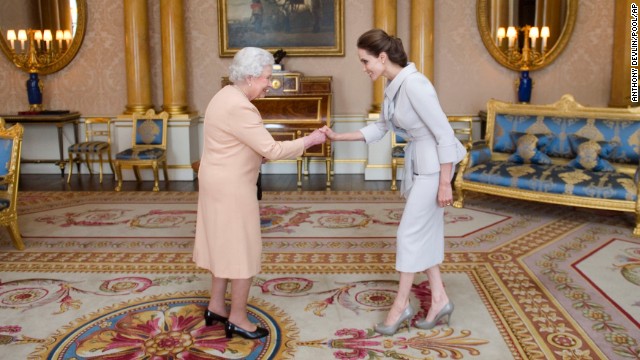 Photos: Life of Angelina Jolie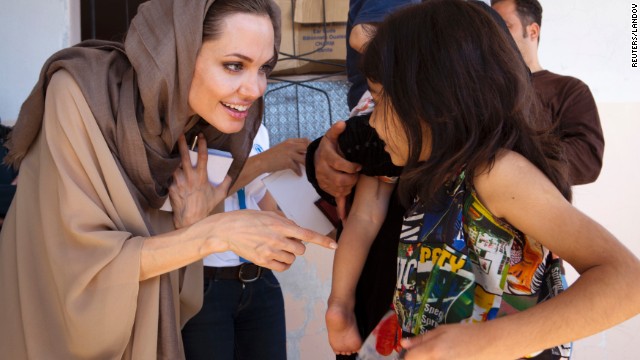 Actress Angelina Jolie, special envoy for the United Nations High Commissioner for Refugees, meets with Syrians in Lebanon's Bekaa Valley.
Jolie arrives on Thursday at a refugee camp in the southeastern Turkish city of Kilis to meet Syrian refugees. Jolie visited the Oncupinar camp, Turkey's largest, where some 12,000 people are staying.
Jolie meets with Turkish Interior Minister Idris Naim Sahin in Ankara on Thursday. About 80,000 refugees are encamped in southeastern Turkey, near the Syrian border.
Jolie and U.N. High Commissioner for Refugees Antonio Guterres, center, arrive on Thursday to meet with the Turkish deputy prime minister in Ankara.
Jolie and Guterres at a refugee camp in Kilis on Thursday.
Jolie speaks during a news conference following a meeting with Guterres, right, and Lebanese Prime Minister Najib Mikati in Beirut on Wednesday.
Jolie briefs the press during her visit to the Za'atri camp near Jordan's border with Syria on Tuesday.
Jolie meets with refugees at the Za'atri refugee camp in Jordan to demonstrate solidarity with Syrian refugees and pay tribute to the Jordanian government for their refugee protection.
Jolie waves to the crowd as she arrived at Al Za'atri refugee camp on Wednesday.
Jolie meets with refugees on the Jordanian border minutes after they crossed from Syria on Tuesday in Amman, Jordan. With shelling clearly audible and visible across the border in Syria, some 200 refugees made the dangerous crossing under cover of night.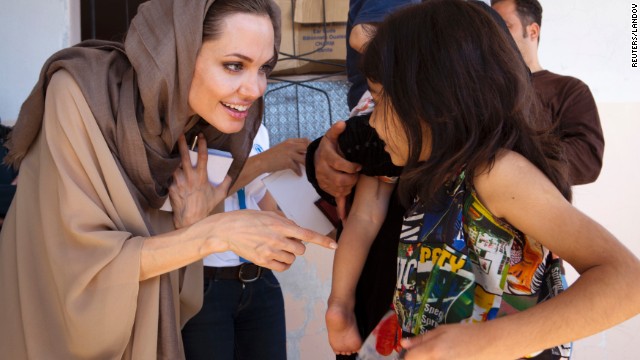 2012: Jolie visits Syrian refugees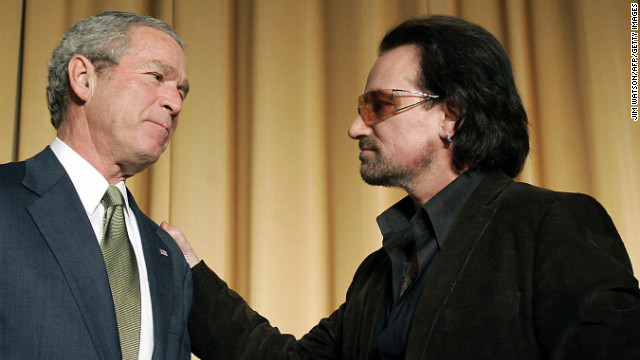 U2 frontman Bono, who was named the most politically effective celebrity of all time by the National Journal, has campaigned for third-world debt relief since 1999. In March 2002, he appeared next to President Bush for the unveiling of a $5 billion aid package for the world's poorest countries. The two also attended the National Prayer Breakfast in Washington in February 2006, seen here.
Actress Emma Watson, a U.N. goodwill ambassador, joins U.N. Secretary-General Ban Ki-moon for the launch of the HeForShe campaign Saturday, September 20, at the United Nations. Watson's speech on gender equality has gone viral. Here are some other celebrities' forays into international diplomacy:
After filming a movie in Cambodia, actress Angelina Jolie began to visit refugee camps around the world. In 2001, she was named a goodwill ambassador by the U.N. Refugee Agency. Since then, Jolie has visited refugee camps in more than 30 countries, and she was appointed special envoy of the U.N. Refugee Agency in April 2012.
After a February visit to North Korea that included a basketball outing with Kim Jong Un, former NBA star Dennis Rodman called the country's supreme leader a "friend for life." In May, Rodman asked Kim via Twitter to release U.S. citizen Kenneth Bae, who was sentenced to 15 years of hard labor for unspecified "hostile acts" against North Korea. Rodman's relationship with Kim is certainly unprecedented, but it's not the first time a celebrity has tried to use the limelight to advocate causes or steer policy.
In March 2003, in the days leading up to the U.S. invasion of Iraq, Dixie Chicks frontwoman Natalie Maines said to a London audience: "Just so you know, we're on the good side with y'all. We do not want this war, this violence. And we're ashamed the president of the United States is from Texas." That comment led to nationwide backlash, and the Texas-based band has not had a song in the top 30 since. In this photograph, the Dixie Chicks perform live on stage at the Point Theatre in Dublin, Ireland, on September 2003.
While in self-induced exile in Europe, legendary aviator Charles Lindbergh became an advocate for the prevention of World War II. In 1938, Lindbergh penned a secret memo to the British, stating that military response to Adolf Hitler's violation of the Munich Agreement would be "suicide." In 1941, he spoke on behalf of the isolationist America First Committee in Des Moines, Iowa, claiming that if the U.S. were to engage in war against Germany, victory would not be likely. Here, Lindbergh testifies before the House Foreign Affairs Committee in January 1941.
In 1972, actress Jane Fonda visited North Vietnam in protest of the Vietnam War. Fonda's visit to Hanoi was marked by a number of controversial events, including a photo showing Fonda seated on an anti-aircraft battery used against U.S. forces. Fonda later apologized for the photo. In this photo, Fonda tours destruction in Hanoi on July 25, 1972.
After her career as child star, Shirley Temple Black was appointed ambassador to the United Nations by President Richard Nixon, ambassador to Ghana by President Gerald Ford and ambassador to Czechoslovakia by President George H.W. Bush. Here, Temple Black, right, confers with her secretary, Ruth Underwood, in her embassy office in December 1989.
Geri Halliwell, also known as Ginger Spice in the British pop group the Spice Girls, became a representative for the U.N. Population Fund in 1999 and released the documentary "Geri's World Walkabout," which documented her travels with the U.N. In 2006, Halliwell traveled to Zambia to promote the prevention of HIV/AIDS and bring awareness to the steadily increasing rates of maternal death. Here, Halliwell speaks at a news conference in Washington in May 2008.
In 2006, singer Harry Belafonte appeared in Venezuela with then-President Hugo Chavez and made controversial statements about Bush: "No matter what the greatest tyrant in the world, the greatest terrorist in the world, George W. Bush says, we're here to tell you: Not hundreds, not thousands, but millions of the American people support your revolution." In this photo, Belafonte, center, speaks with residents of a low-income neighborhood in Caracas, Venezuela, before meeting Chavez in January 2005.
In 2002, a year before the Iraq war began, actor Sean Penn met with Iraqi Deputy Prime Minister Tariq Aziz and paid a visit to al-Mansour Children's Hospital in Baghdad. Aziz says Penn spoke very strongly against aggression against Iraq by U.S. forces. In 2007, Penn also visited Chavez, to whom he penned a letter criticizing Bush.
Actress Mia Farrow, a longtime advocate for child rights, traveled to Darfur in 2004 and 2006 to advocate for the freedom of Darfuri refugees. Farrow later wrote an opinion piece for the Wall Street Journal that is widely credited with heightening awareness about Darfur and eventually led to Sudan accepting a U.N. peacekeeping force.
In 2012, actor George Clooney was arrested for civil disobedience during a protest outside the Sudanese Embassy. Clooney, who appeared in the documentary "Darfur Now," has advocated vehemently for a resolution of the Darfur conflict.
Singer Bob Geldof, alongside fellow Irishman Bono, has been a prominent advocate for anti-poverty efforts in Africa. In 1984, he helped found the charity Band Aid to raise money for famine relief in Ethiopia. And he organized the Live Aid concert the following year.
In 2004, Oprah Winfrey documented her travels to South Africa, where she brought attention to young children who are affected by HIV/AIDS and living in poverty. Her trip brought in $7 million in donations from around the world. Three years later, Winfrey established the Oprah Winfrey Leadership Academy for Girls for students from disadvantaged backgrounds.
Actor Don Cheadle has been a prominent activist for the end of genocide in Darfur. Along with fellow actors Clooney and Brad Pitt, Cheadle helped start the Not On Our Watch Project, an organization focused on preventing mass atrocities. Cheadle was named U.N. Environment Program Goodwill Ambassador in 2010.
Actress Ashley Judd, a global ambassador for YouthAIDS, actively campaigns for awareness of international poverty. In 2010, Judd traveled to the Democratic Republic of Congo to raise awareness of how sexual violence is driven by conflict minerals in Congo. Here, Judd speaks in Mumbai, India, while raising awareness about AIDS in March 2007.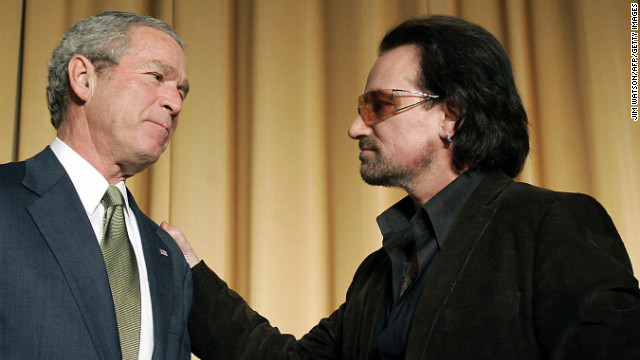 Photos: Celebrities' forays into diplomacy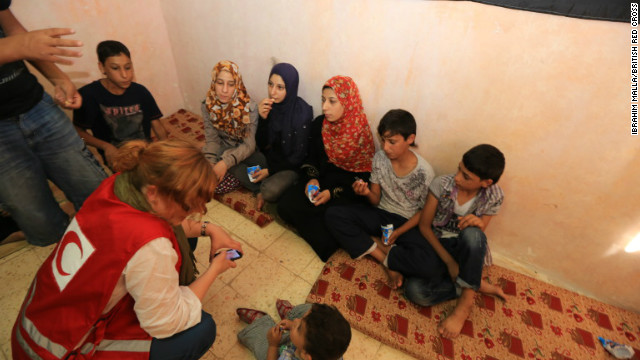 The U.N. reports that half a million people have registered as refugees from the Syrian civil war -- but a recently returned Red Cross worker says the true figure is far higher because those fleeing are too scared to register.
Currently around 102,000 Syrians are registered with the U.N. High Commissioner for Refugees within Jordan, and another 41,000 have 'appointments to register'. However, the Jordanian government estimates an additional 100,000 people have crossed the border.
Gradually, after explaining the position of the Red Cross Red Crescent as a neutral, non-religious humanitarian agency, it has been possible to gain people's trust and register some refugees locally. But there are many thousands falling through the net.
Lack of registration makes refugees a lot harder to find. With less than one-fifth of Syrian refugees living in the official refugee camp in Jordan, the majority are living in rented accommodation, or with relatives in overcrowded housing. In Amman, Jordan, it is not unusual to come across two, three or even four families sharing a one-bedroom apartment.
Syrian refugee children wait to enter their class on November 27, 2012 in the Oncupinar camp in Kilis, southern Turkey.
In this handout image provided by UNHCR, UNHCR Special Envoy Angelina Jolie meets with refugees at the Zaatari refugee camp on December 6, 2012 outside of Mafraq, Jordan.
A Syrian refugee child sits near his sleeping sister at his family's makeshift house built on an agricultural field in Saadnayel in the Lebanese Bekaa valley on December 12, 2012.
A mother looks over at her disabled child sitting among plastic tents in a refugee camp on the border between Syria and Turkey near the northern city of Azaz on December 5, 2012.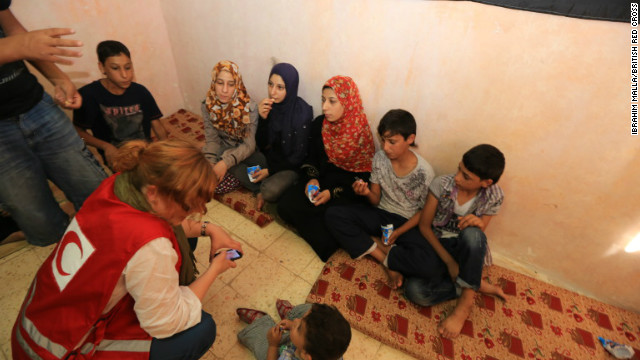 Refugee figures fail to give true picture of Syria crisis
One family at the Za'atri camp told Jolie of a mortar that exploded in their Damascus home. At the time of the blast, the couple's 4-year-old son, who suffers from a birth defect and cannot walk, was playing inside.
The boy's eardrums were shattered.
"I tried to stay," said the mother, Mouna Ahmed. "I wanted to stay, but after the bombing, it was just too difficult."
She fled with her family, even though she was pregnant. Even in Jordan, when her children hear a plane overhead, they get scared, Ahmed said.
Giving a voice to refugees is arguably the most difficult role Jolie accepted when she agreed to become the U.N.'s special envoy for refugees last year. Months after accepting the role, she visited Syrian refugees living in camps in Turkey, Lebanon and Jordan.
Photo blog: Syrian war through children's eyes
As the war drags on in Syria, there has been little talk among world leaders about the humanitarian crisis unfolding as a result of the conflict. Instead, the discussion at the recent G8 conference centered on whether the United States will arm the rebels fighting Bashar al-Assad's regime.
Some analysts have warned that Syria's quagmire will trigger the world's worst refugee crisis if it is not addressed.
"This is undoubtedly the world's worst refugee crisis in decades, and if we don't get off this slippery slope, it will soon become the largest in our lifetime," Kristalina Georgieva, a humanitarian commissioner for the European Commission, told the Daily Telegraph this week.
"It is so disappointing to see the international community sleepwalking into this disaster."
Gallery: More than a million fleeing
Every 14 seconds, another Syrian is displaced across national boundaries, according to the U.N.
Last week, the U.N. made its largest appeal ever -- for more than $5 billion -- for relief aid to Syrians across the country.
The U.N. Office for the Coordination of Humanitarian Affairs predicted that nearly half of Syria's population will either have fled the country or need aid by the end of the year.
One woman at the Za'atri camp told Jolie how her life was transformed when her neighbor in Syria showed up at her door, missing a foot.
"I went to the pharmacist, and I said, 'Hypothetically speaking, if my son or husband had this injury, what should I do?' " the woman, Umm Mohammed, recalled.
With a proud smile, she said, "He taught me how to sterilize the wound ... and I started working."
Her smile disappears when the conversation turns to her own situation at the refugee camp. Umm Mohammed wants to return to her home in Syria, but the safety of her family keeps her away.
There have been promises to help from the international community to end the conflict in Syria, but the reality is that nothing changes, she said.
"Why is no one standing by the Syrian people?" she asked Jolie. "No one is helping us. They all say they want to support us, but nothing is being done. They have conferences and make statements, but it is worth nothing."
For a list of charities that are helping those affected by Syria's war, check out cnn.com/impact.