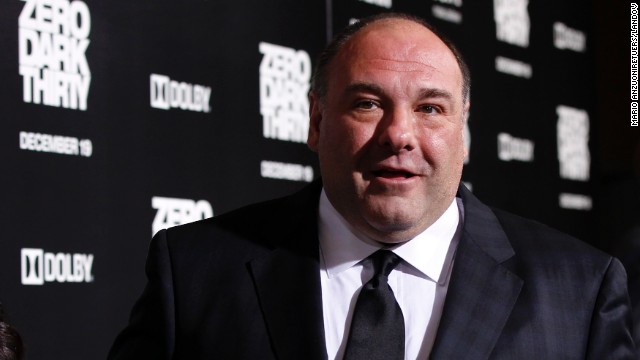 James Gandolfini, who gained fame playing a memorable mafia boss on HBO's "The Sopranos," died after suffering a heart attack in Italy on Wednesday, June 19. Pictured, Gandolfini at the premiere of "Zero Dark Thirty" in 2012.
Gandolfini and Jane Fonda attend an after-party for the HBO series "Newsroom" in Hollywood on June 20, 2012.
Gandolfini attends the Keep Memory Alive Foundation's Power of Love Gala celebrating Muhammad Ali's 70th birthday in 2012 in Las Vegas.
Gandolfini watches the New York Jets play the New York Giants at MetLife Stadium on December 24, 2011, in East Rutherford, New Jersey.
Gandolfini with his wife, Deborah Lin, at the premiere of HBO Films' "Cinema Verite" at Paramount Pictures Studio in Los Angeles in 2011.
Gandolfini arrives for the world premiere of "Violet & Daisy" at the Elgin Theatre during the Toronto International Film Festival on September 15, 2011.
Gandolfini arrives at the 2011 BAFTA Brits To Watch Event at the Belasco Theatre in Los Angeles.
Gandolfini visits with service members and civilians on Kandahar Air Field, Afghanistan, on March 29, 2010, during a USO tour.
Gandolfini, Jeff Daniels, Marcia Gay Harden and Hope Davis during the curtain call of the opening of the Broadway play "God of Carnage" on March 22, 2009, at the Broadway Theatre in New York.
Edie Falco and Gandolfini present the award for outstanding miniseries at the 58th Annual Primetime Emmy Awards in 2006.
Gandolfini attends the sixth season premiere of "The Sopranos" in New York in 2006.
Gandolfini speaks at the 9th Annual Critics' Choice Awards gala at the Beverly Hills Hotel in 2004.
Gandolfini poses backstage during the 55th Annual Primetime Emmy Awards in 2003 in Los Angeles.
The cast of "The Sopranos," from left, Tony Sirico, Steve Van Zandt, James Gandolfini, Michael Imperioli and Vincent Pastore.
Gandolfini with Edie Falco, left, and Lorraine Bracco at the DVD launch party for "The Sopranos: The Complete Fifth Season" in 2005 in New York.
Gandolfini accepts the Television Drama Award at the GQ Men of the Year Awards in 2000.
'Sopranos' star James Gandolfini
'Sopranos' star James Gandolfini
'Sopranos' star James Gandolfini
'Sopranos' star James Gandolfini
'Sopranos' star James Gandolfini
'Sopranos' star James Gandolfini
'Sopranos' star James Gandolfini
'Sopranos' star James Gandolfini
'Sopranos' star James Gandolfini
'Sopranos' star James Gandolfini
'Sopranos' star James Gandolfini
'Sopranos' star James Gandolfini
'Sopranos' star James Gandolfini
'Sopranos' star James Gandolfini
'Sopranos' star James Gandolfini
'Sopranos' star James Gandolfini