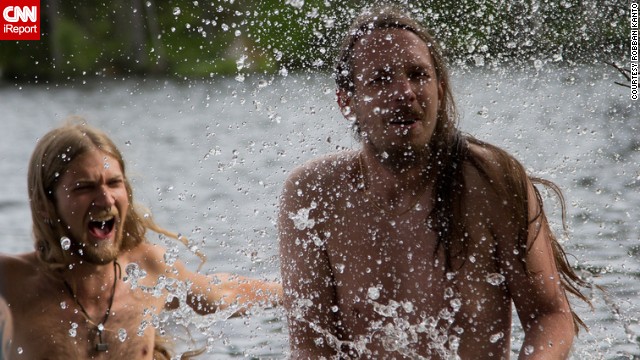 Summer solstice, the longest day of the year, arrives in the Northern Hemisphere on June 21. It's a time when bonfires are lit, traditional songs are sung and more often than not, clothes come off.
Robban Kanto
and his friends, who celebrated the longest day in Zinkgruvan in Sweden last year, couldn't resist a quick skinny-dip before the night was up.
Scott London
, who documented the event.
There weren't many more clothes on display at the Santa Barbara 3-day summer solstice parade last year. "It's one of the largest, most festive, and longest-running events of its kind in the U.S." said
In Germany, the distinctive 'Externsteine' rock formation is an important venue for large festivals during the longest day of the year, similar to the UK celebrations at Stonehenge. Bernd Mestermann, who took this photo, has been going to this German event for 20 years.
Ulf Bodin
took this photo in the small town of Sigtuna, an hour north of Stockholm.
In Sweden, where Midsummer is one of the biggest celebrations of the year, singing and dancing are central to the fun and frolics. But before all that the maypole has to be decorated and raised.
Mats Edenius
, shows the end of the "rocket" dance. "It starts with low clapping going more intense, trying to make as much noise as possible. Then it takes off and everybody jumps synchronized."
After the Swedish midsummer maypole has been raised, it's time for the dancing, which, to outsiders, might look odd, embarrassing and weird. But don't laugh! The Swedes take their Midsummer dancing very seriously. This photo, shot by
Janto Marzuki
captured these images of a typical Stockholm midsummer celebration in 2008, in the historic open air museum and zoo 'Skansen', where you can relive the days before the industrialization and see people dressed up in Swedish traditional dresses.
64-year-old
Paul Jackson
's uncle Sven Eric Andersson on Midsummer's Day on the Swedish island of Gotland in the Baltic Sea. Jackson, who is half Swedish, says he is very proud of his ancestry and that he always "pauses a moment to think of my Swedish relatives on midsummer evening."
This shot, however, is the real deal. It was taken in 1957 by iReporter
Valeria85
took this photo in the cathedral of Bari, Italy. She says that only during summer solstice does the light coming from the ceiling align perfectly onto the special mosaic pattern. Watching this "game of light" in the cathedral has been her midsummer tradition for a couple of years and she will be there again this year.
Mitchel David Needham
attended the Danish 'Sankt Hans Aften' in 2011. "Whilst the bonfire was burning, several bands performed, a lot of families played games with their children around the fire and young people were drinking and generally having a great time!"
In Denmark it's common to have big bonfires during summer solstice. Londoner
"The Uluu Ot, or Sacred Fire, has been remembered in Kyrgyz oral storytelling for 40,000 years. The Uluu Ot was rekindled in Kyrgyzstan on the summer solstice of 2010, attended by traditional cultural practitioners representing the Central Asian migration out of Africa," says iReporter Maryka Ives Paquette
Jon-Arne Belsaas
in 2009 shows one of the world's largest bonfire made of barrels. He had hurried back to the town of Bergen from his work on a Navy ship to witness it. "I wanted to catch this magnificent sight," he says.
The bonfires are also one of the highlights during Norwegian midsummer, or 'Sankthansaften'. This photo taken by
Tom Rantala
who took this photo during midsummer celebrations in 2011.
In Finland the midsummer celebrations are called 'Juhannus'. "Lots of people- friends and family- gather together somewhere near water and set up a huge bonfire called "Kokko" and usually drink lots of alcohol and go to the sauna. That's just somehow the Finnish thing," says 24-year-old
Witnessing the summer solstice in Scandinavia is an experience many from abroad want to experience at least once in their lives. Luke Isaac and his wife are currently enjoying their first midsummer in Finland. He took this photo June 17 at the Lake Äkäslompolo in Lapland, a region stretching across Norway, Finland, Sweden and Russia. He said they will watch the bonfire. "All is quiet at the moment".
For those living far from home, midsummer traditions can be a way to reconnect with one's roots. Darius Kuzmickas shared this photo from a midsummer celebration by the Lithuanian community in Portland, Oregon . "We sing and dance until sunset."
Chris Morrow
starts her summer by trying the fair's food. This photo shows her husband's Krispy Kreme Sloppy Joe. "It's a taste conflict of sweet and savory that are not complimentary. The confusion in your mouth is weird and awesome!"
For some, summer is marked by special foods. The San Diego Fair tends to adventurous taste buds during summer months. Californian
Robban Kanto
documented last year's midsummer celebrations with his friends where they served traditional midsummer food, like pickled herring, hard bread, caviar on egg and meatballs.
Food is indeed an important part in many solstice celebrations, especially in Sweden. 35-year-old
If summer solstice celebrations sound too stressful, there is always the option to join the 'Solstice in Times Square' event in New York City, where thousands of people practice yoga together. "Yoga has always been associated with the sun as a life-giving and healing force," says Asterio Tecson, who took these photos in 2012.
Solstice celebrations around the world
How do you welcome summer?
How do you welcome summer?
Solstice celebrations around the world
Solstice celebrations around the world
Solstice celebrations around the world
How do you welcome summer?
How do you welcome summer?
Solstice celebrations around the world
Solstice celebrations around the world
Solstice celebrations around the world
How do you welcome summer?
How do you welcome summer?
Solstice celebrations around the world
How do you welcome summer?
How do you welcome summer?
Solstice celebrations around the world
Solstice celebrations around the world
STORY HIGHLIGHTS
The summer solstice is the longest day of the year in the Northern hemisphere.
Summer celebrations have a a millennia-old history.
Popular celebrations involve lots of food, copious drinking, and bonfires.
Editor's note: This story originally ran in June 2013. Celebrate the start of summer by sharing your summer sky photos with CNN iReport. The best images will be featured in a gallery on CNN.com.
(CNN) -- If Stonehenge is anything to go by, summer celebrations have a millennia-old history. While the ancient druids may have commemorated the fertility of the season, many of us are just happy to get outdoors.
In a lot of cultures, the solstice -- officially the longest day of the year -- marks the start of summer. In Scandinavia, where it's known as Midsummer, it is one of the biggest holidays on the calendar. The day is celebrated with copious amounts of herring, vodka, singing, and a dance around the maypole. Throughout much of Europe, it's referred to as St. John's Day, and is honored with bonfires and dancing, and in some cases, a naked sprint across town.
But summer's like that; it can inspire madness -- and a little bit of genius too. We asked iReporters across the globe how they welcomed the change in season, and got some interesting answers...
Eat bizarre food
Certain foods are just summertime foods: ice cream, hot dogs, doughnut Sloppy Joes... wait, what?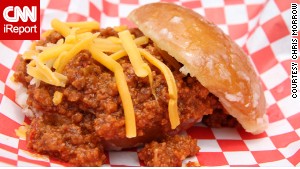 The Krispy Kreme Sloppy Joe
As it happens, the San Diego Fair has a tradition of serving up unusual grub during the summer months, with the help of Chicken Charlies -- a California state fair mainstay.
"Every year, I ring in the summer by trying the food at the fair," says Californian Chris Morrow. She documented her husband's first taste of a Krispy Kreme Sloppy Joe -- a version of the meaty sandwich served on a sweet, glazed Krispy Kreme doughnut.
Morrow described the treat as, "a taste conflict of sweet and savory that are not complimentary and don't register at the same time.The confusion in your mouth is weird and awesome."
Honor tradition
For many, the solstice is a window into generations past. Paul Jackson, a half-Swedish, Kenyan-born resident of the UK, found an old family photograph in an album belonging to his mother.
We sing songs and dance until the sun sets
Darius Kuzmickas, iReporter
"I love this photograph. It feels like a scene from a film," he muses.
While Jackson won't be celebrating the Midsummer this year, he says, "I always pause a moment to think of my Swedish relatives on Midsummer evening."
For those living far from home, the day can be a chance to reconnect with one's roots. Portland, Oregon, for instance, has a large Lithuanian community, and many choose to take part in a community gathering during Midsummer.
"We sing songs and dance until the sun sets," recalls Darius Kuzmickas, who yearly joins the festivities, which he captured last year with his Canon camera.
Watch the sun (not) set
In 2009, Jorgen Nybrolin and his wife Karin decided to celebrate the holiday on a snowy mountaintop in the north of Sweden. They eschewed Stockholm's grassy plains for the Riksgransen ski resort, where it was still bright during the midnight hour.
"This was my first time in 100% midnight sun," recalls Karin. "We had so much energy. After snowboarding in the middle of the night, we went for after-ski in the sunshine at 2am. We had only four hours of sleep and weren't even tired the next morning."
Burn, baby, burn
In many parts of the world, it just wouldn't be a solstice without a bonfire. Originally a pagan custom, the wood-burning ritual has since been appropriated into St. John's Day. In Greece, the men folk like to show off by leaping over the massive flames, while in France a fire marks the beginning of an annual music festival (Fête de la Musique).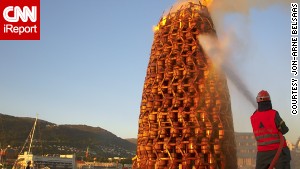 Bonfires are a highlight of Norwegian midsummer
During the Norwegian midsummer (known locally Sankthansaften), celebrants go the extra mile. In the town of Bergan, youths from a local music corp build the world's largest keg bonfire.
"It is the only one made out of classical kegs, as far as I know," says Jon-Arne Belsaas, who documented the blaze in 2009.
Get in costume
For some solstice revelers, the day just isn't complete without a costume. The druids at Stonehenge don white robes, while many Scandinavians slap on folk costumes.
Janto Marzuk, an Indonesian native who fell in love with Midsummer after relocating to Sweden (where he's lived for 41 years), finds the garb enticing.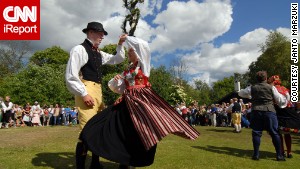 A traditional midsummer celebration in Stockholm, Sweden
"The celebration begins with procession of men and women who are dressed up with their beautiful traditional clothes," he notes.
In the U.S., one of the most elaborate solstice celebrations takes place in Santa Barbara. Each year, the three-day festival is accompanied by a parade, peopled with colorfully-costumed stiltwalkers, performance artists, Brazilian drummers, and kids donning masks, costumes, and painted faces.
Party. Hard.
Libations are as much a summer stalwart as, well, sunshine. For some celebrants, alcohol is a major draw.
"I usually don't care much for traditions, but if it comes in the form of good food, drinks and great company I can endure it," says Robban Kanto, who last year celebrated Midsummer for the first time since childhood in Zinkgruvan, Sweden.
As a hobby photographer, Kanto took it upon himself to document the festivities. "I used the camera to get out of the other [preparation] duties," he jokes.
Hit the beach
For some, nothing epitomizes summer as perfectly as the beach. Victoria E. Yu, a 16-year old student with a penchant for photography, likes visiting the Ferris wheel at the Santa Monica Pier.
"Once you're seated, the Ferris wheel begins to move at a pace that's neither slow nor fast; just a perfectly smooth rotation. It's exactly what an ideal summer is like: passing by neither too quickly nor too slowly," she says.