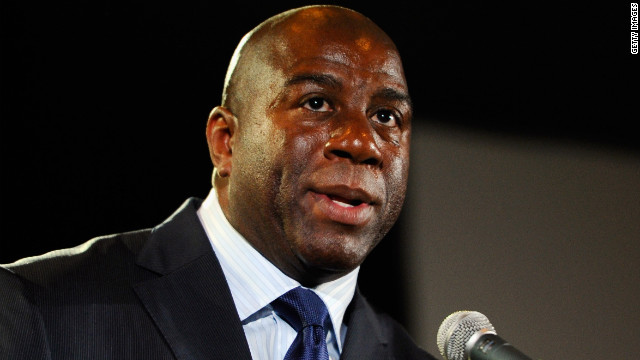 Being a major league athlete -- even a superstar major league athlete -- is no guarantee of success at major league team ownership. As one of the new owners of the Los Angeles Dodgers, though, basketball great Magic Johnson is going to give it a shot. Here are a few of his colleagues who made the crossover, for better or worse:
The "Tall Tactician" owned part or all of the Philadelphia A's from the team's founding in 1901 until 1954, when he sold the team to Arnold Johnson. Before his ownership stint, Connie Mack had an 11-year career as a catcher in the National League. Thanks to his 50 years of managing the A's -- and two years managing the Pirates in the 1890s -- he holds major league managing records for games won and lost.
Though far from a superstar, George Halas played in 12 Major League Baseball games in 1919. The next year, he joined the Decatur Staleys football team. In 1921, he bought the squad and moved it to Chicago, where it became the Bears. For several years, "Papa Bear" was everything -- owner, player, coach, manager and ticket-seller -- and stayed on as coach long after his playing days ended. His family still controls the team.
The Hall of Fame hitter bought a portion of the St. Louis Cardinals in 1925 and became the team's manager. At the end of 1926, fresh off a world championship, he became embroiled in a contract dispute with owner Sam Breadon and was traded to the Giants. The National League president said Hornsby couldn't own stock in one team while playing for another, and Hornsby was forced to sell.
Though the Carolina Panthers owner had a short NFL career, it was a memorable one. As a Baltimore Colt, he caught a touchdown pass in the 1959 NFL championship game, the Colts' second straight title. And then, upset with his contract, he walked away to open a fast-food restaurant named Hardee's. More than 30 years later, a millionaire many times over, he bought into the NFL.
In 1999, the hockey Hall of Famer was the bankrupt Pittsburgh Penguins' biggest creditor. Mario Lemieux turned the situation to his advantage, buying the team, keeping it in Pittsburgh and returning to play for it until 2006, when he retired. Thanks to an influx of good players, especially Sidney Crosby, the team won a Stanley Cup in 2009.
Fellow NHL star Wayne Gretzky has had a rougher ride than his old rival Lemieux. After the Great One became a part-owner of the Phoenix Coyotes in 2001, the team struggled in the standings -- even more after Gretzky became coach in 2005. Amid financial turmoil, he stepped down as coach and owner in 2009.
Greatest of all time? Maybe as a player -- six championship rings and all that -- but as the owner of the Charlotte Bobcats, Jordan has had to watch his team go from a playoff berth in 2010 to a 7-43 record this season. He recently released a statement saying he's not thinking of selling the club.
It's a bit of a cheat -- Cal Ripken Jr. doesn't own any Major League teams -- but the renowned former Oriole, known for his robust work ethic and his consecutive games streak, oversees three Minor League teams: the Aberdeen (Maryland) IronBirds, the Augusta (Georgia) GreenJackets and the Charlotte (Florida) Stone Crabs.
The greatest strikeout pitcher of all time, with seven no-hitters and 324 wins to his credit, became the owner of the Texas Rangers in 2010 after serving two years as team president. The club has won two straight American League pennants and is a widely touted playoff favorite in 2012.
Magic Johnson
Connie Mack
George Halas
Rogers Hornsby
Jerry Richardson
Mario Lemieux
Wayne Gretsky
Michael Jordan
Cal Ripken Jr.
Nolan Ryan
(CNN) -- Here's a look at the life of entrepreneur, philanthropist and NBA Hall of Fame point guard Magic Johnson.
Personal: Birth date: August 14, 1959
Birthplace: Lansing, Michigan
Birth name: Earvin Johnson, Jr.
Father: Earvin Johnson, Sr., an autoworker
Mother: Christine Johnson, a school custodian
Marriage: Earleatha "Cookie" Kelly (1991-present)
Children: with Cookie Kelly: Elisa, born and adopted January 1995, Earvin III, June 4, 1992; with Melissa Mitchell: Andre, February 20, 1981
Education: Attended Michigan State University, 1977-1979
Other facts: Johnson is 6'9" tall.
The rivalry with Larry Bird, another NBA superstar, began in college. They became friends while shooting a Converse shoe commercial in 1984.
Helped the Lakers win five NBA championships, 1980, 1982, 1985, 1987 and 1988.
Was named NBA Most Valuable Player three times, 1987, 1989 and 1990.
Has explained that the way he contracted HIV was through sexual encounters with multiple female partners in the 1980s.
He is CEO of Magic Johnson Enterprises which owns radio stations, movie theaters, magazines, real estate, a cable network, a bank, a minor league and a major league baseball team, partnerships with restaurants, Sony, Aetna, Best Buy and more.
Johnson is also chairman and CEO of the Magic Johnson Foundation which was created to assist in the fight against HIV/AIDS through awareness, prevention and education.
Timeline: 1974 - Earns the nickname "Magic" after a game his sophomore year of high school, in which he amasses 36 points, 18 rebounds and 16 assists. Lansing State Journal sportswriter Fred Stabley, Jr. is the first to call him Magic.
1975-1977 - Is named to the All-State team and leads his team to a state championship. He's a nationally sought after commodity by college basketball programs and chooses Michigan State University in East Lansing.
1978 - The Michigan State Spartans win the Big Ten Championship.
March 26, 1979 - MSU wins its first NCAA Championship. The Spartans defeat Larry Bird and Indiana State University Sycamores, 75-64. Johnson is named MVP.
1979 - Leaves Michigan State to turn pro. He is the NBA first overall draft pick and is selected by the Los Angeles Lakers.
1980 - At 20 years old, Johnson is the youngest and the first rookie named Finals MVP. The Lakers win 4-2 over the Philadelphia 76ers.
1982 - Is named Finals MVP after a 4-2 win over the Philadelphia 76ers.
1986 - The first annual Midsummer Night's Magic All-Star charity basketball game is held at UCLA. Players include Larry Bird, Dominique Wilkins and Michael Jordan.
1987 - Is named Finals MVP for a 4-2 win over Larry Bird and the Boston Celtics. He is also named League MVP.
1987 - MJ Enterprises is founded. Johnson is chairman and CEO.
1988 - Johnson's fifth NBA championship is the Lakers second championship win in two years, a 4-3 win over the Detroit Pistons.
November 7, 1991 - In a nationally televised press conference Johnson announces he is HIV positive and is retiring from the Lakers effective immediately.
November 1991 - Establishes the Magic Johnson Foundation which "works to develop programs and support community-based organizations that address the educational, health and social needs of ethnically diverse, urban communities."
February 9, 1992 - Voted to the NBA All-Star game for the Western Conference by fans even though he had not played in a game that season. Is named MVP, with 25 points, three three-pointers, nine assists and five rebounds; the West beats the East 153-113.
February 16, 1992 - The Lakers officially retire his number 32 jersey.
August 8, 1992 - The U.S. Olympic basketball "Dream Team," the first U.S. Olympic team to include NBA players, wins the gold medal, beating Croatia 117-85 in the final game.
September 29, 1992 - Announces he will come out of retirement and play in the 1992-1993 season for the Lakers.
November 2, 1992 - Announces he is again retiring from basketball, due to the many NBA players voicing concern over possible health risks associated with such a high contact sport and Magic's HIV status.
November 3, 1992 - His autobiography, "My Life," is published.
March 23, 1993-April 24, 1994 - Head coach of the Lakers.
June 27, 1994 - Becomes 5% owner and vice president of the Lakers.
January 30, 1996 - Returns to NBA regular-season games for the Lakers. In his first game, the Lakers defeat the Golden State Warriors 128-118. NBA rules prohibit players from owning a team. Prior to his return, Johnson sells his interest in the team.
May 14, 1996 - Third, and final NBA retirement, "I am going out on my terms..."
October 1996 - Buys back the minority share of the team he sold to majority owner Jerry Buss earlier in the year.
September 27, 2002 - Is inducted into the Naismith Memorial Basketball Hall of Fame in Springfield, Massachusetts. Larry Bird introduces him.
November 4, 2009 - "When the Game Was Ours," a book co-authored by Johnson and Larry Bird, is released.
October 2010 - Sells his shares of the Lakers.
March 2012 - Along with the Guggenheim Partners, Johnson wins a bidding war to buy the Los Angeles Dodgers for $2.15 billion.
April 11-May 12, 2012 - The play "Magic/Bird," the story of the rivalry and friendship of Johnson and Bird, is performed on Broadway.
June 2012 - Launches a new cable television network, Aspire.
February 5, 2014 - WNBA announces Johnson and a group of investors are purchasing franchise Los Angeles Sparks.