STORY HIGHLIGHTS
NEW: FBI says the hunt for Jimmy Hoffa is over, no body was found
Alleged mobster who tipped off police says he hopes his "good friend" is exhumed
Concrete slabs are removed during the dig, a source says
Hoffa, then 62, was last seen on July 30, 1975, outside a Detroit-area restaurant
Oakland Township, Michigan (CNN) -- The search in a field near Detroit for ex-Teamsters boss Jimmy Hoffa ended Wednesday, and as with so many past attempts to find him, authorities walked away empty-handed, the FBI said.
Authorities resumed digging in the field Wednesday morning, and a law enforcement source said the search was expanded to a site where a house once stood.
John Anthony, a former FBI special agent involved in the original 1975 hunt for Hoffa, said the tip from alleged mobster Tony Zerilli which prompted this week's renewed search was the most credible he's heard since Hoffa's disappearance -- though he still has his reservations, he said.
Anthony said he's skeptical of Zerilli's claim that Hoffa was killed with a shovel because it wasn't the way of organized crime members in those days, who Anthony said would have preferred to shoot him in the head at close range.
Asked if it was possible Zerilli was coming forward for monetary reasons, Anthony said, "I think there's no doubt about that. The man's broke. He has no money. That's why he came out in January with this story on the insistence of his wife."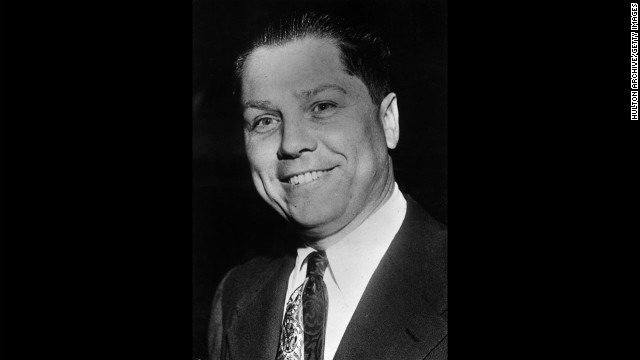 Nearly 40 years after his disappearance, former Teamsters boss Jimmy Hoffa, pictured circa 1955, remains among America's most famous missing persons. Authorities have been searching for the once powerful union boss since he vanished in 1975.
Hoffa slumps in a chair at the Teamsters union office. He was one of the most powerful union leaders in America until being forced out of the organized labor movement. He went to prison in 1967 for jury tampering and fraud before being pardoned four years later.
Hoffa appears at the Teamsters union convention in 1957, the year he first became union president.
Hoffa, center, stands with other officials at the Teamsters convention, where he made a successful bid for control of the union in 1957.
Hoffa testifies at a Senate Rackets Committee hearing in 1958.
Hoffa on the phone at an airport in 1959.
An office for Teamsters union local chapters that Hoffa set up.
Hoffa eats with union leader Joseph Curran, left, in 1959.
Hoffa holds a Teamsters rally at Madison Square Garden in New York in 1960.
Hoffa leads supporters at a Teamsters convention in 1959.
The Teamsters boss appears on the cover of Life magazine on May 18, 1959. The headline reads, "A National Threat: Hoffa's Teamsters; Part 1: Sources of a Union's Uncurbed Power."
Hoffa, pictured circa 1960, was a powerful labor leader at a time when unions wielded a great deal of sway over elections and were notoriously tied to organized crime.
From left, "Meet the Press" moderator Ned Brooks, Lawrence K. Spivak and Hoffa appear at an NBC studio.
Hoffa and his son, James Phillip, enter a federal courtroom in July 1964. His son is the current president of the Teamsters.
Hoffa, second row, center, leaves court after being found guilty of jury tampering in 1964.
Hoffa at the Pittsburgh airport in 1971 on his way back to federal prison after being let out to visit his ailing wife. He was released from prison later that year on the condition he not resume union activity before 1980.
Hoffa poses for a picture on July 24, 1975, less than a week before his disappearance. He was 62 at the time.
A Bloomfield Township, Michigan, police officer stands beside Hoffa's car after the former labor leader's disappearance in July 1975. Hoffa was last seen at a restaurant in suburban Detroit on July 30, 1975.
Police sweep a field in Waterford Township, Michigan, in search of Hoffa's body in July 1975.
Demolition workers tear down a horse barn for the FBI in 2006 in a search for Hoffa's remains in Milford, Michigan. The FBI had received a tip that Hoffa was buried on the farm.
FBI agents search a field for Hoffa's remains on Monday, June 17, 2013, in Oakland Township, Michigan, outside Detroit. Alleged mobster Tony Zerilli tipped off the police, and a source close to the case said the information provided was "highly credible."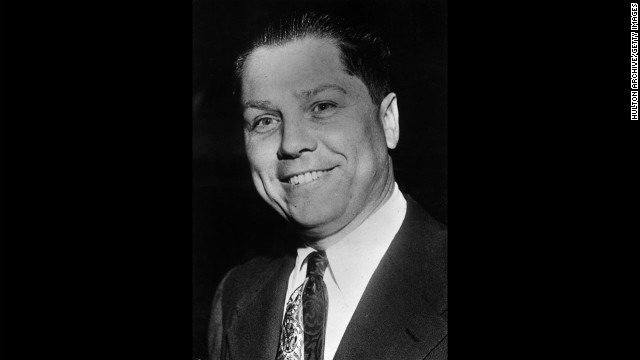 Photos: The mystery of Jimmy Hoffa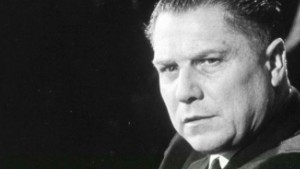 Ex-FBI agent: Hoffa 'was a tough SOB'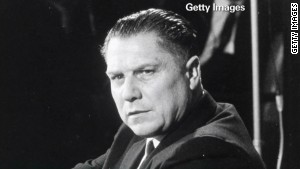 At least 15 leads on Hoffa over years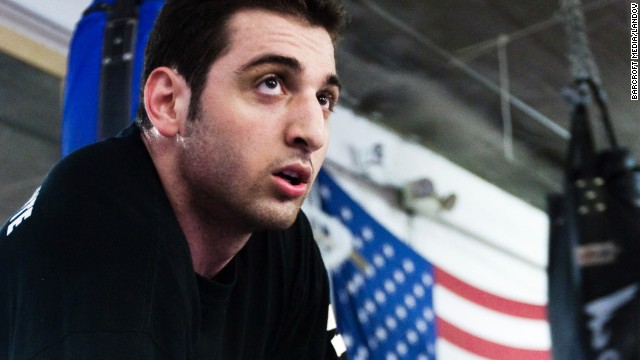 Suspected Boston Marathon bomber Tamerlan Tsarnaev was killed in a shootout with police days after the bombing. Tsarnaev's remains were accepted "by an interfaith coalition" in Doswell, Virginia, his uncle Ruslan Tsarni told CNN. Take a look at some infamous figures' final resting places:
Lee Harvey Oswald was buried -- on the same day as President John F. Kennedy -- in Rose Hill Burial Park in Fort Worth, Texas. His brother remembers hoping to have "private moments" at the funeral but arrived to learn that news reporters had carried his brother's casket to the grave, which was mobbed with police and Secret Service agents. Oswald's tombstone would later be stolen. It was replaced with a simpler version. In 1981, his body was exhumed to determine if the body was actually Oswald's. It was. Oswald was re-buried and the damaged coffin was auctioned off for $87,468.
After killing President Abraham Lincoln in 1865, John Wilkes Booth was fatally shot himself. Secretary of War Edwin Stanton initially ordered that the assassin be buried in a blanket in the Old Penitentiary at Washington Arsenal. In 1867, he was exhumed and put in a pine box and buried in a locked storeroom, according to Find A Grave. In 1869, he was exhumed again. His body was returned to his family, who buried him in an unmarked grave at a family plot in Baltimore.
The proceedings of Bruno Richard Hauptmann, convicted of murdering Charles Lindbergh Jr., was considered the trial of the century. While only 30 people, including his widow, showed up for his 1936 eulogy and cremation, a crowd of 1,000 gathered outside. It was reported that his widow, who said he was innocent until her own death in 1994, wanted to return his ashes to Germany. A 1937 newspaper story said they were still at the crematory in Maspeth, New York, a year later. Their final resting place is unknown.
The Billy the Kid Museum at Fort Sumner, New Mexico, attracts thousands of visitors a year, drawn to the notorious gunslinger's exploits. The Kid, whose real name was William Bonney, is supposedly buried at Fort Sumner, where legend has it he was fatally shot by Sheriff Pat Garrett. Another legend, however, says Bonney is not buried there and that he changed his name to "Brushy" Bill Roberts and disappeared in Texas.
Al Capone, the Chicago bootlegger and gangster, was originally buried at the city's Mount Olivet Cemetery after his 1947 death. He shared a tombstone there with his brother and father. When his mother died in 1952, his body was moved to a plot alongside hers at Mount Carmel Cemetery in Hillside, Illinois, because the former plot had become too much of a tourist attraction.
Though he was electrocuted in 1989 for three murders he committed in Florida, Ted Bundy had prolonged his life by confessing to other murders in other states. The convicted serial killer told Washington police that four of his female victims were dumped on Taylor Mountain in the state's Cascade range, the Los Angeles Times reported. After his execution, Bundy's remains were spread over that same mountain range, per his request.
Timothy McVeigh originally requested that his ashes be spread at the Oklahoma City bombing memorial, the site that commemorates the 168 people he killed in 1995 with a 7,000-pound truck bomb. But he later wrote that that would be "too raw, cold." After his 2001 execution, his ashes were given to his attorney, who spread them at an undisclosed location.
Idi Amin, the "Butcher of Uganda," brutally ruled the African nation from 1971-1979 before going into exile in Saudi Arabia. He never returned to Uganda and died in 2003 in Jeddah, where he was later buried. A tourism promotions group in Uganda earlier this year requested his remains be returned so they could be included as part of a tourist attraction.
According to media reports, the cremation site of Pol Pot, the Khmer Rouge leader who killed hundreds of thousands in the late 1970s, is on display in Anlong Veng, Cambodia. Visitors pay $2 to see the spot where he was cremated, news reports say.
After Osama bin Laden's secret burial at sea, President Barack Obama said the United States would not release images of the al Qaeda leader's last rites because it could incite violence and risk lives. The United States said bin Laden was buried in accordance with Muslim tradition, despite a claim to the contrary by his lieutenant.
When BBC presenter Jimmy Savile died, prior to numerous allegations of wanton pedophilia being made public, he was beloved, and his 6-foot-tall, $6,000 gravestone -- bearing the gold inscription, "It was good while it lasted" -- stood as testament. After the allegations, however, the granite headstone was vandalized, and his family had it destroyed to maintain the "dignity" of the Scarborough, United Kingdom, cemetery, British newspapers reported. There was talk of cremating or moving Savile to a secret location, though did not come to fruition.
Union leader and organized crime boss Jimmy Hoffa disappeared from a restaurant parking lot in a Detroit suburb in 1975 and was declared legally dead in 1982. In 2001, the FBI linked Hoffa to a car that was suspected of being used in his disappearance. In 2004, authorities searched a Detroit home to no avail. In 2006, the feds razed a horse barn in Michigan, and last year they drilled at a home in Roseville, outside Detroit. No leads have yielded a body and the infamous figure's final resting place remains famously unknown.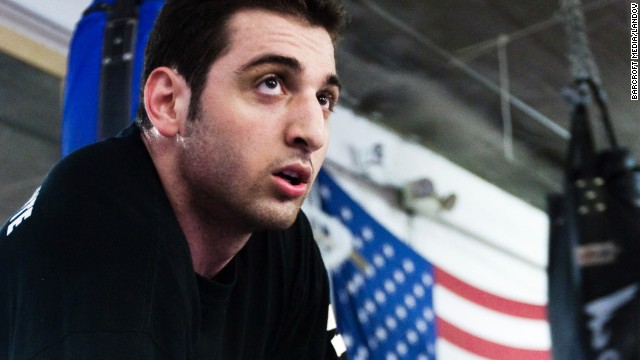 Final resting places of Infamous figures
Vanishing act: The long, strange search for Jimmy Hoffa
A second day of digging in the field Tuesday yielded no sign of the remains of the former Teamsters boss.
Agents began digging Monday in waist-high grass in Oakland Township, north of Detroit, a location determined in part from information provided by Zerilli. Media and curious onlookers gathered some distance from the private property.
Oakland Sheriff Mike Bouchard said investigators were using probes to determine what the ground makeup is, but had not found samples that would require lab analysis.
Two concrete slabs were removed during the dig. It's unclear whether the slabs were foundations for a barn that once stood there.
Scientists from Michigan State University were at the site Tuesday to help with soil analysis.
This is the latest chapter of the nearly four-decade search for Hoffa. It was sparked by "highly credible" information from Zerilli, according to a law enforcement source with direct knowledge of the investigation.
Earlier this year, Zerilli, now in his 80s, told New York's NBC 4 that Hoffa was buried in a Michigan field about 20 miles north of where he was last seen in 1975.
Hoffa, then 62, disappeared after being seen on July 30, 1975, outside a Detroit-area restaurant. The FBI said at the time that the disappearance could have been linked to Hoffa's efforts to regain power in the Teamsters and to the mob's influence over the union's pension funds.
Zerilli's attorney, David Chasnick, told reporters Monday that Zerilli was told Hoffa was hit with a shovel and buried alive.
Hoffa still fascinates after 40 years
Zerilli published a manuscript about the Hoffa claim online that includes details of the alleged hit.
"He wasn't shot, he wasn't stabbed, nothing like that. A cement slab of some sort was placed on top of the dirt to make certain he was not going to be discovered. And that was it. End of story," Zerilli's manuscript says.
The FBI spent months looking into Zerilli's claims before seeking court authorization to excavate the field and look for evidence of a shallow grave, according to a law enforcement source.
Contrary to what's been thought for years, Zerilli said he was told Hoffa's disappearance was not connected to Anthony "Tony Pro" Provensano, the New York City-area Genovese family crime boss who allegedly wanted to get rid of Hoffa.
Instead, according to the source, Zerilli -- convicted years ago of crimes in connection with organized crime in Detroit -- told the FBI that Detroit mobsters wanted Hoffa dead.
At the time, Hoffa was thought to be trying to get back into a power position with the labor movement after his release from prison. He was convicted in 1967 for jury tampering and fraud. President Richard Nixon pardoned him in 1971.
Zerilli was in prison himself when Hoffa disappeared.
Zerilli, according to the law enforcement source, said that when he was freed, he asked a mob enforcer what happened to Hoffa.
The mobster allegedly told Zerilli that Detroit's crime bosses ordered the Hoffa hit. They lured him to a meeting and then drove him to a farm owned by a mob underboss. The enforcer allegedly told Zerilli that Hoffa was killed and buried on the property, which covers several acres.
The area being searched was described as relatively small, about the size of a small party tent, according to the source. Aerial video showed a somewhat larger area had been cleared of grass.
Zerilli has been to the site more than once, said Chasnick, who declined to elaborate.
Hoffa's daughter, Barbara Crancer, told CNN by phone Tuesday that she is always appreciative when the FBI follows credible leads in the case.
But, she said, she doesn't want to get her hopes up.
"We've been through it too many times," she said.
FBI Special Agent Bob Foley, head of the agency's Detroit office, told CNN at the scene that the information leading to the search "reached the threshold of probable cause, which was sufficient to allow us to obtain a search warrant." The paperwork supporting the search warrant is under seal.
"If it didn't rise to that level then, certainly, we wouldn't be out here," Foley said.
Hoffa's disappearance and presumed death have vexed investigators. As recently as October, soil samples were taken from a home in a suburban Detroit community after a tipster claimed he saw a body buried in the yard a day after Hoffa disappeared.
The soil samples were tested, and showed no evidence of human remains or decomposition.
Zerilli was freed in 2008 after his last prison sentence. Keith Corbett, a former U.S. attorney, told CNN earlier this year that Zerilli headed a Detroit organized crime family from 1970 to 1975, but was in prison when Hoffa vanished.
CNN's Yon Pomrenze, Laura Batchelor, Sheila Steffen, Poppy Harlow and Jason Hanna contributed to this report.