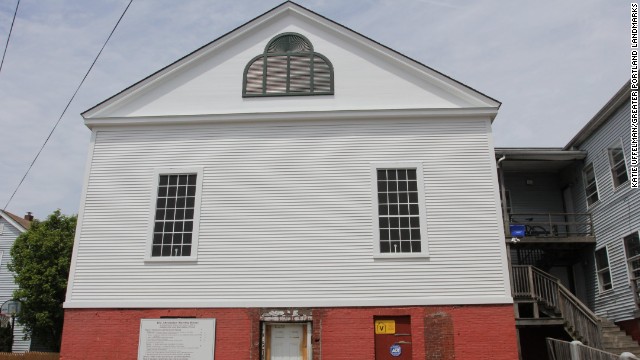 The Abyssinian Meeting House in Portland, Maine, was the spiritual center for the city's African-American community for generations.
The Abyssinian Meeting House needs funding to restore the building.
The Houston Astrodome is the world's first domed, indoor, air-conditioned stadium. It was once called the "Eighth Wonder of the World."
The size of the 18-story Houston Astrodome is both "a challenge and an opportunity," says the National Trust's Stephanie Meeks.
The Chinatown House in Rancho Cucamonga, California, was once a general store and home for a community of about 50 Chinese-American laborers. The front of the building is shown here.
The rear view of the Chinatown House, one of the last existing connections to the Chinese-American workers who helped build Rancho Cucamonga, is shown here.
Gay Head Lighthouse in Aquinnah, Massachusetts, was the first lighthouse built on Martha's Vineyard. Gay Head is in danger of falling over Gay Head Cliffs.
Montana has more historic one- and two-room schoolhouses than any other state. The Howard School in Forsyth is shown here.
Montana's historic schoolhouses are at risk as the state's population shifts to the urban centers. The Glentana School in Valley County is shown here.
In 1607, America's first permanent English settlement at Jamestown was founded along the banks of the James River.
The James River and landscape are threatened by a proposed transmission line project that would change this historic area's scenery, according to the National Trust.
The buildings at Kake Cannery, which were instrumental in the development of Alaska's salmon-canning industry in the first half of the 20th century, are in urgent need of stabilization.
The Mountain View Black Officers' Club in Fort Huachuca, Arizona, is a significant example of a military club built specifically for African-American officers. The club is in danger of being demolished by the U.S. Army, according to the trust.
Iglesia de San Jose (San Jose Church) in Old San Juan, Puerto Rico, was built in 1532 and is one of the last remaining Spanish Gothic structures in the Western Hemisphere. It has been closed for 13 years and is deteriorating.
One of the first planned communities in the United States, the Village of Mariemont near Cincinnati was named a National Historic Landmark in 2007.
The planned community has been an inspiration to planners. The National Trust says a proposed transportation project would damage the village's careful design.
Designed by architects Walther Prokosch of Tippets-Abbett-McCarthy-Stratton and Emanuel Turano of Ives, Turano & Gardner, the Worldport Terminal (also known as the Pan Am terminal) at John F. Kennedy International Airport opened in 1960.
The Worldport Terminal (also known as the Pan Am terminal) at John F. Kennedy International Airport sits empty, waiting for a reuse plan.
Abyssinian Meeting House, Maine
Abyssinian Meeting House, Maine
Houston Astrodome
Houston Astrodome
Chinatown House, California
Chinatown House, California
Gay Head Lighthouse, Massachusetts
Montana's historic schoolhouses
Montana's historic schoolhouses
James River, Virginia
James River, Virginia
Kake Cannery, Alaska
Mountain View Black Officers' Club, Arizona
Iglesia de San Jose, Puerto Rico
Village of Mariemont, Ohio
Village of Mariemont, Ohio
Worldport Terminal, New York
Worldport Terminal, New York