STORY HIGHLIGHTS
Jenson Button backs McLaren to recover from a low-key start to 2013
The Briton's highest finish from this year's seven races is fifth in China
Button insists his relationship with teammate Sergio Perez is good
The 2009 world champion is not considering retiring
(CNN) -- Formula One driver Jenson Button insists McLaren will bounce back from a disappointing start to 2013, but the Briton has written off his team's chances of competing for the world championship this season.
The 2009 world champion started the year in confident mood after finishing the 2012 by winning the season-ending Brazilian Grand Prix.
But the current campaign has been a miserable one for the British team, with Button languishing 10th in the drivers' standings after finishing 14th and out of the points at the recent Canadian Grand Prix.
However, Button is confident McLaren, one of the most successful teams in F1 history, will restore its reputation in the year's remaining races and in the coming seasons.
Read: Suzuki to rejoin MotoGP in 2015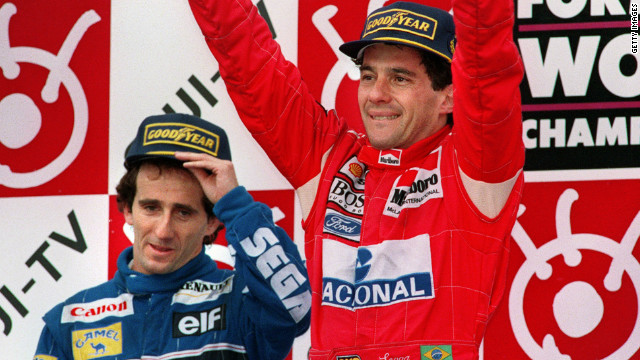 Ayrton Senna and Alain Prost were long-time rivals before they became teammates at McLaren.
Prost and Senna (No.1) clash at the Japanese Grand Prix at Suzuka in 1989. Prost clinched the title after the Brazilian was controversially disqualified after winning the race.
As they both battled for world titles at McLaren, Prost and Senna's relationship came under great strain.
Stand off: Senna and Prost walk away after the early crash at Suzuka in the final race of the 1990 season which left the Brazilian as world champion.
Prost's time with McLaren proved the most fruitful of his career as he captured three world titles.
Prost earned the nickname 'The Professor' for his thoughtful and studied approach to Formula One racing.
Prost competing in wet conditions at the Monaco Grand Prix which he won four times during his glittering career.
Prost and Senna formed a united team in 1988 as the latter won the championship for McLaren.
The medical team at Imola tend to the stricken Senna after his fateful crash in the San Marino Grand Prix in 1994.
Prost joined a pantheon of Formula One greats at Senna's funeral in Sao Paulo in 1994.
In the latter part of career Prost had to battle with the youthful exuberance of future seven-time champion Michael Schumacher.
Prost is a keen cyclist and is pictured here at the end of the 2009 L'Etape du Tour. The race enables 8,500 amateur cyclists to attempt a mountain stage of the Tour de France each year. The 2009 event was staged between Montelimar and Mout Ventoux, with Prost finishing 258th.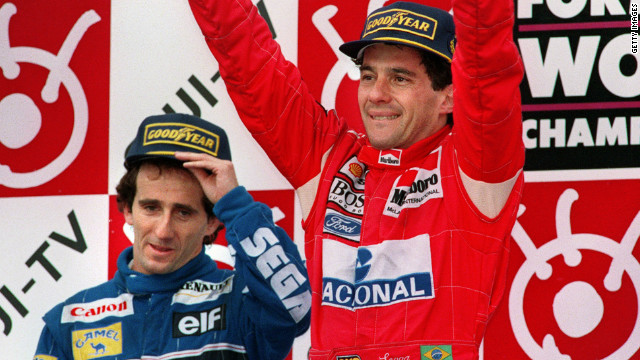 United in rivalry: Prost and Senna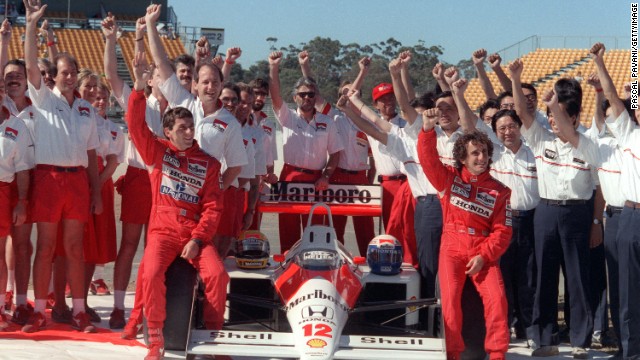 McLaren and Honda formed a dominant relationship in 1988 as the car won 15 out of 16 races and Ayrton Senna (front left) won the first of his three world titles
The previous season, Honda powered Brazilian Nelson Piquet to his third and final world title at the end of its relationship with the Williams team.
The Japanese car manufacturer decided to go it alone in 2006, announcing the Honda Racing team would join the F1 grid. It last ran an independent team in 1968.
There was an early highlight for Honda as Jenson Button won a wet 2006 Hungarian Grand Prix -- but it was to be Honda's only victory during its three-year return to the grid.
Honda underlined its interest in greener issues with its "Earth Car." The livery was made up of pledges from its F1 fans to make environmental changes to their lifestyle. The car, which ran in 2007, was also unusual as it did not feature advertising on race days.
After a four-year absence from F1, Honda announced it will renew its relationship with McLaren by supplying engines to the British team in 2015.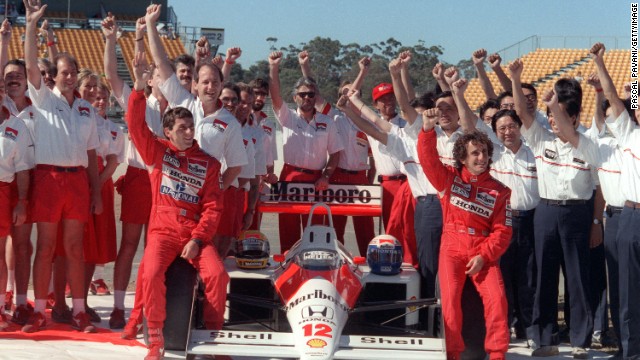 Honda's F1 history
"Clearly, we'd hoped for more success this season, especially after last season, during which we won seven grands prix, including two of the last three," the 33-year-old told the sport's official website.
"So, going forward, as I say, we'd hoped for more this season, but I firmly believe that there'll be good seasons ahead for us."
Read: F1 champ Vettel extends Red Bull deal
A fifth-place finish is the best Button has been able to muster in seven races this season.
There have also been reports of friction between Button and Mexican teammate Sergio Perez, the 23-year-old known as "Checo" who arrived as a replacement for Lewis Hamilton, now at Mercedes.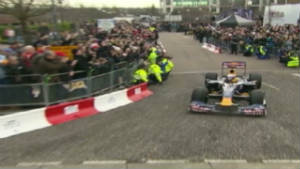 Red Bull Show Run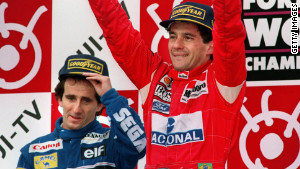 Who is the greatest F1 driver ever?
"Checo is a very nice lad," said Button. "Maybe he's a bit too forceful sometimes, by his own admission, but he's undoubtedly quick, and he's still learning because you never stop learning in this game.
"He's trying to make his mark -- but I think that's how it should be.
"Your teammate is never going to be your best friend, because people will always compare your performance with his and inevitably you want to emerge positively from that comparison, but Checo and I get on well -- and that is more than you can say about some teammate relationships these days!
Button is hoping McLaren's impending partnership with engine supplier Honda -- set to come into effect from 2015 onwards -- can propel the team back towards the front of the grid.
Originally partners between 1988 and 1992, McLaren and Honda won multiple drivers' and constructors' titles with legendary names like Ayrton Senna and Alain Prost.
"In 2004, McLaren won only one grand prix, but it won 10 grands prix in 2005, in 2006 McLaren won no grands prix, but it won eight grands prix in 2007," explained the former Brawn driver.
"So I think history shows us that McLaren will win again, well and often, and, as I say, I reckon the next McLaren-Honda era could be very exciting indeed."
Earlier this year Button said he intends to stay with McLaren until he retires, although he is not considering when that may be.
"I've had a great career," he added. "I've won 15 grands prix and one world championship. I intend to do quite a bit more winning in the future. As to how many years that future may reach forwards to, I haven't decided yet. Wait and see."