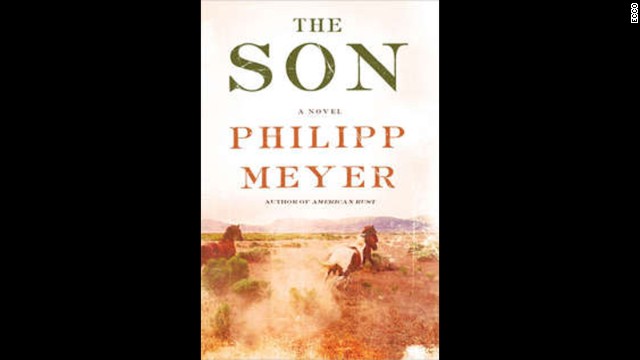 With "The Son," author Philipp Meyer has crafted a consuming epic
(available now)
that covers the money acquired and blood shed by generations of a rooted Texas family. The praise has been resounding, and a number of book critics have picked the hefty tome as a top choice during vacation reading season, despite its overwhelming page count. Take a good look at this cover, because odds are you'll see it everywhere this summer -- along with these 19 other titles.
(Available Now) Along with "The Son," Anton DiSclafani's Depression-era novel is one of the most buzzed about books this season. "The Yonahlossee Riding Camp for Girls" trails 15-year-old Thea Atwell as she's sent off from her Florida home to a well-to-do equestrian boarding school in the Blue Ridge Mountains, all because of a scandalous incident that newcomer DiSclafani expertly unravels.
(Available Now) Fans of Carl Hiaasen already know that he's an excellent choice for a fun and inspired yarn, and the author offers nothing less with "Bad Monkey." The humorous mystery follows a detective whose discovery of a severed arm could be his ticket off health inspection duty. But, this being Hiaasen, the Florida-based tale includes plenty of unconventional characters -- one of which is, yes, a misbehaving monkey.
(Available Now)
Celebrated travel writer Paul Theroux is taking readers along on an abbreviated journey in "The Last Train to Zona Verde." Theroux recounts his journey from Cape Town, South Africa, to Namibia and Angola in what
he's said will be his last lengthy overland trip
on the continent.
(Available Now)
Described as
a "fun, jet-setting romp through Asia," author Kevin Kwan has made a riotous debut with his novel, "Crazy Rich Asians." The families at the heart of the novel are "fabulously wealthy," something that Chinese-American Rachel Chu discovers when she hops a plane to Singapore and encounters her boyfriend's insanely opulent lifestyle.
(Available Now) This summer is filled with new names, but Kent Wascom's debut, "The Blood of Heaven," is an assured one. The young writer paints a portrait of frontier life in the South through the eyes of Angel Woolsack, a preacher's son and violent robber who traverses brutal terrain at the turn of the 19th-century.
(Available Now)
Former Navy SEAL and "American Sniper" author Chris Kyle,
who was killed in February,
spins a different kind of history lesson in "American Gun: A History of the U.S. in 10 Firearms." While the title conveys the book's format -- Kyle used a carefully selected list of weapons to explore how they changed and influenced American history -- that's not the whole of "American Gun." "Rather,"
says USA Today in a review
, "it's a celebration of his life and voice."
(Available Now)
You're not going to find futuristic fantasies or superpowers in Andrew Smith's young adult novel "Winger." Fourteen-year-old Ryan Dean West's life at a boarding school for the wealthy is by all accounts ordinary -- he has an unrequited crush on his female best friend, and he has to share a room with his rugby team's biggest bully -- but that's also 'Winger's" appeal.
Publisher's Weekly
commended Smith for a "brutally honest coming-of-age novel."
(Available Now) In "TransAtlantic" Colum McCann ambitiously ties together a high-flying saga that spans 150 years. McCann, who won the National Book Award in 2009 with "Let the Great World Spin," moves from Ireland to the U.S. and back again, bringing in historical figures you'll easily recognize and introducing four generations of Irish and Irish-American women.
(Available Now) Jeannette Walls has already shown us how well she can weave a story with her memoir "The Glass Castle," but this summer Walls is trying her hand at fiction. "The Silver Star" will feel familiar to her best-selling "Glass Castle," as it features two adolescent sisters left to fend for themselves after their flighty mother leaves them to chase her own dreams.
(Available Now) What's your relationship like with your neighbors? Probably not as intimate as the relationship Claire Messud's protagonist has in "The Woman Upstairs." The titular character in this gripping novel is an elementary school teacher named Nora, a seemingly kind and polite woman who in actuality is boiling over with internal rage. Nora's suppressed anger comes to surface when she's drawn into the family life of one of her students.
(Available Now)
This summer, fiction master Stephen King offers a pulp thriller for your beach bag. Set in 1973, "Joyland" covers 21-year-old Devin Jones' summer finding love, saving a life and working as a carny at North Carolina's Joyland amusement park, where a woman had been killed in the Funhouse.
To hear King tell it
, "Joyland" is "a carny novel ... a novel about growing up and, as you might expect, a novel about terror."
(Available Now)
TV Land's "Mary Tyler Moore" reunion
on its comedy "Hot In Cleveland" reminded us just how influential the show was when it launched in 1970. In "Mary and Lou and Rhoda and Ted: And All the Brilliant Minds Who Made the Mary Tyler Moore Show a Classic," author Jennifer Keishin Armstrong pieces together how such a timeless program came to be.
(Available Now) If you've already brushed up on "The Great Gatsby" but want to stay in that roaring era, Suzanne Rindell's "The Other Typist" is a juicy choice. The novel features Rose, a dowdy typist at a New York City police station who's on the outside of the Big Apple's rapidly changing society. When she befriends a new coworker, Odalie, Rose's interest in the new girl's fast-lane ways soon turns into an obsession.
(Available Now) Neil Gaiman hasn't written a novel for adults since 2005, so "The Ocean at the End of the Lane" is a welcome addition to our summer bookshelf. Gaiman's latest novel recounts a man's memories of being a 7-year-old, when a grisly event creates a dark and troubling chain reaction that only a magical neighbor could help protect him from.
(June 25)
Curtis Sittenfeld, who previously won over readers with "Prep" and "American Wife," returns this summer with her own story of sisterly bonding. In "Sisterland," identical twins Kate and Violet have psychic capabilities that allow them to suss out future events -- and which also lead them down different paths. Although it's a unique quality to bestow on characters, Sittenfeld's novel is less about living with ESP as it is "a rich and intimate tale of imperfect, well-meaning, ordinary people struggling to define themselves," says
Publisher's Weekly.
(July 9) Lottie Moggach's psychological thriller "Kiss Me First" is an unnerving story of identity theft. A loner named Leila has trouble making connections in the real world, but she has a group of accepting friends on the website Red Pill. When the charismatic leader of Red Pill asks her to get to know a glamorous but damaged young woman, Leila embarks on a mission to learn everything about her -- so she can take over her life.
(July 9) Aisha Tyler has been a comedian, an actress, and a TV personality, and now the 42-year-old is moving back into author territory. In a collection of essays called "Self-Inflicted Wounds," which is named after her popular podcast segment, Tyler recounts the "epic humiliations" she's lived through and learned from.
(July 9) Arriving the same day as Tyler's collection, Chuck Klosterman's "I Wear the Black Hat" is a series of essays that explores the dark side. With this collection, Klosterman raises questions such as what makes someone a villain, and why we make allowances for certain antiheroes but not others.
(August 20) One of this summer's most anticipated novels is arriving closer to Labor Day than Memorial Day, but critics say Marisha Pessl's "Night Film" will be worth the wait. Already drawing comparisons to 2012's inescapable suspense novel "Gone Girl," Pessl's "Night Film" revolves around the death of a famed-but-reclusive horror filmmaker's daughter. Although her death is ruled a suicide, an investigative journalist believes otherwise.
What to read this summer: Top 20 picks
For an engrossing coming-of-age debut
For a mystery that'll make you laugh
For adventure without a plane ticket
For a glamorous escape
For an unflinching tale of the Southern frontier
For a unique history lesson
For a dose of YA reality
For a sweeping story stretching across the Atlantic
For youthful survival against adult-sized obstacles
For a thought-provoking page-turner
For a nostalgic ghost story
To go behind-the-scenes of a classic comedy
If you want to get lost in a '20s-era noir
For a magical tale with an edge
For sibling bonding with a psychic twist
For a chilling thriller
To learn from someone else's 'fails'
If you tend to root for the bad guys
If you're looking for the next 'Gone Girl'