STORY HIGHLIGHTS
Former mob hitman John Martorano wraps up three days of testimony against Bulger
He describes the former Boston mob leader as "Judas" because of FBI connections
Bulger is facing 19 counts of murder
Martorano says he and Bulger committed 11 murders, Bulger admitted to others on his own
Boston (CNN) -- Portraying a star government witness as a mass murderer, a serial killer and a liar without remorse, defense lawyers for James "Whitey" Bulger tried Wednesday to undermine the testimony of that witness, former mob hitman John Martorano.
"You lied to your friend John Callahan didn't you?" asked defense lawyer Hank Brennan, referring to a man Martorano shot dead.
"That was a necessity," said the confessed killer. "I told John I wanted to see him. I couldn't tell him I wanted to shoot him."
Martorano wrapped three days of detailing murders he allegedly committed with Boston's most feared former mob boss, Bulger, by confirming to prosecutors that together he and Bulger were involved in 11 murders. Bulger had admitted to others he'd committed on his own, Martorano said.
Bulger is charged with 19 murders as well as racketeering and extortion. He was arrested in 2011 after living in hiding for 16 years and landing on the FBI's most wanted list.
Martorano: 'Broke my heart' to learn Bulger was informant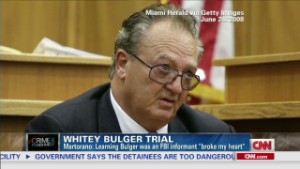 What gangster hopes to get out of trial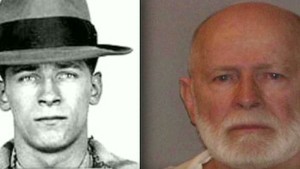 Cullen: Entire FBI protected Bulger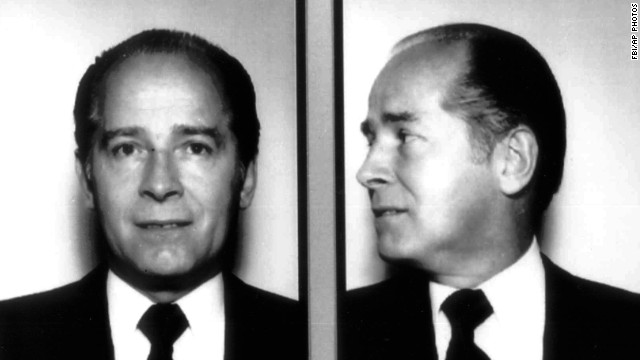 James "Whitey" Bulger rose to the top of the notorious Winter Hill gang, prosecutors say, before he went into hiding for more than 16 years after a crooked FBI agent told him in December 1994 he was about to be indicted on federal racketeering charges. He was captured in Santa Monica, California, in 2011, living under a false name with his girlfriend in an apartment in the oceanside city. On August 12, the gangster was found guilty on 31 of 32 counts -- including involvement in 11 murders. Here are some other gangsters from America's past.
Al Capone, or "Scarface" as he was popularly known, remains one of America's most notorious gangsters. Known for wearing custom suits, fedoras and spats, Capone was infamous in 1920s Chicago for his bootlegging and racketeering activities. Capone died in 1947.
New York Mafia chief John Gotti was known as "Dapper Don" for his expensive suits and "Teflon Don" due to government charges failing to stick in three trials. He was later convicted of murder and racketeering. He died of cancer at age 61 in 2002 while serving a life sentence.
Henry Hill, a mobster-turned-informant for the FBI died in 2012 at age 69. His story was the basis for Martin Scorsese's acclaimed 1990 film, "Goodfellas." Ray Liotta played Hill in the film.
George "Bugs" Moran was Al Capone's main rival in the Chicago mafia, culminating in the St. Valentine's Day Massacre in 1929 in which several members of Moran's gang were killed. Moran died in 1957.
Clyde Barrow and Bonnie Parker robbed banks across America before meeting their end when police and federal agents ambushed them on a dirt road in Louisiana in 1934.
John Dillinger, gangster and bank robber, was the first criminal to be called Public Enemy No. 1 by the FBI. Bureau agents gunned him down outside a movie theater in 1934.
George "Baby Face" Nelson, a car thief by age 14, associated with the likes of Al Capone and John Dillinger. Nelson died following a shootout with the FBI in 1934.
Mobster Louis Lepke Buchalter was one of the forces behind a hit squad known as Murder Inc. He died in the electric chair at New York's Sing Sing prison in 1944.
Vincent "Mad Dog" Coll was infamous for the attempted kidnapping of a rival gang member in 1931. Coll shot into a crowd, killing a child and injuring several other youths. Coll escaped conviction due to a lack of credible witnesses. He was later shot to death in 1932 while talking in a phone booth, most likely by a rival gangster.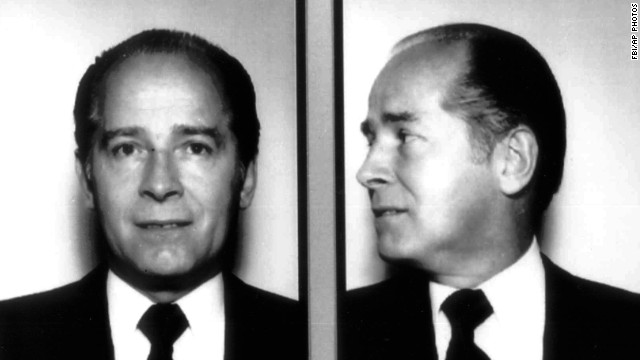 Photos: American gangsters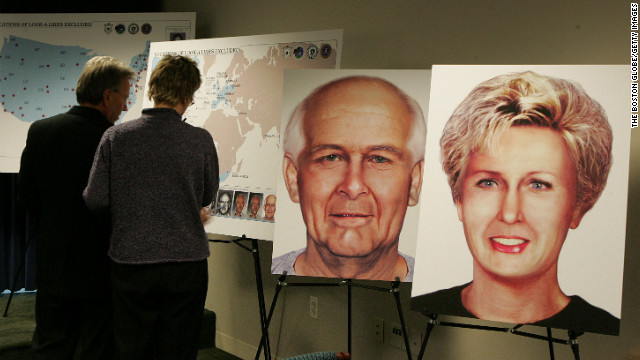 Illustrations of Bulger and Greig were on display at a press conference in 2004.
Catherine Greig, longtime partner of accused mob boss and fugitive James "Whitey" Bulger, was sentenced to eight years in prison.
An FBI handout shows various images of Bulger, who became one of America's most wanted men after fleeing in 1995 before an impending indictment on racketeering charges.
Bulger sits with his onetime friend and confidant Kevin Weeks in Boston in 1994. Weeks later turned on his former boss. In 2000 he led police to the bodies of eight alleged Bulger victims buried around Boston.
Special agent Barry Mawn and U.S. Attorney General Donald Stern hold a press conference naming Whitey Bulger to the FBI's Most Wanted List in August, 1999. After more than 16 years on the run, Bulger and Greig were captured in California.
The couple had for several years hidden in plain sight in a three-story apartment building in Santa Monica, California.
FBI agents found assault rifles, a 12-gauge shotgun, many semi-automatic pistols and revolvers, a silencer, a Derringer pistol, multiple hunting knives and bundles of cash inside the couple's two-bedroom apartment.
Bulger, who is being held without bail, was the head of a South Boston Irish gang before he went on the lam in 1995.
Spectators and press crowd in front of the John Joseph Moakley courthouse in Boston as Bulger and Greig arrive for arraignment on June 24, 2011.
Bulger and Greig are shown during their arraignment in this courtroom sketch.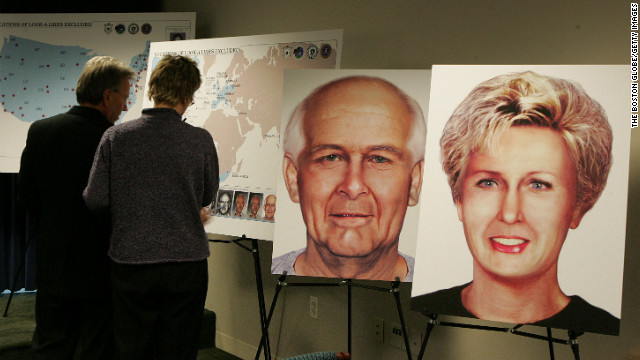 Whitey Bulger in hiding
At times, Martorano seemed to parse his testimony during cross-examination. Asked about one murder, he said of the victim, "I stabbed him. I didn't kill him." After a pause, he added, "Not until later."
Martorano also testified that even though Bulger was older by a decade, "He wasn't my boss." Still, the former hitman acknowledged there were times he would do whatever was needed, no questions asked, because Bulger "knew the right buttons to press."
Earlier Martorano alluded to Bulger as "Judas," which he described as "a person like an informant, a rat, a no-good guy. I was brought up that that was the worst thing in the world."
Although Bulger's lawyers tried to highlight inconsistencies in Martorano's testimony, he didn't waiver, declaring he hadn't lied to prosecutors since cutting a deal that guaranteed his testimony in exchange for a 14-year sentence.
2011: The clues that led to Bulger's capture
He said he knew if he lied, "They'd break the deal," and send him back to prison. Martorano was released from prison in 2007 after serving 12 years.
Defense attorney Brennan compared Martorano to another hitman, Joseph Barboza, who may have killed as many as 26 people beginning in the 1960s. Brennan told jurors Barboza was also a government informant and that he lied under oath.
"The government protected him," said Brennan, referring to Barboza
Not missing a beat, Martorano quipped back, "Not too good," referring to Barboza's ultimate death once he was outed as a "rat."
Martorano admitted in court Wednesday that he gave false statements during the time his deal with prosecutors was being drawn up, adding that only after deciding to cooperate with the government did he begin telling the "whole truth" about the criminal enterprise and his associates.
"After I made an agreement with the government I never lied," Martorano said.