Pitt: Jolie 'brave, bold' and 'sexy as ever'
updated 12:44 PM EDT, Tue June 18, 2013
STORY HIGHLIGHTS
Brad Pitt pays tribute to Angelina Jolie
Pitt attended "World War Z" New York premiere alone; Jolie was preparing for another event
Melissa Etheridge disagrees with Jolie's course of action for cancer
(CNN) -- Angelina Jolie may not have been by Brad Pitt's side, but she was certainly on his mind.
Pitt attended the New York premiere of his new film, "World War Z," without Jolie, who was "getting ready for World Refugee Day," Pitt told the assembled reporters. But asked to describe his feelings for his fiancee, he didn't mince words.
"She has always been the brave, bold individual that I fell for -- and sexy as ever," he said.
Jolie recently announced she had undergone a double mastectomy and reconstructive surgery after learning that she carried a mutation of the BRCA1 gene, which sharply increases her risk of developing breast and ovarian cancer. Jolie's mother, Marcheline Bertrand, died from ovarian cancer in 2007.
Jolie was with Pitt at the London premiere earlier this month and said that she felt "great."
"I feel wonderful, and I'm very, very grateful for all the support. It's meant a lot to me," the actress told the BBC.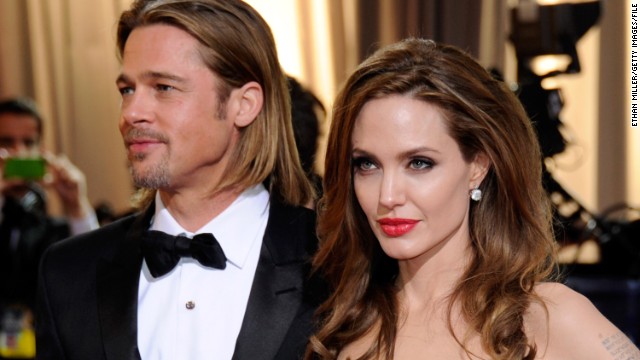 The lives of Brad Pitt and Angelina Jolie, both on and off the big screen, make headlines around the world. A representative for Angelina Jolie confirmed the couple were married in August in a small, private ceremony in France. The couple have six children together and have been together for nine years.
Jolie meets Britain's Queen Elizabeth II as she is presented with an honorary damehood Friday, October 10, at Buckingham Palace in England.
Pitt's wedding ring is visible on August 28 as he arrives for a promotional photo call for his film "Fury" at Bovington Tank Museum in Dorset, England.
Jolie listens to a speaker during the Global Summit to End Sexual Violence in Conflict, which was held in London in June.
Jolie and Pitt arrive at the premiere of Jolie's "Maleficent" at the El Capitan Theatre in Hollywood on May 28.
Pitt and Jolie, upper right, take part in a mass selfie with other movie stars during the Academy Awards in March.
A woman poses with wax figures of Jolie and Pitt at Madame Tussauds in London in December.
Jolie takes a selfie with fans at the premiere of Pitt's "World War Z" in Paris in June 2013.
In this handout image provided by the United Nations High Commissioner for Refugees, Jolie meets with refugees at the Zaatari refugee camp outside of Mafraq, Jordan, in December 2012.
Pitt and Kevin Bacon perform a one-night reading of the play "8," presented at The Wilshire Ebell Theatre in Los Angeles in March 2012.
Pitt attends a news conference for his film "Killing them Softly" at the Cannes International Film Festival in France in May 2012.
Jolie visits a man in a hospital in Misrata, Libya, in October 2011 in this handout photo provided by UNHCR.
Jolie and Pitt visit refugees in the village of Medjedja, Bosnia, in April 2010.
From left, Pitt, George Clooney, Jerry Weintraub and Matt Damon pose for a photo during their handprint ceremony on Hollywood's Walk of Fame in June 2007.
Pitt and Jolie get close in a scene from their first film together, "Mr. and Mrs. Smith," in 2005.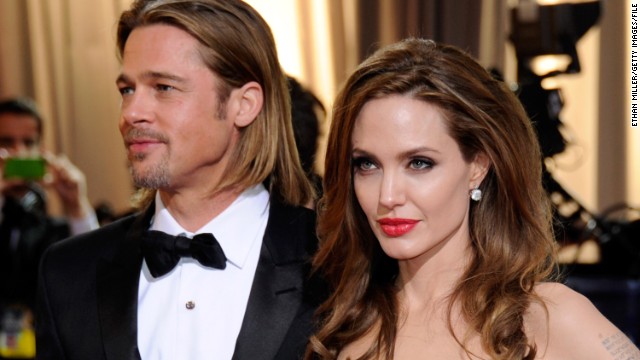 Brad Pitt and Angelina Jolie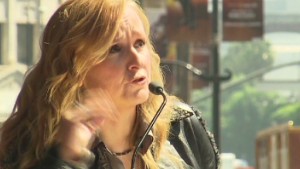 'I wouldn't call it the brave choice'
However, not everybody was 100% behind Jolie. In an interview with the Washington Blade, singer Melissa Etheridge said she believed Jolie had made a "fearful choice."
"I have that gene mutation too and (the preventive mastectomy) is not something I would believe in for myself. I wouldn't call it the brave choice," she said. "I actually think it's the most fearful choice you can make when confronting anything with cancer." Etheridge, a cancer survivor as well, said she prefers to focus on good nutrition and reducing stress levels.
Pitt, however, characterizes Jolie as "heroic."
He told USA Today in May that the past few months have been "emotional and beautifully inspiring."
"I'm quite emotional about it, of course," he said. He and Jolie have six children.
"World War Z" opens Friday.