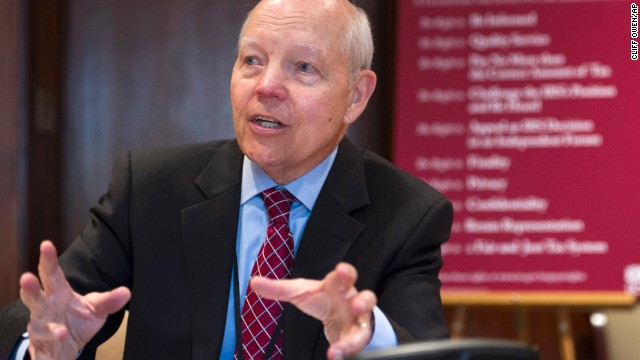 IRS Commissioner John Koskinen is facing tough questions about an unknown number of missing agency e-mails due to hard drive crashes. Republicans are especially interested in e-mails belonging to former IRS official Lois Lerner as lawmakers investigate the agency's targeting of conservative tax-exempt groups.
Lois Lerner is sworn in before testifying to the House Oversight and Government Reform Committee in May 2013. As the former IRS director of exempt organizations, Lerner headed the division involved in targeting conservative groups. She invoked her constitutional right against self-incrimination and refused to answer questions from the congressional committee.
Sens. Max Baucus, left, and Orrin Hatch, co-chairmen of the Senate Finance Committee, confer in Washington in May 2013, during a hearing regarding the targeting of conservative groups.
Former IRS Commissioner Douglas Shulman is sworn in prior to testifying before the Senate Finance Committee in May 2013. Shulman was at the helm of the IRS during most of the period that agents were targeting conservative groups. Shulman denied full awareness of what was happening at the time, saying subordinates failed to inform him of the details.
Rep. Darrell Issa, chairman of the House Oversight Committee, has held multiple hearings on the IRS controversy.
Steve Miller, former acting commissioner of the IRS, testifies before the House Ways and Means Committee in May 2013. The committee held a hearing to examine revelations that the IRS singled out for scrutiny conservative groups seeking tax-exempt status.
Rep. Dave Camp, chairman of the House Ways and Means Committee, is among the GOP members who have sought to depict the controversy as government gone wild, with the IRS abusing conservative groups and other political foes of the administration.
U.S. Attorney General Eric Holder testifies during a hearing of the House Judiciary Committee in May 2013. The day before, Holder announced a Justice Department investigation into any possible criminal wrongdoing by the IRS.
Former acting IRS Commissioner Daniel Werfel, left, testifies before the House Financial and General Government Subcommittee with Treasury Inspector General for Tax Administration J. Russell George, right, in June 2013.
Treasury Inspector General for Tax Administration J. Russell George is sworn in before testifying in Washington in May 2013. According to his report, the IRS developed and followed a faulty policy for determining whether applicants were engaged in political activities, which would disqualify the groups from receiving tax-exempt status.
Key players in the IRS scandal
Key players in the IRS scandal
Key players in the IRS scandal
Key players in the IRS scandal
Key players in the IRS scandal
Key players in the IRS scandal
Key players in the IRS scandal
Key players in the IRS scandal
Key players in the IRS scandal
Key players in the IRS scandal
STORY HIGHLIGHTS
Deposition of IRS official Holly Paz shows no political motivation behind IRS scandal
Paz: "Politics was not something they were interested in"
Paz's assertion is at odds with belief of growing number of Americans
Reps. Issa and Cummings argue over release of deposition transcripts
Washington (CNN) -- Roughly half of all Americans now think the White House was behind the Internal Revenue Service decision to target conservative political groups, according to a recent CNN/ORC International poll, a growing belief at odds with information recently provided to CNN by congressional investigators.
The information includes a full transcript of the May 21 deposition of Holly Paz, a high-ranking IRS official placed on administrative leave as a result of her role in the scandal.
Paz was questioned extensively by investigators from the House Oversight and Government Reform Committee, which is chaired by one of the administration's fiercest congressional critics, California GOP Rep. Darrell Issa.
The transcript of Paz's deposition, examined by CNN this week, shows an agency plagued more by bureaucratic ineptitude than partisan political scheming.
IRS agents are revealed as politically tone deaf and blind to what was being done, or not done, in different offices that presumably should have been in closer contact.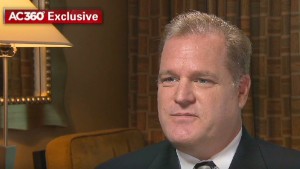 Is the IRS targeting whistleblowers?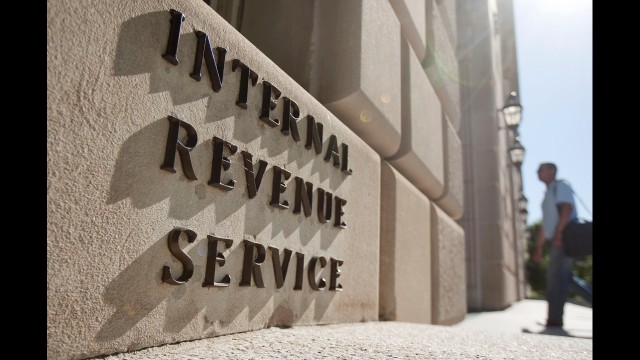 Officials in the Obama administration's Internal Revenue Service came under fire after revelations that workers in its Cincinnati office targeted for extra scrutiny tea party and conservative groups applying for 501(c)(4) tax-exempt status.
President Barack Obama and former Secretary of State Hillary Clinton came under intense scrutiny about the handling of the investigation of the attack on the U.S. Consulate in Benghazi, Libya, that led to the death of Ambassador Chris Stevens and three other embassy employees.
When President George W. Bush addressed the nation aboard the USS Abraham Lincoln in May of 2003, standing in front of a "Mission Accomplished" banner, few expected that the U.S. involvement in the deadly Iraq War would last for another eight years.
Former CIA covert agent Valerie Plame Wilson had her identity revealed by George W. Bush's Deputy Secretary of State Richard Armitage after her husband wrote a scathing op-ed in The New York Times.
President Bill Clinton was ultimately impeached by Congress after he lied under oath about an affair he had with White House intern Monica Lewinsky.
President George H. W. Bush pardoned former Defense Secretary Caspar W. Weinberger and five other officials who served under Ronald Reagan for their involvement in trading arms for hostages in Iran.
Senior officials working for President Ronald Reagan secretly arranged for the sale of military weapons to Iran with the hope that American hostages held there would be released and the proceeds could be used to fund the Contras fighting in a rebellion in Nicaragua -- a violation of the Boland Act that expressly prohibited U.S. funding of the rebels.
For 444 days -- ending in what would be the final year of his presidency -- President Jimmy Carter sought to gain the release of 52 Americans held hostage at the U.S. Embassy in Tehran, Iran.
In one of his first acts as president, Gerald Ford granted "a full, free and absolute pardon" to former President Richard Nixon for all crimes he may have committed while president, including his involvement in the Watergate scandal.
President Richard Nixon resigned his office after being implicated in a cover-up following a burglary at political offices in the Watergate building.
Spiro T. Agnew, who served as vice president under President Richard Nixon, resigned his position after being indicted for bribery charges, becoming the first U.S. vice president in history to resign under criminal charges.
The Pentagon Papers, a top-secret document that detailed U.S. decisions leading up to the Vietnam War, were leaked to The New York Times by military analyst Daniel Ellsberg. The Nixon administration obtained an injunction to stop their publication.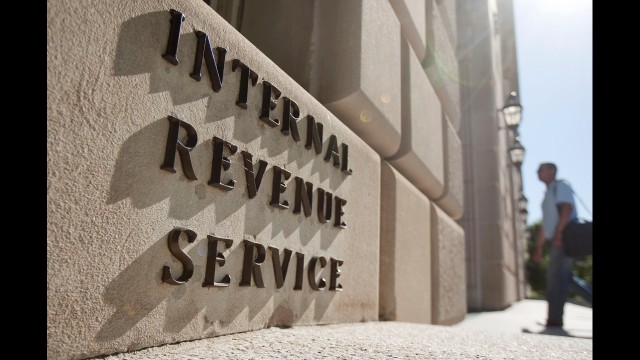 12 presidential scandals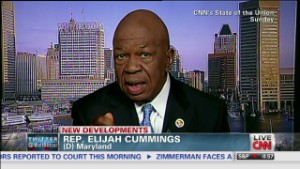 Lawmakers trade barbs in IRS probe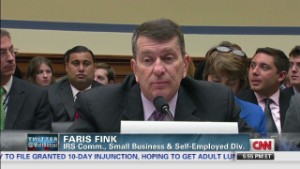 IRS's 'Mr. Spock': 'I apologize.'
"Politics was not something they were interested in," Paz told investigators. "Because they are so apolitical, they are not as sensitive as we would like them to be as to how things might appear."
Paz is a top official at the IRS division responsible for reviewing applications for tax-exempt status.
Some critics argue the division intentionally intimidated and harassed tea party and other conservative groups, often delaying the processing of their applications for months or years.
An inspector general's report released last month found that an IRS unit in Cincinnati had used criteria that included conservative labels such as "tea party" to target certain groups for extra questioning.
IRS rules prevent groups engaged in excessive political activity from becoming tax exempt, but the agency has struggled to develop clear guidelines on the matter.
The targeting began in 2010 and ended last year when senior IRS officials learned of it, according to the report.
Boehner: 'Who is going to jail' over IRS scandal
Last month, 37% of the public thought the White House was tied to the IRS controversy. Now, 47% say the White House was directing the IRS, according to the latest CNN/ORC International survey.
Democrats are sensitive to the charge, which some analysts contend has contributed to a recent drop in President Barack Obama's approval ratings.
Maryland Rep. Elijah Cummings, the top Democrat on Issa's panel, released the full transcript on Tuesday of the deposition of a self-described "conservative Republican" IRS manager who has denied any administration involvement in the scandal.
The manager also insisted that the initial decision to flag tea party groups for additional scrutiny originated with lower level IRS staff in Cincinnati, not upper management in Washington or elsewhere.
"This interview transcript provides a detailed first-hand account of how these practices first originated, and it debunks conspiracy theories about how the IRS first started reviewing these cases," Cummings said.
"Releasing this transcript serves the best interest of Congress and the American people by ensuring that there is an accurate and fair picture of the management challenges facing the IRS."
Obama: IRS actions "intolerable and inexcusable"
The move by Cummings drew a sharp rebuke from Issa, who has also released certain elements of the investigation at different points.
"I am deeply disappointed that Ranking Member Cummings has decided to broadly disseminate and post online a 205 page transcript that will serve as a roadmap for IRS officials to navigate investigative interviews with Congress," Issa said.
"Americans who think Congress should investigate IRS misconduct should be outraged by Mr. Cummings' efforts to obstruct needed oversight."
Issa and Cummings have both promised in appearances on CNN's "State of the Union" to release transcripts of all of the depositions conducted in the investigation.
For her part, Paz told investigators from two House committees that questions about certain applications often remained unanswered because IRS agents were simply "waiting for guidance" from Washington that was never provided.
Meanwhile, agency leaders in Washington remained unaware that applicants were not receiving final answers.
Paz was under the impression that the "tea party" label was internal IRS shorthand for all cases regarding groups involved in campaign politics.
"It was really just an efficient way to refer to this issue," Paz told investigators, noting that the first case identified with political campaign activity related to an application from a tea party group.
"It's like calling soda 'Coke' or you know, tissue 'Kleenex.' They knew what they meant, and the issue was campaign intervention."
Applications for tax-exempt status "was an area that did not get a great deal of attention ... outside the IRS," Paz added. "It's only been in recent years that it's something that has gotten, you know, more media attention and congressional attention."
Many IRS employees have been with the agency "for decades" and "were used to a world where how they talked about things internally was not something that would be public or that anyone would be interested in," Paz said. "So I don't think they thought much about how it would appear to others. They knew what they meant, and that was sort of good enough for them."
Paz insisted she never took part in any discussion about targeting conservatives. She also noted other cases in recent years involved a denial of tax-exempt status for liberal groups, an assertion challenged by critics.
"I had no indication that we were not being balanced in what we were doing," she said.
Paz noted that she was personally involved in a review of roughly 40 cases in the fall of 2010, an acknowledgment undercutting claims that the Cincinnati office was solely to blame for the debacle. Roughly half of the cases involved groups with the words "tea party" in the name.
Tea party and other conservative activists are planning to hold a rally on Capitol Hill on Wednesday to protest the IRS actions.