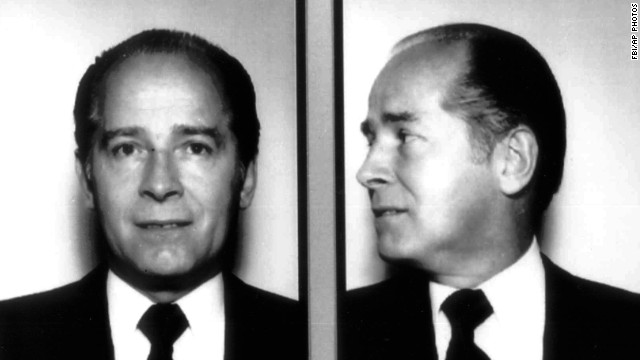 James "Whitey" Bulger rose to the top of the notorious Winter Hill gang, prosecutors say, before he went into hiding for more than 16 years after a crooked FBI agent told him in December 1994 he was about to be indicted on federal racketeering charges. He was captured in Santa Monica, California, in 2011, living under a false name with his girlfriend in an apartment in the oceanside city. On August 12, the gangster was found guilty on 31 of 32 counts -- including involvement in 11 murders. Here are some other gangsters from America's past.
Al Capone, or "Scarface" as he was popularly known, remains one of America's most notorious gangsters. Known for wearing custom suits, fedoras and spats, Capone was infamous in 1920s Chicago for his bootlegging and racketeering activities. Capone died in 1947.
New York Mafia chief John Gotti was known as "Dapper Don" for his expensive suits and "Teflon Don" due to government charges failing to stick in three trials. He was later convicted of murder and racketeering. He died of cancer at age 61 in 2002 while serving a life sentence.
Henry Hill, a mobster-turned-informant for the FBI died in 2012 at age 69.
His story was the basis
for Martin Scorsese's acclaimed 1990 film, "Goodfellas." Ray Liotta played Hill in the film.
George "Bugs" Moran was Al Capone's main rival in the Chicago mafia, culminating in the St. Valentine's Day Massacre in 1929 in which several members of Moran's gang were killed. Moran died in 1957.
Clyde Barrow and Bonnie Parker robbed banks across America before meeting their end when police and federal agents ambushed them on a dirt road in Louisiana in 1934.
John Dillinger, gangster and bank robber, was the first criminal to be called Public Enemy No. 1 by the FBI. Bureau agents gunned him down outside a movie theater in 1934.
George "Baby Face" Nelson, a car thief by age 14, associated with the likes of Al Capone and John Dillinger. Nelson died following a shootout with the FBI in 1934.
Mobster Louis Lepke Buchalter was one of the forces behind a hit squad known as Murder Inc. He died in the electric chair at New York's Sing Sing prison in 1944.
Vincent "Mad Dog" Coll was infamous for the attempted kidnapping of a rival gang member in 1931. Coll shot into a crowd, killing a child and injuring several other youths. Coll escaped conviction due to a lack of credible witnesses. He was later shot to death in 1932 while talking in a phone booth, most likely by a rival gangster.
American gangsters
American gangsters
American gangsters
American gangsters
American gangsters
American gangsters
American gangsters
American gangsters
American gangsters
American gangsters
STORY HIGHLIGHTS
72-year-old John Martorano is the government's star witness against Bulger
Martorano has admitted to 20 murders as part of Boston's Winter Hill Gang
He testifies that Bulger was directly involved in some killings
"A serial killer kills because they like it ... I never had any joy in it," Martorano says
Boston (CNN) -- With words as ammunition, a defense lawyer fired a machine gun burst of questions at the government's star witness Tuesday in the federal murder trial of reputed Boston mob boss James "Whitey" Bulger.
"You killed friends?" Bulger attorney Hank Brennan shot.
"Yes," replied prosecution witness John Martorano.
"Families?"
"Yes."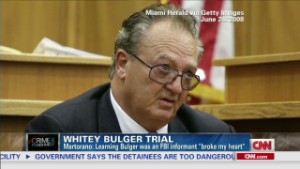 What gangster hopes to get out of trial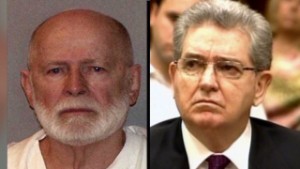 Witness describes hits with Bulger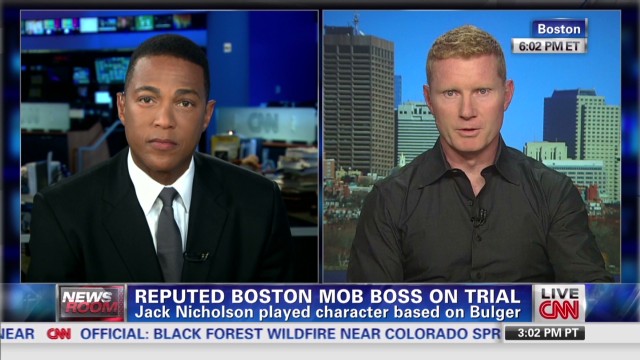 Ex-mobster: Bulger an all-out 'rat'
"Strangers?"
"Yes."
"Innocent people?"
"Yes," said Martorano, who has admitted to 20 murders and who earlier served 12 years in prison on a government deal for his cooperation in the case against Bulger.
Martorano acknowledged he didn't like the term "hitman" since he "wouldn't accept money" for the killings he committed. And he countered the prosecution's descriptions of him as a "mass murderer" and a "serial killer."
"A serial killer kills because they like it. I didn't like it. I never had any joy in it," said Martorano, now 72.
Prosecutors say Martorano killed at the direction of Boston's Winter Hill Gang and Bulger, who is standing trial on 19 murder charges along with racketeering and extortion charges. Bulger was caught in 2011 after spending 16 years as a fugitive and landing on the FBI's most wanted list.
Witness: Heartbroken to know Bulger was FBI informant
"My father, the priests, the nuns" taught him to always "defend family and friends," Martorano testified. When Brenann asked whether there was "any honor or integrity in what you did," Martorano replied, "I thought so."
Under questioning by prosecutors, Martorano explained that the six partners who comprised the Winter Hill Gang -- including Bulger, Steven Flemmi, and Martorano -- had to agree on business decisions and targeted hits. Flemmi is serving life terms without parole but avoided a possible death sentence by cooperating with federal authorities.
"Was it a democracy?" prosecutor Fred Wyshak asked, referring to the Winter Hill Gang. "So to speak," answered Martorano.
The former mobster described Bulger's role in six more murders Tuesday, implicating him in a total of 13 killings in just two days of testimony.
In one case, Martorano claimed that Bulger fired the fatal shot that killed one of the gang's targets, a Dorchester, Massachusetts, bartender who was "squealing" about a murder he had helped the crew commit.
That testimony marked the first time that Bulger was placed on the firing end of a gun in a killing.
In another slaying, Bulger sat at the wheel of a car, while another crime associate, Tommy King, sat in the passenger seat, with Martorano behind him, the witness said.
2012: Bulger's girlfriend pleads guilty
All had guns but "Tommy's had blanks." When the car pulled out "I shot him in the back of the head," Martorano testified.
"I was driving over Neponset bridge (in Boston) one day and Whitey said tip your hat to Tommy .... He's over there," Martorano testified, acknowledging that he knew where King's body had been dumped.
Martorano said that Bulger's "plan B" to take the heat off the Winter Hill Gang for King's murder was to kill King's good friend, Buddy Leonard, and put him in King's car to make it look like the two got into a dispute that ended with Leonard's death and King's disappearance. Leonard subsequently was found shot to death.
Another time, Bulger sat at a table with another crime associate the partners had decided to kill. As planned, Bulger was counting money with the man when Martorano walked in and shot the man in the temple.
In 1982, Martorano testified, he felt "really bad" about it but carried out a killing anyway. Outnumbered in the decision by his partners, he killed his friend John Callahan.
That came about after another killing: Callahan wanted to buy a business from Oklahoma businessman Roger Wheeler. When Wheeler wouldn't sell, Callahan asked Martorano to kill him.
Martorano said he flew to Oklahoma, picked up a suitcase with machine guns, revolvers and masks that had been shipped from Boston via Greyhound bus, and shot Wheeler between the eyes. Callahan was so grateful he paid his friend $50,000.
2011: Clues that lead to Bulger's capture
But when trusted FBI contact John Connolly indicated that Callahan was going to be pressured by the government to testify about the murder, the Winter Hill partners, with Martorano outvoted, decided it was too risky for Callahan to live.
"I felt lousy but these were my partners. We were up to our necks in murders already," Martorano testified.
He said he arranged to meet Callahan in Florida, picking him up at the airport and helping him with his bags. Then as Callahan got into the front seat, Martorano got in behind and shot his friend in the head.
"I felt really bad. I'd just killed a man I'd risked my life for in Oklahoma," he testified.
Asked by the prosecutor whether he regretted his life of crime, Martorano responded, "Who wouldn't?"
During Martorano's testimony, Bulger sat ramrod straight and kept his eyes focused ahead, barely moving. Bulger turned his head, seeming to look at his former friend sitting just six feet away, only when Martorano said he learned Bulger was an FBI informant.