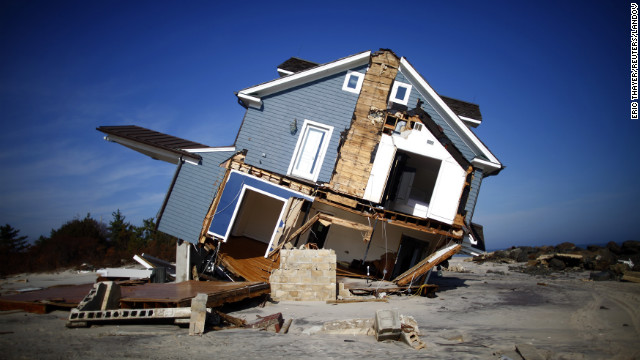 A home that was destroyed by Hurricane Sandy sits in ruin in Mantoloking, New Jersey, on November 12, 2012. There were 11 disaster events in 2012, each one causing more than $1 billion in damages, the
National Climatic Data Center
said. Sandy's costs are estimated to be the highest at about $65 billion in losses, the center said.
Corn killed during drought covers a field in Le Roy, Illinois, on September 11, 2012. The yearlong drought plagued more than half the country and was the most extensive drought to affect the United States since the 1930s, the center said. Its costs are estimated at $30 billion.
A helicopter drops water over the Waldo Canyon Fire northwest of Colorado Springs on June 27, 2012. The Western wildfires that devastated parts of Colorado, Idaho, Wyoming, Montana, California, Nevada, Oregon and Washington are expected to bring costs of about $1 billion.
Fred Leslie is helped into a boat after retrieving items from his home, which flooded during Hurricane Isaac on September 5, 2012, in the Braithwaite neighborhood of New Orleans. Hurricane Isaac caused an estimated $2.3 billion in damage.
Leveled trees are cleared from an area of Silver Spring, Maryland, on July 2, 2012. An outbreak of thunderstorms and high winds that rolled through Central, Eastern, and Northeastern states June 29 through July 2 last year caused an estimated $2.9 billion in losses.
Dark storm clouds producing rain, hail and lightning move east of Calhan, Colorado, on June 7, 2012. Severe storms and damaging hail hit Colorado, New Mexico and Texas in June 2012, causing about $2.6 billion in damage.
Delbert Wilcox, left, and his granddaughter Samantha Vermillion work to salvage lumber and wiring from the home of Ken Knox on May 30 in northern Platte County, Missouri. Severe weather from the Plains to the Northeast in late April and late May 2012 caused an estimated $3.3 billion and $2.3 billion in losses, respectively.
Two women embrace while surveying the damage left in the wake of a tornado that hit Creston, Iowa, on April 15, 2012. An outbreak of tornadoes in the Midwest on April 13 and April 14 caused about $1.1 billion in losses.
A tornado-damaged home in Forney, Texas, lies in ruin on April 4, 2012. Tornadoes across the greater Dallas-Fort Worth area in early April caused an estimated $1 billion in damage.
Insurance adjuster Mark Ricketts photographs a home destroyed by a tornado in Henryville, Indiana, on March 4, 2012. Tornadoes and severe weather that struck the Ohio valley and southeast on March 2 and March 3 caused about $3.1 billion in losses.
Billion-dollar weather disasters of 2012
Billion-dollar weather disasters of 2012
Billion-dollar weather disasters of 2012
Billion-dollar weather disasters of 2012
Billion-dollar weather disasters of 2012
Billion-dollar weather disasters of 2012
Billion-dollar weather disasters of 2012
Billion-dollar weather disasters of 2012
Billion-dollar weather disasters of 2012
Billion-dollar weather disasters of 2012