Warren Buffett on sisters, children and parents
updated 4:42 PM EDT, Sun June 16, 2013
STORY HIGHLIGHTS
Billionaire Warrent Buffett talks to CNN's Poppy Harlow about girls education
(CNN) -- In a recent Fortune magazine essay, Warren Buffett -- one of the world's wealthiest people -- explains why women are key to America's prosperity. CNN's Poppy Harlow sat down with the Berkshire Hathaway chairman and CEO to talk about girls education, his sisters, his family and how, as he says, "If I had been born a female, I would have been very unhappy about the Constitution."
Watch the full interview in Part 1 and 2 of the videos.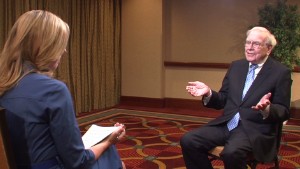 Buffett: Companies should invest in women
More: Jennifer Buffett -- Make schools safe for girls everywhere
Photos: The girls' stories from "Girl Rising"