Report: Kim Kardashian gives birth to baby girl
updated 8:22 AM EDT, Tue June 18, 2013
STORY HIGHLIGHTS
NEW: Boyfriend Kanye West was there for the delivery, E! reports
The baby is the daughter of Kim Kardashian and West, an acclaimed rapper
The parents started dating last year, after Kardashian's marriage ended
Kardashian is a reality star with 18 million Twitter followers
(CNN) -- There's now one more Kardashian to keep up with.
On Saturday -- according to E!, the network behind her family's hit reality show-- Kim Kardashian gave birth to a baby girl. The report did not give a name for the newborn, but did say she came into the world at Cedars Sinai Medical Center in Los Angeles.
She's the first child for the 32-year-old Kardashian, who has modeled, acted and launched business ventures but is best known as a reality TV star with a huge international following, having amassed some 18 million Twitter followers
The father is rapper Kanye West, who was by his girlfriend's side during the delivery, E! reported, citing a source. The couple started dating last year, shortly after Kardashian filed for divorce from NBA player Kris Humphries after 72 days of marriage.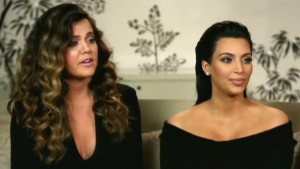 Kim Kardashian opens up on pregnancy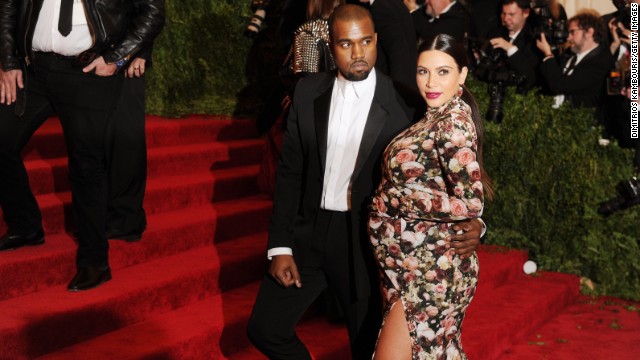 Kim Kardashian and Kanye West celebrated the birth of their baby daughter on June 15. While Kim's maternity style was sometimes criticized, it didn't stop her from taking fashion risks throughout her pregnancy. Here, she and Kanye attend the Met Costume Gala in May. Let's look back at her other notable pregnancy looks.
Kim Kardashian wears a gauzy gown in May.
Kourtney, Kim and Khloe all sport their Kardashian Kollection in May.
Kim Kardashian sports head-to-toe green in April.
Kim Kardashian chooses an off-the-shoulder maxi dress in April.
Kim Kardashian attends the E! 2013 Upfront presentation in April.
Kim Kardashian's fashion choices are as clear as black and white, as seen here in April.
Kim Kardashian arrives at the 2013 MTV Movie Awards in April.
Kim Kardashian wears her "kourtroom" look for her divorce hearing in April.
Kim Kardashian is the lady in red while promoting her Glam perfume in Las Vegas in April.
Kim Kardashian shops in New York in March.
Kim Kardashian goes for an easy-breezy afternoon look in March.
This all-white structured suit raised some eyebrows in March.
Kim Kardashian shows off her business look in March.
Kim Kardashian steps out in a bejeweled dress in New York in March.
Kim Kardashian dresses her bump in white for the Elton John AIDS Foundation's Academy Awards viewing party in February.
Kim Kardashian sports a feathery frock in February.
Kim Kardashian wears leopard peplum trousers in February.
Kim Kardashian wears a revealing blouse in January.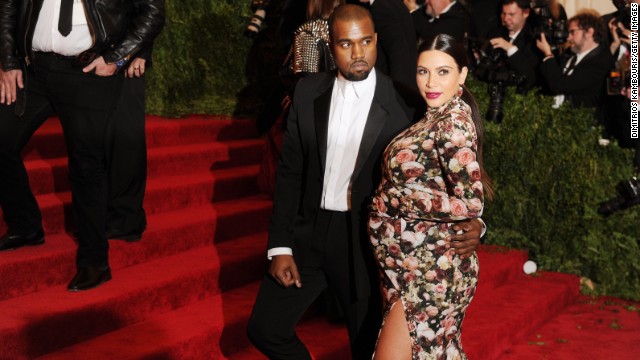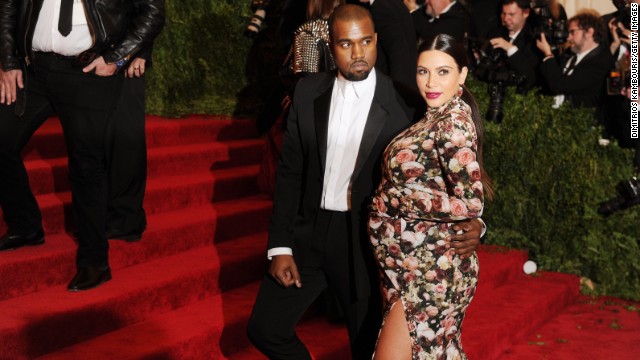 Kim Kardashian and Kanye West celebrated the birth of their daughter today, but the baby's name is still under wraps. Maybe Kanye West and Kim Kardashian will go for the unexpected like they did here at this year's MET gala or maybe....
The couple could link up their names and make "Kimye" a real thing? No? OK, we will try again.
The couple love European cities and their baby was reportedly conceived near the Vatican in Rome. Here they leave the Valentino Haute-Couture Show as part of Paris Fashion Week in 2012. Paris or Rome West maybe?
The rapper was very close to his mother, teacher and author Donda West, who died after surgery in 2007. He may want to pay tribute to her as she was extremely influential in his life and inspired his song "Hey Mama." Here the pair appear at a signing for her book, "Raising Kanye: Life Lessons from the Mother of a Hip-Hop Superstar" in Los Angeles in 2007.
The pair have completely bonded over fashion and both have done some designing. So why not a designer name like Hermes or Gianni? It's not as far-fetched as you might think.
Kardashian shot down rumors in March during a chat with Jay Leno that the baby would be named "North." But it appears the happy couple may be considering a unique name like "Easton." That's right, a little girl named "Easton West" could happen.
Just 'cause we like it and this pic of West and Kardashian attending the Angel Ball 2012 in October 2012 in New York, we are going to throw the name "Angel West" out there.
No self-respecting speculative list would be complete without a mention of a possible "K" name. Here sisters Khloe, Kourtney and Kim promote the "Kardashian Kollection" clothing line at Sears in Cerritos, California, on September 18, 2011. Kourtney already weighed in with a "kontender." If it ain't broke, why fix it?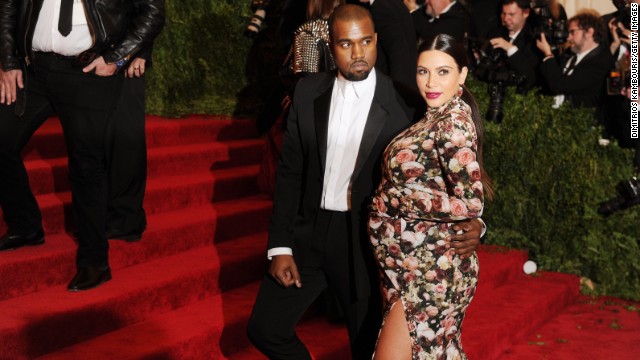 Kardashian's divorce is finally final
While the baby's arrival was somewhat unexpected -- coming a few weeks earlier than the July due date -- her gender is not. Like many aspects of the Kardashian family's existence, it was revealed on an episode of "Keeping Up with the Kardashians" -- the eighth season premiere, in fact, that aired in June -- documenting her 19-week checkup at her obstetrician's office.
"I'm so excited we're having a girl. Who doesn't want a girl? I think they are the best," Kardashian said then. "I know that's really what Kanye has always wanted. He wanted a little girl."
Kardashian's newborn daughter is the third grandchild of Kris Jenner -- the former wife of the late Robert Kardashian, best known as a lawyer for O.J. Simpson. Jenner is currently married to Olympic legend Bruce Jenner.
Kardashian's sister, Kourtney Kardashian, has two children -- Mason and Penelope -- with her longtime boyfriend, Scott Disick.
As to her own pregnancy, Kim Kardashian told Ryan Seacrest this spring that she didn't experience morning sickness, though it has been "really painful everywhere."
Kim and Kanye's relationship timeline