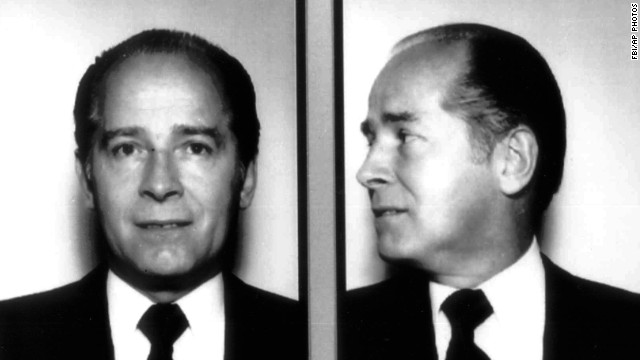 James "Whitey" Bulger rose to the top of the notorious Winter Hill gang, prosecutors say, before he went into hiding for more than 16 years after a crooked FBI agent told him in December 1994 he was about to be indicted on federal racketeering charges. He was captured in Santa Monica, California, in 2011, living under a false name with his girlfriend in an apartment in the oceanside city. On August 12, the gangster was found guilty on 31 of 32 counts -- including involvement in 11 murders. Here are some other gangsters from America's past.
Al Capone, or "Scarface" as he was popularly known, remains one of America's most notorious gangsters. Known for wearing custom suits, fedoras and spats, Capone was infamous in 1920s Chicago for his bootlegging and racketeering activities. Capone died in 1947.
New York Mafia chief John Gotti was known as "Dapper Don" for his expensive suits and "Teflon Don" due to government charges failing to stick in three trials. He was later convicted of murder and racketeering. He died of cancer at age 61 in 2002 while serving a life sentence.
Henry Hill, a mobster-turned-informant for the FBI died in 2012 at age 69.
His story was the basis
for Martin Scorsese's acclaimed 1990 film, "Goodfellas." Ray Liotta played Hill in the film.
George "Bugs" Moran was Al Capone's main rival in the Chicago mafia, culminating in the St. Valentine's Day Massacre in 1929 in which several members of Moran's gang were killed. Moran died in 1957.
Clyde Barrow and Bonnie Parker robbed banks across America before meeting their end when police and federal agents ambushed them on a dirt road in Louisiana in 1934.
John Dillinger, gangster and bank robber, was the first criminal to be called Public Enemy No. 1 by the FBI. Bureau agents gunned him down outside a movie theater in 1934.
George "Baby Face" Nelson, a car thief by age 14, associated with the likes of Al Capone and John Dillinger. Nelson died following a shootout with the FBI in 1934.
Mobster Louis Lepke Buchalter was one of the forces behind a hit squad known as Murder Inc. He died in the electric chair at New York's Sing Sing prison in 1944.
Vincent "Mad Dog" Coll was infamous for the attempted kidnapping of a rival gang member in 1931. Coll shot into a crowd, killing a child and injuring several other youths. Coll escaped conviction due to a lack of credible witnesses. He was later shot to death in 1932 while talking in a phone booth, most likely by a rival gangster.
American gangsters
American gangsters
American gangsters
American gangsters
American gangsters
American gangsters
American gangsters
American gangsters
American gangsters
American gangsters
STORY HIGHLIGHTS
"Whitey" Bulger was captured in 2011 after 16 years in hiding
He's charged in 19 killings during the two decades he ran Boston's Winter Hill gang
A former bookie testified Friday, saying he paid Bulger's group monthly "rent" in cash
"Their reputation preceded them ... I valued my life as well as those with me"
Boston (CNN) -- In many respects it was like a meeting of old friends: James "Whitey" Bulger listening carefully -- laughing heartily at one point -- to colorful recollections of former Boston bookie Richard O'Brien, who ran a successful bookmaking operation that he inherited from his father.
But this was no remember-when reunion between two elderly men.
The 84-year-old O'Brien, who lives in Florida and uses a wheel chair, testified Friday as a prosecution witness at the federal trial of Bulger, who is charged in the deaths of 19 people during the nearly two decades that prosecutors say he was the head of the Irish mob in Boston.
O'Brien described a meeting between Bulger and a man who owed him money. When the man balked at paying, Bulger replied, "We have a business besides bookmaking." "What's that?" the man asked. "Killing (expletive) like you."
The 83-year-old Bulger, who has shown little emotion in the first days of trial, threw his head back and let out a laugh.
At trial, Bulger edscribed as 'hands-on killer'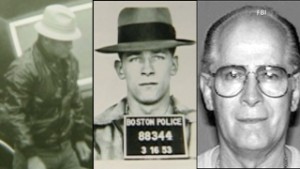 Bulger trial goes down memory lane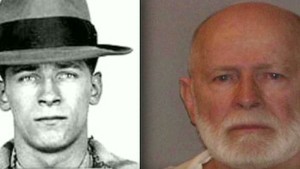 Cullen: Entire FBI protected Bulger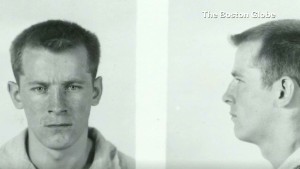 Reputed Boston gangster on trial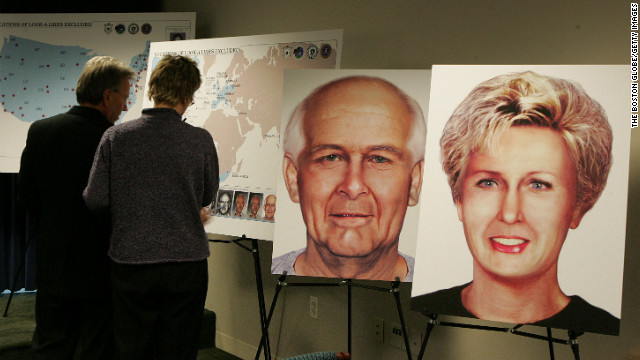 Illustrations of Bulger and Greig were on display at a press conference in 2004.
Catherine Greig, longtime partner of accused mob boss and fugitive James "Whitey" Bulger, was sentenced to eight years in prison.
An FBI handout shows various images of Bulger, who became one of America's most wanted men after fleeing in 1995 before an impending indictment on racketeering charges.
Bulger sits with his onetime friend and confidant Kevin Weeks in Boston in 1994. Weeks later turned on his former boss. In 2000 he led police to the bodies of eight alleged Bulger victims buried around Boston.
Special agent Barry Mawn and U.S. Attorney General Donald Stern hold a press conference naming Whitey Bulger to the FBI's Most Wanted List in August, 1999. After more than 16 years on the run, Bulger and Greig were captured in California.
The couple had for several years hidden in plain sight in a three-story apartment building in Santa Monica, California.
FBI agents found assault rifles, a 12-gauge shotgun, many semi-automatic pistols and revolvers, a silencer, a Derringer pistol, multiple hunting knives and bundles of cash inside the couple's two-bedroom apartment.
Bulger, who is being held without bail, was the head of a South Boston Irish gang before he went on the lam in 1995.
Spectators and press crowd in front of the John Joseph Moakley courthouse in Boston as Bulger and Greig arrive for arraignment on June 24, 2011.
Bulger and Greig are shown during their arraignment in this courtroom sketch.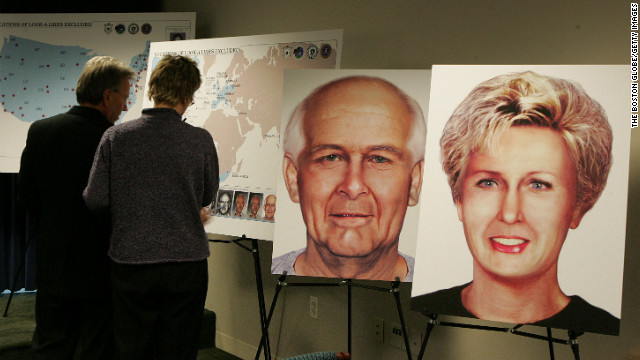 Whitey Bulger in hiding
O'Brien said he was an "independent" bookmaker, or unaffiliated with a crime organization, when Bulger summoned him to a meeting to discuss joining the Bulger group.
O'Brien said had been working for the Italian mafia in Boston's North End but Bulger told him, "Forget the North End. If you want to be in business, you have to be with us."
He had no choice but to join Bulger's Winter Hill gang, O'Brien testified, saying, "Their reputation preceded them."
O'Brien then referenced Boston's violent gang wars saying, "A lot of people were shot. Mr. Bulger ended up on top. You can draw your own conclusions."
Thus began a 14-year relationship, with O'Brien testifying he paid Bulger's group a couple of thousand dollars, cash, in "rent" virtually every month.
Asked why, O'Brien replied, "I valued my life as well as those with me."
The monthly payment went in excess of $2,000, O'Brien said, and was sometimes higher because Bulger and partner Steven "The Rifleman" Flemmi would charge random "taxes" if, for example, one of O'Brien's workers found himself at the end of a government wiretap.
Bulger never personally took the money, which was always paid in cash. It was always handed to Bulger's partner, Flemmi. "Maybe he never wanted it entered into evidence," O'Brien offered.
O'Brien said he moved to Florida in the early '90s, turning over the day-to-day operations of his bookmaking business to one of his six daughters. Several years later, he said, he was summoned to a meeting with Flemmi amid rumblings that Bulger associates -- including a "father-and-daughter team" -- were starting to cooperate with the government.
He said before he left for the meeting he told his daughter, "If I'm not back in 12 hours go to the FBI in Miami. Don't go home (to Boston). Don't go to the FBI there."
O'Brien is expected to continue testifying Monday.
Jurors earlier heard testimony from retired Massachusetts State Police Col. Thomas Foley, who on Thursday described the FBI's informant program as "poorly run."
"The FBI put a higher priority protecting their informants" than they did protecting "public safety," Foley said.
Bulger's lawyers are trying to show Bulger was allowed to act with impunity, sanctioned by corrupt FBI agents and federal prosecutors.
On cross-examination Bulger attorney Hank Brennan questioned Foley about the integrity of Bulger's FBI informant file, which is likely to be introduced at trial, asking the retired investigator why he would accept the informant file as accurate when it was compiled by the same FBI agents Foley believed were lying to him.
Foley said he had other sources but acknowledged he had never checked the validity of the entire file.
Bulger's lawyers also are trying to establish that Bulger was never a paid informant for the FBI and that instead Bulger was the one paying rogue agents for information.
The trial is expected to take up to three months and has the potential to reveal sensational details about the mob and FBI corruption, especially if Bulger chooses to testify.
Bulger was in hiding for 16 years before he was captured in Santa Monica, California, two years ago, living under a false name with his girlfriend in an apartment in the oceanside city.
At his July 2011 arraignment, he pleaded not guilty to the 19 murder charges and 13 other counts.