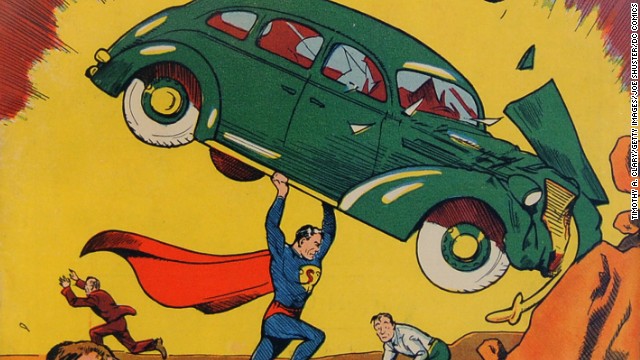 In 1938's first issue of "Action Comics," the world got its first glimpse of a superhero, and it was never the same again. Superman soon became an icon - not "just of truth, justice and the American way" - but a symbol of good for billions of people, through their childhood and beyond. Super-fans told CNN their stories of what the character has meant to them over the years. (Superman is a DC Entertainment character and DC is owned by Time Warner, also the owner of CNN.)
Robert Levine
donned a Superman cape while walking down the aisle. The orchestra played the John Williams score from 1978's "Superman: The Movie." He said he wanted to wear the cape because Superman has always inspired him. "He represents the good in all of us," he said. After the ceremony, wedding guests couldn't help but talk about Levine's fashion choice. "All the speeches at the wedding ended up revolving around my infatuation with the Man of Steel, but to me, I just wanted to honor the iconic legend," he said.
On his wedding day in 2011,
Diego-Alonso Mantica's
memories of Superman started when he first wore his blue and red Superman pajamas, which you can see here in his 1986 photo outside his home in Miami. But as he got older, Mantica says Superman became something more for him. "He 'ignited' me, and turned on the dormant rationale that we humans have five senses, while the reality is otherwise. We, too, can have 'superhuman' abilities," he said. "He is admired by kids because innately, we human beings choose good over evil."
As a child,
Alan Farlowe
has been a fan of Superman since he opened his first comic book at age 8. He attributes Superman's "fall" from the top tier of superheroes because he was the best of the "Supers." "He does what's right, but nowadays we want our heroes to have flaws and make the wrong choices," he pointed out. Despite Superman's dwindling stardom, he says the superhero still inspires. "He shows us what we could be if we did the right thing. Not the easiest path to follow, but the right one."
Melissa Daigle
remembers hating to read. So, her father, a comic book fan, introduced her to Superman comic books to improve her reading comprehension. Today, Superman inspires her on many levels. "Whether to be honest in my own mistakes, (have) compassion for others or to believe in the good of others. It isn't always easy to do so, but I continually strive to be the best I can be," she said.
When she was younger,
Jamie Kelley,
here with his wife, Ronda, got married on October 9, 2009 - 13 years to the day after Clark Kent married Lois Lane in the comics. The couple often visits Metropolis, Illinois, for its annual
"Superman Celebration."
As for why Superman has been such a big part of Kelley's life, he said the character has an aspirational quality he admires. "The idea of what we can be, if we hold fast to our humanity, our hopes. Superman's embodiment of this is my favorite memory of the character, what draws me to him, and why he is so iconic."
Kenny Rich
travels from the small town of Clarkton, Missouri, to the Metropolis event each year, and has met many of the "Superman" celebrities there over the years, such as "Superman Returns" star Brandon Routh. His tight-knit community of Superman fans pitched in to donate parts of their collections to a
fellow fan
after his Superman collection was stolen.
Matthew Blanchard's
earliest memories of Superman are from the Christopher Reeve films. He doesn't think Superman has fallen from the "top tier" of superheroes, but that in fact, his legacy has endured the test of time. "I think he is so admired because he is the epitome of 'the good guy,'" he said. "Superman has all that Kryptonian strength, but I think what so many people are inspired by is his strength of character." Blanchard is seen here sporting a shirt with the new "Man of Steel" movie logo.
Lawrence Monaco
is such a Superman fan that he named his son Kal-El (Superman's original name on Krypton). Here is Kal-El wearing the red and blue costume in their California home. "Kids love capes, and Superman's cape is the coolest to them. It represents more freedom than their bicycles," he said. Although a fan of Superman, Monaco thinks he is not regarded as a popular superhero the way Batman is because Superman sometimes lacks depth of character. "We see Batman as more like us, more human with issues and internal struggles," he said.
Nishan Marc Pereira
and his friends Pushpinder Singh and Akash Verma are huge superhero fans, so much so that they decided to buy matching Superman T-shirts and take random photographs posing as superheroes on their college campus in Punjab, India, in 2010. "As a child, my brothers and I used to fight over who could be Superman because a simple blanket around our neck and the underwear inside out was the easiest to copy. We used to run around the house like this, playing bad guys and good guys," Pereira said.
Socrates Ballais
photographed his daughter, Iyah, dressed as "Supergirl" for a school presentation. Both he and his daughter are huge superhero fans. When Iyah wears the Superman cape, she believes she really has superpowers. "She has no fear of heights, and thinks she is as powerful as Superman. I keep on reminding her that acting like Supergirl is just like a pretend play. She does not believe it," he said. "I had to make sure that I am around when she dons the Supergirl attire."
Keren Espinoza
loves dressing her 19-month-old son, Jadon, as Superman. "I love to see him run and swing at the park. He looks like his cape really makes him fly," she said. She says Jadon's father is a huge comic book fan, and Jadon already has years worth of superhero memorabilia waiting to be passed down to him by his family.
Steve Crawford
photographed his wife, Lisa, and his two sons dressed up as a superman family. He says his son, Brendan, has been on a Superman kick and insisted that his mom and younger brother join him in dressing up as the "Man of Steel." Often, he said, Superman is the first superhero kids are exposed to. "Kids like to pretend, and that's so far away from reality, that it's fun to imagine," he said, recalling that his earliest memories of Superman are from the 1980s Christopher Reeve movies.
Superman memories relived
Superman memories relived
Superman memories relived
Superman memories relived
Superman memories relived
Superman memories relived
Superman memories relived
Superman memories relived
Superman memories relived
Superman memories relived
Superman memories relived
Superman memories relived
STORY HIGHLIGHTS
Superman, though best-known superhero, not as popular as others
Character was the one who essentially started it all
Pop culture owes a lot to Superman -- phrases, movies, songs
New movie, "Man of Steel," latest attempt to keep him relevant
(CNN) -- In the comic-book world, he is sometimes derided as "the big blue Boy Scout."
In the movies, he's been surpassed -- both in box-office fortunes and popularity -- by his DC Comics stablemate Batman and the wisecracking Marvel gang. His recent TV shows, never highly rated, are off the air. His sunny, selfless side is seen as passé in an age of dark knights and troubled mutants.
Is this any way to treat Superman?
This year marks 75 years since the creation of the superhero who essentially started it all. Though his image is secure and he still has abilities far beyond those known to mortal men, it's an open question whether one of those powers still works: the ability to draw audiences.
On Friday, "Man of Steel" opens. The film, backed by a reported budget of $225 million -- not to mention more than 100 promotional partners, enough to make "The Great Gatsby" envious -- is yet another attempt to reboot the Superman legend, just seven years after "Superman Returns" hit screens.
The new work, directed by Zack Snyder ("Watchmen"), written by David S. Goyer ("Batman Begins") and starring Henry Cavill as Superman, hopes to surpass the lackluster returns of "Returns," which made $200 million at the domestic box office but was widely seen as a disappointment.
Caped crusaders on patrol - meet the real life superheroes
Indeed, Warner Bros. head Jeff Rubinov has expressed high hopes for the film, which is key to a rumored strategy to bring the entire Justice League to theaters. According to ticket-seller Fandango, advance sales have been promising. (Warner Bros. and DC Comics, the publisher of "Superman" titles, are both units of Time Warner, as is CNN.)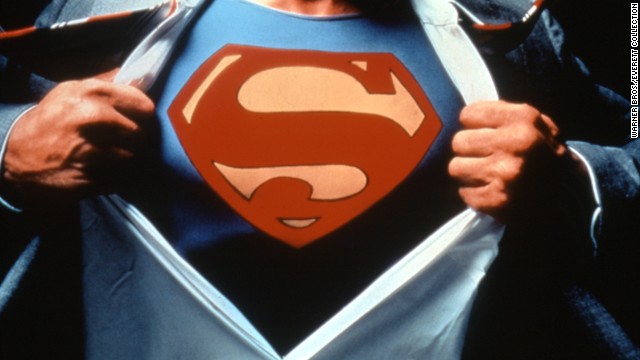 It has been 75 years since Superman first appeared in the inaugural issue of "Action Comics." Since his inception, the Man of Steel has appeared in various films and TV series. (Warner Bros. and DC Comics, the publisher of "Superman" titles, are both units of Time Warner, CNN's parent company.) Click through the gallery to see some of the actors who have taken on the iconic role of Superman and his Clark Kent alter ego.
Kirk Alyn, right, appears as Clark Kent in the 1948 serial "Superman." It was the first live-action appearance of Superman on film.
Alyn revisits his role as Superman in the 1950 film serial "Atom Man vs. Superman." Lyle Talbot, seated at right, plays the supervillain Lex Luthor, the Atom Man.
George Reeves takes the lead in the 1951 film "Superman and the Mole Men."
Reeves continues to play Superman in the 1950s syndicated television series "Adventures of Superman."
Bob Holiday takes Superman to Broadway in 1966, starring in the musical "It's a Bird It's a Plane It's Superman!"
Christopher Reeve takes the title role in the 1978 movie "Superman."
In 1980, Reeve costars with Margot Kidder, Superman's love interest, Lois Lane, in "Superman II."
Reeve also stars in the 1983 sequel "Superman III." In the film, Superman becomes corrupt after exposure to a synthetic form of kryptonite, his ultimate weakness.
Reeve reprises his role in 1987 for the fourth and final installment of the original Superman film series, "Superman IV: The Quest for Peace." Mark Pillow, right, plays the part of Nuclear Man.
Dean Cain and Teri Hatcher co-star in the television series "Lois and Clark: The New Adventures of Superman." The show aired on ABC from 1993 to 1997.
Premiering in 2001, Tom Welling plays a young Clark Kent on the WB series "Smallville." It ended its 10th and final season in 2011.
Brandon Routh is cast in the 2006 reboot "Superman Returns." It tells the story of Superman's return to Earth after five years attending to the tragic remains of his home planet, Krypton.
Henry Cavill stars as Superman in the 2013 reboot "Man of Steel," set to hit theaters June 14. In the meantime, share your Superman memories and images with CNN iReport.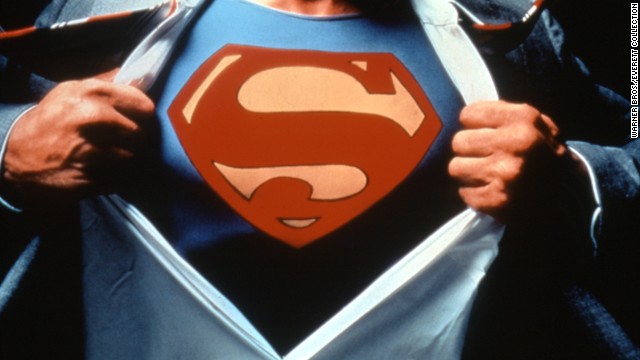 Superman actors: Men of Steel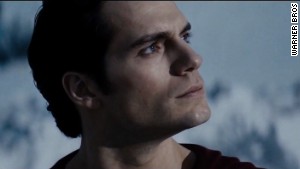 'Man of Steel' ready to soar?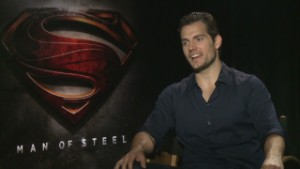 Meet the new Superman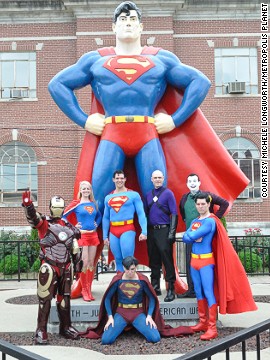 Metropolis' official Superman, Josh Boultinghouse, (back row, center) poses with winners of the 2012 costume contest, part of the town's annual Superman Celebration. This year the event takes place from June 6-9.
Sometimes saving the world involves mundane tasks. Metropolis's resident Superman helps out with a little gardening.
Sometimes superduties just involve spreading a little cheer. Resident Superman Josh Boultinghouse takes part in one of the free games for kids held during the Superman Celebration.
Festival strongman events separate the Superboys from the Supermen.
John Glover (left) and Cassidy Freeman were headlining celebrities at the 2012 event. Both are actors from the TV series "Smallville." This year, Margot Kidder, Michael Rosenbaum and others will attend.
For the 2013 event, organizers plan to host a Guinness World Record for "largest gathering of people dressed as Superman," which it last achieved in 2008 before being beaten by 437 Canadians.
Other activities during the event include sack races, cake sculptings, the Smallville Prom and Fan Film Awards.
Kids make their own supercapes during the Make a Cape event, which invariably give them the ability to fly, albeit at very low altitude.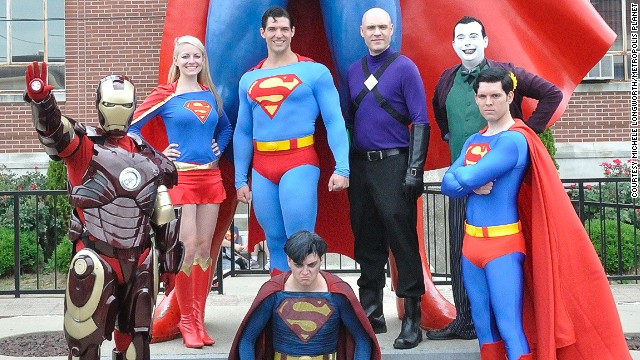 The town where Superman lives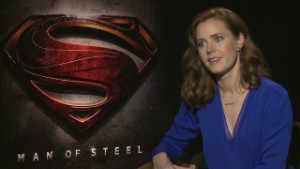 Amy Adams finally gets to play Lois Lane
It all seems poised to put Supes back on top of the superhero heap, a place that he once had all to himself.
But that was decades ago. The world has turned many times since then; we've fought draining wars, dealt with horrific acts of terror, even entered an age where bespectacled Clark Kent types are cooler than six-packed musclemen.
Horrors! Has time passed by the Man of Tomorrow?
'More layered than you think'
Arie Kaplan, an executive with Meetinghouse Productions and prolific comic-book writer, says that there's more to Superman than meets the X-ray eye.
"He's more layered than you think," he says, reeling off the Superman personas: the alien from another planet, the Midwestern farm boy and the bumbling alter ego Clark Kent. Each must be kept in mind when writing the character, says Kaplan, who has one Superman tale to his credit; each enriches Superman's, well, humanity.
The fact that those aspects of Superman all came together in one figure was, for the most part, an accident, says Brad Ricca, author of "Super Boys," a new biography of Superman creators Jerry Siegel and Joe Shuster.
"The character is a patchwork," he says. "There's a little bit of Tarzan in him, the circus strongman, the athlete -- so it's drawing on all these different things that were going around in their pop culture, and it's stuck around." Even the term "superman" was in the air: it was used to describe Franklin D. Roosevelt, says Ricca.
There are also deeper currents. Siegel and Shuster were the sons of Orthodox Jews, and there's no question that religious imagery infuses the Superman story and character, whether it's bits of Moses, Jesus or the golem -- the latter a clay figure, brought to life, who was used as a defender of the Jewish faith.
Indeed, so much of Superman's story echoes that of classic archetypes that it has kept a generation of Joseph Campbell-referencing scholars busy.
He is an immigrant. He is an orphan. He is blessed with intelligence and athleticism. He is troubled by shyness and insecurity. He is a divided person -- man and superman, Clark Kent and Kal-El.
It's no wonder Superman caught on with Depression-era readers, and his popularity has continued through the ages.
"I think there's something very primal about Superman," says comic-book historian Mark Evanier. "Jerry and Joe tapped into some basic human fantasies that are very natural and very understandable in the world. Everybody wishes they were stronger, everybody wishes they were invulnerable, everybody wishes they were much more than they appear to be."
That secret identity -- the uncertain, nerdy Clark Kent hiding a powerful figure behind his glasses -- is probably the key to Superman's fame, Evanier adds.
"When you felt oppressed, when you felt people were treating you like a weakling or a person of no consequence, you could fantasize in your head: 'Ah yes, but secretly I could go into the phone booth and change into a god,' " he says. "It's a very natural fantasy. I think every kid my age imagined it when they were 8 or 10, and many of them probably still do."
A pop culture bonanza
Superman became the template for many superheroes to come. He had the tights, the cape, the insignia on his chest and the abilities far beyond those known to mortal men.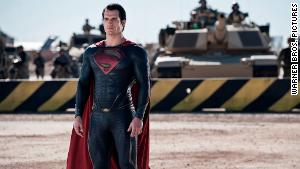 Henry Cavill stars as Superman in "Man of Steel," the latest telling of the superhero's story.
"When Jerry and Joe started the character, it was revolutionary," says Evanier. The individual elements had existed in characters before, he observes, but "that particular mix of ingredients, and the sheer appeal of the character visually, were irresistible to people."
More than the suit has made its way into pop culture. Without Superman, would we refer to rivals or weaknesses in terms of "kryptonite," that Superman-stifling substance? Would really smart people be referred to as "brainiacs," after one of his nemeses? Would we wonder about "bizarro world"? Would such catchphrases as "faster than a speeding bullet," "up, up and away" and "this is a job for Superman" have ever been uttered?
Some of those details came from the inevitable spinoffs of the character -- movie serials, television shows, a mid-'60s Broadway musical (with a book by Robert Benton and David Newman, who later co-wrote the script to the 1978 movie), Saturday morning cartoons and, of course, the major motion pictures.
But somewhere along the way, the character also became a bit of a joke -- too perfect, too earnest, too much of a good thing. His writers didn't help, giving him new powers when they needed to finesse a plot -- and taking them away when it seemed he'd gotten too god-like.
Author Larry Niven, wittily taking Superman's powers seriously, even wrote a story in the early '70s about what would happen scientifically if Superman ever procreated with an Earth woman. The result, Niven believed, could be messy: the title was "Man of Steel, Woman of Kleenex."
He lost touch with the real world -- or, perhaps, the real world lost touch with him. "Superman never made any money / For saving the world from Solomon Grundy / And sometimes I despair the world will never see another man like him," lamented the Crash Test Dummies in "Superman's Song."
"Superman predates the Cold War, but he really is a Cold War figure, because he fights evil without shading and without nuance," says Jerald Podair, an American studies professor at Lawrence University in Wisconsin. "Once the idea of evil becomes more complicated -- once quotation marks are put around it -- that's a problem. He's too black and white in a morally gray environment."
Superman's Christ-like parallels
Highly valued
Yet Superman abides.
"One of Superman's editors was quoted as saying, 'He's invulnerable. Even bad scripts can't hurt him.' And there were years when it looked like they were testing that theory," Evanier says. "There have been long stretches of time when people bought Superman in spite of the comic book, not because of it, because they just liked the fantasy. They liked the character."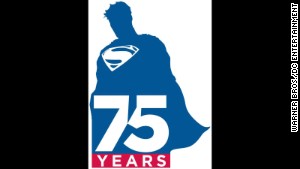 Superman is celebrating his 75th birthday this year.
Even as his comic-book sales have waned -- and, frankly, comic-book sales have waned in general -- he's never gone away. Jerry Seinfeld, a huge fan, dropped Superman references into his sitcom, and later co-starred in a series of commercials with the character. Children still leap through gardens wearing capes, and adults are proud to don outfits with the famous "S."
"Superman inspires me and many others because I feel he represents the good in all of us," superfan Robert Levine told CNN iReport. He wore a Superman cape at his 2011 wedding. "He has always been the king daddy."
The character can still bring a pretty penny on the market as well, particularly works from his early years, says Heritage Auctions comics expert David Tosh. Action Comics No. 1 -- the superhero's introduction -- is still "the holy grail" of comic books, he says. One copy sold for more than $2 million in 2011. Tosh estimates the "Mile High" copy, which was part of a collection owned by collector Edgar Church, could go for more than $5 million if it ever goes up for sale.
Still, he says, today's Superman just doesn't have the same value. Even with all the changes DC has made over the years -- the mid-'80s Crisis on Infinite Earths series, which attempted to straighten out continuity issues; the character's 1992 death (he wasn't quite dead, of course) -- haven't managed to push the character to the popularity levels of the angst-ridden Batman or Marvel universe heroes like the Avengers.
"They've rebooted the Superman character a number of times now and it always has a brief period of heightened interest, but it'll never be the same as it once was," says Tosh.
Could new angles change Superman's fortunes? An emphasis on his status as an immigrant, which would bring him into a contentious 21st-century political debate? More anger than sorrow at injustice? (The early Superman, writer Arie Kaplan notes, wasn't as pleasant, but more of a "cocky daredevil.") Greater cyber-abilities, less dependence on muscle? (He is a trained journalist, though he quit the Daily Planet last year.)
The new film attempts some alterations in tone, as is expected in the age of "The Dark Knight" and Robert Downey Jr.'s "Iron Man." But whenever changes are made, there's always the wrath of the fans.
"I think about the fan uproar when they revealed Superman's new costume, and he didn't have the red underpants," says Paul Booth, a pop culture professor at DePaul University.
You just don't want to fool with the Man of Steel.
Maybe he's not the trendy thing. Maybe there's too much competition in the superhero arena. But, three-quarters of a century after his creation, his impact -- and his values -- remain timeless.
"You're very conscious of the history of this and the fact that you're a link in the chain," says Kaplan. "It becomes more apparent when you're writing these stories what a debt the industry owes to that character.
"I've written a lot of classic characters," he adds. "But when you write, 'Exterior: Metropolis street, day, Superman flying above the street,' you turn into an 8-year-old fanboy again."
CNN's Jareen Imam and Henry Hanks contributed to this story.