To Texans' dismay, feds deny additional aid after fertilizer plant explosions
updated 4:47 PM EDT, Fri June 14, 2013
STORY HIGHLIGHTS
FEMA does not declare West a "major disaster" area, which would've meant more funds
"Remaining costs (are) within ... state and ... local governments" capabilities, it says
Texas officials accuse president of betraying his promise that feds will help over long run
"The government at this time is not doing anything to help this city rebuild," mayor says
(CNN) -- The Federal Emergency Management Agency has denied additional aid tied to deadly explosions at a Texas fertilizer plant, a decision ripped Wednesday by local and state officials who accused President Barack Obama of having "gone against his word."
FEMA's administrator informed Gov. Rick Perry in a letter Monday that it was denying a request to declare West, Texas -- the small town where an April 17 fire led to simultaneous blasts at a fertilizer distribution facility, killing 15 and decimating homes, businesses and more within 37 blocks -- a "major disaster" area. The letter noted Obama had previously issued an emergency declaration and other measures that paved the way for some direct federal assistance.
"Based on our review of all of the information available, it has been determined that the remaining costs for permanent work is within the capabilities of the state and affected local governments," FEMA's Craig Fugate said. "Accordingly, we have determined that a major disaster declaration is not necessary."
Perry responded with a statement alluding to Obama's remarks at a memorial event held days after the explosions that the people of West would not be forgotten.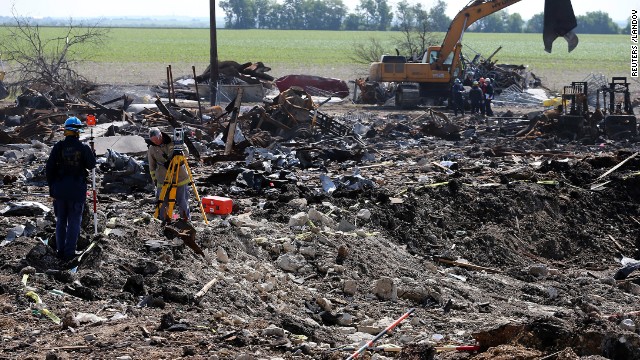 Forensic mappers work the crater at the site of the fire and explosion in West, Texas, on Wednesday, April 24. The plant run by West Fertilizer Co. in the small Texas town exploded on Wednesday, April 17, killing 14 people, most of them emergency responders. Dozens were injured.
Agents from the Bureau of Alcohol, Tobacco, Firearms and Explosives on April 24 search the bank of rail tracks for evidence at the site of the explosion.
Smoke billows into the sky immediately after the explosion at West Fertilizer Co. in West, Texas, on Wednesday, April 17, as captured by CNN iReporter Brian Kitchen. The deadly explosion damaged buildings for blocks in every direction.
The West Fertilizer Co. lies in ruins in West, Texas, on Thursday, April 18, the day after the accident.
The remains of an apartment complex lie on cars on April 18.
A deer head mount sits inside a car parked next to a apartment complex damaged in the explosion.
Search and rescue workers comb through what remains of a 50-unit apartment building, in foreground, and a nursing home on April 18.
The remains of a car sit in front of an apartment complex destroyed after the fertilizer plant blast.
A Valley Mills Fire Department firefighter walks the remains of an apartment complex next to the fertilizer plant on April 18.
Fire personnel check out the railroad tracks near the fertilizer plant on April 18.
Valley Mills Fire Department personnel view the railroad tracks near the fertilizer plant on April 18.
Smoke rises April 18 from the rubble of a house next to the fertilizer plant.
A railroad boxcar lies on its side near the plant on April 18.
A Texas State Trooper stops people from entering a neighborhood near the plant on April 18.
A chimney is the only part of a home left standing after Wednesday's explosion.
Search and rescue workers comb through what remains of a 50-unit apartment building on April 18.
Workers clean up shattered windows at a store in West, Texas, on April 18.
Debris litters the fields around a fertilizer plant on April 18, the day after the explosion. The blast damaged 50 to 60 homes in a five-block area, officials said.
This satellite image shows West, Texas, as captured on January 30, 2012. The fertilizer plant is on the right center of the photo, just northeast of the oval track of the town's middle school.
A sheriff's deputy comforts a woman at a command post on April 18.
Brandon Smith removes broken glass from the West Thrift Shop on Thursday.
Workers board up a furniture shop with shattered windows on Thursday.
Remains of a fertilizer plant burn in West early April 18.
Water is sprayed at the burning remains of the plant.
The deadly explosion leveled dozens of homes and damaged other buildings on April 18, including a school and nursing home, authorities said.
A vehicle is seen near the remains of the fertilizer plant on April 18.
With smoke rising in the distance, a law enforcement officer runs a checkpoint at the perimeter about half a mile from the plant on April 18.
Waco Police spokesman William Swanton speaks to reporters about the explosion on April 18.
Glass from blown-out windows lies shattered on the sidewalk and street after the blast on April 18.
Earth-moving equipment rolls through the downtown area in the middle of the night on April 18.
Shattered glass covers items in the front of a thrift store on April 18.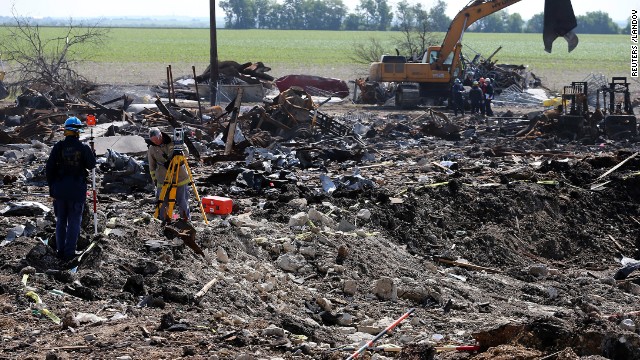 Photos: Texas fertilizer plant explodes
"We'll be there even after the cameras leave and after the attention turns elsewhere," Obama said then. "Your country will remain ever ready to help you recover and rebuild and reclaim your community."
The Texas governor added Wednesday, "We anticipate the president will hold true to his word and help us work with FEMA to ensure much-needed assistance reaches the community of West."
Perry's words were measured compared with those of state Attorney General Greg Abbott.
Abbott -- a Republican like Perry -- accused the Democratic president of having "yet again promised one thing and then not delivered."
"President Obama's FEMA has denied our state and our neighbors the necessary opportunities to rebuild critical infrastructure in the town, including an entire school," the attorney general said. "While President Obama has turned his back on Texas and gone against his word, we will continue to take care of our neighbors."
West's mayor, Tommy Muska, said Wednesday he is "disappointed" in FEMA and Obama, saying "we don't have money available ... and we can't repay ... loaned money back."
"The president said he was going to be behind us, and his words and actions are completely different," Muska said. "The government at this time is not doing anything to help this city rebuild."
A fire at the facility operated by West Fertilizer Company set off two explosions that registered on seismographs as a magnitude-2.1 earthquake and were felt 50 miles away.
The blasts leveled a portion of the town, damaging numerous homes, a nursing home and the town's high school and middle school.
According to local officials, the city is still well short of the $17 million it needs to repair roads, water and sewage lines and other damaged infrastructure. And the school system is estimated to be about $25 million to $30 million short of the roughly $100 million it says it needs for rebuilding and temporary housing.
Authorities haven't publicly determined what caused the fire, saying it could have started from a spark from a golf cart, an electrical short or could have been set intentionally. In May, authorities announced they had launched a criminal investigation into the case, though no one has been charged.
CNN's Ed Lavandera contributed to this report.