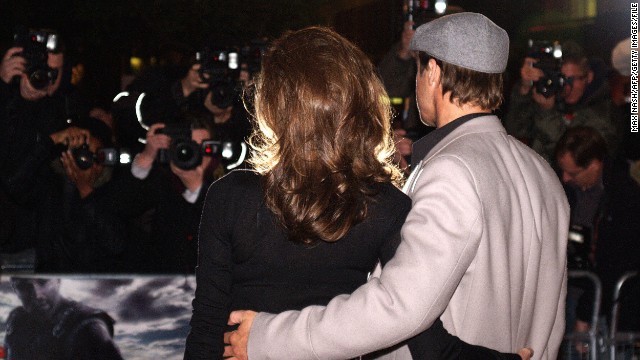 Celebrity parents have tons of advantages, but kids are always kids, no matter how famous their parents are. As these 12 dads will tell you, being a superstar doesn't mean you don't have to deal with the realities of fatherhood.
Brad Pitt, father of six, on organization: "Listen, I admit there's times like, 'We gotta get up. Get up! Here's your shoes. Here's your shoes! Drink this Coke. Drink this Coca-Cola. Drink it all. Right now! Drink it! Drink it! Drink it!' Just so we could get 'em up and going."
Chris Rock, father of two, on intimacy: "It's the ultimate in caring. You're wiping their a**, and someday, they may have to wipe yours."
David Beckham, father of four, on teaching values: "It would be easy for our kids to sit back and not work for anything, but they're not like that. ... They want to work at something. They know their values. That's the way we've brought them up so far, and that's the way we'll continue to bring them up."
Channing Tatum, father of one, on cleaning duty: "I'm solid at changing a diaper ... If a guy isn't good at changing a diaper, I don't know what he's there for, really, 'cause they're not there for the first seven months for any other reason than to do that."
Louis C.K., father of two, on priorities: "I don't really remember what it was like before (being a dad). Whatever I had going on, it was bull****. Being a dad ... sort of takes the pressure off of your own life. What am I going to do, who am I? Who cares, you've got to get your kids to school."
Kanye West, father of one, on parental love: "It's all brand new, how it feels to be a father. There are some things that I understand, certain things that I don't understand ... When we talk about love, I don't have an answer. All I can say is that I'm happy I have it."
Elton John, father of two, on life's spills: "Everything I thought I would find annoying about having children -- screaming, shouting, tantrums and anything like that -- I don't find any of it annoying. I find it all enchanting. I'm a good barf cleaner."
Ben Affleck, father of three, on work-life balance: "(R)unning around after three kids is very trying. Now everything has to compete with being with my family. I don't want to be a stay-at-home dad. Work is very important to me. I like to work. So does my wife. But I need my work to mean something to me in order for me to not be home with them."
Will Smith, father of three, on teaching economics: "My daughter said, 'Daddy, are we rich?' I say, 'No, baby, you're broke. Daddy worked really hard.'"
Matthew McConaughey, father of three, on responsibility: "Everything I do leads back to them -- how I take care of myself, how I handle myself, how I need to make sure that I stay healthy and literally alive, because they need me. That's a great responsibility."
Jay Z, father of one, on the inevitable: "Everyone imagines they'll be a great dad until (their kids) are teenagers, saying 'Get away from me, Dad. You're embarrassing me!'"
Mark Wahlberg, father of four, on a father's job: "I've always said, 'If I succeed as a businessman and I fail as a father, then it's all been for nothing. That's, by far, the most important role that I'll ever play in my life ... being a parent and a husband."
Fatherhood doesn't care if you're famous
Fatherhood doesn't care if you're famous
Fatherhood doesn't care if you're famous
Fatherhood doesn't care if you're famous
Fatherhood doesn't care if you're famous
Fatherhood doesn't care if you're famous
Fatherhood doesn't care if you're famous
Fatherhood doesn't care if you're famous
Fatherhood doesn't care if you're famous
Fatherhood doesn't care if you're famous
Fatherhood doesn't care if you're famous
Fatherhood doesn't care if you're famous
Fatherhood doesn't care if you're famous