STORY HIGHLIGHTS
House committee chief says he's asked his staff to begin an investigation
State Department memo alleges a drug ring operated near the U.S. embassy in Iraq
An ambassador allegedly engaged prostitutes, a memo says
Investigations into the allegations, in some cases, were stymied
Washington (CNN) -- Senior State Department and Diplomatic Security officials may have covered up or stopped investigations of inappropriate or even criminal misconduct by staff, according to an internal memo from the department's Office of the Inspector General.
The timeline surrounding the allegations places the incidents during former Secretary of State Hillary Clinton's tenure, opening the possibility that a widening scandal might taint both her record and her possible political aspirations. Clinton has also taken heat for the department's response to the September 2012 attack on the U.S. diplomatic mission in Benghazi, Libya.
Hillary Clinton Tweets the future is 'TBD'
The memo itself, purportedly written by Ambassador Larry Dinger, describes some of the information as coming from office chatter.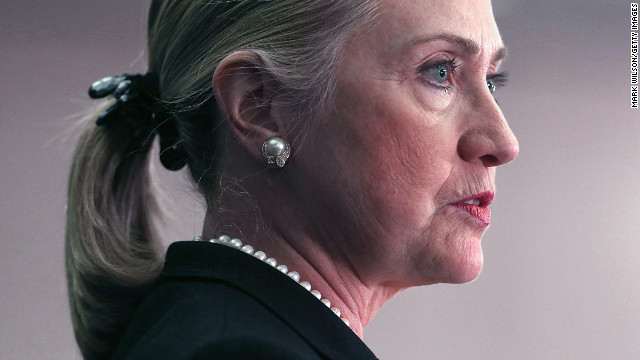 Former Secretary of State Hillary Clinton, pictured in October 2012, has become one of the most powerful people in Washington. Here's a look at her life and career through the years:
Hillary Rodham, center, a lawyer for the Rodino Committee, and John Doar, left, chief counsel for the committee, bring impeachment charges against President Richard Nixon in the Judiciary Committee hearing room at the U.S. Capitol in 1974.
Arkansas Gov. Bill Clinton helps first lady Rosalynn Carter on a campaign swing through Arkansas in June 1979. Also seen is Hillary Clinton (center background).
Bill Clinton embraces his wife shortly after a stage light fell near her on January 26, 1992. They talk to Don Hewitt, producer of the CBS newsmagazine "60 Minutes."
With Hillary, Democratic presidential candidate Bill Clinton waves to the crowd during his victory party after winning the Illinois primary on March 17, 1992.
Al Gore, from left, his wife, Tipper, Bill Clinton and Hillary Clinton wave to supporters at the Chautauqua Institution in Chautauqua, New York, on August 23, 1992, after they gave speeches on family values.
Clinton gestures at a campaign rally November 3, 1992, in Denver. After taking office, President Bill Clinton chose his wife to head a special commission on health care reform, the most significant public policy initiative of his first year in office.
Bill and Hillary Clinton have a laugh together on Capitol Hill in 1993.
Clinton pours herself a cup of tea during her testimony to the Senate Education and Labor Committee on health care reform in 1993.
Clinton speaks at George Washington University on September 10, 1993, in Washington, during her husband's first term.
Clinton, left, waves to the media on January 26, 1996, as she arrives at federal court in Washington for an appearance before a grand jury. The first lady was subpoenaed to testify as a witness in the investigation of the Whitewater land deal in Arkansas.
Hillary Clinton looks on as President Bill Clinton addresses the Monica Lewinsky scandal in the Roosevelt Room at the White House on January 26, 1998.
Hillary and Bill Clinton arrive at Foundry United Methodist Church on August 16, 1998, in Washington. He became the first sitting president to testify before a grand jury when he testified via satellite about the Monica Lewinsky matter.
Clinton shakes hands during a St. Patrick's Day parade in the Sunnyside neighborhood of Queens, New York, on March 5, 2000.
Clinton waves to the crowd as she arrives on the stage at the Democratic National Convention on August 14, 2000, at the Staples Center in Los Angeles.
Clinton campaigns for a Senate seat at Grand Central Station on October 25, 2000, in New York.
First lady Hillary Clinton is sworn in as a senator in a reenactment ceremony with President Bill Clinton, from left, nephew Tyler, daughter Chelsea, brother Hugh Rodham, mother Dorothy Rodham and Vice President Al Gore in the Old Senate Chamber on Capitol Hill on January 3, 2001, in Washington.
Andrew Cuomo, from left, Eliot Spitzer and Clinton celebrate with the crowd of Democratic supporters after their wins in their various races on November 7, 2006, in New York.
Clinton speaks during a post-primary rally on January 8, 2007, at Southern New Hampshire University in Manchester, New Hampshire.
The Clintons pay a visit to the 92nd Annual Hopkinton State Fair on September 2, 2007, in Contoocook, New Hampshire.
Clinton speaks at a fall kickoff campaign rally on September 2, 2007, in Portsmouth, New Hampshire.
Clinton addresses a question during a Democratic presidential candidates debate at Dartmouth College in Hanover, New Hampshire, on September 26, 2007. Also pictured are U.S. Rep. Dennis Kucinich of Ohio, left, and former U.S. Sen. Mike Gravel of Alaska.
Felipe Bravo, left, and Christian Caraballo are covered with Hillary Clinton stickers in downtown Manchester, New Hampshire, on January 8, 2008.
Clinton campaigns with her daughter, Chelsea, on January 1, 2008, in Council Bluffs, Iowa, two days ahead of the January 3 state caucus.
Sen. Clinton waves as she speaks to supporters at the National Building Museum on June 7, 2008, in Washington. Clinton thanked her supporters and urged them to back Sen. Barack Obama to be the next president of the United States.
Barack Obama and Clinton talk on the plane on their way to a Unity Rally in Unity, New Hampshire, on June 27, 2008.
U.S. Democratic presidential candidate Barack Obama watches Sen. Hillary Clinton address the Democrate National Convention at a Democratic supporters' group in Billings, Montana, on August 26, 2008. The two endured a long, heated contest for the 2008 nomination.
Sen. Charles Schumer, left, looks toward Secretary of State designate Clinton as committee chairman Sen. John Kerry, center, looks on during nomination hearings on January 13, 2009, on Capitol Hill.
Clinton testifies during her confirmation hearing for secretary of state before the Senate Foreign Relations Committee on Capitol Hill on January 13, 2009, in Washington.
Clinton dances with a local choir as while visiting the Victoria Mxenge Housing Project in Philippi on the outskirts of Cape Town, Souith Africa, on August 8, 2009.
Clinton looks through binoculars toward North Korea during a visit to observation post Ouellette at the Demilitarized Zone separating the two Koreas in Panmunjom on July 21, 2010.
Clinton walks up the steps to her aircraft at sunset as she leaves an ASEAN meeting July 23, 2010, in Hanoi, Vietnam.
From left: Hillary and Bill Clinton pose on the day of their daughter Chelsea's wedding to Marc Mezvinsky at the Astor Courts Estate on July 31, 2010, in Rhinebeck, New York.
U.S. President Barack Obama and Clinton observe a moment of silence before a NATO meeting on November 19, 2010, in Lisbon, Portugal.
Clinton listens as Turkish Foreign Minister Ahmet Davutoglu (not in picture) makes a brief statement before a bilateral meeting at the State Department in Washington on November 29, 2010.
Clinton shakes hands with a child during an unannounced walk through Tahrir Square in Cairo, Egypt, on March 16, 2011.
President Barack Obama, Vice President Joe Biden, Clinton and members of the national security team receive an update on the mission against Osama bin Laden in the Situation Room of the White House on May 1, 2011.
Clinton checks her PDA upon departure in a military C-17 plane from Malta bound for Tripoli, Libya, on October 18, 2011.
Clinton speaks as Hamid Karzai, president of Afghanistan, listens during a news conference at the presidential palace in Kabul on July 7, 2012.
Clinton arrives at Ben Gurion International Airport in Lod, outside Tel Aviv, Israel, on July 15, 2012.
Clinton looks on as President Barack Obama makes a statement in response to the attack at the U.S. Consulate in Libya on September 12, 2012 at the Rose Garden of the White House.
Clinton applauds Aung San Suu Kyi during a ceremony where Suu Kyi was presented with the Congressional Gold Medal on September 19, 2012 in the Rotunda of the Capitol in Washington, DC.
Former U.S. President Bill Clinton kisses his wife after introducing her at the Clinton Global Initiative annual meeting on September 24, 2012 in New York City.
Clinton shakes hands with Libyan President Mohamed Magariaf on September 24, 2012 in New York.
Clinton stands during a press conference following meetings at the Prime Minister's Office in Pristina, Kosovo, on October 31, 2012. Clinton said that Kosovo's unilaterally declared independence, fiercely opposed by Serbia, was 'not up for discussion'.
Clinton chats with Myanmar opposition leader Aung San Suu Kyi before President Barack Obama speaks at the University of Yangon in Yangon on November 19, 2012.
President Barack Obama looks at Clinton before the start of a bilateral meeting with Japanese Prime Minister Yoshihiko Noda, far right, during the East Asian Summit at the Peace Palace in Phnom Penh, Cambodia, on November 20, 2012.
Israeli Prime Minister Benjamin Netanyahu shakes hands with Clinton at the prime minister's office November 20, 2012 in Jerusalem, Israel. Clinton arrived in Israel as efforts by Western and Arab diplomats to end the confrontation between Israel and Gaza have escalated.
Clinton arrives on December 4, 2012 for a meeting of foreign ministers from the 28 North Atlantic Treaty Organization (NATO) member-countries in Brussels to discuss Syria and Turkey's request for Patriot missiles to be deployed protectively on the Turkish-Syrian border.
Clinton receives a sports jersey and football helmet from Deputy Secretary Tom Nides, center, after returning to work on January 7, following a fall where she hit her head and doctors later detected a blood clot. The jersey had her last name on the top and with the number 112, which represents the number of countries that she has visited as Secretary of State.
Clinton and her husband arrive for the inauguration for President Barack Obama's second term at the U.S. Capitol on January 21.
Clinton testifies before the Senate Foreign Relations Committee on Capitol Hill on January 23, in Washington, DC. Lawmakers questioned Clinton about the security failures during the September 11 attacks against the U.S. mission in Benghazi, Libya, that led to the death of four Americans, including U.S. Ambassador Christopher Stevens.
First lady Michelle Obama, from left, and former first ladies Laura Bush, Hillary Clinton, Barbara Bush and Rosalynn Carter attend the opening ceremony of the George W. Bush Presidential Center in Dallas on April 25.
Bill Clinton and Hillary Clinton speak to guests at the Clinton Global Initiative on June 14 in Chicago.
Clinton poses for pictures at St. Andrews University in St. Andrews, Scotland, on September 13. Clinton received an honorary degree from the university.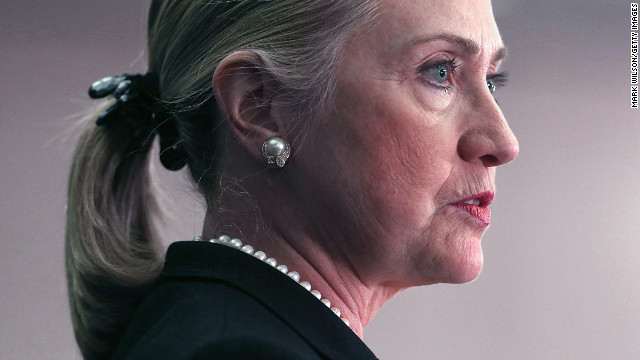 Photos: Clinton's political career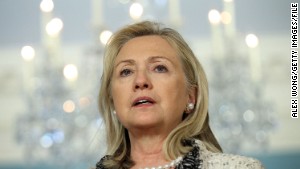 What does the memo mean for Clinton?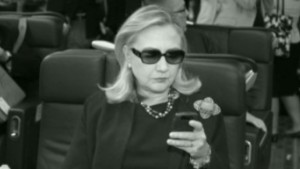 Hillary Clinton's new Twitter page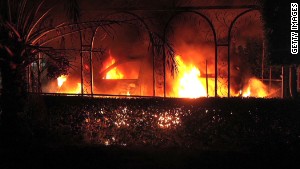 CNN Explains: The Benghazi attacks
"Sometimes the sources are one or more agents who became aware of the case from colleagues in what, given cubicles, can be a collegial environment," the memo says.
Regarding the latest allegations, CNN was provided the documents by a lawyer for a whistle-blower who is a former senior inspector general investigator.
They include:
• An active U.S. ambassador "routinely ditched his protective security detail in order to solicit sexual favors from both prostitutes and minor children," the memo says. The ambassador's protective detail and others "were well aware of the behavior," the memo asserts. When a diplomatic security officer tried to investigate, undersecretary of state for management Patrick Kennedy allegedly ordered the investigator "not to open a formal investigation."
On Tuesday, CNN obtained a statement from the ambassador, who vigorously denied the allegations, calling them "baseless."
A source close to the investigation of the ambassador told CNN that the ambassador's security detail reported to the inspector general that the ambassador would leave his house at night without notifying the detail. The detail followed the ambassador and saw the ambassador once go to a park that's known for illegal activity, the source told CNN. The detail said they never witnessed the ambassador engage in any sexual activity, the source said.
The ambassador went to Washington and was asked what he was doing and he denied any wrongdoing, the source told CNN. The ambassador explained that sometimes he fights with his wife, needs air and he goes for a walk in the park because he likes it.
Kennedy also issued a statement Tuesday, saying it is his responsibility "to make sure the department and all of our employees -- no matter their rank -- are held to the highest standard, and I have never once interfered, nor would I condone interfering, in any investigation."
• A State Department security official in Beirut allegedly "engaged in sexual assaults" against foreign nationals working as embassy guards. The security official, the Office of the Inspector General says, was also accused of committing "similar assaults during assignments in Baghdad, and possibly Khartoum and Monrovia." The office's memo says that an inspector general's investigator who went to Beirut to try to conduct an investigation was not given enough time to complete the job.
• A member of Clinton's security detail allegedly "engaged prostitutes while on official trips in foreign countries." The inspector general's agent assigned to investigate "concluded" that the "prostitution problem was endemic."
• In Iraq, an "underground drug ring" may have been operating near the U.S. Embassy and "supplying" drugs to State Department security contractors, but an agent sent to investigate the allegations was prevented from completing the job.
The allegations were first reported Monday by CBS.
State Department spokeswoman Jen Psaki responded Monday.
Controversies knock Obama off balance
"We hold all employees to the highest standards," she said. "We take allegations of misconduct seriously and we investigate thoroughly. All cases mentioned in the CBS report were thoroughly investigated and under investigation, and the department continues to take action."
During a Tuesday State briefing with reporters, Psaki reiterated that the memo contains "unsubstantiated allegations" and that some cases are ongoing and some are closed. But she would not, though repeatedly pressed by reporters, specify exactly which ones were open or closed.
"As a matter of policy, I'm not going to talk" about specific cases, she said.
"We take every allegation seriously," Psaki added. "We are seeing through the process."
On Tuesday, Nicholas Merrill, a spokesman for Hillary Clinton, said Clinton was completely unaware of any of the investigations mentioned in the Office of the Inspector General's reports and memos, including the case involving her personal security detail allegedly soliciting prostitutes.
"We learned of it from the media and don't know anything beyond what's been reported," Merrill told CNN in a written statement.
Clinton officially left her post in February.
Clinton's bio undergoes changes
What's behind Clinton's drop in poll numbers?
Also Tuesday, U.S. Rep. Ed Royce, R-California, chairman of the House Foreign Affairs Committee, said he has asked his staff to begin an investigation into the allegations, and sent a letter to Secretary of State John Kerry demanding an explanation.
"The notion that any or all of these cases would not be investigated thoroughly by the Department is unacceptable," Royce wrote in his letter to Kerry.
CNN obtained a draft, dated December 2012, of a report by the inspector general's office evaluating the performance of the department's Bureau of Diplomatic Security Special Investigations Division.
The report says that the bureau "lacks a firewall" that would preclude higher-ups from "exercising undue influence in particular cases."
The bureau doesn't have a manual with approved guidelines on how to investigate cases, the report also says. Investigators with the inspector general's office "discovered uncertainty" among state agents about how to conduct thorough investigations, and noted that not going through the proper mechanisms can "ruin" a potential criminal investigation.
The report also calls the department's Criminal Investigations Division "unwieldy" and says that "frequent agent turnover" makes it harder for the Bureau of Diplomatic Security to conduct investigations.
The inspector general's office published a February 2013 final report whose key findings are, largely, the same as stated in the December 2012 draft.
The division's current management structure, the report says, does not "foster independence from career pressures and creates significant potential for undue influence, favoritism, and potential retribution.
CNN's Jessica Yellin and Elise Labott contributed to this report.