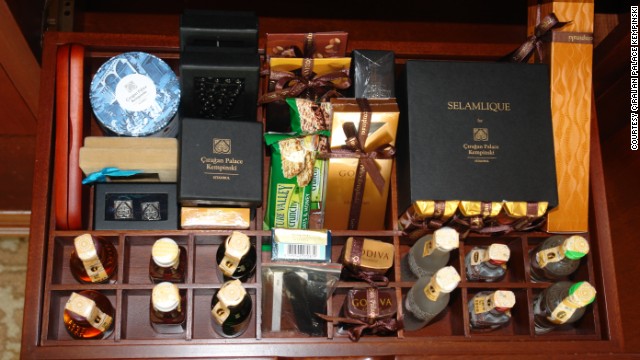 The
Cıragan Palace Kempinski
in Istanbul, Turkey, goes all out-on culture, stocking its minibar with signature local treats such as chocolates, coffee and Turkish delights.
Peabody Hotel
in Orlando think so. They've replaced the minibar with a scheme called "Feed the Fridge" which allows guests to order themed bundles of snacks and drinks. The 'Tiny Bubbles' package (pictured) includes two bottles of champagne for $20. Brie and crackers can be added for an extra $4.
Can hotels refresh the flagging minibar concept? The
There's nothing mini about the Ritz-Carlton minibar in the Russian capital, Moscow. Thirsty guests in the resorts Carlton and Executive suites can treat themselves to an extensive selection of classy alcoholic beverages from around the globe.
Trump International and Tower resort in Toronto
, Canada, will find these gold-bar-themed luxury chocolates emblazoned with the name of the billionaire hotel owner and businessman in the minibar of every suite.
Guests at
The minibar at the
Kerry Hotel Pudong
in Shanghai, China goes one step further than sourcing the best local products. Here, all visitors are offered two complimentary craft beers brewed in the hotel's very own microbrewery.
Some hotels have tried to entice guests towards the minibar with open displays and more imaginative product options. Here, locally sourced wine and snacks are displayed in a suite at the
Enchantment Resort
in Sedona, Arizona.
Walt Disney World Swan and Dolphin Hotel
in Orlando, Florida, the traditional minibar has been axed in favor of the "Personal Pantry," where guests choose (and pay for) the snack and beverage offerings supplied to their room.
At the
Fifteen Beacon in the heart of Boston goes beyond the standard M&M's or sodas providing a combination of local flavor, classy beverages and pampering options, including cucumber eye cream and homeopathic Sprayology (a holistic product for immune system maintenance and detox).
Grand Resort Lagonissi
in Athens, Greece, are stocked full with a rich array of expensive spirits.
For some of the world's most swanky hotel destinations meanwhile, the minibar is another chance to display their ostentatious hospitality. The VIP rooms at the
The well stocked minibar at The Little Nell ski resort in Aspen has a wide selection of local beers and imported spirits. Cans of tru02 oxygen meanwhile help guests acclimatize to the city's 7,900 foot altitude before hitting the nearby slopes.
Cıragan Palace Kempinski, Istanbul
Calling time on the minibar
Ritz-Carlton, Moscow
Trump International Hotel and Tower, Toronto
The Kerry Hotel Pudong, Shanghai
Enchanment Resort, Arizona
Walt Disney World Swan and Dolphin Hotel, Florida
Fifteen Beacon, Boston
Grand Resort Lagonissi, Athens
The Little Nell, Aspen
STORY HIGHLIGHTS
Staff and inventory to keep minibars stocked is an expensive endeavor.
Many major chains are doing away with minibars altogether in some properties.
Some hotels are rethinking the formula, introducing tailored items or concocting ways to make treats harder to resist.
(CNN) -- Few hotel features ignite debate quite like the minibar. For some they represent a luxurious indulgence, for others daylight robbery with high prices and poor choice.
The cost of minibar items has long been an issue of contention but what many don't realize is that price tag on a pack of M&Ms for example also reflects the extensive labor, inventory and potential waste that stocking that item entails.
"We had a full department looking after our minibars; six people working seven days a week," says John Askew, the director of food and beverage at The Peabody Hotel Orlando.
"Our minibar had 35 items, and with 831 rooms to look after you can imagine how many cases you had to have on hand to keep it stocked. If an item wasn't moving, you could find yourself with 16 cases of expired Coke."
Read more: How safe is your carry-on bag?
Our sales were going the wrong way. I said, 'these won't improve, so let's look at another plan
John Askew, The Peabody Hotel Orlando
The Peabody is one of several hotels that have jettisoned their minibars in the last couple of years. The Marriott started yanking their in-room fridges in 2004, and nearly every major hotel chain, including Hyatt, Hilton and Starwood Hotels, have started to follow suit.
Instead of a pre-stocked fridge, guests at The Peabody Hotel can order snack and beverage packages as part of the room service. If they pre-order, the hotel staff will stock the fridge with goods before they arrive. The program is called "Feed the Fridge" and prices are closer to what you might find at a local grocery store.
"If you price it like a minibar, people are going to leave the hotel," notes Askew.
The Walt Disney World Swan and Dolphin Hotel in Florida has been experimenting with a similar model, which they call the "personal pantry". Tony Porcellini, the hotel's food and beverage director, notes that the savings in labor and inventory gets passed on to the customer.
Read more: Are hotels the offices of the future?
In the Personal Pantry, we offer a six-pack of beer for $8. That was about the price of one beer in the old minibar.
Tony Porcellini, Walt Disney World Swan and Dolphin Hotel
"In the Personal Pantry, we offer a six-pack of beer for $8. That was about the price of one beer in the old minibar," he says.
As minibars are often a loss-leader, some hotels have opted to stop charging for them and simply make them a free amenity for guests.
The Siam Kempinski Hotel in Bangkok, for instance, gives out free local beer and soda, while the Andaz Liverpool Street in London offers complimentary snacks, including biscuits and potato chips. Other hotels hope to lure clientele into charging items by instituting more upscale offerings.
The Enchantment Resort in Sedona, Arizona, is just one property to introduce local wines and craft beers to their menu.
It has given its minibar a complete makeover, moving it out of the purview of food and beverage and under the jurisdiction of retail.
The contents not only got a major sprucing, but so did the display and packaging of items. Near the TV sits two bottles of local Arizona Stronghold wine and chocolate-covered grapes.
Read more: Airline loyalty schemes failing passengers
Both run-of-the-mill and gourmet snacks migrated from inside the fridge onto a leather tray in full-view. The hotel also started selling M&Ms packaged in a teddy-bear shaped jar that's proven almost irresistible to kids.
"The first thing I wanted to do was visually merchandise the minibar," Kelly Dunagan-Johnson, the resort's retail director. The approach has worked, as sales have seen a 30% increase year after year.
Given Enchantment's success, it's a wonder more hotels don't follow their lead
"F&B aren't testing display opportunities and saying, 'This isn't working, let's move it here,' or, 'let's trade out that snack.' They're resetting the same stuff over and over in a pattern," says Dunagan-Johnson.